Backpacking South America is one epic adventure and this route is the longest of all our travel itineraries. It includes Colombia, Ecuador, Peru, Bolivia, Chile, Argentina, Uruguay and Brazil. It may easily take up to half a year to complete and that would still be missing out large chunks of the continent! Read on and start planning what could be the trip of a lifetime with our suggested South America backpacking route.
---
Backpacking South America – Route Info
---
TIME NEEDED – 5-6 MONTHS
It takes a long time to backpack South America with 6 months a decent time-frame for an extended trip across the continent. The route outlined below could be done in a bit less but there is plenty to see and you will be spending A LOT of time on buses. Unless you fancy a six hour coach journey every other day, take your time and don't be afraid to break up your journey with a few longer stops if you find somewhere you really like.
---
POSSIBLE SHOESTRING BUDGET – £5000 €5800 $6000
Overall, backpacking South America is not expensive when compared to regions such as North America or Western Europe but there are some significant variations between the different countries with travel in Brazil for example considerably more costly than Bolivia or Peru.
These figures are based on spending $1000 per month on average and exchange rates as of July 2022. For more detailed info see our full 2023 South America backpacking budget which features individual country budgets as well as regional ones. However note this is only a really rough guide and your actual costs will depend on a range of factors, including your own travel habits and any future developments during these uncertain economic times.
The figures above don't include the cost of flights to/from South America. They are based on taking buses everywhere and staying in hostel dorms or cheap private rooms where prices are comparable.
---
TRAVEL INSURANCE FOR BACKPACKERS IN SOUTH AMERICA
The cost of travel insurance isn't included in the budget figures above. You can get a long stay quote in under a minute from Heymondo who offer well reviewed international travel insurance for trips of more than 3 months. Use our Heymondo discount code to get 5% off.
---
WORK OR VOLUNTEER WHILST TRAVELLING IN SOUTH AMERICA
One way to have a more rewarding and perhaps realer South American experience is to use Worldpackers to find a work or volunteer placement. Their website/app allows you to search for placements and exchange your skills for free accommodation and meals.
They have over 2000 work exchange options in South America at the time of writing, perfect for breaking up a long backpacking trip and saving some money. You may also be interested in our Workaway vs Worldpackers comparison if you're serious about looking for work exchange opportunities.
---
Backpacking South America – A 6 Month Itinerary
---
Colombia
Fly into Cartagena (possibly via a connecting flight in Bogota) or if you're coming from Central America consider your best options for crossing the Darien Gap from Panama. Many travellers opt for a combined Central and South America backpacking route. Check out our separate Central America itinerary if that appeals to you. You can easily link the end of that route with the start of this one.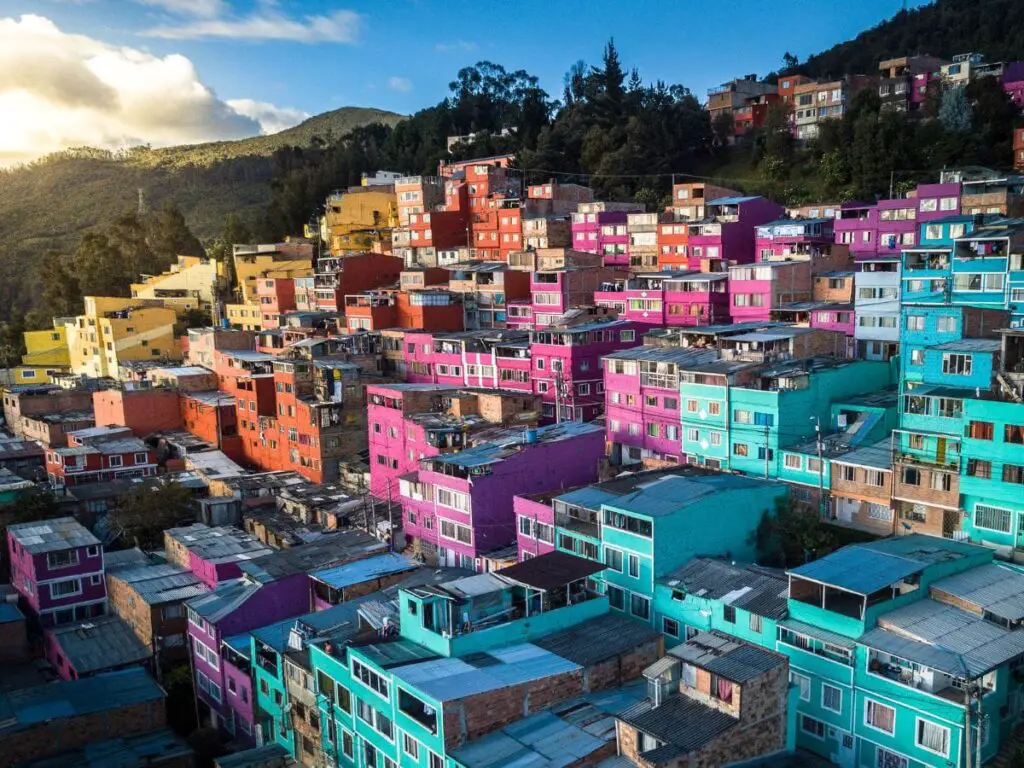 Cartagena – The old part of Cartagena is a special place with horse-drawn carriages and stylish architecture while the city is on the coast so has a real Caribbean flavour. This is a natural starting place for many travellers with cheap flights to/from Miami which is connected to cities all over Europe and North America.
Parque Nacional Tayrona – Skip tacky Santa Marta and Taganga for the beautiful national park with deserted Caribbean beaches and snow-capped peaks.
Mompos – Totally unique town well off the beaten track, stuck in a time-warp with lots of old furniture and rocking chairs!
San Gil – Adrenaline junkies paradise with cheap and excellent rafting, paragliding, hydrospeeding and waterfall abseiling.
Villa de Leyva – Colonial town near the capital with a huge main plaza.
Bogota – Cool and much improved capital city with an efficient transport system, cycling Sundays, quirky districts and some of the best museums in South America including the popular Museo del Oro. Read our rundown of fun things to do in Bogota for a bit of inspiration as to how to pass your time in the Colombian capital.
Salento – Small town, lots of travellers and some stunning surrounding countryside.
Cali – Colombia's salsa city with some wild nightlife at weekends.
Popayán – Perhaps the most attractive of Colombia's old towns with lots of churches and pretty white buildings.
Seek local advice before heading to the Ecuadorian border, particularly at night, as this region doesn't rank among the safest in a country that has massively improved in that regard over the past decade or so. It's advisable to set off very early and consider stopping overnight in Pasto or Ipiales. The journey is at least 12 hours in total and this is possibly the longest day of travelling on our whole South America backpacking itinerary. The border crossing itself is fairly quick and painless at the international bridge between Ipiales (COL) and Tulcan (ECU) and there are hourly buses on to Otavalo.
---
Ecuador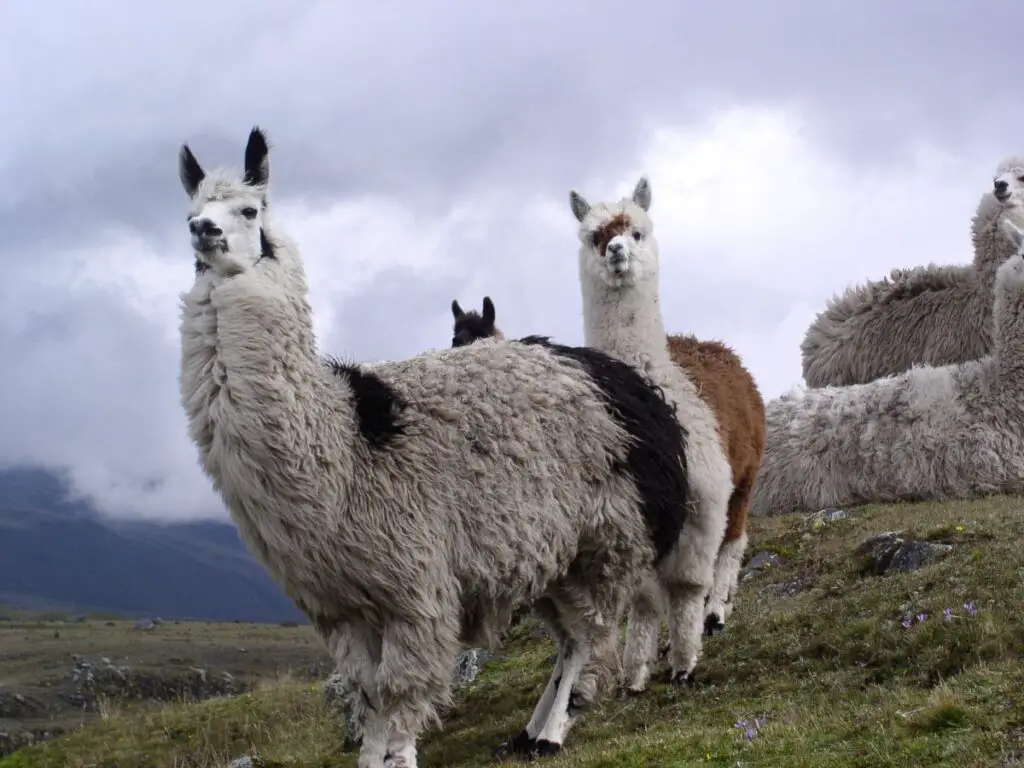 Otavalo – Famous for its Saturday market, cock-fighting ring, friendly indigenous people and lots of men sporting dresses and ponytails!
Quito – Popular if at times unsafe capital city. The old town is large and interesting but head to the Mariscal for an all action international area bursting with backpackers, loads of hostels and a more lively westernised scene than you find in many South American cities.
Cotopaxi – Stunning national park with the giant and freezing cold 5900 metre Volcan Cotopaxi at the centre of it.
Baños – Touristy town but a very pleasant, safe place with its famous baths and surrounded by green mountains. Take a trip into the Amazon which starts just a few kilometres east of the town.
Riobamba – Mountain town with some random buildings and shops. Starting point of the ridiculously steep train ride down to Sibambe.
Sibambe – End of the trainline, little to see but it's only a short trip on to Cuenca.
Cuenca – Popular riverside city full of colonial buildings and cool cafes. One of the highlights of travel in Ecuador.
Make your way to the Huaquillas border crossing or take a direct bus to Mancora from Cuenca.
---
Peru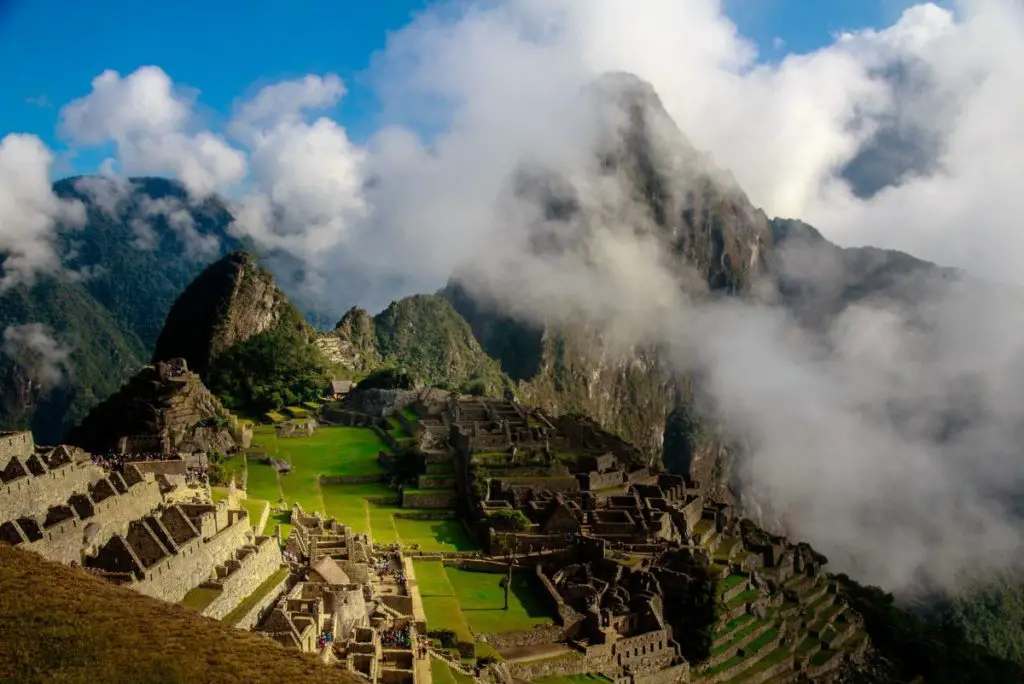 Mancora – Popular beach resort full of drunk gap year students, backpackers and surfers (or at least it was before the pandemic). Watch out for thieves on the beach!
Trujillo – Truth be told Northern Peru has little in comparison to the south but Trujillo is a decent stopover for a day or so.
Huaraz – An altitude spot of natural beauty in Peru's Central Sierra. Surprisingly lively nightly entertainment including a decent choice of live music.
Lima – Coastal capital of Peru perched on huge cliffs above the Pacific. Enjoy some of Peruvian cuisine's most famous dishes such as ceviche and lomo saltado.
Huacachina – Not exactly the most historic destination in Peru but much fun to be had here nonetheless in the giant sand dunes with options including sandboarding and bumpy buggy tours.
Nazca – Famous for its mysterious lines as featured in Indiana Jones. Unfortunately fly-overs are out of the budget of most South America backpackers.
Cuzco – The ancient Inca capital is still a really impressive sight and great place to hang around for a few days. It's also the launching pad for the Inca Trail and a visit to Machu Picchu.
Machu Picchu – The most famous of all the Inca ruins, an incredible place up in the clouds of the Andes mountains. For many travellers this is the highlight of backpacking around South America but depending on when you visit, guided trips up the mountain can be very expensive and the usual cost of travel in Peru will shoot up during these days. There are a variety of options from shorter one day trips to four-day hikes taking in various ruins along the way.
Puno – Lively town on the Peruvian banks of wonderful Lake Titicaca.
There are bus companies in Puno who run services to Copacabana but check times as they are not super regular. The journey is between 2.5 and 4 hours depending on how long border formalities take. Since 2019, there are now said to be ATMs in Copacabana (there didn't use to be) but it's advisable to make sure you have enough cash (to at least get you through until La Paz) before crossing the border as banking facilities are notoriously unreliable in Bolivia. US dollars can be exchanged easily in both towns.
---
Bolivia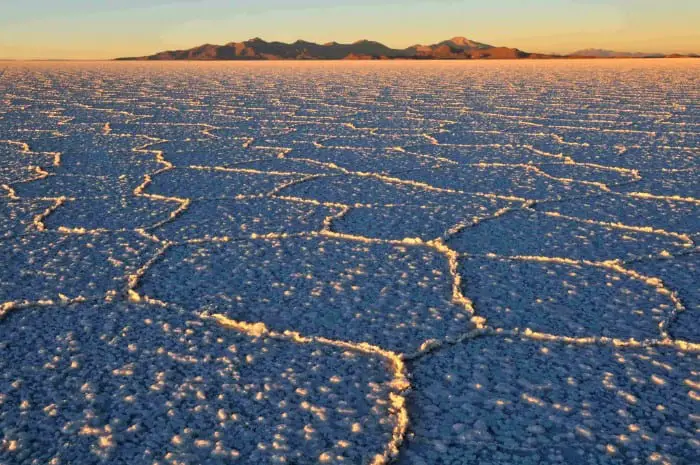 Copacabana – The first town in Bolivia – enjoy the cheapness of the place and hop on a boat to the magical Isla del Sol.
Isla del Sol – This is the Inca birthplace, a beautiful island in the middle of Lake Titicaca, the world's highest freshwater lake.
La Paz – One of the smallest and safest capitals on the continent. Street markets, the Coca Museum and the infamous San Pedro prison are among popular visits with backpackers here, although the latter is harder to access than it used to be.
Sucre – Relaxed town known as 'la ciudad blanca' (White City). It is probably the most attractive city in the country.
Potosi – Take a trip down the shockingly dangerous working mines in what is the highest city in the world. A sadly depressing but unforgettable place.
Salar de Uyuni – The world's largest salt flat is a weirdly charming destination and an increasingly popular stop on the South America backpacker trail. You will probably need to do an organised tour here, which can last several days. In Bolivia, you can even stay in a hotel made entirely out of salt, which makes our countdown of weird places to stay around the world.
Some travellers do 3 day tours of the salt flats and you may find companies offering this as part of a trip between Uyuni, a functional town in Bolivia and San Pedro in Chile. Other options include diving into Northern Argentina via the Villazon border crossing and possibly heading to the attractive city of Salta and then crossing the Argentina-Chile border to reach San Pedro.
---
Chile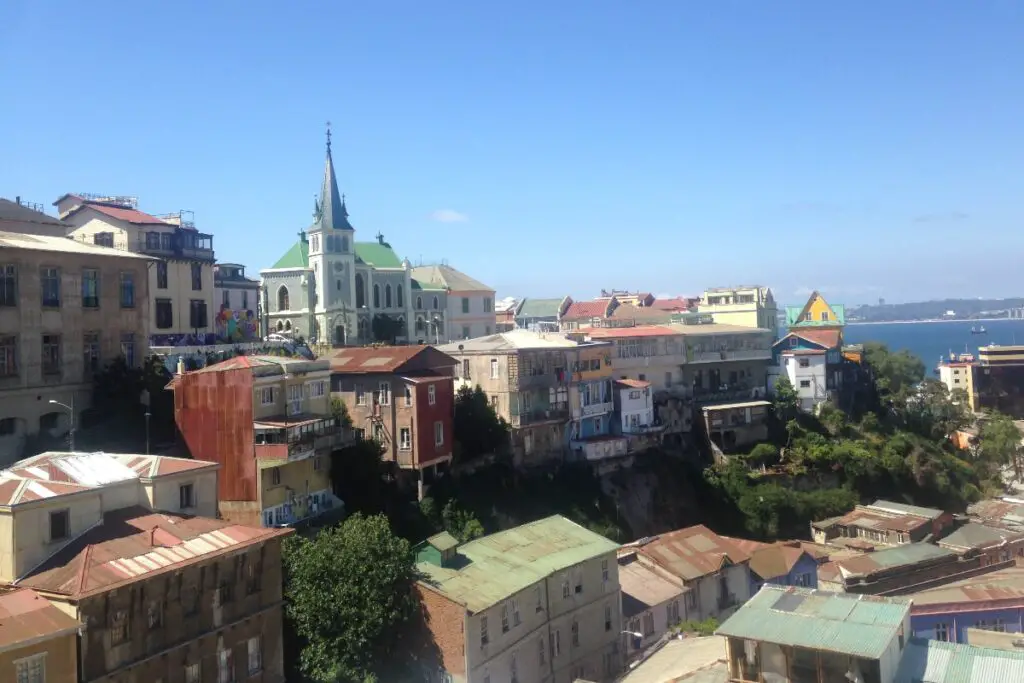 San Pedro de Atacama – Stunning desert landscape, which feels other-worldly, set around the laid back but somewhat pricey (by regional standards) town. One of the best places in the world for stargazing.
Antofagasta – Unremarkable port offers an insight into life in a non-touristy Chilean city and has good transport links going south.
Copiapo – Sleepy town which burst into the global spotlight in 2010 with the dramatic and very moving rescue of 33 trapped miners. Not much to see and some travellers opt to skip this area altogether by taking a flight south from Calama or Antofagasta to Santiago and then venturing onto Viña del Mar and Valparaiso.
Viña del Mar – Some of the best beaches in the country with one of South America's most famous music festivals every February.
Valparaiso – Colourful town with a vibrant bohemian culture. A real, unexpected gem with some interesting museums and things to see including the former house of Chilean poet Pablo Neruda. It is immediately adjacent to Viña del Mar and the two can easily be combined into one visit. Read these 10 Questions answered on travelling to Valparaiso & Viña del Mar to find out more!
Santiago – Capital city with much to do in and around it. During the winter, there are even opportunities to go skiing in the surrounding Andes.
You can easily extend your time in Chile by following our backpacking route in Patagonia. To continue with this South America itinerary, there are buses from Santiago to Mendoza that take around 8 hours. The route is a spectacular crossing of the Andes and obviously you will see more if you opt for a day bus although night ones do run. You may want to stop off in a village in the mountains to break up the journey and enjoy the incredible scenery but be wary of altitude sickness! Check out BusBud for the latest schedules.
---
Argentina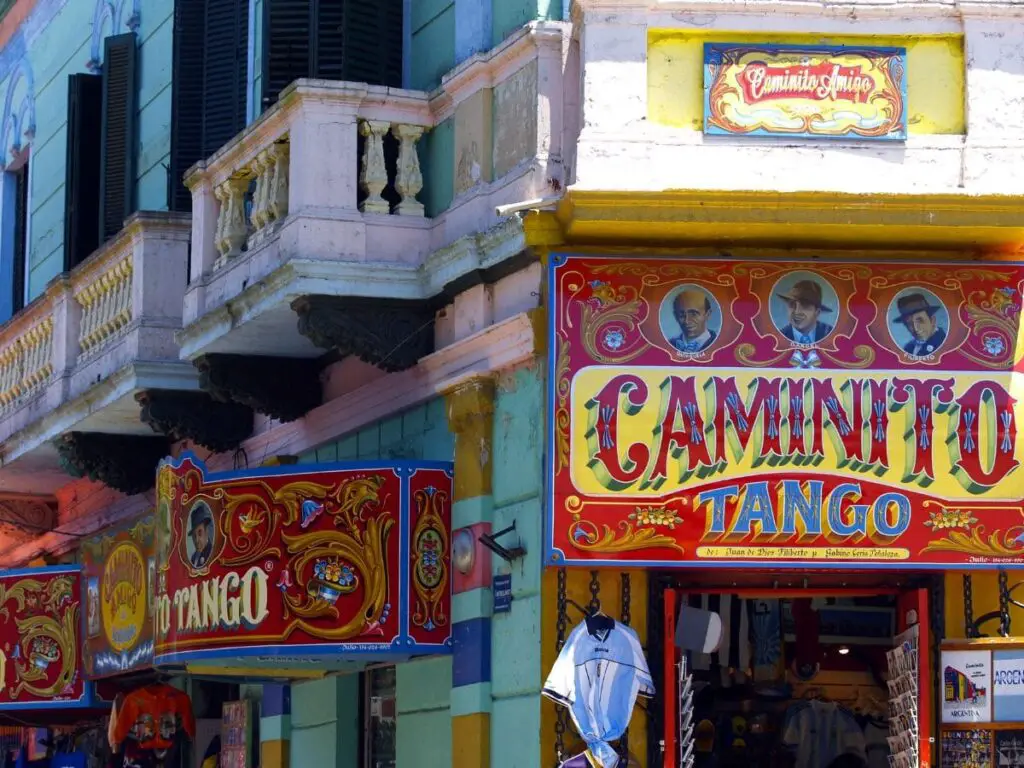 Mendoza – Excellent wine produced here and it's also not far from Mount Aconcagua, the tallest on the continent.
Cordoba – Argentina's second city is full of students and offers something of a Mediterranean feel. It's a big city but much more chilled out than Buenos Aires.
Alta Gracia – Small country town outside of Cordoba. The main attraction in Alta Gracia is Che Guevara's childhood home, which is now an excellent museum.
Rosario – Big city with riverside beaches and a slightly alternative vibe.
Buenos Aires – One of the world's largest cities and a hugely popular destination on any South America backpacking route. Take in a football match to experience the national obsession, soak up the vibrant streetlife, and party in lively bars and clubs that stay open all night. Buenos Aires has perhaps the widest selection of things to see and do of anywhere on this itinerary so plan to spend a bit longer than usual here.
Colonia is actually a popular day-trip from Buenos Aires so it is very easy to get from Argentina to Uruguay. Buquebus is a company that offers fast boats taking just one hour or cheaper slow boats that do the journey from BA to Colonia in just under three hours. They also have boats direct to Montevideo and Punta del Este from the docks in Buenos Aires.
---
Uruguay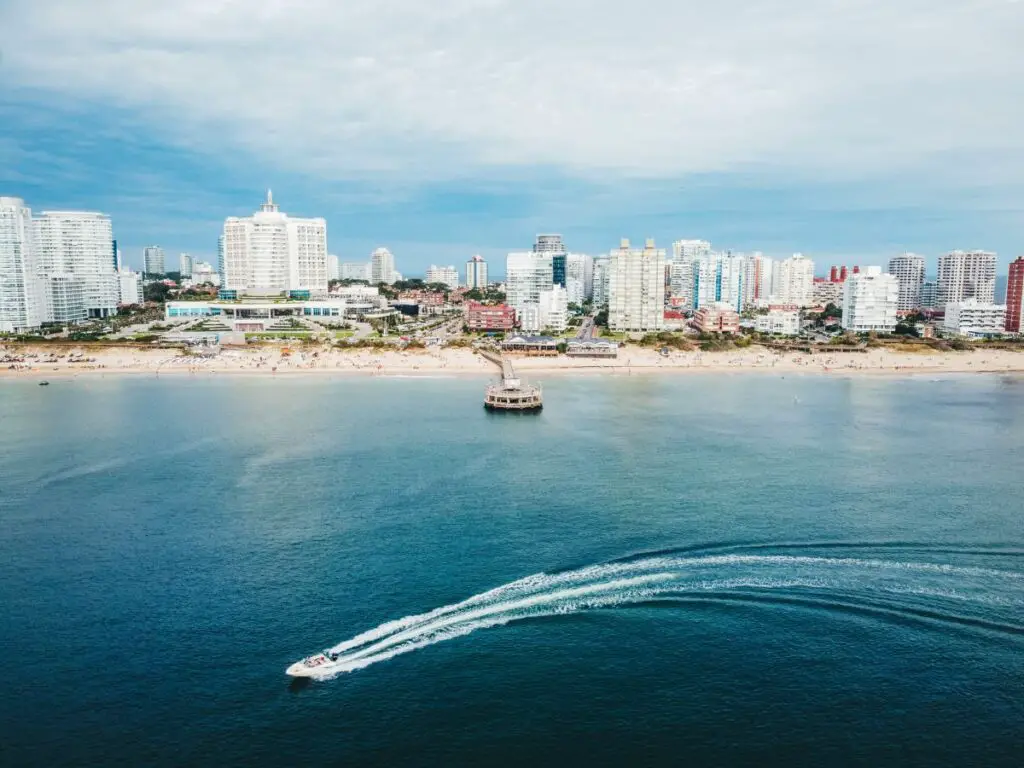 Colonia – A short hop across Rio de la Plata from BA, this cobblestone town with lively bars is a great if a little touristy introduction to Uruguay.
Montevideo – Small and very pleasant by the standards of capitals in Latin America. Popular with artists and architecture lovers.
Piriapolis – Fun, budget beach resort with jet skiing, windsurfing and banana boating.
Punta Del Este – Most popular beaches in the region and a big nightlife scene during the summer months or at holiday times!
Cabo Polonio – A tiny coastal village with sea lions, penguins, whales, rustic hostels and lots of hippies.
It's a long trip north from Uruguay to Porto Alegre. One option is to cross the border on foot at the nearby town of Chuy. The main street is called Avenue Brasil/Uruguay and is where you will find the immigration controls. There is accommodation in the town if you don't want to head straight to Porto Alegre which is around 7.5 hours away by day or night bus from Chui Bus Station on the Brazilian side of the border. This is where backpacking through South America suddenly seems to get a bit more expensive. Read more on the cost of travel in Brazil.
---
Brazil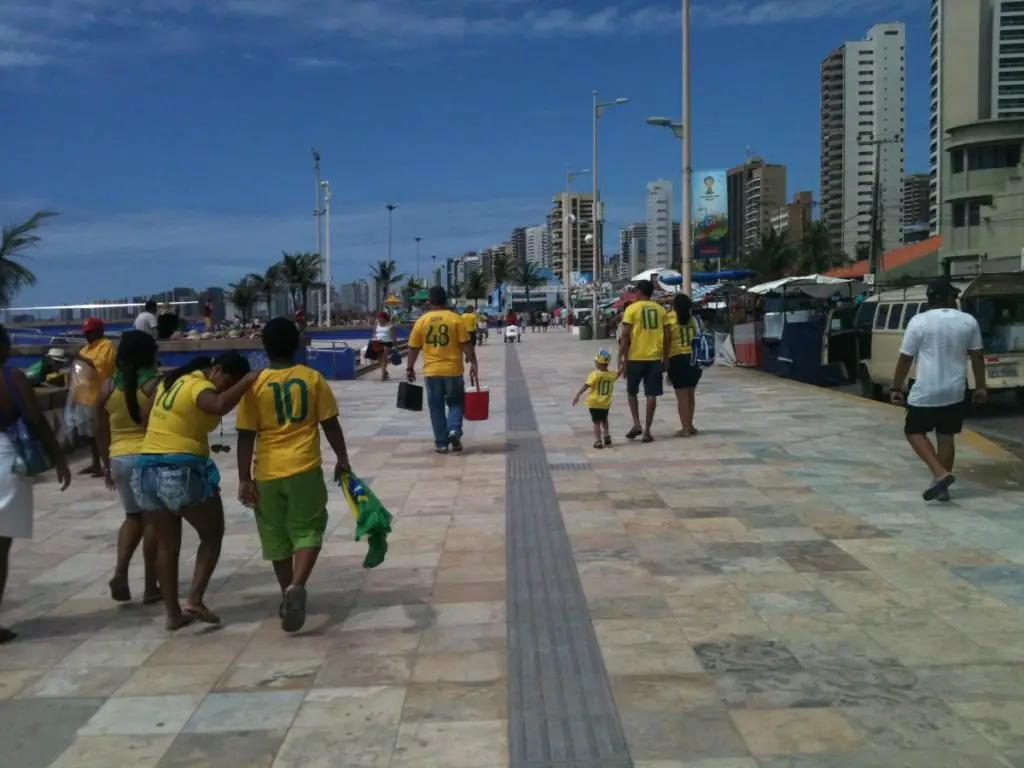 Porto Alegre – Relatively large city with a modern feel, a number of interesting museums and lively arts and music scenes.
Iguacu Falls – Spectacular waterfalls where three countries meet. Pop over into Paraguay if you're looking to tick another country off your list. Iguacu Falls is one of our top 10 Latin America travel experiences!
Curitiba – Historic buildings, arty vibes and a European influence give Curitiba a different feel to other cities in Brazil.
Ilha do Mel – Enchanting island with top notch beaches, surfing and lively parties in the peak season. Cars are banned!
São Paulo – The biggest city in the southern hemisphere is chaotic but worth a visit just to get a feel for one of the world's megacities. More on the monster that is São Paulo here!
Paraty – Stunningly preserved 18th century colonial town with so many beaches and islands nearby you are literally spoilt for choice.
Ihla Grande – More amazing Brazilian beaches, lush forests and island parties.
Petropolis – Easy day trip from the heat of Rio but it's worth crashing in this historic mountain town for a night.
Rio de Janeiro – Rio would make a spectacular ending to your time travelling in South America. Time it to get here in March for the Rio Carnival if you can but remember to book accommodation in advance. The city of sun, sea and sin is so much fun!
Check out our specific Brazil travel itinerary if you want to keep going and explore more of the country. Otherwise Rio is a pretty good destination for flights home with one of the busiest South American airports. There are often more options from São Paulo though.
---
South America Map & Itinerary Overview
---
Our South America backpacking route starts in Colombia which has been experiencing something of a travel boom over the past few years and rightly so. It has evolved into a mostly safe, friendly and exciting place to visit with a fabulous mix of big cities, stunning countryside, Caribbean coastlines and Latin passion.
It then follows the Andes down through Ecuador taking in historic Quito and a jaw-dropping train ride. Peru is next and for many the highlight of travel in the region: the Inca Trail and a trip to Machu Picchu. Head east into Bolivia and be shocked and inspired in equal measure by the continent's poorest country before diving into Chile for more spectacular Andean journeys.
Some vibrant big cities await as you head from the Chilean capital of Santiago on the Pacific Coast to buzzing Buenos Aires on the Atlantic Coast taking in the heart of Argentina as you go. After months on the road, it's now very much relaxation time as the beautiful beaches of Uruguay and Southern Brazil await before going out with a bang in the ultimate party city of Rio de Janeiro.
South America Backpacking Route – How long to spend in each place?
| | | |
| --- | --- | --- |
| Country | Destination | Suggested Time |
| Colombia | Cartagena | 2-3 Days |
| Colombia | Parque Nacional Tayrona | 2-4 Days |
| Colombia | Mompos | 1-2 Days |
| Colombia | San Gil | 2-3 Days |
| Colombia | Villa de Leyva | 1 Day |
| Colombia | Bogota | 2-3 Days |
| Colombia | Salento | 2 Days |
| Colombia | Cali | 2 Days |
| Colombia | Popayán | 2 Days |
| Ecuador | Otavalo | 2-3 Days |
| Ecuador | Quito | 2-4 Days |
| Ecuador | Cotopaxi | 2-4 Days |
| Ecuador | Baños | 2 Days |
| Ecuador | Riobamba | 1-2 Days |
| Ecuador | Sibambe | 0-1 Day |
| Ecuador | Cuenca | 2-3 Days |
| Peru | Mancora | 2-4 Days |
| Peru | Trujillo | 1-2 Days |
| Peru | Huaraz | 2-3 Days |
| Peru | Lima | 2-3 Days |
| Peru | Huacachina | 2 Days |
| Peru | Nazca | 1-2 Days |
| Peru | Cuzco | 3-4 Days |
| Peru | Inca Trail & Machu Picchu | 1-4 Days |
| Peru | Puno | 1-2 Days |
| Bolivia | Copacabana | 2 Days |
| Bolivia | Isla del Sol | 2 Days |
| Bolivia | La Paz | 2-4 Days |
| Bolivia | Sucre | 1-2 Days |
| Bolivia | Potosi | 2 Days |
| Bolivia | Salar de Uyuni | 2-4 Days |
| Chile | San Pedro de Atacama | 2-4 Days |
| Chile | Antofagasta | 1-2 Days |
| Chile | Copiapo | 1 Day |
| Chile | Viña del Mar | 1-4 Days |
| Chile | Valparaiso | 2 Days |
| Chile | Santiago | 2-4 Days |
| Argentina | Mendoza | 2-3 Days |
| Argentina | Cordoba | 2-3 Days |
| Argentina | Alta Gracia | 1 Day |
| Argentina | Rosario | 2-3 Days |
| Argentina | Buenos Aires | 3-5 Days |
| Uruguay | Colonia | 2 Days |
| Uruguay | Montevideo | 2-4 Days |
| Uruguay | Piriapolis | 1-3 Days |
| Uruguay | Punta Del Este | 1-4 Days |
| Uruguay | Cabo Polonio | 2 Days |
| Brazil | Porto Alegre | 2 Days |
| Brazil | Iguacu Falls | 1-2 Days |
| Brazil | Curitiba | 2 Days |
| Brazil | Ilha do Mel | 1-3 Days |
| Brazil | São Paulo | 2-3 Days |
| Brazil | Paraty | 2-3 Days |
| Brazil | Ihla Grande | 2-3 Days |
| Brazil | Petropolis | 1-2 Days |
| Brazil | Rio de Janeiro | 3-6 Days |
This South America backpacking route is designed for 6 months if you take it at a leisurely place and usually opt for the higher end of the suggested time-frames. Remember when planning your trip, that you will lose a lot of hours to bus travel which will add up to many days over the entire course of your South American adventure. There will be days when you are worn out from long journeys and don't feel like doing much when you arrive at your new destination.
The above is only designed to be a guide and you can easily tailor your route to your own preferences. It's also worth noting that there are a few seasonal destinations, for example Viña del Mar and Punta del Este, which don't have much going on during the winter months and could potentially be skipped.
There are 56 different destinations in total which means on average you want to be spending about 3 nights in each place for the entire trip to take 5-6 months. There will be several opportunities to do night buses though. Travelling at night is one of the best tips for backpacking South America on a budget, as you can regularly find yourself saving the cost of a night's accommodation.
Other South America Backpacking Routes
There are loads of options for lengthening or shortening this itinerary. Extensions may include spending time in the Amazon by delving deeper into Brazil or heading to Iquitos in Peru. Nature lovers would also be foolish not to make the long trip down to the chilly, southern tip of the continent in Patagonia.
If you're pushed for time though, one option is to take a few flights along the way to save yourself many lonely hours on buses and skip some of the less interesting bits. One possibility would be flying from Quito to Cuzco and then heading on the Inca trail. Peru is a very large country with some dodgy roads and the ascent up to Cuzco by land is something of a nightmare.
If money is more your restraint and you only have three months for backpacking South America for example, consider focusing on the cheaper Andean region, particularly Ecuador, Peru and Bolivia.
---
 This South America route was last updated in July 2022.
---
South America Backpacking Route