Travelling through Patagonia is quite simply a nature lover's dream. This Patagonia backpacking route, covering the best of Southern Argentina and Chile starts in Santiago and ends in Ushuaia, the southern tip of the South American continent. In other words, you will be as close to Antarctica as it is possible to get without actually going there yourself (which is an option from Ushuaia!).
---
Backpacking Patagonia – Route Info
---
TIME NEEDED – 5 to 6 WEEKS
5 weeks is probably sufficient but if you have the time and funds, you can take it slower. There are some pretty big distances to cover and you could do it in less by taking the odd flight or skipping a couple of destinations. See the Patagonia itinerary map for an overview.
If you have more time, there is a whole lot more to see in both Argentina and Chile besides Patagonia. Highlights include backpacking Salta and Argentina's remote Far North, the capital Buenos Aires and Chile's Atacama Desert.
---
POSSIBLE SHOESTRING BUDGET
£1,600 | €1,850 | $2,000
Patagonia is a tough place to budget for due to a number of factors. There are major seasonal variations with accommodation costs rising significantly during the warmer, summer months when parts of Patagonia are just about the most expensive destinations in all of South America. However Argentina's currency has massively lost value in recent years which does make things more affordable for most visitors, although the situation is regularly evolving with the pandemic massively adding to the uncertainty.
Indeed this trip has not even been possible for more than two years with Chile only reopening all of its land borders in May 2022. Therefore, at the time of writing, many bus services and accommodation providers are only just opening up once more and in areas with little competition, prices may be high initially.
Therefore don't take these figures too seriously but perhaps consider $2000 as a base number during normal times (and remember to add in the likely high cost of actually getting to/from the region). You'll want to increase that a bit if you are coming during the summer. However if you're willing to camp in a lot of places rather than stay in hostels, you can certainly make some big savings.
The exchanges rates and estimates are as of June 2022. Read more on the cost of travel in Chile.
---
TRAVEL INSURANCE FOR BACKPACKERS IN PATAGONIA
The cost of travel insurance isn't included in the budget figures above. You can get a quote in less than a minute from Heymondo who provide well reviewed international travel insurance for backpackers from all over the world. Read our Heymondo vs SafetyWing comparison to find out more.
---
VISA REQUIREMENTS
Citizens of many countries including all EU states, the UK, all South American countries and the USA do not need a visa to enter Argentina for up to 90 days. Canadians and Australians can also enter with no visa and no longer need to pay reciprocity fees.
The situation is very similar in Chile with all EU members, British, US and most South American citizens getting visa-free entry for 90 days. At the time of writing, Australians are required to get a visa in advance.
This route hops across the border several times, so most visitors will simply get a fresh 90 days (no cost) every time they enter Argentina or Chile. There may still be some extra requirements relating to Covid-19 so check at the time of your trip.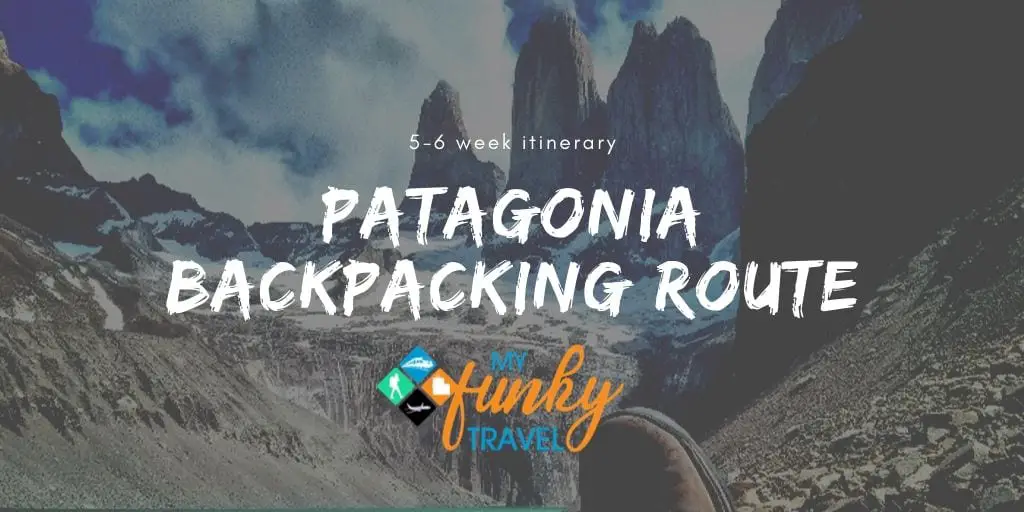 ---
Backpacking Patagonia – 5-6 Week Itinerary
---
1. Santiago de Chile
The capital of Chile is one of the best places to live in South America and one of the most beautifully located major cities in the world with the snow-capped Andes mountains providing the backdrop. They provide plenty of great trekking opportunities and you can even go skiing during the colder months. The city itself is enormous and by far the biggest on this route. Therefore it's the best place to buy anything you might need for your trip south. It's also developing into a thriving cultural centre and there is plenty to see and do without leaving the confines of the city. A trip up the famous Cerro San Cristobal is a good starting point.
---
2. Valparaiso
Just 120 km or so west of Santiago you reach the Pacific Ocean and Valparaiso, a really colourful harbour city and one of the most popular backpacking destinations in Chile. It has a big bohemian feel to it and as you roam around the hilly streets you'll never be far from something quirky. Lovers of the arts will enjoy Valpo and a trip to the house museum of famous Chilean poet Pablo Neruda is highly recommended. It's also surrounded by excellent vineyards that you can visit and the locally produced but world famous Chilean wine is well worth a taste.
---
3. Viña del Mar
Viña del Mar is literally only 10 minutes down the coast from Valparaiso but is another essential stop on any backpacking route in Chile. It's home to one of the most popular beaches in the country but it can be a bit chilly unless you visit in the peak of summer (December to February). It also plays host to one of South America's biggest music festivals each February.
---
Getting from the Santiago Area to the Lake District:
From Viña del Mar or Valparaiso it's quick and easy to get back to Santiago and will only take around 90 minutes to two hours depending on the traffic into the capital. From Santiago you can start your trip south. It is around 750 km between Santiago and Villarrica with buses taking approximately 10-11 hours. There are several daily departures (as of June 2022) with prices starting at around a reasonable 17,000 Peso ($21). Many travellers opt for the night bus which will save you the cost of a night's accommodation. Buses depart from Santiago's Terminal de Buses San Borja and Terminal Sur.
---
4. Villarrica
Surrounded by lakes, volcanoes, caves and hot springs, Villarrica is a hugely popular hiking destination. In the summer it can be nice to stay in Pucon, a small beach town on the banks of Lake Villarrica. You can also explore the area by horse or go on rafting trips. The highly active Volcan Villarrica (which erupted as recently as March 2015) is a stunning sight but trips up it are very much restricted because, as you might imagine, it can be fairly dangerous!
---
5. Cochamó Valley
Hiking, rock-climbing, ridiculous valleys and cliffs as well as some rather wonderful natural water-slides are all the rage here. You can get to Cochamó by taking a bus from Villarrica to either Puerto Varas or Puerto Montt and then transferring onto a bus into the isolated Cochamó Valley which has limited lodging options but camping is also possible for those who like the wild.
---
6. Chiloe Island
It doesn't really matter whether you head to Cochamó or Chiloe first as to access either you need to pass through Puerto Varas or the larger Puerto Montt. Chiloe is the largest island in Chile with more incredible scenery and treks as well as some lovely little villages and plenty of intriguing ancient myths.
---
7. Puerto Varas
A compact and unremarkable town but a decent base for more Lake District adventures. Options include the Vicente Pérez Rosales National Park, home of the Petrohué falls and Lake Todos los Santos. The stunning Osorno and Calbuco volcanoes are also nearby. Mount Osorno has a pretty cool chairlift which is open all year round. It is used by skiers in the winter and pretty anyone who likes a view in the summer. Kayaking and rafting is also possible close to Puerto Varas. This is your best base for getting to Argentina but it's not a simple task!
---
BORDER CROSSING (Chile to Argentina) – Getting from Puerto Varas to Bariloche:
As the crow flies there is less than 150 km between Puerto Varas in Chile and Bariloche in Argentina. However with some rather large mountains and plenty of lakes in the way, crossing the Andes is not such a simple task. At the time of writing, there are departures from Puerto Varaas with Andesmar at 9:25am (roughly 3 days per week) costing the equivalent of $60 and taking roughly 7 hours including a stop at the border post. However this is significantly more than pre-pandemic prices and may fall once more competing routes open up once more.
Previously there were some companies that offered ridiculously named but much more direct bus-boat-bus-boat-bus-boat-bus crossings (or something like that). The deal was that you crossed over the Andes via three stunning lakes and took in some truly breathtaking scenery while typically stopping overnight at a village somewhere between the two. Cruceandino was one company that offered this trip and they are seemingly planning to recommence services soon now the borders are open.
---
8. San Carlos de Bariloche (& Nahuel Huapi National Park)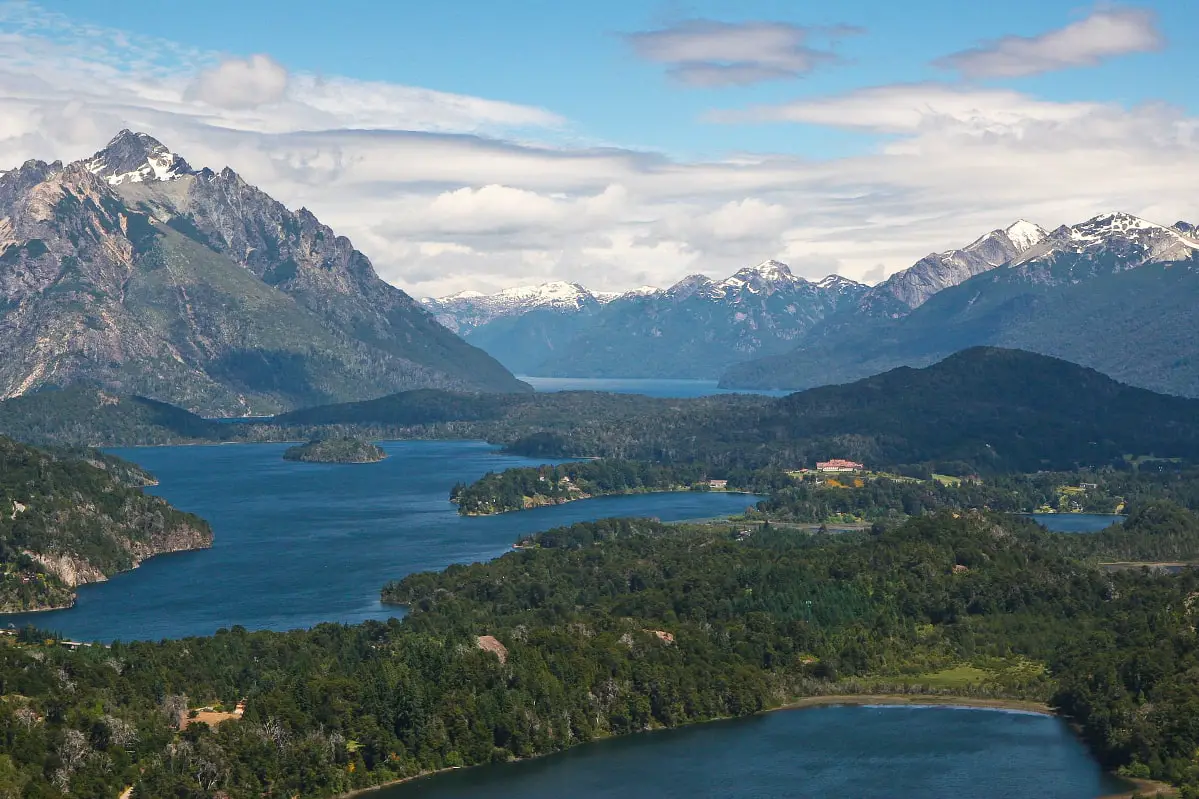 The long trip here will soon be worth it when you start exploring the beautiful Argentine lakes and mountains in the area. It is famous for skiing, water sports, trekking and climbing. The town of San Carlos de Bariloche itself is also one of the liveliest in Patagonia, with a swanky Swiss-like vibe and some banging bars and clubs that party on past dawn during normal times. It is certainly an essential and usually very popular stop on any Patagonia backpacking route.
---
9. Esquel (for Los Alerces National Park)
Esquel is 300 km or so south of Bariloche and is used as the gateway for Los Alerces National Park. It has loads of great hiking trails and is very large going right up to the border with Chile. The park takes its name from the alerce trees which are literally everywhere. The town itself is small and growing but has nowhere near as much going for it as Bariloche.
---
Getting from the Lake District to the Extreme South:
There is a long distance bus than runs between San Carlos de Bariloche and El Chalten (roughly 24 hours). One of the stops is Esquel so you can hop off and hop on the bus at Esquel where you can spend a few days. Prior to the pandemic, you could expect to pay roughly around US$5 for every hour of travel in this region. However many bus services are yet to open up again. Marga Taqsa are running some cama buses as of June 2022 but they are not daily and prices are higher than before. They also seem to take longer currently with Esquel to El Chalten taking 27 hours!
The ride is long but passes through some stunning deserted scenery. Before long you realise you really have entered the weird wilderness of the far south of this continent.
---
10. El Chalten
This is a major hiking destination in the Southern Andes. Ambitious trekkers regularly take on the challenge of Mount Fitz Roy and Cerro Torres, two of the biggest peaks in Patagonia. It's busy in the summer but pretty quiet the rest of the year. However during normal times, there is always a steady stream of travellers backpacking through Argentina and Chile.
---
11. El Calafate (for Los Glaciares National Park)
Just 2-3 hours by bus from El Chalten, this is also a major base for trekkers in Argentine Patagonia. It is mostly used by those looking to explore the fabulous Glaciers National Park. Entrance to the park (valid for a day) was 800 Argentine Peso (roughly $7) according to recent reports but this may have changed! Plenty of different tours and trips can be arranged in El Calafate to witness the incredible giant glaciers.
---
BORDER CROSSING (Argentina to Chile) – Getting from El Calafate to Torres del Paine:
Prior to the pandemic there were buses that took around 5-6 hours to get from El Calafate to Puerto Natales in Chile with some options that first ran to Pudeto, near Torres del Paine. Most of these should be operating again by late 2022 when the peak summer period kicks off. Hitchhiking from El Calafate to Puerto Natales is also very possible and is generally considered a safe and good option in Patagonia.
---
12. Torres del Paine National Park
You are now really approaching the chilly southern tip of the continent and Torres del Paine National Park is home to plenty of stunning mountains, glaciers, lakes, and rivers. It is notoriously expensive to stay in the park itself but there are usually some dorm beds available in the refugios (reserve in advance) while there are many campsites, some of which are free. Camping in non-designated areas is strictly not allowed. Check out this detailed 80 mile Torres del Paine hiking route if you fancy a longer stay in the area.
---
13. Puerto Natales
There is nothing particularly amazing about Puerto Natales but it has good basic infrastructure for backpackers in Patagonia and is an excellent base for making your way to Torres del Paine and Bernardo O'Higgins National Parks, as well as onto Punto Arenas.
---
14. Punto Arenas
Punto Arenas is the most southerly city on mainland South America. The weather can make exploring the town pretty difficult but there is a surprising amount of history and sites of interest. You can also get to the Seno Otway penguin colony where each spring hundreds of Magellanic Penguins come to breed. Meanwhile there is a good view of some incredible whales from Carlos III Island.
---
BORDER CROSSING (Chile to Argentina) – Getting from Punto Arenas to Ushuaia:
Prior to the pandemic, the two southernmost cities in the world were linked by frequent bus services that took around 10-12 hours including a short ferry ride from mainland South America onto the island of Tierra del Fuego. These are again expected to resume very soon with companies such as Techni Austral among the best options.
---
15. Ushuaia (Tierra del Fuego)
Ushuaia is commonly referred to as the southernmost city in the world and a thriving tourism industry has built up in recent years focused around the cruises to Antarctica. The town is now complete with nice restaurants and given its military history there are some cool museums to visit such as Museo Marítimo set in an old prison. Nearby Tierra del Fuego National Park is also an incredible place to explore and this is fast becoming a popular stop on many backpacking routes in Argentina and indeed South America.
From Ushuaia, between November and March it is usually possible to take a cruise to Antarctica which it goes without saying is an incredible experience that few people get to do in their lifetime. It's by no means cheap to do this though with pre-covid cruises often advertised at around US$10,000, although they could be found in town for much less (from around $3,500) and there were boats leaving every day from November onwards. Typically the cruises were 7-10 days including various stops. However again, much has changed following the pandemic, and we won't get a full picture until the next summer Antarctica cruise season (late 2022-early 2023) of what kind of prices to expect now.
---
Patagonia Map & Itinerary Overview
---
Given Ushuaia is the end of the world, there is only really one way to go once you complete this Patagonia itinerary and that is north. Invariably this involves getting to Buenos Aires from where you can fly to pretty much anywhere in the world or continue your travels in South America. It's about 3 hours 30 minutes by air to the Argentine capital from Ushuaia but thankfully now there is a budget airline running the route in the shape of flybondi with fares starting at a much more reasonable 10,000 Argentine Peso (roughly $80). There are some seriously long-distance buses too but there are no train services between Buenos Aires and Patagonia.
Patagonia Backpacking Route – How long to spend in each place?
| | | |
| --- | --- | --- |
| Order | Destination | Suggested Time |
| 1 | Santiago (Chile) | 2-3 Days |
| 2 | Valparaiso (Chile) | 2 Days |
| 3 | Viña del Mar (Chile) | 1-3 Days |
| 4 | Villarrica (Chile) | 2-3 Days |
| 5 | Cochamó Valley (Chile) | 2-3 Days |
| 6 | Chiloe Island (Chile) | 2-4 Days |
| 7 | Puerto Varas (Chile) | 1-3 Days |
| 8 | San Carlos de Bariloche (Argentina) | 2-4 Days |
| 9 | Esquel (Argentina) | 1-3 Days |
| 10 | El Chalten (Argentina) | 2-3 Days |
| 11 | El Calafate (Argentina) | 1-3 Days |
| 12 | Torres del Paine (Chile) | 2-4 Days |
| 13 | Puerto Natales (Chile) | 1 Day |
| 14 | Punto Arenas (Chile) | 2-3 Days |
| 15 | Ushuaia (Argentina) | 2-4 Days |
Given most of the destinations on this Patagonia backpacking route are natural ones rather than towns or cities with a set amount to see and do, the suggested timeframes shouldn't be taken too seriously and you can easily tailor it to your respective interests. It's probably best not to make a rigid plan either as there are many factors which can have an impact such as weather conditions and accommodation availability and costs as prices can shoot up during peak periods. Those on a tighter budget may want to spend longer in places where accommodation is cheaper and avoid some of the national parks that charge entry fees and pricier options.
The timeframes and overall itinerary will also differ according to what kind of trip you are having. Those willing to camp may want to skip some of the towns and stay in the wild while those attempting a big Patagonia road trip with their own vehicle will have more options in terms of getting to areas not served so well by public transport.
The time of year in which you visit will also have an impact on how long you stay in each place. For example, the beach destination of Viña del Mar is certainly not worth spending more than a day if you arrive during the middle of the year when it is colder and wetter. However it becomes a lovely place to pass some time between December and February.
In addition, when planning your trip, you will also need to consider that you will spend several days just travelling from A to B in what is a very large area with over 3,000 km between Santiago de Chile and Ushuaia. Do your own research prior to travelling to Patagonia too, as at the time of writing, the region is only just reopening to tourism with information on the current status of bus services not great.
---
Check out our other Latin America routes!
---
Our ultimate Patagonia itinerary was last updated in June 2022.
---
Patagonia Backpacking Route (Argentina & Chile)