This post contains our special Worldpackers discount code which will work throughout all of 2022 and will give you $10 off the registration fee (click the image below to activate it). Once signed up, you can start to fill out your profile and apply for placements. If you don't know anything about them yet, do not fear as this Worldpackers review will guide you through the basics and explain how you can use the platform to potentially live the dream of many by working and travelling around the world.
---
Worldpackers Review 2022 – The best work exchange platform for backpackers?
---
Who are they?
Worldpackers was launched in Brazil in 2013 and they remain based in Sao Paulo but have a growing global presence. They are an online, social travel marketplace where travellers can connect with hosts around the world. The idea is the travellers work or help out with any tasks the hosts need doing in exchange for free accommodation and often meals and other perks such as free tours and trips.
Who can use Worldpackers?
Anyone over the age of 18 can use the Worldpackers platform to find work exchanges. While it's true that it typically attracts younger travellers in their 20's or 30's, there is no formal upper age limit. However some roles may be more geared towards young people and there are a minority of hosts who will not accept anyone over a certain age, but most are welcoming.
Worldpackers is geared at backpackers and travellers looking to learn new skills and have new experiences that are different to the standard backpacking/hosteling trip. However the motivation for many people using the platform is also to save money which in turn will enable you to extend your trip and travel more.
If done properly, Worldpackers is a platform that can really transform your travels for the better. There are placements in every continent and hundreds of options in some of the more popular countries so even if you are on a big trip around the world or don't know your exact plans yet, you never know when your Worldpackers membership may come in handy.
How does a Worldpackers exchange work?
Worldpackers.com (iOS | Android) is basically a platform that enables you to find work/stay exchanges. The annual membership fee ($39 with our Worldpackers coupon for 2022) includes the following:
Access to thousands of placements including social impact projects, hostel jobs, farm-stays and other types of work exchange. These are all around the world and can be booked directly through the site/app.
24/7 support (in-app, email and phone) from their customer service team.
Access to a huge community of over a million travellers (includes Worldpackers Expert Travellers, who have travelled using Worldpackers in the past and now provide tips and guidance for current users).
Hosts are first vetted by the Worldpackers team prior to taking their first guests to ensure a safe and suitable exchange. The hosts are looking for different things in terms of the skills and time they want from a volunteer. This can include everything from teaching languages to digital marketing. In return they offer travellers accommodation, meals and other services.
You will have a better chance of getting accepted by taking the time to fully complete your profile and by detailing what skills and interests you have. Even so, that first placement can be hard to get but there are some roles that are listed as having a "higher chance of approval" so those are a good starting point for new users. If you're not having much luck, try adding a bit more depth to your profile. Hosts will also want to feel safe when inviting anyone new into their home or place of work!
Once you have been accepted for a role, you can start planning your trip. You will stay with your host for the time period agreed and will be required to work or help out for the number of days and hours listed in the placement. This usually varies between 20-30 hours per week and obviously you can do your own trips and make your own plans during your free time.
After the exchange, you review and rate your host and they do the same for you. These are important as obviously safety, trust and transparency are major factors in making something like this work.
Hosts will find it easier to attract more travellers the better an experience they offer, while you will find it much easier to get accepted onto other placements once you have had your first Worldpackers experiences and built up a few positive reviews.
Worldpackers Discount Code 2022: MYFUNKYTRAVELWP
You can browse all of Worldpackers' opportunities without signing up to the platform, however to apply for anything and use it to work and travel, you will need to formally register and pay the annual membership fee.
By using the Worldpackers promo code MYFUNKYTRAVELWP you will activate a $10 discount when signing up. In other words you will pay US$39/year as opposed to the usual US$49/year so it's a nice saving for anyone looking to get started.
There are also a couple of additional membership tiers, including one for couples or friends travelling together, but the standard membership is all you really need to get going.
Once a full member, you can start applying for work exchange placements all around the world. Even if you only do one placement during your year, it will still almost certainly pay for itself in terms of savings on accommodation costs and other travel expenses.
Examples of Worldpackers Exchanges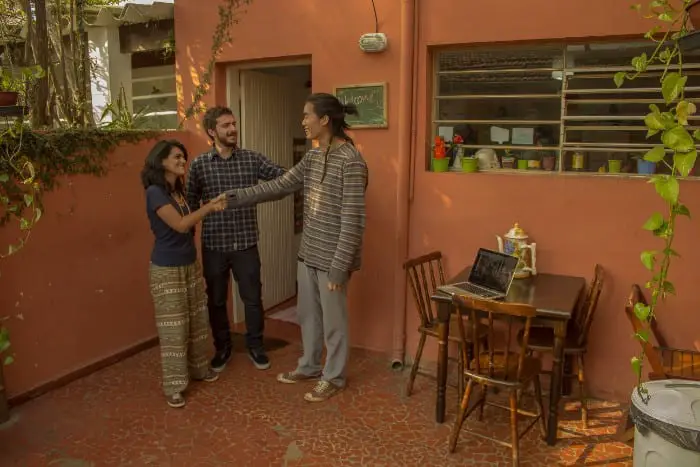 One of the best things about the site is the huge range of different types of projects there are to get involved with, not to mention the number of different countries you could potentially go to (more than 170 at the last count!).
While there are more typical volunteering projects such as teaching English or helping build infrastructure in developing countries, there are many things you may not even have considered, which could appeal directly to your passions. Spend a bit of time scouring the opportunities they have available and you may just find that dream placement.
A few quick examples of how you can use Worldpackers exchanges to work and travel include:
We have a longer post on some of the most interesting Worldpackers placements here. Use the search function and filters on their site to browse thousands of more great opportunities around the world.
New to Worldpackers – The 3 Most Common Questions
Is Worldpackers a legitimate website?
Worldpackers is legit! They have been going for almost a decade now and actually grew their userbase considerably during the pandemic with a community of over a million travellers and hosts as of 2022 (although not all of those will be active). You can easily check out the reviews on the relevant app stores for a bit more objective feedback while the Worldpackers Reddit or facebook groups are also good points of call.
As with anything, you still need to be sensible when applying for placements and heading off to work abroad. Applying for well-reviewed placements or perhaps trying to get in touch with previous travellers who have worked there may be a good idea if you are nervous. Once a full member, you can easily message any other Worldpackers user.
Is Worldpackers better than Workaway?
The other major site for work exchanges of this nature is Workaway. In truth, the two platforms are incredibly similar in what they do and there is no reason why you can't use both if you really want to maximise your options for placements. Even the membership fee is the same at $49/year, although you can get Worldpackers down to $39 using the sign up offer outlined above.
A typical Worldpackers experience compared to a Workaway experience will probably be more dependent on your host and the nature of the placement, rather than the company itself. That being said, there are subtle differences between them. Workaway feels slightly more transactional in some ways and has extra opportunities such as pet and house-sitting options which may not be quite so sociable. Whereas Worldpackers feels like a bit more of a community with a greater focus on the experience and ability to develop new skills.
Overall, Worldpackers feels like the more natural option for most backpackers who are hoping to create memories and enjoy new experiences, but there's really not a lot in it.
Do Worldpackers pay?
Neither Worldpackers nor Worldpackers hosts will pay you. The placements are all voluntary work exchanges where you will get benefits including accommodation and food in exchange for your time. This can still prove very cost effective given even a bed in a dorm can come to more than $20/night in some parts of the world.
It's also worth stating, although fairly obvious, that Worldpackers do not pay for your flights or any visas. They are merely a platform where you can connect with local hosts and find work exchange opportunities as you travel.
---
The Worldpackers review was last updated in September 2022. The Worldpackers discount code will remain active throughout 2022.
---
Worldpackers Discount Code & Full Review