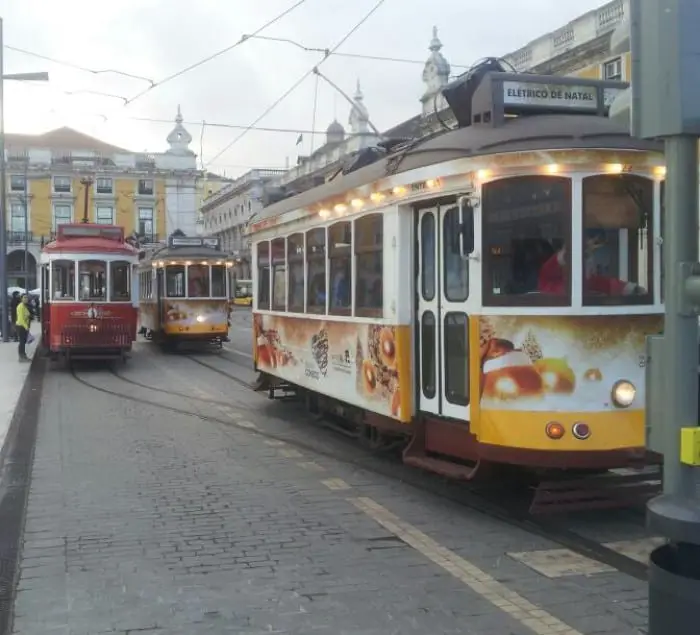 Portugal Cost of Travel – Suggested Daily Budget
This post looks at the estimated cost of travel in Portugal. Read on for suggested shoestring and more comfortable backpacking budgets for one of Western Europe's most affordable destinations. We also have some sample prices.
---
(Map of Portugal from wikitravel, can be re-used under CC BY-SA 3.0)
---
Is it cheap to travel in Portugal?
Portugal Travel Costs on a Shoestring Budget
US$45/day | 40 Euros
As the poorest country in Western Europe, Portugal is quite affordable by the standards of the region. It's perhaps marginally cheaper overall than neighbouring Spain and much cheaper when compared to the cost of travel in France.
Getting around Portugal doesn't cost much with good bus and train connections and a logical North-to-South or South-to-North approach due to the shape of the country. Budget accommodation is cheap and plentiful in most of the country's most appealing destinations and eating and drinking is also great value by the standards of Western Europe.
Therefore a shoestring Portugal backpacking budget of around 40 Euros per day is very possible. There is some regional variation with Lisbon and the more touristy places in the popular Algarve a fraction more expensive. However if you're savvy you can still find great value for money in the capital and by skipping the resorts and heading to somewhere like Lagos which has a big backpacker vibe, you can do likewise in the South.
See where Portugal ranks on our World Budget Travel Table.
More Comfortable Portugal Backpacking Budget
US$65/day | 55 Euros
Increasing your budget gives you a bit of room to go out partying regularly but you can still do a lot of that on the previous budget. It will also allow you to visit the beautiful island of Madeira although the more distant Azores may still be a bit out of budget. Alternatively instead of wasting your money on nights out, you could use the budget to perhaps hire a car (if you're travelling with friends) and that's a nice idea in order to reach the more remote beaches in the South and quieter, more traditional Portuguese villages.
Find Accommodation in Lisbon:
---
How to lower your travel costs in Portugal
One good idea is to take the chance to work in exchange for benefits such as food and a bed for a few days or weeks. Worldpackers is a site/app that allows travellers to search for hosts and take part in work exchanges. This can really help cut down your travel costs and make your trip last longer.
At the time of writing, there are 199 opportunities in Portugal on their platform with everything from work at surf camps to eco-lodges. Be sure to use our Worldpackers promo for a $10 discount if you opt to register!
---
Is Portugal cheaper than Spain?
Lisbon to Faro bus one-way (3-4 hours) – €20
Lisbon to Porto train one-way (3 hours) – €24
Flight from Lisbon to Madeira one-way – from €30-40
Dorm Bed in Lisbon – from €8/night
Cheap private double/twin room in the Algarve – from €15-20 (more during the peak summer months)
0.5 Litre local beer in a reasonably priced bar/restaurant – €2
Meal in an inexpensive restaurant – €7
Compare Portugal prices to the cost of travel in Spain.
Note, these prices were last checked in December 2016. Everything else on this page was updated in early 2019.
---
Money
Currency – Euros
£1 = €1.13
US$1 = €0.87
(All exchange rates are correct as of February 2019)
---
MFT Recommends
Lisbon has some truly excellent hostels. Perhaps the best is the stylish Ambiente Hostel in the heart of the city.
---
street art in Lisbon, Portugal
---
This page was last updated in February 2019.
---