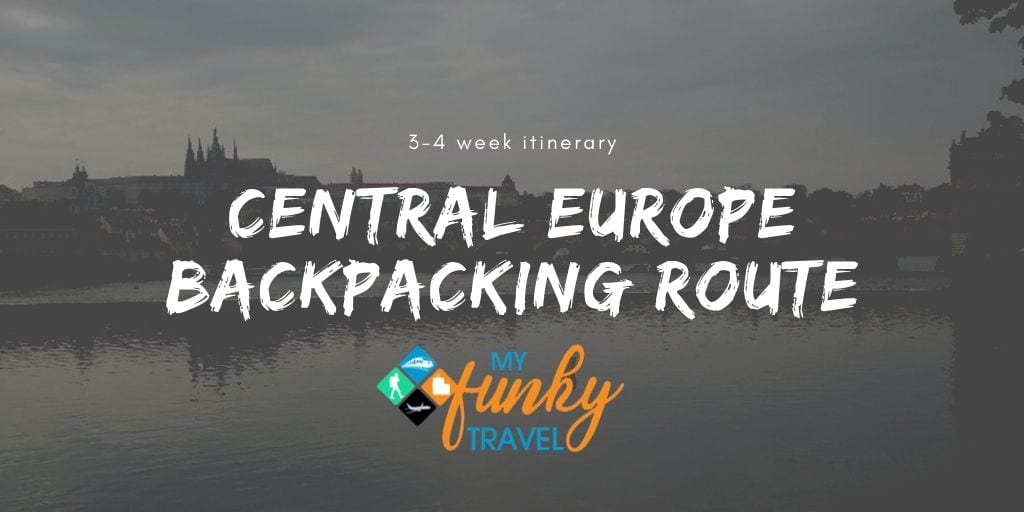 Central Europe Backpacking Route – Interrail Itinerary
Read on for a selection of Europe backpacking routes. On this page we have a relatively hectic schedule for backpacking Central Europe that will keep you diving in and out of countries as you take in one thrilling city after another. Almost every other day you pass through new cultures and languages in a small yet hugely diverse continent. It takes in some exciting capitals in the West either side of a trip beyond the former iron curtain into some charming and budget friendly Eastern Europe cities. We also have an introductory guide to backpacking Europe at the bottom of this page with some general tips and FAQ's plus five more itineraries in Europe in separate posts:
---
Europe Backpacking Routes
The route on this page highlights a typical itinerary which takes in the best cities in Central and Western Europe in a relatively short space of time. Our other Europe backpacking routes are as follows:
Spain & Portugal | Baltics | Balkans | Hungary-Romania-Bulgaria | Scandinavia | South Caucasus | Greece | UK
---
Central Europe by Rail – Itinerary Overview
---
How long does it take to travel around Central Europe by Train?
2 days should be a reasonable amount of time in most cities on the route below so it could be done in 3 weeks but you could easily squeeze in more places and extend your trip for a month. You might be wise to allow for a bit more than 3 weeks given there'll be days where you spend a lot of time on trains and won't get much done on arrival.
How much does it cost to Interrail around Europe?
Possible Shoestring Budget for this Route: £1100 €1250 $1400 + COST OF RAILPASS (see bottom of page)
If you're planning on partying most nights you can probably double that but you can still have fun on our suggested budget if you're a bit savvy. The likes of Paris and Zurich are very expensive cities but there is good value to be found further east.
These figures are based on July 2019 exchange rates and prices, spending 25 days travelling and spending roughly 50 Euros per day on average. It doesn't include the cost of a railpass or other transportation or any other pre-trip expenses. Note that you will be changing country regularly which means it's important to use a debit card that is good for travellers and has low fees on foreign withdrawals.
More details on backpacking costs in individual European countries.
Find work whilst backpacking around Europe
If you want to stay for a longer period, finding some kind of work placement can really help extend your trip and lower your daily expenses. Use our Worldpackers promo code to access a host of potential placements that could make your trip more interesting and more affordable. At the time of writing there were over 1,000 opportunities in Europe with Worldpackers ranging from hostel work to farm placements.
Travel Insurance for backpacking Europe
Europe may not be particularly dangerous by global standards but petty theft is common in many of these cities. Here's a look at some of the best options for backpackers.
---
Backpacking Europe – Popular Interrail Itinerary
We suggest following the Central Europe travel route in the map above and numbered below in that order or doing it in reverse. However there are so many great cities we had to leave out, you can easily alter it to suit your tastes!
---
1. Amsterdam
This ultra liberal city is the perfect place to start any euro-trip and is a popular stop for most travellers on a Central Europe backpacking route. The large airport is a major hub with flights to and from cities all around the world and the train station offers excellent info and advice in English on Europe rail passes, a luxury that is less common as you head east, so it is a good starting point.
As for the city well for starters, yes you really can walk into a cafe in Amsterdam and buy weed. This alone is enough to convince many travellers in Europe that the Dutch capital is worth a visit. If you're looking for more then this attractive city is full of lively squares, loads of canals and the fantastic Anne Frank Museum. It's slightly dangerous in parts, especially the red light district which you may find an unpleasant eye-opening experience but it is an important place to visit to fully understand the city. While it is a pretty expensive destination, there are also a host of free things to do in Amsterdam which should help you stick to a shoestring budget.

(Amsterdam to Berlin: 6 hours)
2. Berlin
Germany and its capital especially has very much got its cool back. Germans have got a renewed self-confidence and sense of national pride that was lacking for the latter half of the 20th Century. Berlin has been practically rebuilt since the Wall was knocked down in 1989 and has been done so with great style and planning that is rarely seen in big cities across the world. The city also has a rebellious streak and there are some interesting districts to visit while you attempt to understand the immense history of this until recently divided city. It's nightlife scene is also not to be missed with some incredible warehouse clubs.
For more on the nation as a whole, check out our countdown of the best places to visit in Germany this summer.
(Berlin to Prague: 4-5 hours)
3. Prague
It is true that Prague has become very touristy over the past decade or two but there's good reason for it and it's still a lot cheaper than its western European counterparts. The city is perhaps the most beautiful in Europe with stunning churches and bridges as well as a picturesque riverside setting. There's also excellent and ridiculously cheap beer, available in the student areas for well under €1 for a pint. The nightlife is also a big draw for visitors and is best on weekends when the clubs are packed with a mixed crowd of Czechs and mostly European tourists. There are also literally hundreds of youth hostels and budget hotels of varying quality, most of which are very reasonably priced while Prague Castle is perhaps the main highlight in terms of things to see.

(Prague to Krakow Night Train: 8-10 hours)
4. Krakow
If you liked Prague, you'll most likely enjoy Krakow. It's another city with a fascinating history with a lively old quarter and a once thriving Jewish district which still intrigues and charts the troubled history of Jews in the city. A visit to the Auschwitz Concentration Camp is a harrowing day trip that can be done by using your rail pass. At night the city has some crazy cellar bars and clubs which are great places to beat the cold Polish winters.
For more on Krakow check out our Backpacker's Guide to Poland.

(Krakow to Budapest Night Train: 9-10 hours)
5. Budapest
The Hungarian capital on the Danube river has a distinctly different feel to it from other European cities. There is a definite Turkish influence and with such a vast history, the city has certainly stuck to its traditions. Famous for its baths, stylish architecture and nightlife, there is plenty to entertain visitors here. Cross over the river between Buda and Pest, the two ancient cities which combined to make the modern city which is here today. Climb to the top of the hills near the castle on the Buda side of the river to get some stunning views across the whole city.

(Budapest to Bratislava: 2 hour 30 mins)
6. Bratislava
Bratislava provides a taster into Eastern Europe and what life before the fall of Communism might have been like. Just an hour or so from Vienna it may be, but in many ways it still feels like a world away. The capital of Slovakia has a nice old town and castle (although less impressive than the ones in Prague & Budapest). It is perhaps at its best in December when the Christmas market comes to town but you won't need much more than a day to see the best of the city.

(Bratislava to Vienna: 1 hour)
7. Vienna
Vienna is a stylish city with fashionable residents. Austrians are easily among the friendliest people in Europe and don't let the German accents fool you, Vienna is in many ways more like Milan than Munich or Berlin. Come on a nice day and you will see scores of Viennese out drinking beer in the sun and the city's colourful streets have a more relaxed feel than most European capitals.

(Vienna to Munich: 4 hours)
8. Munich
Back in Germany and the southern city of Munich in Bavaria. This is the country's cultural centre with an outrageous number of museums on everything from motors, theatre and art to Bavarian history. This is also home of the 200 year old Oktoberfest which sees millions of litres of beer drunk by the huge numbers of visitors who flock to Munich every autumn. The city is also home to Bayern Munich, one of the most successful football clubs in the world who play at the stunning Allianz Arena, which features in our Bavaria backpacking guide, a 2018 guest post.
(Munich to Zurich: 4 hours)
9. Zurich

A trip to Zurich is worth it just to see some of the stunning Swiss scenery you pass on the train in and it's certainly worth looking to book a train during daylight hours either side of your visit.
It is the largest city in Switzerland but still has some small town charm to it. It is a city of churches, lakes and gardens but there are also plenty of lively shopping streets and a larger concentration of nightclubs than any other city in Europe (although don't forget your wallet as Zurich is pricey!). The city is known as a gateway to the Alps and it's a short hop on the train to nearby ski resorts.

(Zurich to Paris: 4 hours 30 mins)
10. Paris
View from Sacré-Cœur, CC BY-ND 2.0
Paris is the most visited city on the planet and although its reputation as a romantic getaway and high prices make it more popular with couples and wealthy foreign tourists than backpackers, there can hardly be a better place to end a trip around Europe. From the Eiffel Tower and the Arc de Triomphe to the Louvre and the Champs Elysées, Paris is a city full of world famous landmarks that keeps tourists snapping away for the duration of their stay in the French capital. Aside from the essential places to visit, there's plenty of interesting and more wallet-friendly districts to eat, sleep and party in this beautifully artistic city.
---
Europe Backpacking Tips & FAQ's
---
Europe Visa Requirements
If you are from the European Union:
If you are from an EU country or have a passport for one then you can travel freely between any of the member states and stay as long as you like. Should you wish, you can also get a job without any form of visa and minimal fuss. In addition, Swiss and Norwegian passport holders typically have exactly the same rights even though they are Non-EU members.
If you wish to visit a Non-EU country then check with the relevant embassy but very few require you to have a visa although your passport will be stamped and you will only be allowed to stay in the country for a certain time period.
All the countries in the Europe backpacking route above are in the Schengen Area so in theory you won't need to go through passport control at any point in your trip unless you are flying into Amsterdam from outside of the zone. However you may still be asked to show your passport when booking trains and occasionally international services will be boarded by border forces.
If you are from outside the European Union:
The term Schengen Zone may not be too familiar to you but it is important you understand it before embarking on a European backpacking trip. The Schengen Zone is not the same as the European Union but is very similar. The UK and Ireland are the only members of the EU to not be part of the Schengen Zone or legally obliged to join it (as is the case with Croatia, Romania and Bulgaria which will join the zone in the near future).
Current Schengen Zone Countries:
Austria, Belgium, Czech Republic, Denmark, Estonia, Finland, France, Germany, Greece, Hungary, Iceland, Italy, Latvia, Liechtenstein, Lithuania, Luxembourg, Malta, Netherlands, Norway, Poland, Portugal, Slovakia, Slovenia, Spain, Sweden and Switzerland.
These 26 countries (there are no countries on the route above outside of this zone) make up the Schengen Area, which in terms of entry requirements is effectively one big nation. The first thing you should do is check whether you need a Schengen visa. Many nationalities (including USA, Canada and Australia) do not require a visa for stays of 90 days within any 180 day period. A large number of other nationalities will need to apply for a visa before heading to Europe – The visas also entitle you to 90 stays within any 180 day period.
When visiting European countries outside the zone, there are separate entry requirements and you may well require a visa. See our How to Guide for Sorting out Visas for more info on how you can find out. A few countries, most notably Russia require you to sort out a visa several weeks in advance of your trip so it's a good idea to plan ahead if you are planning on visiting countries other than the 26 listed above.
---
What money do you need in Europe?
Since the turn of the millennium, Euros have been the principal currency in the European Union but several countries have opted to retain their old currency. Even in these ones however, it is in some cases possible to pay in Euros although generally it works out better for you to pay in the local currency.
EU countries that don't use the Euro:
Britain, Bulgaria, Croatia, Czech Republic, Denmark, Hungary, Poland, Romania, Sweden
Expect to be charged a small fee every time you use your debit or credit card in any European country. That said, it is of negligible difference to the fees you will be charged for exchanging money. Downloading and using an app like Revolut will enable you to pay for things in the local currency.
If you're following the route above, also note that Switzerland also has its own currency – The Swiss Franc.
---
How do you go backpacking through Europe?
Getting around Europe is relatively hassle-free and things generally run on time or with only minor delays in most EU countries. If you know what you're doing, you can find some reasonably good prices for most trips. The following two pages offer general global advice for finding cheap transport and it includes some specific tips for Europe:
How to find Cheap Flights | How to find Cheap Buses and Trains
Flying around Europe
Europe is the budget airline capital of the world and you can get almost anywhere in the continent for under 100 Euros and often much less if you book at least a few weeks in advance and are flexible on times and days. If you are canny this can work out to be the cheapest option for exploring the continent, although unless you have a very small backpack, one like the Osprey Farpoint 40 (reviewed by OutdoorCrunch), you will be forking out €20 or so every time just to check in your luggage (sometimes this can be even more expensive than the flight itself!). Some airlines, including Europe's biggest budget airline Ryanair, now allow you to check in a 10kg bag for €10- €12 which may be a good option for some travellers.
The biggest budget airlines in Europe include:
Ryanair | Easyjet | Vueling | Wizzair
It may be a smart idea to familiarise yourself with their respective baggage policies before heading off on your travels if you primarily intend to take flights. We'd suggest using skyscanner to search for flights and find the best prices.
Travel Overland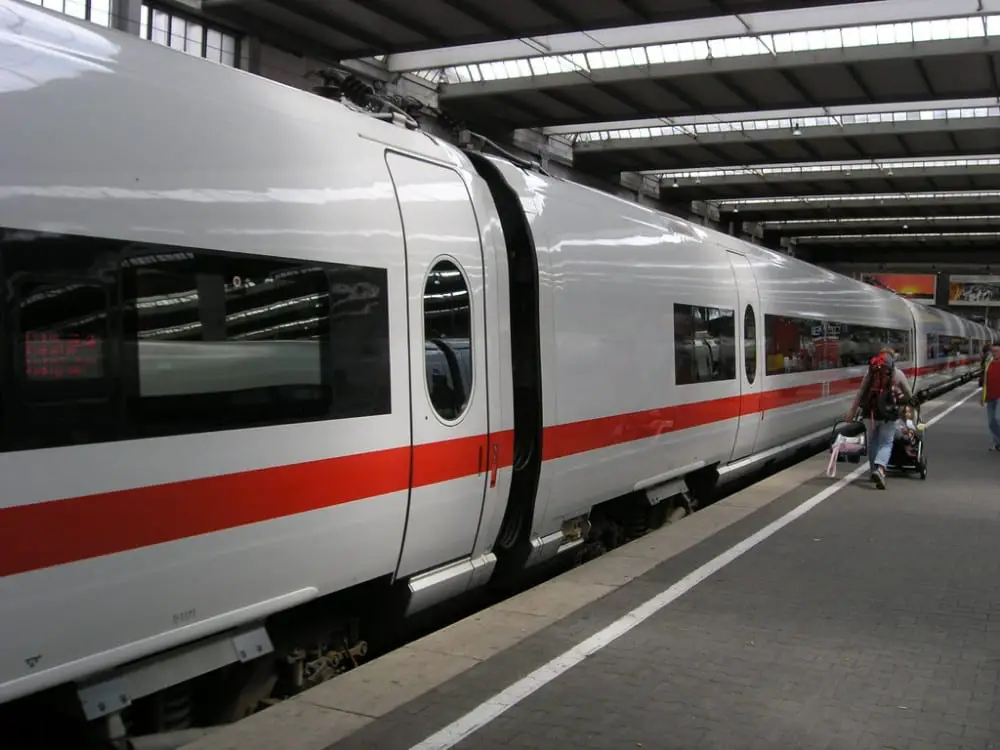 Train in Germany, CC BY-SA 2.0
Flying is certainly the quickest way to cover longer distances but for trips within the same country or between neighbours it is usually cheaper to travel overland. It can also sometimes be quicker to go by bus/train from city centre terminals when you account for all the time you spend getting to/from airports and waiting to board the plane. It's worth noting that many budget airlines in Europe fly from airports which are a long way from the city itself – Stockholm Skavsta Airport is 100km from the city itself for example!
Europe has an extensive rail network and plenty of High Speed trains which offer rapid travel but fares are often high for such services. Each country will generally have their own rail and bus companies but these are a few sites that are worth checking out regardless of where you are:
DB Bahn – German rail site which allows you check times of all trains in Europe.
Eurolines – The biggest international coach company in Europe.
Bla Bla Car – Ridesharing App which can also be a very useful tool, particularly when you need to get somewhere less well connected by public transport.
Travelling overland also means you will see much more and probably meet more locals along the way adding to the overall experience.
Europe Rail Passes
To do the route on this page, Europeans (including non-EU countries & Russia) may be wise to buy the InterRail pass enabling travel on any 10 days over a two month period costing €308/£276 for under 27's and €401/£359 for people 28 and over (as of July 2019). There are a range of other options should you be a planning a shorter or longer trip.
Non Europeans would need to buy a Eurail pass. The corresponding option enables you to 10 days of travel over a two month period costing $359 for under 28's and $467 (as of July 2019) for everyone else.
It's also worth noting that some trains on the Central Europe route above require you to pay for a seat reservation or other small surcharge even with the railpass. It's best to check at the station before boarding any train but overall it should work out cost-effective to purchase a pass over buying individual tickets for each leg.
---
Backpacking Europe Alone
A large proportion of backpackers in Europe are solo travellers and in many ways, it's the best continent to explore alone. Every major city and many minor ones have a huge selection of hostels with dorm accommodation. There are also free walking tours and organised bar crawls in just about every city that's popular with travellers, so there are loads of potential ways to meet people and make friends.
In terms of general dangers, the cities are generally considered safer than most North or South American cities but you need to be wary of thieves and pick-pockets while some of the grubbier hostels can also be a bit lacking in terms of general safety. It's worth paying a few extra Euros to stay in somewhere that is well reviewed and has reliable lockers and baggage storage facilities. Booking accommodation online, at least a day or two in advance is more the norm in Europe than in other regions and is advisable during the peak summer season, holiday periods and at weekends.
---
This page was last updated in July 2019.
Feel free to use the comments section below to ask questions. We aim to answer them all!
---