South Caucasus Backpacking Routes (Georgia, Armenia & Azerbaijan)
South Caucasus backpacking will see you enter a region that is a unique mixture of the old world and modern civilisation. Neither Asia nor Europe, the countries of the South Caucasus manage to blend these two cultures and create their own one. This page includes suggested travel itineraries for Georgia, Armenia and Azerbaijan, three destinations that may sound like they are among the most difficult countries to travel in but are in fact quite easy to explore in many ways.
This article will hopefully inspire you to step off the beaten track and discover the hidden gems this small but beautiful region sandwiched between Russia, Turkey and Iran has to offer. We hope that this article about Armenia, Georgia and Azerbaijan may become your virtual guide to the new world and will help you to plan your trip.
by Julia Cernat
---
TIME NEEDED – 3 weeks
On average, you will need about 3 weeks in total to explore the main attractions of these three countries with roughly 7 days in each country a decent starting point. Many of the destinations featured on this page do not requite overnight stays and some of them are very close to one another so in some cases you will be able to visit 2 or 3 places on the same day. It would be possible to combine the routes together or just choose the ones that appeal most if you only have limited time.
---
POSSIBLE BUDGET – £500 | €550 | US$650
This is essentially based on spending around $30/day (August 2018 Exchange Rates) for three weeks which is considered a sufficient budget for shoestring travellers in the South Caucasus. It is certainly a very affordable region to travel in compared to most of Europe and certainly the more expensive parts of Asia. However this doesn't include the cost of flights or any pre-trip essentials.
If you are planning to do all four routes on this page, you may wish to budget for a bit more which should give you more room for manoeuvre when it comes to speeding up connections between the countries by taking a flight. Allowing for more will also enable you to do more tours and hire the services of local guides which should lead to a more rewarding and interesting trip. There are some useful links below to articles where budget travellers have shared their typical costs in the region.
Georgia Backpacking Costs | Cost of Travel in Armenia | Sample Costs in Azerbaijan
---
VISA REQUIREMENTS FOR THE SOUTH CAUSACUS
Armenia has a visa-free programme for people from CIS countries and all EU states plus a few other countries including USA and Australia. For most other nationalities, visas can be obtained on arrival or electronically in advance.
It is similar in Georgia although more nationalities are eligible for a visa-free visit including people from all EU countries, USA, Canada, New Zealand and Australia. Visitors may stay in the country without a visa for a whole year. Other nationalities can apply for an e-visa online.
Azerbaijan is a bit more complicated. Only 9 nationalities can enter without a visa and people from the EU, North & South America or Oceania will need to apply for a visa online and you should get it within 3 working days. There are some HIV/AIDS restrictions for foreign residents as well as for individuals from Armenia and those with Armenian surnames.
---
TRAVEL INSURANCE
Travel insurance isn't an official requirement for Armenia but is advisable and it's important that it covers ambulance and emergency flights (FYI, Armenia is considered one of the safest countries in the world). Travel insurance is required when visiting Georgia. Sometimes they may not ask for it on arrival but it should be arranged in advance. At present, travel insurance is not mandatory in Azerbaijan but in the future the government is planning to introduce necessary travel insurance. Read more on who we think offer the best travel insurance for backpackers here.
---
Armenia Backpacking Routes
Armenia is truly a unique country with a special atmosphere and thousand year traditions. The country is small yet in its territory there are many historical and natural attractions. Let's check the most popular backpacking routes in Armenia.
Yerevan – Garni – Geghard – Sevan
Yerevan
The starting point of any Armenia travel itinerary is the capital. It is one of the oldest cities in the world, celebrating its 2800th anniversary in 2018. This wonderful city breathes love and positive emotions.
Read more – 5 European cities that are older than Rome
Garni
From Yerevan you can head to Garni, the only surviving temple from pagan Armenia. The temple is built by Romans in a classic Greek style with columns, high steps and an altar. The temple, fortress and ancient bathhouse are built on a gorge with the most magnificent view to the mountain ranges.
Geghard
Geghard monastery complex is an original piece of architecture and part of it is carved in the rock and is absolutely unreachable.
Sevan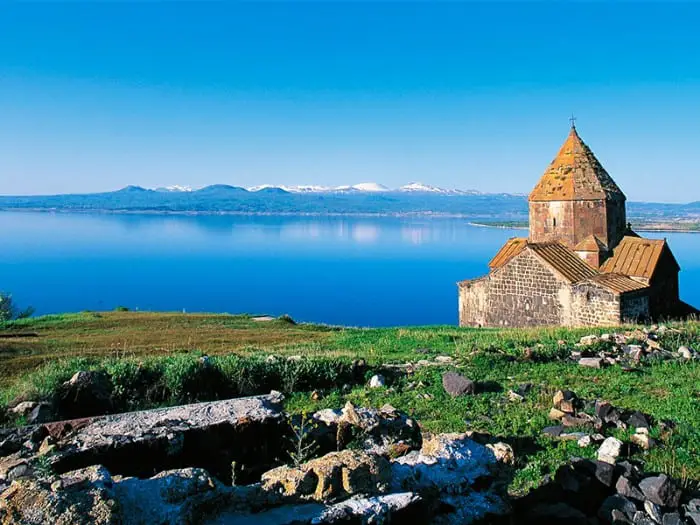 One of the natural treasures you should definitely visit is Lake Sevan, the largest freshwater lake in region. With its mountain ranges, an island and medieval monasteries, Sevan is a popular destination for backpackers in Armenia.
Khor Virap – Areni – Khndzoresk – Karahunj
Khor Virap
Armenia was the first country that adopted Christianity as a state religion. That is why almost all historical monuments are either monasteries or churches. Khor Virap is the key place where everything began but it also has a dark history and once it was a prison with deep pits full of snakes and scorpions. Today they are open for visitors.
Areni
Areni cave is the place where the oldest winery in the world was found. The findings prove that the territory was inhabited more than 6000 years ago.
Khndzoresk
Further living proof of the ancient settlements is the cave city of Khndzoresk. From afar it looks like a huge piece of cheese with a thousand holes.
Karahunj
The Karahunj stone monuments are even older than Stonehenge in England and an another example of the region's mysterious, ancient past.
---
Georgia Backpacking Route
As soon as you step on the land of Georgia, you will feel the warm character of Georgians and their endless hospitality. All you need to do is relax and enjoy your time.
Kakheti to Batumi
Kakheti
Georgia is a country of wine and winemaking. Visit Kakheti to taste the best Georgian wine and stroll around the cellars of the oldest wine factories. Kakheti is also one of the most beautiful regions of the country with a gorgeous view of the Alazani valley and its vineyards.
Tbilisi
Tbilisi, the most beautiful and colourful city of Georgia immediately attracts your attention. It is a mixture of the old and new as along with medieval fortresses and monasteries, there rise skyscrapers and pieces of modern architecture.
Mtskheta
As a Christian country with centuries' history, Georgia has many valuable monasteries that are worth a visit. One of them is Mtskheta, the religious centre of Georgia. It used to be the Georgian capital and played an important role in the development of the country.
Kazbegi
Kazbegi is the highest mountain in Georgia and definitely the most beautiful one. The village Stepantsminda is a popular spot for those who lust for silence and breathtaking views of the snowcapped mountain peaks.
Vardzia
Vardzia is a cave monastery carved off a cliff face, similar to the one in Armenia and equally spectacular.
Borjomi
Georgia is covered with deep forests, lakes, rivers and waterfalls. To see all the beauty of Georgia's nature you may visit Borjomi national park, the biggest one in Europe. It is the site of popular mineral springs with the very best Borjomi mineral water.
Batumi
Apart from picturesque mountains and deep forests, Georgia boasts a Black Sea coastline that is perfect for summer holidays. Batumi is a modern city on the banks of the Black Sea and it is home to some quirky 21st Century skyscrapers.
---
Azerbaijan Backpacking Route
Our South Caucasus itinerary slowly takes us to the final country, Azerbaijan, a rapidly developing young country. There are a few popular destinations we have picked to finish this trip around the South Caucasus if you are planning to visit all three countries.
Baku – Sheki – Khachmaz
Baku
Baku is the main attraction of the country. It is a modern metropolis that has preserved old buildings as a part of the history of the city. Along with older buildings, there rise huge skyscrapers that are visible from any part of the city.
Sheki
Sheki has turned into an important centre in Azerbaijan's bold bid to promote itself to the rest of the world. Lose yourself in a small city packed with old buildings, palaces, local bazaars and mosques.
Khachmaz
Khachmaz is a beautiful city located 10 km from the Caspian Sea. Besides its coastal location, Khachmaz is known for its historical monuments and original architecture.
The Azerbaijani town of Agdam also features on our countdown of ghost towns around the world if you are looking for something a bit different from your trip.
---
Check out all our Europe routes!
---
This article was published in August 2018.
---