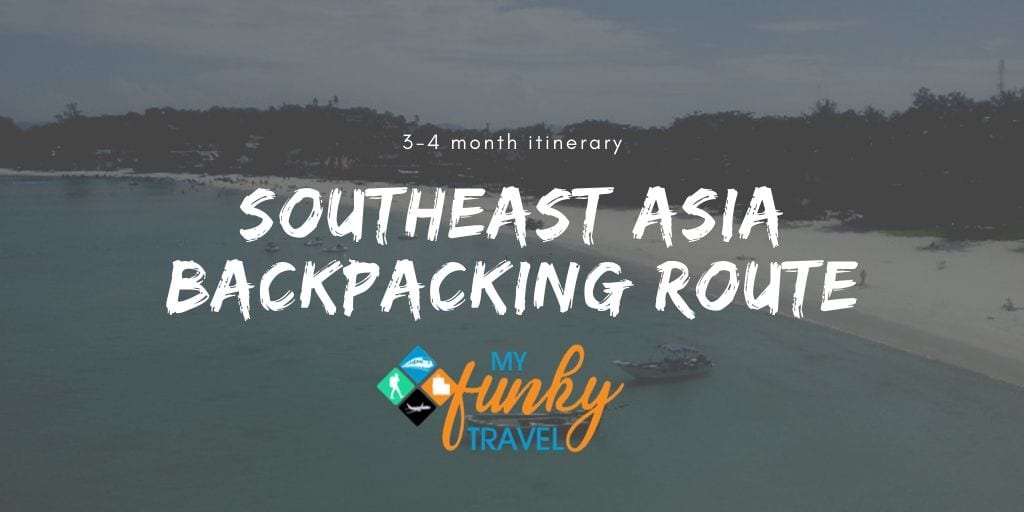 Southeast Asia Backpacking Route
Backpacking Southeast Asia is as popular as ever and it's not hard to see why. The region is cheap, home to truly unique and varied cultures, fantastic weather and scenery but with such a thriving backpacker scene, home comforts are never hard to find. Perhaps it has lost some of the mysticism it had back in the day when traveller numbers were still relatively small but there is still undeniably a certain magic about this part of the world.
This page aims to give you a basic idea of what a typical traveller itinerary in Southeast Asia looks like. It's not the definitive answer to travelling around the region and you will probably have a much more rewarding and interesting trip if you veer off the so-called 'Banana Pancake Trail' once in a while but hopefully it will help shape your plans for travelling around this wonderful part of the world.
---
All our Southeast Asia Backpacking Routes
Choose one of the countries below if you are only interested in a route for a specific destination. Otherwise read on for our main Southeast Asia itinerary which takes in Thailand, Cambodia, Laos, Vietnam, Malaysia and Singapore.
---
Mainland Southeast Asia Backpacking Route Overview
---
TIME NEEDED – 3-4 MONTHS
Could just about be squeezed into two months but that would be a real rush. If you're not limited on time you could easily spend six months travelling in Southeast Asia.
POSSIBLE SHOESTRING BUDGET – £2500, €2800, $3200
Figures are based on prices and exchange rates as of June 2019. They don't include the cost of flights to/from region or other pre-trip expenses such as getting travel insurance and vaccinations. For more specific info and a more comfortable backpacker budget for the region see our article on the cost of travel in Southeast Asia.
Note that this shoestring budget allows for a bit of partying and the odd organised tour/trip in the day-time but if you are planning on doing lots of either then you will spend more! On the Southeast Asia backpacker trail, temptation lies at almost every corner and it'd be easy to blow this budget if you aren't great on self-discipline! If it's your first time travelling then you'd be wise to budget for more than the figures above.
CUT YOUR SOUTHEAST ASIA TRAVEL COSTS
We'd highly recommend getting a Revolut Card before you travel. This will enable you to pay for things in local currencies such as the Thai Baht. Over the course of a lengthy backpacking trip, this will save you a lot of money as you'll dodge most of those irritating hidden fees. You can easily load money directly from your bank via the app and can exchange it in an instant at excellent rates. They also have some great budgeting tools which will help you keep tabs on your expenditure and make sure you are not overspending.
WORK OR VOLUNTEER WHILST TRAVELLING
A good way to truly immerse yourself in the local culture and to make your money go further is to use Worldpackers to find host placements. Essentially you will use your skills in exchange for free accommodation, food and other benefits. You can also use the platform to find volunteering projects through NGO's and other social projects. Use the Promocode 'MYFUNKYTRAVELWP' for a $10 discount when you sign up!
TRAVEL INSURANCE
We recommend SafetyWing who specialise in providing affordable travel medical insurance cover for long trips to all four corners of the world including Southeast Asia. Do check the full terms and conditions though before booking any insurance to make sure the cover is adequate for your trip.
We have more on the best travel insurance for backpacking trips here.
---
Southeast Asia Itinerary – 3 to 4 Months
Our Southeast Asia backpacking route begins in the traveller hub of Bangkok before heading into mystical Northern Thailand and then crossing through lazy, chilled-out Laos. Next stop is Vietnam, a rapidly developing country with a complex history before looping back around into the crazy kingdom of Cambodia. Back in Thailand and a short stop in Bangkok to connect for the trip to the beach paradises of Southern Thailand. After a few weeks of island hopping, the route takes in the length of Malaysia before finishing off in the swanky city state of Singapore.
Southeast Asia Map
Zoom into the Southeast Asia map above for a complete overview of the route which can be loosely split into two parts. Part one is the loop starting and ending in Bangkok (can be done in either direction). Part two is the long line south through the Thai islands and Malaysia before finishing in Singapore. You can save the map on google by pressing the star button for easy reference when you are travelling in Southeast Asia or just bookmark this page.
---
Central & Northern Thailand Itinerary

Bangkok  
The Thai Capital is the most convenient place to commence your Southeast Asia backpacking trip. For starters, it's a major airline hub so it is very easy to get to. Flights are also more reasonably priced than ones to other Southeast Asian cities which often pass through Bangkok anyway. It is the most westernised city in the region so the culture shock is less than if you landed straight into Vietnam or Laos. It also offers you a chance to stock up on anything you may need for your trip with prices much cheaper than back home but still with great choice. Bangkok is very much base camp for travellers in Southeast Asia. Love it or loathe it, chances are you'll be back again before too long.
As for the city, well it's the sort of place that divides opinion. It's certainly something of a backpacking Mecca centred around the famous Khao San Road which is possibly the most international street in the world. It is a huge metropolis with many different districts and lots of sights to see so you will need several days (although you will return later in this Southeast Asia backpacking route so don't stress if you can't fit everything in). There is also, unquestionably, a seedy side to Bangkok and its infamous sex industry, which is almost unavoidable and probably what the city is most known for around the world.
Ayutthaya
Ancient city and former capital of Siam. Ayutthaya is effectively an island in the middle of three rivers. History buffs will love it and for everyone else it makes for a nice stop on the way to the North of Thailand.
Phitsanulok
Not on the regular hit-list for people backpacking in Thailand, but it is somewhere to break up the journey between Bangkok and Chiang Mai (although as of 2019, there are regular budget flights connecting the two cities, so if you're pushed for time, you can always take a flight and skip Ayutthaya and Phitsanulok). Perhaps the best thing to do in Phitsanulok is to explore the nearby Sukhothai Historical Park. There are also a few temples and small museums in town.
Chiang Mai

The Northern city of Chiang Mai is an intellectual kind of place with an alternative vibe and many travellers prefer it to Bangkok. It's a good spot to study traditional Thai practices such as massage and meditation. It is also the best place to base yourself for exploring or trekking into the jungle and ethnic minority villages near the city. It's also a good place to hang around for a few months if you fancy living in Southeast Asia as opposed to merely travelling through it. Chiang Mai is well located for easy visa runs and features in our article on five cheap places to live in Asia. It is also the best place besides Bangkok to catch a flight over the border and spend some time backpacking in Myanmar.
Chiang Khong
Right on the border with Laos, Chiang Khong has a real Southeast Asia backpacker vibe to it with people heading in both directions. It is in the Golden Triangle, a famous opium growing region which covers areas of Thailand, Laos and Myanmar. Chiang Khong is also a market town which brings in local hill tribes such as the White Hmongs.
Explore the mountainous region, visit some of the other villages and learn about the opium trade which has been largely cut out in Thailand but still thrives over the nearby Lao and Burmese borders.
---
Border Crossing from Thailand to Laos: Chiang Khong and Houay Xai are right next to each other so it's fairly straightforward and you can purchase a 30 day Laos tourist visa for around $30-40 at the border.
---
Where to go in Laos?
Vang Vieng in Laos, CC BY-SA 2.0
Houay Xai
For a border town, Houay Xai is very pleasant and it may be worth hanging around for a day or so to adapt to the chilled out Lao lifestyle and enjoy sitting on the banks of the Mekong or consider visiting the nearby Bokeo Nature Reserve. It's a decent spot to psyche yourself up for the long journey to Luang Prabang. (Backpacking in Laos isn't as easy or anywhere near as comfortable as in Thailand thanks to dodgy roads and a basic to non-existent transport system).
Luang Prabang
French and Indochinese culture met here and resulted in an enchanting city, one of the highlights of Laos. The Old Quarter on the banks of the river is home to an array of temples and museums. Meanwhile the night market is another big draw for travellers. There are also plenty of companies offering trekking, biking and kayaking opportunities.
Vang Vieng
This is another hugely popular backpacking destination in South East Asia. Hop on a rubber tube and make your way between the various bars along the river. This is the main attraction here but there's plenty of other adventurous stuff you can do around the ramshackle town of Vang Vieng, which has a real chilled out backpacker vibe. The tubing is not as crazy or dangerous as it once was thanks to a government crackdown but injuries and deaths are not uncommon.
Vientiane
A capital city it may be but don't let that deceive you. Vientiane is about as friendly and laid back a place as you'll find anywhere. Set on the Mekong River, this French influenced town is pleasant and picturesque and the perfect place to chill out for a few days. Be sure to visit and support COPE Laos which helps the country's many people with mobility related disabilities.
Tha Khaek
A small town with a large market selling all sorts of weird stuff and dishes based on a variety of meats including snake, squirrel and frog. Its main use for travellers is as a base for exploring the Phou Hin Boon National Park. Don't miss the giant Konglor Cave, which is basically a river beneath the surface that can be navigated on boat trips. You can also visit the Tham Nong Pafa Cave discovered as recently as 2004 and home to 200 mysterious Buddha statues.
Savannakhet
This may be the second biggest city in Laos, but again it feels pretty small and is very chilled out with both French and Lao influences. Things to do here include a visit to the Dinosaur Museum which exhibits various dinosaur remains found in the area (it has received mixed reviews). There's also a museum about the problem of unexploded bombs from the Vietnam War that still litter the eastern side of the province. The city also hosts many different festivals throughout the year which you may be lucky enough to catch.
Read more: How much does it cost to travel in Laos?

---
Border Crossing from Laos to Vietnam: Buses are fairly high quality with air-con and run from Savannakhet to Dong Ha in Vietnam and take around 8 hours. Enquire in town for bus times. Depending on how long you wish to stay in the country, you may need to arrange your Vietnam visa in advance, which is probably best done at the Vietnamese Embassy in Vientiane.
Note that this route skips out Hanoi and Ha Long Bay in Northern Vietnam – two popular stops with Southeast Asia backpackers. Should you wish to visit both then consider taking a flight from Vientiane to Hanoi and skipping Tha Khaek and Savannakhet.
---
Southeast Asia Backpacking – Good Morning Vietnam!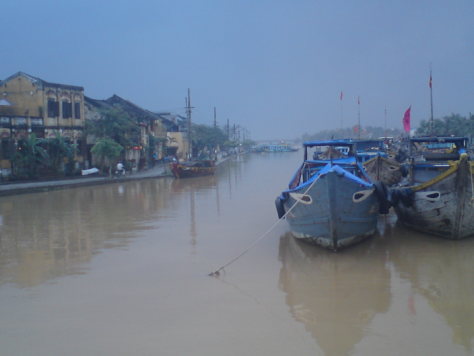 Dong Ha
Vietnam is very different to Laos and it will take a little time to adjust to the increased pace of life here. The main sight near Dong Ha where the buses from Savannakhet arrive is the former de-militarised zone (DMZ) which used to separate North and South Vietnam. You won't want to stay in Dong Ha more than a day though and many travellers head straight to Hue.
Hue
Hue is an ancient city on a musty coloured river with dragon boats. There are lots more Vietnam War sites nearby and a pretty decent traveller scene. It's a good place to try Vietnamese food. It also rains a lot.
Hoi An
This riverside town is pretty damn cool. It's the place where backpackers buy tailor-made clothes of all varieties and then prance around like prize nutters in their bright, new and utterly impractical purple suits. The beach is a short moto-taxi ride away and is one of the finest in the country. There are also some surprisingly cool bars here catering to a variety of music tastes. It's a nice spot to hang around for a few days and there are loads of cheap places to eat in Hoi An.
Nha Trang
Nha Trang has a fairly seedy traveller area and a dirty beach but there are a few positives. A peaceful temple near the bus station is home to a giant white Buddha. There's also a decent beach club that serves cheap cocktails and stays open till much later than anywhere you're likely to find further north. Some decent water sports on offer here too.
Dalat
1500 metres above sea level, Dalat has a distinctly different feel to the rest of the main places to visit in South East Asia. With a temperate climate that makes nights chilly, it comes as a refreshing change and with lakes, forests and waterfalls that surround the town, it is a paradise for fans of the great outdoors. Hiking and cycling opportunities aplenty here and there's a few tribe villages nearby that are worth heading out to.
Mui Ne
The nearby sand dunes are good fun if you can stand the heat. There is one road, it's very long and runs parallel to the 20 km or so long beach which is largely deserted and one of the best on this Southeast Asia backpacking route. It's a good place to unwind but there is not much going on in terms of partying.
Ho Chi Minh City
HCMC (AKA Saigon) is the biggest city in the country and has by some considerable margin the largest backpacker scene in Vietnam. Hit the Pham Ngu Lao traveller area and you will find numerous cheap places to eat, sleep and drink. The area is busy until late and has cuisines from literally all over the world. The moto drivers here will compete for your business non-stop so it's easy to get anywhere else in town. Lots of sights relating to the war here in this ever growing and somewhat crazy city. The traffic is mental so be a combination of brave and careful when crossing the road!
Check out our full Vietnam backpacking route which includes both Hanoi and Ha Long bay!
---
Border Crossing from Vietnam to Cambodia: Buses from Saigon to Phnom Penh are cheap and regular taking around 6 hours. You will have to get off at the border and most bus companies seem to rather annoyingly take your passports off you on the bus and charge an extra $5 or so to sort out the Cambodian visa as opposed to the official $30 (as of June 2019). If you refuse and demand to sort it yourself, you risk being left at the border, while your belongings hurtle towards Phnom Penh!
---
Cambodia Backpacking Route
Pre Rup Sunrise, CC BY-NC-ND 2.0
Phnom Penh
On the surface Phnom Penh is a pleasant, aesthetically pleasing and surprisingly peaceful capital city with lots of monks. Dig a little deeper and it's a lawless, poverty stricken place where just about anything goes. Welcome to Cambodia.
It's easy to lose yourself in Phnom Penh and you may hear bizarre stories of everything from backpackers supposedly blowing up cows with rocket launchers, attending cock fighting matches and getting off their faces on ridiculously easily available drugs. If none of that really sounds like you, then you can spend some time reflecting and trying to understand the horrors that took place here all too recently during the days of Pol Pot and the Khmer Rouge by visiting the Killing Fields and a former prison where unimaginable horrors took place. There are also some stunning temples and palaces which could grace any of the finest cities on the planet. Inequality is everywhere in Cambodia and Phnom Penh demonstrates it better than anywhere else.
Sihanoukville
24 hour bars and unspoiled beaches are the order of the day here. It's a bit like some of the Thai beach destinations would have been like 20 years ago before they became commercialised. Much like in Phnom Penh there's a majorly psychedelic backpacker scene, although more organised tourism is coming to the area too.
Battambang
Travelling to Battambang from Sihanoukville is likely to involve going back to Phnom Penh and changing buses such is the limited transport network in the country. The city is full of statues and interesting Wats and has plenty of river based activities to entertain travellers. Once you're done hop on a boat north to Siem Reap. It may be worth checking the estimated length of the journey as it depends on water levels and can take up to 12 hours, in which case you may well prefer the less scenic bus route.
Siem Reap (for Temples of Angkor Wat)
Siem Reap has grown from nothing into a thriving little town thanks to its proximity to the country's main pride and joy, the magnificent Temples of Angkor Wat, an essential stop for anyone backpacking in Cambodia or indeed Southeast Asia as a whole. If you're a fairly well travelled person you've probably been to some ancient ruin that was in all the guidebooks and been left thoroughly disappointed at the crappy little pile of rocks that you paid to go and see.
Angkor Wat however is in a different league and with hundreds of impressive ruins spread out over a large area of jungle, it's a pretty amazing place. You'd have to be very hard to please not to be impressed by the scale of it. In Siem Reap itself there are few sights but some decent bars and plenty of great food.
Read more: Cambodia Backpacking Costs | 3 week Cambodia itinerary
---
Border Crossing from Cambodia to Thailand: There are direct international buses from Siem Reap to Bangkok. However if you fancy doing it all yourself then first take the bus from Siem Reap to Poipet, a Cambodian border town which is a total hellhole. Your main objective ought to be to cross the border as quickly as possible whilst trying not to get scammed. The Thai side isn't as bad but you are likely to have your luggage sniffed by dogs either at the border or once on board your onward bus which will probably be stopped by police at some point early on in the journey. They are looking for drugs and penalties are severe if caught. Once you've got through immigration, take a tuk-tuk to the bus terminal in Aranya Prathet from where there are regular buses to Bangkok taking 4 hours or so.
---
Beach Paradise & Backpacker Parties in Southern Thailand
Bangkok
Kick back on the Khao San Road for a few head days or head south depending on how much you enjoyed the city first time around. Having completed the big loop around the North of Thailand, Laos, Vietnam and Cambodia, it's time to hop on a night train and head for the beach paradise of Southern Thailand.
It is also possible to fly from Bangkok to Southern Thailand but note that domestic flights go from the city's other major airport – Don Mueang which features in our list of the most dangerous airports in the world!
Ko Samui
A large and very westernised island that tends to attract more mainstream tourism than people travelling in South East Asia on a budget. Hat Chaweng and Hat Lamai are party central for the tourist masses but there are plenty of quieter spots to explore with a vast choice of beaches to choose from and you may have to pass through here to get the boat to Ko Pha Ngan anyway.
Ko Pha Ngan
This island is probably the most famous backpacking destination in the world. A tropical paradise it certainly is and the options are endless when it comes to finding a beach to spend the day on. There are no major developments here so accommodation is basic and dirt cheap with plenty of traditional beach bungalows still available. Hat Rin is the place to party and home of the famous full moon parties which attract thousands at that time of the month. The other beaches and particularly the northern parts of the island are considerably quieter and great places to relax and enjoy your days in peace.
Ko Tao
Express boats travel the 45 km between Ko Pha Ngan and Ko Tao taking around two hours. This is the place to come to delve into the ocean and experience diving or snorkelling in beautiful clear waters with lots of marine life. It almost goes without saying that this is also another great island to soak up the sun and laze around on the beach all day. Hat Sai Ri's bars are the centre of the drinking action, but Ko Tao's nightlife is nowhere near as lively as that on Ko Pha Ngan or Ko Samui.
Krabi
Back on the Thai mainland and now the Andaman Coast, hit the popular beaches of Ao Nang, Tang Sei and Rai Leh. Crash out in a cheap guesthouse or bungalows on one of the beaches. There's also more opportunities for the active traveller here so if you're bored of lazing around all day, try your hand at rock climbing, a popular activity on Hat Ton Sai and Hat Rai Leh AKA Railay Beach, another favourite spot with anyone backpacking Southeast Asia.
Ko Phi Phi
Ever popular with backpackers in Thailand, this is where the movie 'The Beach' was filmed and is still screened virtually every night at some point in Phi Phi town. The main action, and again a very lively party scene, is on the larger island and you will have to stay on it (Phi Phi Don). It's a bit pricier than some of the other Thai beach destinations and isn't exactly a secret paradise any more but it's still beautiful despite being badly affected by the 2004 tsunami and a recent large influx of Chinese tourists.
Note that it is no longer possible to visit Maya Bay, where the movie was filmed. The Thai authorities have closed it down until 2021 due to the damage caused by around 5,000 visitors per day in recent years.
Ko Tarutao National Marine Park  
Over 50 little islands in the far south-west of the country. So far it has managed not to become at all commercialised or overrun by foreigners and isn't that regularly visited by backpackers in Thailand. You can rent out a tent on one of the few accessible islands and enjoy a day or two in unspoiled natural surroundings.
---
Border Crossing from Thailand to Malaysia: Boats travel between Satun, Thailand and Pulau Langkawi in Malaysia taking 1 hour 15 minutes and costing 350 Baht – $11 (as of June 2019). Violence sometimes flares up in the largely Muslim provinces in the far south of Thailand so if in doubt it's best to head straight to Malaysia rather than crossing by land.
---
Malaysia Itinerary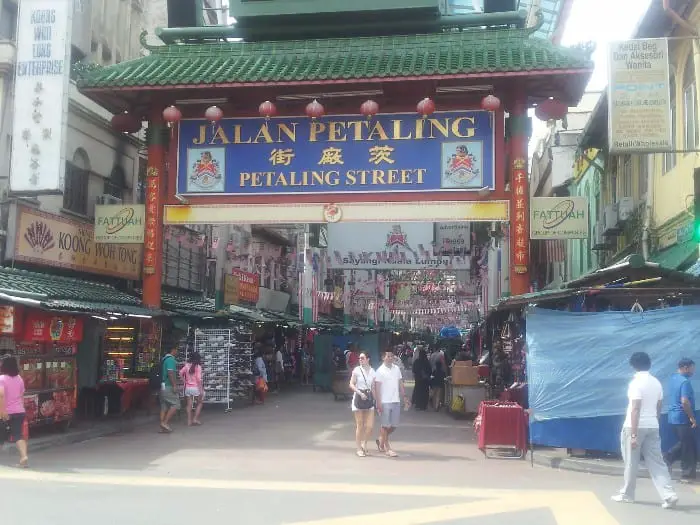 Penang
A small island off the west coast of Malaysia that is well worth visiting. Hit Georgetown, for a taste of British colonialism in this part of the world. Also be sure to check out Penang's famous markets and religious sites of various faiths. Elsewhere on the island there are some pleasant beaches and plenty of quaint little fishing villages.
Ipoh
There are lots of cool sights in Ipoh and even the train station is something of an architectural masterpiece. It is a mysterious kind of place, home to haunted castles, secret passages, weird statues and spooky caves. You can also go trekking in the surrounding jungle, visit nearby hot-springs, enjoy a day at the water park or for the adventurous try your hand at caving and white-water rafting.
Taman Negara National Park
It can be a bit of a pain to get to but is well worth the effort. You don't really need a guide so you can wander around the jungle terrain at your own leisure. There are some beautifully clear lakes to swim in as well as some spectacular water cascades and a 500 metre long suspension bridge which cuts through the jungle canopies. Longer treks deeper into the jungle can be arranged as can mountain climbing and 4WD safaris.
Kuala Lumpur
The Malaysian capital is a developed modern city. There is some excellent shopping and lively nightlife here in the Golden Triangle, home of the Petronas Twin Towers, two of the tallest buildings in the world. It is considerably more expensive than most places on the route but still very cheap by Western standards.
Malacca
Another World Heritage Site, Malacca is considered one of the backpacking highlights in Malaysia. It's a rather old city having being founded over 600 years ago but there's still plenty of buzz about Malacca today. There are plenty of interesting, centuries-old streets and squares to kick back in, and there's a good choice of local dishes and drinks to try.
Read about the cost of travel in Malaysia to compare it to other countries in the region any beyond.

---
Border Crossing from Malaysia to Singapore: Heading to Singapore, one way or another you'll need to get to the town of Johor Bahru which is connected to Singapore by a 1 km long causeway. There are frequent buses from Johor Bahru's bus station north of the city and Queen Street Station in Singapore. They all stop at both immigration checkpoints where you will need to get off with your luggage and then re-board once you're through passport control.
---
Singapore – The Lion City
Singapore Marina Bay, CC BY-SA 2.0
Singapore
The glamorous city state of Singapore is full of flashy skyscrapers and is a complete contrast to most of South East Asia. The city is is very multi-cultural and has lots of fascinating districts to explore and foods to taste. The law here is famously strict so behaviour that is considered perfectly acceptable in Cambodia and Laos could be punished by the death penalty so don't take any chances. Even chewing gum is illegal here!
As far as budget travel in Southeast Asia goes, travel costs in Singapore are firmly on the expensive side of the scale. Beer here is probably ten times the price it is in other parts of the region. Although not everything is extortionate, it's a good idea to ensure you've not totally blown your budget by the time you get here.
Singapore also has probably the best airport in the world and is very well connected so this is the perfect place to end your trip and fly home or onwards to a different part of the world. There are cheap connecting flights to Bangkok if you booked a return flight to the Thai capital.
Alternatively you could make the short sea crossing to Indonesia and continue your travels there. Many travellers then take a flight down under from Singapore and you might find some more inspiration in our backpacking route for Australia or 5 week New Zealand travel itinerary.
---
Southeast Asia Backpacking Tips & FAQ's
How much does it cost to backpack Southeast Asia?
Southeast Asia is still quite cheap to visit when compared to almost any other region in the world although prices are rising steadily in some of the more popular destinations. Check out our article on Southeast Asia travel costs for a much more detailed overview of how much a typical Southeast Asia backpacking trip costs.
Is backpacking Southeast Asia safe?
Overall, travelling around Southeast Asia is relatively safe, certainly when compared to South America or other parts of Asia. Parts of the bigger cities and small pockets of Thailand have a dangerous reputation but those areas are pretty easy to avoid. Sticking to this route, you shouldn't encounter any problems beyond the sort of hassles that can occur anywhere in the world – such as petty theft.
The threat of terrorist incidents is not really any greater here than anywhere else although there was a bombing in Bangkok in 2015 which killed 20 people. There are occasionally violent crimes against travellers but again given the huge numbers of young people from around the world who visit the region, it's inevitable that a small number will be the victims of crime. Southeast Asians are typically a very peaceful bunch and much less likely to get aggressive or start trouble than your average drunk in Europe or North America. However they don't take kindly to people who insult their country or culture so it's important to be respectful at all times.
In truth, there are more nuisances than real dangers in Southeast Asia. Mild over-charging of foreigners is not uncommon all over the region. Be wary of tuk-tuk and taxi drivers and negotiate a price before getting in or better still demand the use of the meter where there is one. If they tell you it's broken, don't believe them.
One thing you should keep an eye on though is any sign of political instability. Military coups and sometimes bloody street protests do occur from time to time and it's best to alter your plans if there is any sign of that.
First and foremost, make sure you have good travel insurance which will be a real help if you are unfortunate enough to get into any difficulty. You may want to check out our suggestions for the best travel insurance for Southeast Asia backpackers.
When should I travel to Southeast Asia?
There is not really a definitive right or wrong answer to this question but you can read our lowdown on the best time to visit Southeast Asia here. There are pro's and con's to travelling at different times of year. Things are generally cheaper outside of the peak season (which is around Christmas time and heading into the start of the new year) but clearly the climate may be less pleasant. You will also want to consider what festivals and celebrations are on during the time of your visit.
What Visas do I need for Southeast Asia?
Many nationalities do not require a visa for Thailand (30 days), Malaysia (90 days), Singapore (30-90 days) or Vietnam (15 days) but most visitors will need to get a visa on arrival in Laos and Cambodia, the cost of which depends on where you're from in Laos (usually $30-40) and is $30 in Cambodia (although subject to change). You don't need to do anything in advance, just show up at the border with your passport, some US Dollars and a few passport sized photos.
Use our visa check tool to confirm which countries you will need a visa for.
What's missing from this Itinerary?
Northern Vietnam especially Hanoi and Halong Bay are well worth visiting and perhaps the most notable exclusions from our route. Arguably they are more interesting than the Vietnam destinations we have included but the problem is they are fairly inaccessible from Laos by road.
Indonesia is a huge place and could justify 6 months travelling in its own right with the possibility of continuing onto Australia and New Zealand. Check out our suggested backpacking route in Indonesia if you're interested. The Philippines is also a huge collection of islands and is generally less popular with travellers, possibly because it is off the South East Asian mainland and parts of it have a somewhat dangerous reputation. However there are some really beautiful parts of the Philippines and it is certainly getting more visitors these days. Check out our Philippines route for some inspiration.
Day-trips to Burma can be arranged from the north of Thailand and longer visits are becoming increasingly popular – see our 3 week backpacking route for Myanmar. If you do decide to visit then you will find a fascinating country with as much to see as any of the others in the region.
Above all, please remember this route is designed to show you what a typical budget traveller's Southeast Asian itinerary might look like. You don't have to follow it blindly and will probably discover far more about Southeast Asian culture and its people by veering off it.
---
This article was last updated in June 2019.
Comments & Questions are welcome below! We aim to reply to them all.
---