Backpacking Vietnam by train is one of the very best travel experiences in Southeast Asia. The Vietnam backpacking route on this page follows the Reunification express, an unofficial term used to describe the line which runs north to south between the country's two biggest cities – Hanoi & Ho Chi Minh City (AKA Saigon). Many of Vietnam's best travel destinations are situated on the line, and most of the others are within easy reach of one of the stations.
Table of Contents
---
Backpacking Vietnam – Route Info
---
TIME NEEDED – 3 WEEKS
Could be done in 2 weeks but it might feel a little rushed. You might need slightly more than 3 weeks if you do the suggested 'extensions' too and want to visit a few other places in the country too. There is a suggested time-frame at the bottom of the page for how long to spend in each place.
---
POSSIBLE SHOESTRING BUDGET – £450 €500 $550
(roughly 11.5 million Vietnamese Dong as of April 2022. US Dollars are accepted in many places)
Travel in Vietnam is still great value and the train fare all the way from Hanoi to Saigon starts at just $40 for a seat with an air-con soft sleeper not much more at $55-60. You will need to buy separate tickets along the way which increases things slightly but train tickets won't eat into your budget too much.
Note that this is a suggested shoestring budget for travel in the country only. It does not include the cost of flights to/from Vietnam nor any visa/vaccination/travel insurance expenses, which in total could dwarf this figure. You'll get more value for money in terms of your pre-trip expenses if you combine this with visits to some of the other countries in the region.
Read more on the cost of travel in Vietnam for a lowdown on sample prices and typical backpacking budgets.
---
VISA REQUIREMENTS
Visitors from some European countries including the UK, France, Germany, Spain, Russia and Italy can now visit Vietnam visa-free for a limited amount of time (normally 15 days) after the visa-waiver was reintroduced in March 2022 following the pandemic. However this wouldn't be enough to complete this route unless you rushed it. Visitors from most other ASEAN countries can get 30 days visa free (21 days for people from The Philippines) while it's 90 days for lucky folks from Chile and Panama.
Most backpackers in Vietnam opt to get an E-Visa which costs $25 and enables stays of up to 30 days. There may still be some additional restrictions and Covid-19 testing requirements at the time of your visit so double-check before heading to Vietnam.
---
TRAVEL INSURANCE FOR BACKPACKERS IN VIETNAM
The cost of travel insurance isn't included in the budget figures above. You can get a quote in less than a minute from Heymondo who provide well reviewed international travel insurance for longer, backpacking trips. They are one of our recommended travel insurance providers for UK residents but anyone can use them.
---
VIETNAM BACKPACKING JOBS & WORK EXCHANGES
One way to save money and potentially learn a few new skills whilst travelling in Vietnam is to look for work exchanges or short-term jobs. Sign up to Worldpackers to get access to 42 work exchanges in Vietnam (at the time of writing). You can get $10 off the annual membership fee by using the Worldpackers promo code "MYFUNKYTRAVELWP".
---
Backpacking Vietnam – A 3 Week Itinerary
---
1. Hanoi
The country's capital city, home to the Vietnamese government and resting place of the great leader, Ho Chi Minh himself. The city retains many French influences and is home to several lakes and a busy little old quarter where most backpackers tend to congregate. Although it is smaller than Ho Chi Minh City in the south, many travellers find Hanoi more interesting and more welcoming.
Extension – Don't miss Ha Long Bay!
Hanoi is also the closest point on the route to the amazing Ha Long Bay, Vietnam's biggest natural wonder with its beautiful emerald waters and literally thousands of limestone islets. Take a 2-3 hour bus or train to Haiphong and get a boat to the bay from there. You can either backtrack to Hanoi after that and start out on the reunification express or take a bus to Ninh Binh from Haiphong taking roughly 3 hours.
journey from Hanoi to Ninh Binh: 2 hours 15 mins
---
2. Ninh Binh
Unremarkable but ridiculously friendly town. Get ready for locals, especially children coming to say hello to you in the street. It is a short moto or cycle to the caves at Tam Coc, which are the main reason travellers come to Ninh Binh. You could just stay for one day and see Tam Coc, which is like an inland version of Ha Long Bay. However the area is great for cycling or long walks in the countryside so an extra day may be worth it. By night, there's not much to do in Ninh Binh except head to a local restaurant or bar and enjoy some Vietnamese food, and maybe a few beers with the locals.
journey from Ninh Binh to Dong Hoi: approx 8 hours, passing through Thanh Hoa and Vinh which have little going on really but may be a nice stop if you have more time and fancy seeing a tourist-free town.
---
3. Dong Hoi
Many travellers choose to skip Dong Hoi and instead do the night train from Ninh Binh to Hue but if you do stop here, you can visit the stunning 55 km long Phong Nha Cave.

journey from Dong Hoi to Hue: 3 hours
---
4. Hue
The city is popular with anyone backpacking Vietnam and travellers tend to gather in a small section of town near the wide and curiously coloured Perfume River. The old Imperial City complex isn't particularly amazing but is the main attraction in this city which seems to get the worst of Vietnam's wet season. It regularly rains here for days on end but there are some excellent traditional Vietnamese restaurants and lively Western bars to stay dry in.
Central Vietnam is also where a lot of the most fierce fighting took place during the War. There are plenty of sites relating to the Vietnam War nearby which you may find fascinating or otherwise, depending on your interest levels in the conflict, known as the American War in these parts.
journey from Hue to Da Nang: 2 hours 30 mins and the most spectacular part of the entire line.
---
5. Da Nang (for Hoi An)
Da Nang is a big city but has few sights. For most travellers it simply serves as a gateway to nearby Hoi An, around a 20 minute taxi or moto ride from Da Nang Station (shouldn't cost much more than $5).
Hoi An is famous for its tailor-made clothes and boasts a beautiful riverside setting. Its ancient centre has gained UNESCO world heritage status and you really do feel like you're stepping back in time there. The town is also a culinary hot-spot with plenty of excellent cheap eats in Hoi An of both the local and international variety. As an added bonus, it's also only a few miles away from a great beach so there really is a little something for all tastes here and it's certainly one of Vietnam's backpacking highlights.
journey from Da Nang to Dieu Tri: 6 hours passing through Quang Ngai, a non-touristy town where very little English is spoken
---
6. Dieu Tri (for Qui Nhon)
Qui Nhon is more popular with local travellers than backpackers but it has a few beautiful deserted beaches just out of town which are nice if you have time to take this route a bit slower than the suggested 3 weeks. You can also visit the Cham Temples in the areas surrounding this lively port town.
journey from Dieu Tri to Nha Trang: approx 3 hours 45 mins
---
7. Nha Trang
Vietnam's biggest seaside resort destination. The beach here is actually quite dirty and there are much nicer offerings elsewhere in the country, but it is long and has plenty of water sport options including kite-surfing. The nightlife is livelier here than in most other stops on this route with popular bars such as Why Not Bar and a decent one on the beach open until well into early hours* (it can be very hard to find places that stay open after midnight in Vietnamese cities). Some travellers find Nha Trang a little bit seedy, but there is a beautiful temple near the train station if you want a slightly more cultural experience.
*As in many countries, the pandemic has caused big problems for some businesses in Vietnam, particularly those catering to travellers, so it's hard to verify whether these places are still open.
Extension – Da Lat
You can also do the trip to the mountain town of Da Lat from Nha Trang although it is quite a long journey (3-4 hours) on winding roads. The fresh mountain air is a pleasant contrast to the heat and humidity of the coast and there's some wonderful countryside to explore. If you do visit, there are affordable tourist buses that will take you directly from Da Lat to Mui Ne beach.
journey from Nha Trang to Binh Thuan: approx 4 hours
---
8. Binh Thuan (for Mui Ne)
Mui Ne isn't really a town, more like a long coastal road about 20 km or so long with many hostels, hotels and restaurants dotted around it. The beach is quiet and very relaxing, while the hot sand dunes are perhaps what the area is most famous for and great for exploring, although avoid the middle of the afternoon when your feet will burn! 
Coming from the north, the train stops at Binh Thuan but there is a closer station at Phan Thiet with loads of bus and taxi links to Mui Ne (about 30 minutes). Heading on south, it's usually quicker to head to Phan Thiet from where you can take a direct train to Saigon which goes through Binh Thuan meaning you'll still technically complete the whole reunification express line. Departure times from Phan Thiet are 13:20 and 22:55 according to the latest info, but double check before you travel.
journey from Phan Thiet to HCMC: 4 hours
---
9. Ho Chi Minh City (AKA Saigon)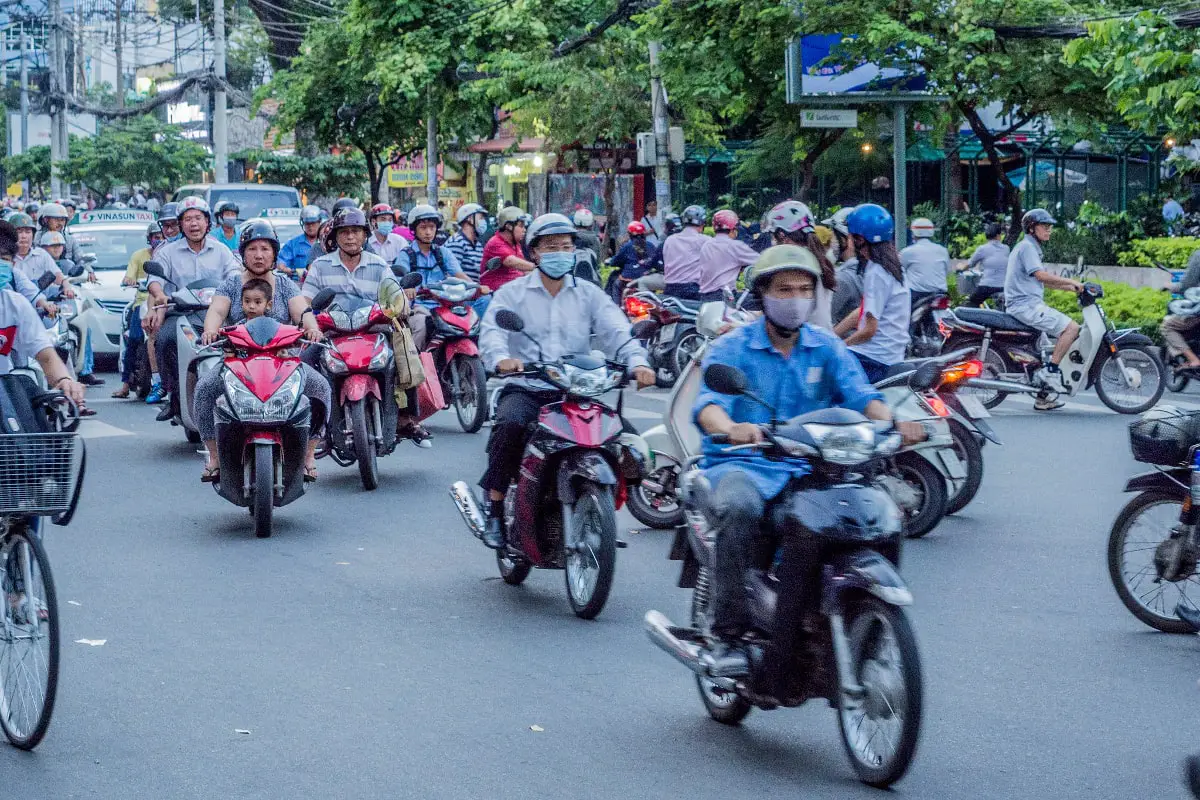 When backpacking through Vietnam, most travellers head here either first or last (you could easily do the Vietnam route outlined on this page in reverse). It is the biggest, and by some distance most westernised city in the country but it is a bit manic with crowded roads full of motorbikes.
Saigon has a large backpacker scene and many things to do, much of which relate to the Vietnam War and the USA's involvement. The city is also a good base for exploring nearby points of interest such as the Cu Chi Tunnels while you may also want to head out to the far south of the country if you have a bit more time for a slightly more relaxed atmosphere than you find in much of this fabulously crazy nation.
---
Vietnam Map & Itinerary Overview
---
Our Vietnam backpacking route basically follows the railway line but some of the best destinations are in nearby towns or areas that don't have a train station so you'll need some small extra connections at points. The trip from Hanoi in North Vietnam to Ho Chi Minh City in the South is 1725 km long, taking roughly 35 hours in total, passing some breathtaking scenery along the way.
Of course few people do the trip in one journey as there is so much to see in between the two terminals. Conveniently this train-line runs close to or through all the major stops on the Vietnam backpacker trail. The journey is pretty comfortable with air-con and sleeper compartments available on night trains.
Go to Seat61 for the latest prices and more great info on trains in Vietnam. There are subtle differences between the different trains which are better explained there and there are several daily departures from both terminals. You can also get more tips and advice on Vietnam solo backpacking and travelling by train in the country by looking for posts about backpacking Vietnam on reddit.
Vietnam Backpacking Route – How long to spend in each place?
| | | |
| --- | --- | --- |
| Order | Destination | Suggested Time |
| 1 | Hanoi | 2-3 Days |
| Extension | Ha Long Bay | 2-3 Days |
| 2 | Ninh Binh | 1-2 Days |
| 3 | Dong Hoi | 1 Day |
| 4 | Hue | 1-2 Days |
| 5 | Hoi An | 2-3 Days |
| 6 | Qui Nhon | 1-2 Days |
| 7 | Nha Trang | 1-2 Days |
| Extension | Da Lat | 2-3 Days |
| 8 | Mui Ne | 1-3 Days |
| 9 | Ho Chi Minh City | 2-3 Days |
Three weeks does feel about right for the nine main stops on the rail-line plus the two extensions. Both Ha Long Bay and Da Lat are strongly recommended so if you're short on time, consider skipping Dong Hoi and maybe another destination that doesn't appeal so much instead.
You can easily reduce or increase the amount of time in each destination according to your schedule and preferences. If you're not bothered about the beaches, you could spend just a day in Nha Trang and Mui Ne for example, or skip them altogether. If you're not a fan of big cities, Ho Chi Minh City in particular may seem a little overwhelming. You may wish to spend longer in the quieter destinations such as Da Lat in that case.
---
Check out all our Asia backpacking routes!
southeast asia | thailand | myanmar | vietnam | laos | indonesia | cambodia | philippines | india | taiwan | sri lanka | japan | malaysia
---
This page was last updated in April 2022.
---
Vietnam Backpacking Route