Travellers in Southeast Asia often leave with fond memories of Northern Vietnam, a region which retains so much of its cultural heritage and still feels like a step into the unknown in comparison to the more commercialised travel hotspots further south and in neighbouring Thailand and Cambodia. Read on for our top five backpacking destinations in Northern Vietnam.
---
The Main Backpacking Destinations in Northern Vietnam
---
Halong Bay
Halong Bay is the real jewel in Vietnam's crown and one of the most stunning natural sights anywhere in the world. It consists of literally thousands of small limestone islands dotted around the South China Sea just off the coast of mainland Vietnam. It's best explored by boat tours with a variety of options from multi-day excursions to single day trips around the islets with plenty of chances to swim, kayak and snorkel in the clear waters.
Cat Ba is perhaps the best island to base yourself on and analyse your options for exploring the islands. It's also home to a large national park which is perfect for hiking while there are plenty of beaches to relax on.
Sapa
Sapa is a bit of an outlier when compared to the other major backpacking destinations in Northern Vietnam or indeed Southeast Asia. Its climate is the first big difference. Sapa's location in the far north close to the border with China at 1500 metres above sea level ensures it is a lot cooler than most places in the region. Temperatures can even drop towards freezing in the winter months while wet and foggy conditions are also commonplace.
It's not just a good place to cool down though with charming mountain scenery surrounding the town. The nearby villages are home to some ethnic minorities with truly unique customs and the area can easily be explored on foot or by renting a motorbike which are cheap and easily available in Sapa.
Phong Nha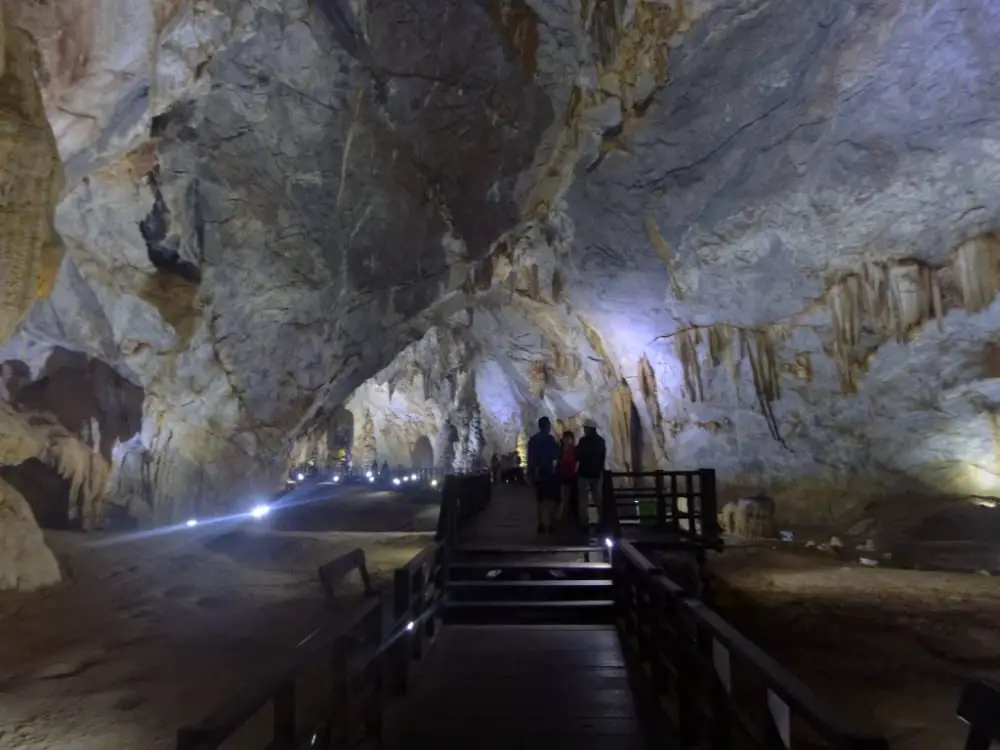 Phong Nha is another of the most beautiful destinations in Northern Vietnam. It is home to an enormous cave that is almost 8km long while the underground river stretches for just shy of 14km making this a truly extraordinary thing to see.
The site was made a UNESCO World Heritage Site in 2003 and is located to the north of Dong Hoi. There is also an underground lake while there are a huge number of giant stalagmites which helped give the cave its name – Phong Nha literally means 'Wind and Teeth'. 
Tam Coc
Tam Coc is a bit like the inland version of Halong Bay. Many backpackers first travel from Phong Nha to Ninh Binh, which is located an easy bicycle ride from Tam Coc. The area consists of many small cliffs surrounding an incredible river and cave system. Again it's best seen by boat and most visitors opt to hire a paddleboat (complete with someone to row it) and take a gentle cruise along the river.
Cycling around the area is also very pleasant. To escape the crowds that can flock to Tam Coc during busier parts of the day, check out the nearby Trang An Grottoes which has many more caves and isn't quite as busy but does still attract tour groups from Hanoi.
Hanoi
Finally, no trip to Northern Vietnam would be complete without a visit to Hanoi, the capital of the nation and the starting point of our big 3 week Vietnam backpacking route. While nature lovers may find it a somewhat stressful and hectic place, there is a real energy to the city and it makes for a huge contrast to the other destinations on this countdown of the best places to go in Northern Vietnam.
There's plenty to do in Hanoi with the Old Quarter the main backpacker hub close to the central Hoan Kiem Lake. If you're interested in the history of the Vietnamese War or Vietnam's struggle for independence from France, head to the Hoa Lo Prison which is now a museum. The Huu Tiep Lake also still to this day contains what's left of an American plane that was shot down there in 1972. Hanoi is also home to several other important museums, temples and sites including the Ho Chi Minh Masoleum, home to the tomb of the former leader of North Vietnam.
Read more on travel in the country: Learn how to bargain in Vietnam or if you're heading south, read our Ho Chi Minh City Backpacker's Guide.
---
This post on the best backpacking destinations in Northern Vietnam was published in July 2019.
---
5 Best Backpacking Destinations in Northern Vietnam