Sail to a new island every day, amble around ruins, sip Ouzo on a cobbled patio, or stuff your face full of Dolmades (vine leaves) and Mousakka – a month in Greece will fly by before you know it. Whether you're on a mission to find the best beaches in Europe or are a classical history buff, this itinerary will show you the best of Southern Greece.
The itinerary starts in Athens, taking you around the Peloponnese and to some of the most famous islands on the Aegean Sea. With more time, one can add in the Ionian Islands or a hike up to Meteora and Thessaloniki. This journey will take you through some of the most important historical sites and stunning island vistas.
by Kayla Kurin
Table of Contents
---
TIME NEEDED – 4 WEEKS
You'll want to spend an average of 2-4 days in each place. Some places, like Crete, require more time, whereas other destinations work well as a day trip or one overnight. You can cater the length of your stay in each place based on your interests!
---
POSSIBLE BUDGET – £1150 €1300 $1450
This is based on January 2019 prices and exchange rates. Popular tourist places like Santorini and Mykonos are more expensive, while the less-visited Peloponnese and populated areas like Athens and Crete are more affordable. Accommodation prices do shoot up during the summer months and around national holidays though so budget for more during those times or join CouchSurfing if you are on a tight budget (there are active communities many places on this route).
Read more on the cost of travel in Greece.
---
TRAVEL INSURANCE FOR BACKPACKERS IN GREECE
The cost of travel insurance isn't included in the budget figures above. You can get a quote in less than a minute from Heymondo who provide well reviewed international travel insurance for backpackers from all over the world.
---
GREECE BACKPACKING JOBS & WORK EXCHANGES
One way to save money and potentially learn a few new skills whilst travelling in Greece is to look for work exchanges or short-term jobs. Sign up to Worldpackers to get access to 37 work exchanges in Greece (at the time of writing). You can get $10 off the annual membership fee by using the Worldpackers promo code "MYFUNKYTRAVELWP".
---
Backpacking Greece – Mainland & Greek Islands Itinerary
---
Athens
(3-4 days)
A combination ticket will get you access to the Acropolis (gets busy, but not worth leaving the city without a visit), The Acropolis Museum, The Ancient Agora, Hadrian's Library, and several other sites in Athens. It's worth making your way through the ticket over a couple days in Athens.
When you're sick of sightseeing, wander around the Plaka and flea market, and follow the shop-lined street to the governmental palace to watch the changing of the guards while chowing on a gyro.
In the evening, hit up one of Athens' many rooftop bars with an Acropolis view to enjoy an Ouzo or cocktail and see the ancient citadel light up at night.
Delphi
(1 day)
A short bus trip from Athens will let you visit the Oracle of Delphi where a lucky few may receive a prophecy of their fate! The temples of Apollo and Athena are worth a wander around, and some campsites nearby offer budget accommodation for those that want to stay overnight.
Nafplio
(2-3 days)
The first capital of Greece after their independence from the Ottoman Empire, this little town by the sea is an excellent base for visiting the rest of the Peloponnese. You can hike up to the fortress for 360 views of the coast and town, visit the small but interesting historical museum, and follow the path along the coast all the way to Neraki beach. However, one of my favourite things in Nafplio is to grab a seat at a cafe in the main square, order a frappe, and enjoy the slow pace of life in Greece.
Epidavros
(1 day)
This makes a great day trip from Nafplio or Athens. The ancient theatre is one of the best-preserved in Europe and is the home to the Hellenic festival over the summer. Rumour has it that someone sitting in the back row could hear a pin drop on the stage.
Hydra
(1-2 days)
A favourite haunt of writers and artists (as well as cruise ship visitors in the summer months) due to its picturesque villages and lovely beaches. This island can make a nice day trip from Nafplio or Athens or a relaxing overnight stop. There are no cars allowed on the island so you'll need to use water taxis, donkey transit, or your own two feet to get around!
Monemvasia
(1-2 days)
This castle carved into the back of rock is only accessible by a thin road from mainland Peloponnese. Spend an afternoon climbing around the castle and enjoying fresh seafood. Accommodation on the island is pricier than other places in the region, but it can be worth it to splurge on an overnight stay if you're looking for something unique.
Mykonos
(2-3 days)
If you're looking for the top spot to party on the Greek Islands, Mykonos is the place. Spend your days lounging on white-sand beaches and wandering around some of the island's white stoned villages. At night, get ready for the island to come alive with beach bars, clubbing, and more.
Paros
(2-3 days)
Some of the best beaches in Greece can be found here! While some areas are overtaken by partiers or couples on a romantic getaway, it's not hard to find a quiet spot to while away the time.
Worth a visit: a short (half-hour) ferry ride from Paros is Antiparos – archaeological sites, beaches, and beating the Paros crowds!
Naxos
(2-3 days)
Another popular party spot on the Cycladic islands but quieter than Santorini or Mykonos, Naxos makes an excellent stop for beach lovers and island hoppers. Visit the Temple of Apollo, find a quiet beach, or let your party animal loose in Naxos town.
Santorini
(3 days)
The most famous of the Greek islands is still well worth a visit. During the day you may fight crowds of tourists walking around Oia or Fira but splurge on a cliffside hostel to get an unobstructed view of the famous sunsets. It's worth spending a bit more time here as the strange volcanic formation of the island can make getting around a bit more time consuming than the other islands.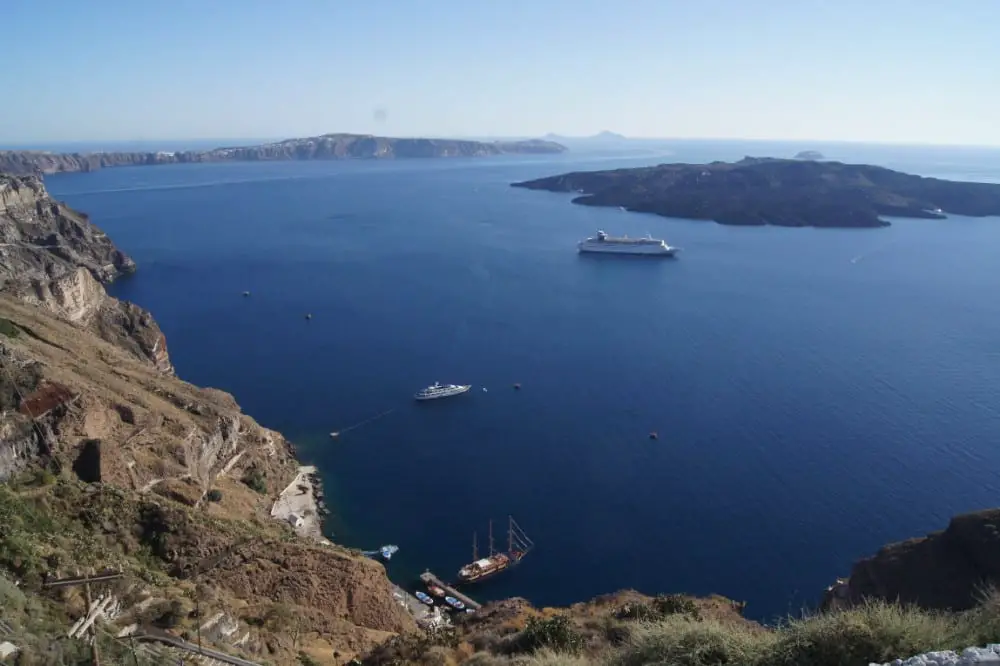 Crete
(1 week)
The largest of the Greek islands, it's worth spending extra time here to be able to visit a few of the different cities and beaches. Heraklion is where most tourists begin, and is the biggest city on the island. Less quaint than its' counterparts in Chania and Rethymno, Heraklion has some cool areas and excellent Tavernas. The archaeological museum and the museum of Crete are both worth a visit.
To the west, Rethymno is a beautiful walled city with a lovely market.
Head further west you'll hit Chania, the second biggest city on the island with a Venetian port and great indoor market. Chania has some of the best restaurants on the island and many long beaches just west of the city centre. Also worth a visit is the island's only remaining synagogue nestled in the old Jewish quarter.
Begin to head south, and you'll hit the Samaria Gorge where you can do a day hike, and drive to the south coast of the island for the best beaches on the island.
---
Check out our other Europe backpacking routes!
spain & portugal | central europe | baltics | balkans | hungary-romania-bulgaria | scandinavia | south caucasus | greece | UK
---
Greece Backpacking Tips
Budget Accommodation in Greece
Most travellers in Europe book accommodation in advance of their arrival and that is advisable here, particularly during the busy summer months when hostels frequently sell out. Airbnb provides a nice alternative to hostels for those looking for a more local vibe. Hostels or budget hotels are also available in most of the locations listed. Another option for backpackers is to look into campsites. Even if you don't bring camping gear, many campgrounds are located close to tourist attractions and have budget cabins you can rent.
Visiting Greece – Visa Requirements
If you're from the EU, you can come and stay for as long as you like visa-free.
For those outside of the EU, Greece is a member of the Schengen area of Europe which has a shared visa policy. Find out if you need a visa to enter it here. If you don't, you can stay and move around in Greece or any of the member states providing you don't spend more than 90 days in the region within any 180 day period.
When to visit
Greece is most popular with visitors during the summer months, but that doesn't mean it's the best time to visit. July and August can leave the smaller islands feeling packed (though I've never had an issue finding an islet to myself, it can feel overwhelming in the towns). The weather is warm in almost all of Greece from May till the end of September, sometimes even later. Therefore perhaps late Spring, June or early Autumn are the best times to visit. However, you may want to fit in one or two festivals while you are there, so it's worth knowing when the main celebrations take place.
Festivals
Apokreas (January/February) – A celebration of food and drink before the pre-easter fast. Many restaurants and Tavernas will have special menus for Apokreas, and if you're staying at a guest house or Couchsurfing there's a good chance your host will invite you to dine with their family and friends!
Easter Week (April) – Spending Easter in Greece can open you up to a holistic cultural experience. Visit churches to see the special Easter decorations, and visit a homestyle Greek Taverna to sample some of the traditional Easter foods. In many cities, there will be parties all week and an Easter parade.
Hellenic Festival (June – August) – One of the highlights of my visits to Greece, watch both ancient and modern Greek theatre in ancient theatres around Athens and Nafplio.
Moon festival (August) – Full moon party in Athens.
Thessaloniki International Film Festival (November) – A good selection of Greek and international films to while away the colder days.
Getting Around Greece & Island Hopping
Trains: While the trains are officially re-opened in Greece, they are often slower and less reliable than the bus. The Corinth-Athens train line and the Thessaloniki-Athens train line have daily trains departing in both directions. The best way to get the most recent schedule is to go to the station and ask. Tickets can be bought in advance or the day off for the same price.
Busses: Bus service is reasonably consistent across the country, but can be a bit expensive and limited in certain areas. Tickets can be bought the day of or in advance from the station.
Car: The best way to get around is by renting a car. Rentals can be picked up at Athens airport or various places around the country.
Ferry: Ferries to the islands are usually quick and reliable, and you have the option to drive or walk on. Ferries.gr has up to date schedules and links to purchase tickets. The faster ferries have airplane seating and limited amenities but will save a couple hours off of your trip. I prefer to take the slower ferries where you can walk around the deck, enjoy bars and cafes, and have the option to book a cabin for longer journeys.
---
Author Bio
Kayla Kurin is a writer, yogi, and constant traveller. From Canada, she's travelled, lived, and worked in over 40 countries. Kayla will attempt to swim in any body of water she sees and has never met a 1 euro bottle of wine she didn't like. Read about her adventures at Aroga Yoga or follow her on Twitter and Instagram @kaylakurin.
---
This post on backpacking Greece was published in July 2019.
---