Like a crown on a king's head, the majestic Himalayas adorn my country- India. The Himalayan range swarms over the north and north east of the country and boast a great variety of flora and fauna and being the snowy area of our country, it is a highly sought after travel spot. Read on for 10 things to do in The Indian Himalayas or head over to Mountain IQ for more tips on trekking in India!
A guest post by Rohit from India
---
Top 10 Things To Do In The Indian Himalayas
---
Mountain Biking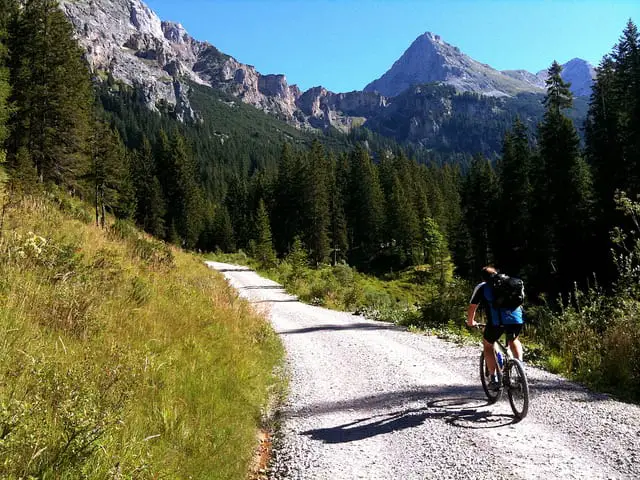 Photo by trailsource, CC BY 2.0
Not a trekking fan? No problem at all! You can still go biking or cycling. The Himalayas have some really enchanting routes that are perfect for adventure biking and cycling. There is no denying that there are a few tricky ones, but with a little care, you can ride them safely.
Gondola
Rides
How about a mind blowing ride at 9000 or 10000 feet? You can experience the cable car here at Gulmarg (a.k.a. the meadow of flowers) to offer a chilly ride over some of the world's best picturesque locations. You might want to take the same ride twice – one to take in all the beauty and another for capturing all of it on your camera.
Bungee Jumping at Rishikesh
Photo by Tony Leon, CC BY-SA 2.0
If you are off to Rishikesh on a spiritual journey, you might as well add a tinge of adventure to it. Along with some spiritual awakening, the holy city might just open up the adrenaline junkie in you.
Spa
a
nd Relaxation
Photo by Vinoth Chandar, CC BY 2.0
While Himalayas raise that adrenaline level, it can also help you in washing off those stress levels that come with a city life. The mountains have some really good spa centers, hotels and a blend of Ayurveda to calm you down. It would be a perfect getaway to indulge in some alone time and self-pampering.
White
Water Rafting
Photo by Jason Pratt, CC BY 2.0
We are well aware of the pious Ganga – the river that washes away all your sins and purifies you. Well, she too seems to have a wild and fun side. Before Ganga comes over as the calm one, she is a turbulent challenge to be won over. Wrestle with nature and conquer the white waters of Ganga. River rafting in Rishikesh would be one memorable attempt with your team of friends.
Read more – When is the best time to visit Sri Lanka?
Yak Safari
Photo by Dennis Jarvis, CC BY-SA 2.0
Ride a camel in the desert, ride a horse but don't miss out the yak. Out in the coldest parts of Ladakh, yaks were the sole means of transport and an accompanying animal for many. Travellers now enjoy this ancient practice to explore the hidden secrets of the Himalayas. This gigantic animal will offer you one of the truest Himalayan experiences. Dress up in the bright coloured dresses and ornaments of the local people and go on a yak ride.
Angling in Ramganga

Photo by Eric Gropp, CC BY 2.0
The Himalayan region is a dream destination for all angling lovers. Being home of the amazing and rare Mahasheer fish, the Himalayas is one spot on the angler's bucket list. Catching this 'tiger of the river' is one of the best experiences for any angler. Fly fishing is also another popular sport in the Himalayas.
Canyon
Crossing
on
a
Jhula
Remember those swings you played on or those crazy rides in an amusement park. If you miss those, you should definitely try using a swing (jhula) to cross a canyon. Nothing to worry about, people living in these villages do it every day. It will be a ride you will never forget, riding in a box over a canyon with a river gushing right below you.
Treasure
Hunting For A Glacial Lake
Forget those conventional treks to popular spots. If you are one of those 'off-beat trekkers' go find your own glacier. There are so many hiding in the depths and width of the Himalayas, waiting to be explored. Spend the night on the lake side with a starry skied roof and wake up to a splendid sunrise.
Take
A Flying Taxi –A Helicopter
Photo by Alec Wilson, CC BY-SA 2.0
Want a break from all the trekking and you just want to go sight-seeing. Take a helicopter taxi, no kidding. That taxi ride could be something you will treasure forever. Few of us can own a helicopter, so you might as well take a ride when you get a chance. Book one from the airport itself and travel in style.
---
Our grand Himalayas cannot be brought down to just 10 points, there are so many places to visit – temples, monasteries, valleys, breathtaking lakes, mountains and a crazy load of things to do – parasailing, trekking, wildlife safaris, catching a glimpse of the snow leopards deep in the mountains or just relaxing. This is one place to fulfill all your cravings and to make loads of memories.
---
Author Bio:
Rohit is an avid traveler and blogger at Transindiatravels.com. His passion for exploring has taken him to places all around the world. The accounts of his travel experiences act as a guide to other travel enthusiasts.
---
This article was published in April 2016.
---
10 Things To Do In The Indian Himalayas