Rajasthan is probably the most interesting state in all of India from a traveller's perspective with an enormous wealth of history and culture to indulge in. It is the land where kings once ruled and where enormous forts and palaces have stood the test of time. We're going to take a look at the best places to visit in Rajasthan.
Getting to the region is fairly straightforward and it's a big part of the typical India backpacking trail. You can head in from the East via a train from the nearby cities of Delhi or Agra (home of the Taj Mahal). Alternatively if you're coming from the South then Mumbai and Ahmedabad are also home to international airports. There are airports in all of the main cities in Rajasthan too with budget connections to the rest of the country via the likes of IndiGo and Spicejet, however international flights into Rajasthan are relatively limited.
Once in Rajasthan, it is easiest to get around by train and in regions where there aren't direct train routes, you can take the bus or even hire a driver to get you from A to B if you're travelling with friends or don't have a particularly tight budget.
---
5 of the best places to visit in Rajasthan
---
Jaipur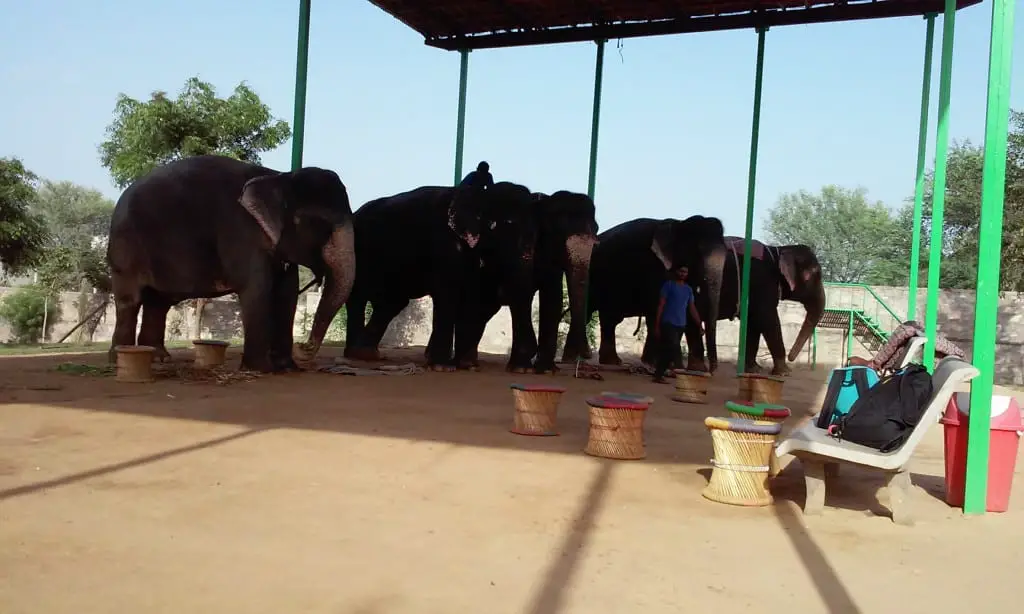 The 'Pink City' is a large urban metropolis built around a city centre, which is absolutely nothing like anything you might find in the West or indeed other parts of Asia. Inside the city walls, you'll find a maze of pink buildings and ancient architecture, now taken over by endless market stalls.
Modernisation isn't really a concept that Jaipur or much of the state has come around too but it's not really what people come for in any case. The main point of interest in Jaipur is the giant Amber Palace on the outskirts of the city but there are several other palaces, museums and temples which are worth a visit. There is a somewhat disappointing monkey temple complex, which was probably once great and is still cool if you like monkeys but the site has been left to rot and it's a bit disgusting these days with garbage everywhere although you can get a good view of the city from there.
For a fun trip out of town consider paying Elefantastic a visit. It's located a few kilometres outside Jaipur and houses rescued elephants, which you will get the opportunity to feed, wash, ride and even paint. It's a fairly pricey day trip by Indian standards at about 5000 Rupees (US$60 as of August 2023) but is certainly worth a visit if you've always wanted to get up close to some of nature's most remarkable creatures.
---
Pushkar
Pushkar is a unique spiritual town built around a small lake three hours from Jaipur, which is home to the nearest airport. The lake is surrounded by temples and small ghats and it is a hugely significant place for Hindus. It is said to be the seat of one of the Hindhu Holy Trinity – Brahma. Legend has it that the demon Vajra Nabha killed Brahma's children here, however Brahma fought back using a lotus flower (pushkar) as his weapon.
Apart from being a really pretty place to hang around for a few days, you can take cookery or yoga classes or head out on a camel safari. Pushkar is only very small but there are strict rules in the town where no meat or alcohol whatsoever is permitted. If you come during November, be sure to check out the Pushkar Camel Fair, which takes over the town for 2 weeks around the full moon
This also coincides with the overall best time to visit Rajasthan which is considered to be the winter months of November to February.
---
Jodhpur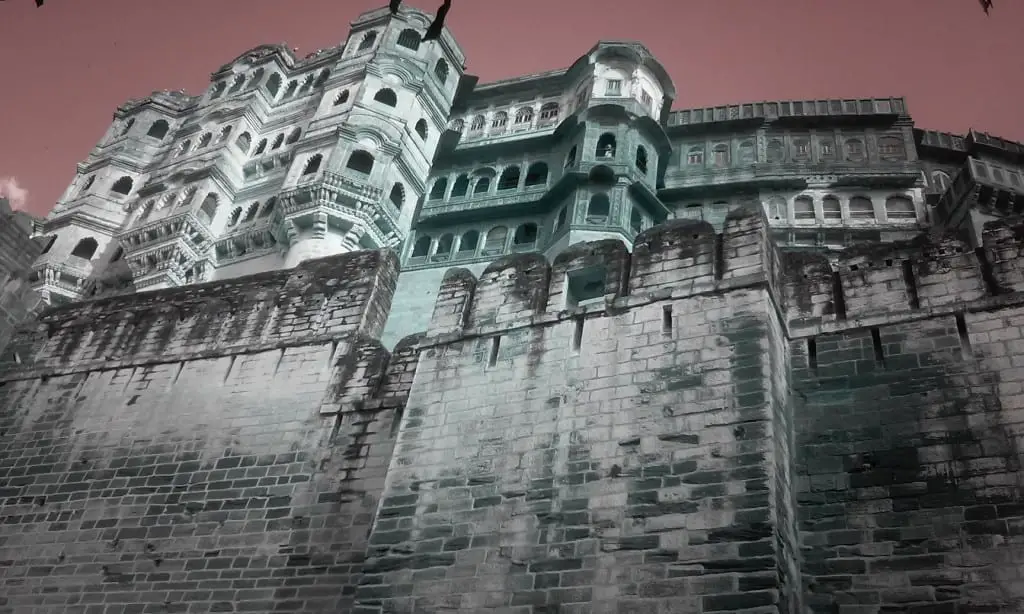 The 'Blue City' of Jodhpur is another of the best 5 places to visit in Rajasthan. You won't need much more than a day or two here but it's worth it just to go to the magnificent Mehrangarh Fort alone. It's an enormous structure, brilliantly built so it merges with the top of a large hill that overlooks the city. With audio guides and better signposts it is a much more informative and interesting visit than some of the other forts in India including Jaipur's Amber Fort which is fairly uninformative besides a few 'security guards' eager to make a tip by showing you where the king used to go to relieve his bowels.
Follow the walls of the fort around to the part facing Jodhpur and you get a sensational view of the Blue City and it becomes immediately obvious why and how it got its name. Hang around until the fort is about to close as dusk begins to set for the best views and some wonderful photo opportunities.
If you fancy taking the quick route down, take the exhilarating zip-line over the Luni River and back towards city level.
---
Udaipur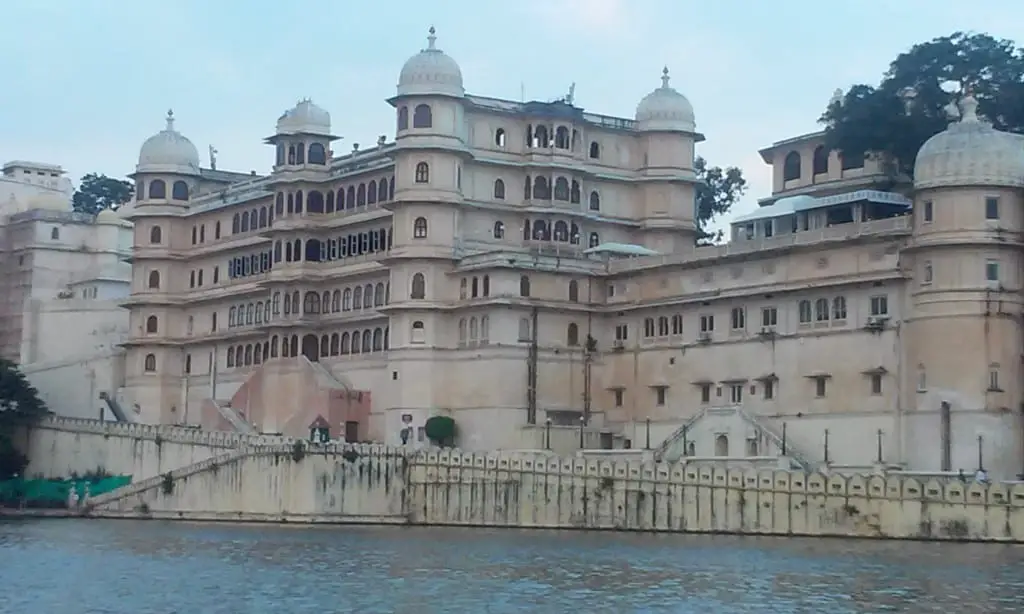 There is a different vibe to Udaipur from the other main cities on the Rajasthan travel trail. Built around several lakes, it was featured in the 13th James Bond film Octopussy, which predictably plays nightly in bars and cafes around town. As the sun sets over Udaipur's lake and its glittering palaces, it's not hard to see why it was chosen.
There is more than an air of mystery about the place and little can beat heading to one of the many rooftop restaurants, all with great views of the lake for a curry and a few drinks, while fully appreciating the beauty of the place.
Nuisance factor here doesn't go much beyond the fact that there are seemingly 100's of tailor shops trying to sell you a suit on the basis that they have a photo of Judi Dench visiting their store. If you are looking for a suit then be sure to shop around and preferably seek independent reviews of the quality of their goods and service.
Other than that it is a nice place to chill out for a few days, with all the main sights very close to each other and all easily accessible via a relaxing boat tour around the lake. Take a few days and appreciate perhaps the most naturally charming city in all of India.
---
Jaisalmer
'The Golden City' as it is known due to its proximity to the desert is the final Western frontier for many travellers in India. It's not far from the Pakistan border and you can get pretty close to it by taking a camel or jeep safari into the desert, easily one of the best things to do in Rajasthan. Trips range from just an afternoon to upwards of a week and it's certainly worth doing an overnight trip for a bit of stargazing in the vastness of the Thar Desert.
There is another impressive fort here, which unlike most of the other ones in Rajasthan is still inhabited, which adds to its intrigue. It is also a great place to buy leather and silver jewelry but be warned bargaining is expected and the first price you are quoted is probably many times what the owner is prepared to sell it for. Barter down as much as you can and pretend to lose interest and eventually you should get a fair price.
These are the typical tourist places to visit in Rajasthan but they by no means feel overrun by visitors. If you have more time or just want more unexplored places in Rajasthan, consider the likes of Khuri, Kuldhara, Karauli and Dungarpur.
---
This look at some of the best destinations in Rajasthan was last updated in August 2023.
---
What are the best places to visit in Rajasthan?