India is one of the world's great travel destinations and ticks almost every box you can think of when you sit there wondering where to go for your next adventure. It's such a big country, it would be impossible to see it all in just 2 or 3 months but our India backpacking route aims to take in the best it has to offer and give you a taste for life in various different parts of the country from the wonders of Rajasthan to the beaches of Goa with chaotic cities, heavenly temples, cultural delights and ancient settlements all part of the fun. By the end of your trip, for sure you will have discovered the many faces of India, for better or worse and immersed yourself in the sights, sounds and smells of this incredible country.
---
TIME NEEDED – 2 MONTHS
Depends greatly on your travel preferences. Some travellers end up spending months in Goa or Kerala alone but based on the time you might need to see the best of each destination and have enough time to get around the country which can be very time-consuming then 2 months should be sufficient and 10-12 weeks would be more relaxed.
The time-frames we have suggested for each destination are only a guide and you may want to factor in the travel times either side and consider taking a day just to totally chill out and recover every now and then. Also factor in that some journeys will take half a day or more so over the course of the trip you will lose many days to simply getting from A to B, although that is certainly all part of the Indian backpacking experience.
---
POSSIBLE BUDGET – £1000 | €1150 | US$1200
These figures are based on prices and exchange rates as of January 2017. India is very cheap to get around by train and food and accommodation is also inexpensive. Real shoestring types should be able to get by on less than this by travelling on insanely cheap sleeper class trains and eating in more local restaurants, although your body might not always take kindly to either experience.
Some travellers reckon it's possible to get by on under $15/day in India but you should probably allow for a bit more, certainly if it's your first time. If you have a much larger budget for your trip or are just a bit anxious about travelling around India alone, you may wish to read our post on the best backpacking tours and the pros and cons of joining them.
Read more on the cost of travel in India.
---
VOLUNTEER IN INDIA
Use Worldpackers to search for placements in India. There are some cool projects to get involved in!
---
TRAVEL INSURANCE
You should also definitely get travel insurance for your trip to India. SafetyWing is one recommended option if you just want medical travel insurance that covers COVID-19 treatment if required.
---
Backpacking India – A 2 Month Itinerary
---
West Bengal
1. Kolkata
(2-3 days)
Formerly known as Calcutta, this is India's cultural capital and one of its largest cities. It has produced some of India and the world's great poets and writers and amongst the chaos, there are some incredible buildings and remnants of life gone by, particularly of colonial periods when the British tried to turn it into the London of the East. Be sure to visit the Victoria Memorial.
It's a good place to start your trip, especially if you're coming from Southeast Asia as it is the closest of the big Indian cities to the region and flights from Bangkok can be found for as little as £50. From Europe there are regular flights with Qatar Airways and Emirates amongst other airlines although you may still find it cheaper to fly first to Mumbai or Delhi and then take a national flight to the spacious modern airport in Kolkata.
Kolkata to Bodh Gaya – 470km
---
Bihar
2. Bodh Gaya
(1-2 days)
This is the place where the Buddha Sakyamuni is said to have attained enlightenment and it is the first of the great spiritual destinations on the route. Inside the main Mahabodhi temple complex you can experience the lotus pond and meditation garden, while there are plenty of other temples and monastries from predominantly Buddhist countries in walking distance of Mahabodhi.
Bodh Gaya to Varanasi – 250km
Read more: How much does it cost to travel in Nepal?
---
Uttar Pradesh
3. Varanasi
(2 days)
Varanasi is to Hindus, what Bodh Gaya is to Buddhists and already you should have a taste for the rich religious diversity that exists in India. Located on the banks of the River Ganges this is one of the oldest continually inhabited cities of the world. Pilgrims come from all over India and beyond to perform devotions here and you can witness the incredible sight of them bathing in the river in front of some incredibly old temples at sunset each evening.
Hindus often come here as they are approaching death, as some believe dying in Varanasi brings salvation and you can witness funeral ceremonies and the burning of corpses from the banks of the river provided you are respectful to the dead and don't take photos.
Be warned Varanasi is a dusty and chaotic city and is certainly not the peaceful place you might imagine it to be. Varanasi is a real attack on the senses and is a fascinating place to visit just don't expect to relax and beware of irritating hawkers who will try to extort money out of you by the riverbanks. Two days is probably enough in truth with most of the interesting parts of the city crammed into a small area near the riverbank.
Varanasi to Khajuraho – 410km
---
Madhya Pradesh
4. Khajuraho
(1-2 days)
A small town home to some wonderful Hindu and Jain temples and one of a number on this route to have achieved UNESCO World Heritage status. Check out the erotic sculptures that have been skillfully carved into the walls! If that's not enough to get you excited then you can just spend some time relaxing or doing yoga, which is very popular here, in the outdoors in front of a stunning backdrop thanks to the Vindhya mountain range that looms large over Khajuraho.
Khajuraho to Agra – 410km
---
Uttar Pradesh
5. Agra
(1-2 days)
A popular stop on almost every backpacking itinerary for India. Agra is the home of the world famous Taj Mahal, India's grandest temple. The city itself is fairly grim however there are two other interesting sites of interest in and around Agra besides the Taj Mahal. Nearby Fatehpur Sikri and the Argra Fort in the city itself are both worth a visit and help take your mind back to the glory days when this was the capital of the Mughal Empire. You won't really need more than a day or two in Agra though.
Agra to New Delhi – 220km
---
Delhi
6. New Delhi
(2-3 days)
The Indian capital is an enormous city with plenty of famous sights such as the Red Fort and Humayun's tomb. You can shop in giant bazaars, explore some of the best museums in the country and just watch life go by in one of the most chaotic places you will ever visit. If you're not a fan of big cities, you probably won't enjoy New Delhi though or perhaps any of the main cities on the route but it's worth a visit just for the experience of life in India's capital even if you only stay a few days.
New Delhi to Jaipur – 270km
---
Where to Go in Rajasthan?
7. Jaipur
(3 days)
The last leg of the so-called Golden Triangle of New Delhi, Agra and Jaipur. Known as the 'Pink City' there is so much to see and do here with amazing temples, palaces, forts and stunning gardens dotted around town. This is also the biggest city in the state of Rajasthan which forms the core of many backpacking routes in India. Once you're done exploring, there are excellent transport links west into the desert towns.
Jaipur to Pushkar – 150km
8. Pushkar
(1-2 days)
This small but pretty town is made up of predominantly white buildings and temples set around a lake of great religious significance. It's a nice place to hang around for a day or so and learn about the legends relating to it and find out why Pushkar forms one of the Hindu religion's Holy Trinity. For the record alcohol is forbidden within the city limits, although the coffee is said to be excellent!
Pushkar to Jodhpur – 190km
9. Jodhpur
(2 days)
Literally on the edge of the great Thar desert, Jodhpur is a very hot city where the sun always shines bright. If Jaipur is pink and Pushkar is white, then Jodhpur is most certainly blue and almost every house and building in the old town is of some shade of blue and it can make for stunning photos, especially at sunrise and sunset with the best views to be had from the menacing fort that looms large over the town. This is the biggest city in the state and there's lots to occupy you here in a town which has a fascinating history dating back to the 15th Century.
Jodhpur to Jaisalmer – 280km
10. Jaisalmer*
(2-4 days)
Known as the Golden City, Jaisalmer is dominated by its enormous Fort which unlike many in India, is still inhabited and operational. Perhaps the most popular thing to do and a real highlight for many backpackers in India, is to take a camel tour into the desert. Multi-day trips that go right up to the Pakistan border are available and are highly recommended although speak to other travellers before choosing a company.
*Jaisalmer is a bit out of the way and you will almost certainly have to back-track to Jodhpur to continue on to Udaipur and further south.
Jaisalmer to Udaipur – 500km
11. Udaipur
(2-3 days)
The last destination in the wonderful state of Rajasthan, Udaipur is perhaps most famous for its lakes and enormous lakeside Palace that was featured in the 13th Bond film, Octopussy. Indeed many movies have been set here and with plenty of beautiful romantic backdrops, it's certainly one for the lovers.
Udaipur to Mumbai* – 750km
*Consider flying if you're not on a very tight budget. Daily flights between the cities with Air India and SpiceJet.
You can find out more about these cities in our article on the Top 5 Cities in Rajasthan.
---
Where to go in Maharashtra?
12. Mumbai
(2-3 days)
Formerly known as Bombay, this is India's biggest city and its most prosperous. It serves as the country's finance capital, complete with glitzy skyscrapers, modern shopping malls and lively nightclubs. It's a cosmopolitan town with residents from all over the world and is a complete contrast to those further north. It is also the centre of the Bollywood film industry which fills billboards and cinemas across this country and also has a large worldwide audience.
Of course this is still India and the wealth has by no means trickled its way down to the poorest and the city still has large slums where poverty is a daily fact of life. If you've seen Slumdog Millionaire you will have probably seen a few of them and there are a few companies that now offer slum tours to travellers where you can visit local families and although it is a little bit voyeuristic, the money helps them put food on the table.
Mumbai also ranks as one of the best cities for India digital nomads which makes it a decent base for anyone who enjoys big city living and wants to work remotely.
Mumbai to Aurangabad – 340km
13. Aurangabad
(2 days)
India backpackers come here for the magnificent caves at Ellora and Ajanta. There are spectacular cave monasteries and temples cut into the rocks which are an important holy site for the Buddhists, Jains and Hindus. Aurangabad itself is an old city with over 400 years of history and is perhaps most famous for its 13 historic gates which are still proudly upstanding.
Aurangabad to Hampi – 650km
---
Karnataka
14. Hampi
(2-3 days)
Almost certainly the best ruins in India are found at Hampi, a small village just outside the unremarkable city of Hospet. The ruins are spectacular though and cover an enormous area and date back to the days when Hampi was the imperial capital of Vijayanagar, a 14th century empire. It's a great place to spend a few days and the surrounding nature is also awesome with leopards and swath bears often found roaming around the nearby hills and countryside.
Hampi to Goa (Vasco da Gama) – 350km
---
Where to go in Goa?
15. Goa
(3 or more days)
The smallest state in India it may be but it is perhaps the best known outside of the country and one of the most popular with travellers, some of whom end up staying for weeks, months and even years. This former Portuguese colony has a unique blend of cultures but is generally speaking far more westernised than any of the other states, which still isn't saying much. It is home to some of the best beaches in India and every now and then you can find the odd wild party but its heyday as a party destination was in the 1960's and 70's so don't expect anything too crazy now, especially during the off-season.
Vasco da Gama and Panaji are the main 'cities' and best places to arrive at but neither are anything more than small towns in reality with populations of less than 100,000. There is a lot of debate about where the best beaches are to be found and you are quite literally spoilt for choice. Anjuna (the hippy beach) and Arambol are among the most popular options with backpackers but it's worth exploring a bit to try and find one that is perfect for you.
Goa (Vasco da Gama) to Gokarna – 150km
Read more: Full Moon Parties around the World
---
Karnataka
16. Gokarna
(2 days)
If Goa's not chilled out enough for you then head south to Gokarna which has great beaches and a very relaxed atmosphere with fewer foreigners than you find in Goa which can get crowded during peak times. Hindu pilgrims also visit the town to experience one of Shiva's holy temples and what is claimed to be an original image of God!
Gokarna to Kochi* – 640km
*Night Trains take around 15 hours.
---
Where to go in Kerala?
17. Kochi
(1-2 days)
The coastal city of Kochi is a major port and your first introduction to Kerala, which certainly has a distinct feel to it and is much different to the North. Kochi is a bustling town with a large navy presence and it has a few interesting sites although nothing remarkable so consider spending just a day or two here. It is a good place to sample the excellent cuisine that can be found in these parts. Don't expect anything to happen quickly here though and waiting and customer service in Kerala on the whole is often comically bad. It is also worth noting that Kerala is a fairly dry state where alcohol can be hard to find.
Kochi to Alleppey – 50km
18. Kerala Backwaters
(2-3 days)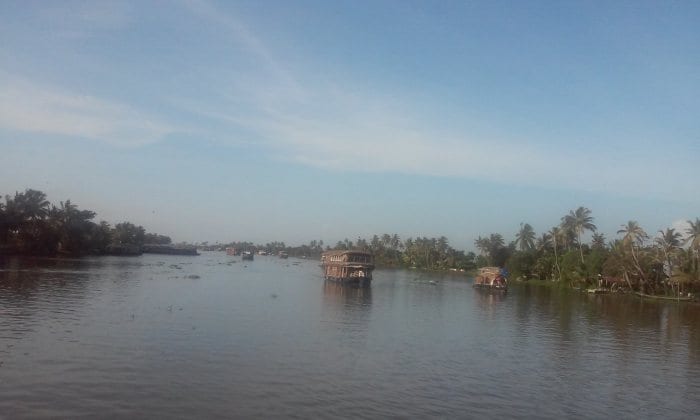 For many travellers, a backpacking route around India is not complete without a trip on a houseboat along the famous Kerala backwaters. They are basically a chain of lagoons, lakes and rivers that stretch an astonishing 1500km in total although you probably won't get that far out of Alleppey, which is the best place to start your trip and has the widest selection of boats. If you can get a group of travellers together you can hire out your own boat for a few days and explore the backwaters at your own leisure. It is quite pricey though and it is worth getting to the houseboat pier in Alleppey (aka Alappuzha) early (around 9:00am) to view some boats and negotiate your price although fixed price government houseboats are also available.
1 Bedroom Houseboats start at around 6,000 Rupees per day, while 2 bedroom houseboats will be 9,000+. The fee includes 3 meals and the costs for a crew of 2-3 people who cook your food and drive the boat. Use a forum like India Mike to get up-to-date info on prices and for tips on how to go about finding the best boat at the best price.
Alleppey to Varkala – 120km
19. Varkala
(2-3 days)
After your boat trip, head to Varkala for some more chill-out time in one of India's most beautiful beach destinations. The main traveller area is along a huge cliff facing West over the ocean and after a not so hard day on the beach or taking advantage of the Ayurvedic massage spas, you can kick back with a Kingfisher beer and a curry while looking out onto the most perfect sunsets.
Varkala to Madurai – 280km
---
Where to go in Tamil Nadu?
20. Madurai
(2-3 days)
Into the final state on our route now and Madurai, another of the oldest continuously inhabited cities in the world with life here dating back to the 4th Century before Christ. It's most popular thing to see is the Meenakshi Temple which is a spectacular Hindu temple in a city which is known as the City of Temples! It's a great place to visit if you're not all templed out and also has some interesting museums, mosques and hosts a wonderful 12 day carnival every year, usually in April or May.
Madurai to Mahabalipuram – 420km
21. Mahabalipuram
(2 days)
Mahabalipuram makes for a nice stop before ending your Indian backpacking trip in Chennai. It is most famous for some wonderfully artistic stone carvings, some of which have admittedly seen better days but efforts are being made to restore the town to its former glory. It also has a beach which you can share with turtles and it is a pretty popular destination with surfers.
Mahabalipuram to Chennai – 50km
22. Chennai
(2-3 days)
The state capital, formerly known as Madras is the main gateway to Southern India and with the 3rd largest airport, it's a sensible place to end your trip. You may need to fly to Delhi or Mumbai for a better connection home but there are direct flights to London Heathrow (with British Airways) and Frankfurt (with Lufthansa) as well as cities across Asia.
While in town, you can spend your last few days in India (or first if you do this trip in reverse) getting your taste of local culture with vibrant arts, music, dance and culinary scenes prominent. There are plenty of remnants to the British empire to be found in town and there is a large amount of religious diversity here with plenty of churches, mosques and temples.
Read more: How much does it cost to travel in Sri Lanka?
---
All our Asia travel routes!
---
Budget Accommodation in India
Hostels and hotels in India are like most things, great value but the size and difficulty of getting around the cities means its usually better to sort them out a few days in advance by booking online through any of the usual hostel booking sites. If you prefer not to book in advance then at the very least it's wise to have an idea of a hostel in which you are planning to head to. You might want to get an Indian sim card (very cheap!) and call ahead to make sure they have availability.
---
Visa Requirements for India
All nationalities need a visa to visit India. This can now be done online in most cases although it is a slightly complicated system that involves getting BOTH an e-visa and visa on arrival. We have a separate post with 10 tips for travelling around India that covers this point.
---
Extending your trip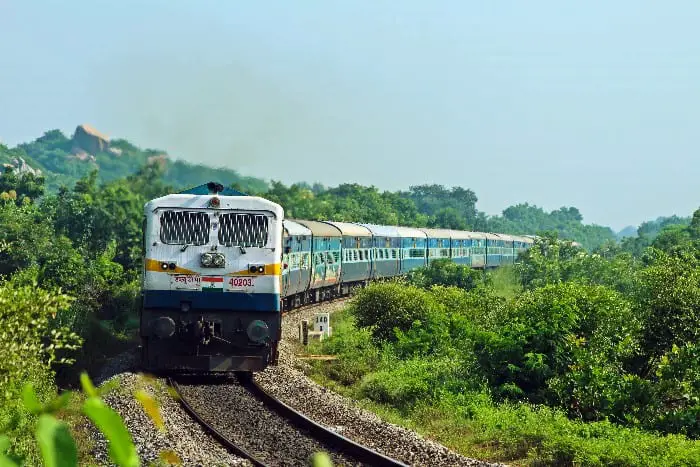 Indian Train Journey, CC BY 2.0
You can find more inspiration by checking out our main India page, which has links to plenty of useful resources that will inspire and help you to plan your India trip.
There was plenty we had to leave out here and everyone's idea of the best backpacking route for India is different but it should be fairly easy to adapt. Some of the other highlights including heading into the far North and the regions of Kashmir and Punjab, which are a bit further removed from the typical Indian traveller trails.
Another way to extend your Indian travel itinerary would be to take the famous Darjeeling express up towards the Himalayas and sample the beautiful mountain views and perfect tea in Darjeeling. For many travellers this part of the country is their favourite as it more peaceful and relaxed. Read our top ten things to do in the Indian Himalayas for some inspiration.
Of India's neighbours, Sri Lanka is a definite highlight and many backpackers head from India to Sri Lanka or vice-versa and it is easy enough to fly into Colombo from any of the main Southern cities. Sri Lanka is a lot more relaxed than India and has nicer beaches where you won't have to deal with as much hassle of gawping stares. Prices are only marginally higher too although hostel style accommodation can be hard to find in places. It does have quite an extreme climate though, so be sure to read up on the best time to visit Sri Lanka if you are interested in going.
Nepal is pretty easy to visit too and there are plenty of flights and land connections but most of India's other neighbours aren't the most accessible or appealing. Pakistan is largely considered dangerous for foreigners so few head that way while at the other end Bangladesh isn't really considered much of a travel destination and likewise has its safety concerns. The Chinese controlled region of Tibet which borders India can be a difficult place to get a visa for, likewise tiny Bhutan which can only be visited on an organised tour and independent travel is forbidden.
One route that is likely to become more popular with backpackers as Myanmar loosens its travel restrictions is the overland route from Thailand to Eastern India (through Myanmar). You might be interested in our backpacking route for Myanmar for a bit of inspiration and it's not hard to combine a trip with our mainland Southeast Asia route.
---
This article was last updated in June 2018.
Comments/questions are welcome below! We aim to reply to all genuine queries!
---