Mexico aside, the countries in this part of the world are really small but there's loads to see and do. Backpacking Central America with the route below will see you pack in six countries, Mayan ruins, fiery volcanoes, stunning lakes, colonial-era towns and chilled out Caribbean beaches while trying to avoid the generally unpleasant capital cities in the region (Panama City is the exception). You may well need to change buses in Managua or Tegioculpa for example but even if you're a city lover, you seriously won't want to hang around long.
This Central America backpacking route is one for travellers with limited funds as the region is one of the most budget friendly parts of the world and if you are willing to travel like a local, you can get by on seriously little.
---
Central America Backpacking Routes
On this page, you have our main Central America backpacking route which takes in part of Mexico, Guatemala, Honduras, Nicaragua, Costa Rica and Panama. We also have a couple of other itineraries in the region which can easily be combined with this one:
Central America Travel Itinerary Overview
Please note everything below this point was written prior to the pandemic. Life and travel in the region has changed since and it's possible that some of the info is now outdated as travel costs and the overall experience may be very different as a result of Covid-19. Restrictions and stricter entry requirements in some of these countries may also continue deep into 2022 and perhaps beyond so be sure to check the latest situation at the time of your visit.
---
How long does it take to backpack Central America?
On average we'd suggest spending about 10 days in each country (so roughly 2 months in total) although you could squeeze it all into 6 weeks at a push. With lots of volunteering and learning opportunities you could easily stick around for longer.
How much does it cost to backpack Central America?
Estimated Costs for this Route: £1250 €1400 $1600
This is purely for your travel expenses in the region itself and is based on 2 months of travelling on a shoestring budget using local transport and hostels and being quite disciplined in terms of your general expenditure. It doesn't include flights in/out of the region or other pre-trip expenses. It is based on prices and exchange rates as of July 2019. By adding another $500 or so to this budget, you will open up a lot more options in terms of extra trips and activities.
Read about the Central America cost of travel for more.
Work or Volunteer in Central America
A good way to get more from your trip to Central America whilst making your money go further is to use Worldpackers. The platform allows you to search for placements and exchange skills for free accommodation and meals. At the time of writing, they have 233 opportunities in Central America with everything from teaching sports and yoga in Guatemala to farm-work in Nicaragua.
Travel Insurance for backpacking Central America
The cost of travel insurance is not included in the budget figures above. If you require travel insurance for backpacking Central America, you can get a quote in less than a minute from World Nomads who specialise in covering backpackers and independent travellers.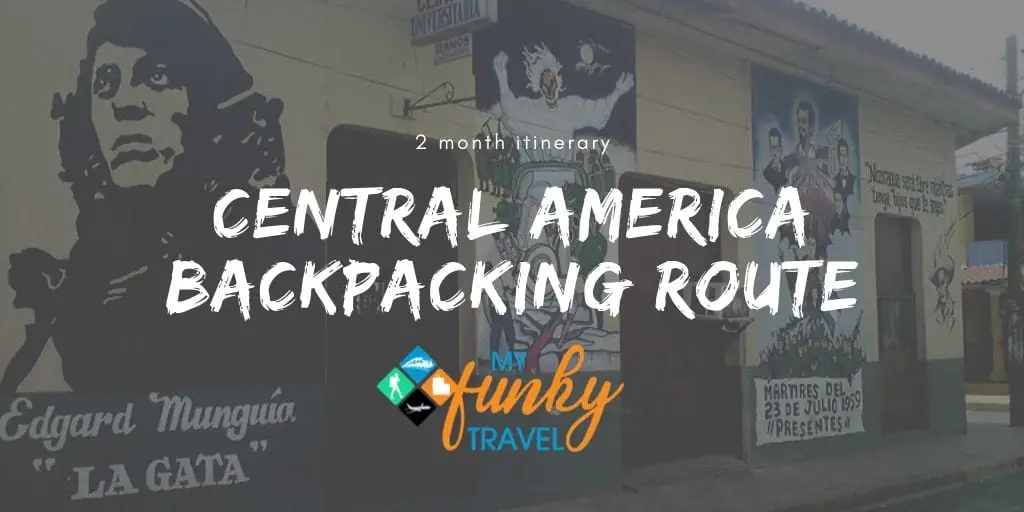 ---
Backpacking Central America – A 2 Month Itinerary
You can do this route in either direction but unless you're coming from South America, getting to Mexico and starting there will probably be easier than finding your way to Panama. From Cancun, this itinerary travels loosely south heading through Guatemala, Honduras, Nicaragua and Costa Rica before finishing in Panama City.
---
Southern Mexico
1. Cancun 
Consider flying into Cancun, the 2nd busiest airport in Mexico with good links to Europe and North America.  However you might not want to hang around long. The beach is okay but it's fairly seedy, expensive and doesn't really cater for backpackers or people travelling on a tight budget. 
2. Playa del Carmen
Only an hour South of Cancun, it's also a resort town but it has plenty of hostels and budget options. With nice beaches and vibrant nightlife, it's a fun start to your trip and you can party till dawn in one of the many bars and clubs (girls drink free on some nights).
3. Tulum
There's a great beach in Tulum with beautifully clear blue waters. There a few small Mayan ruins, which is a taster of things to come as you progress further on this Central America backpacking route.
(Night bus to Palenque)
4. Palenque
It's a long trip to Palenque (pictured above) but worth it once you start to discover the ancient ruins in the dense jungle near to an unremarkable town of the same name. There is a sense that your adventure has truly begun when you hit Palenque though. The area is also popular with some travellers due to the widespread growth of magic mushrooms, which were a central part of Maya culture.
5. San Cristobal
Colonial town at altitude and a pleasant break from the heat.  It's a popular hangout for hippy and bohemian types.
Check out our full Mexico backpacking route, if you fancy more time in the country.
---
Backpacking Guatemala – Where to Go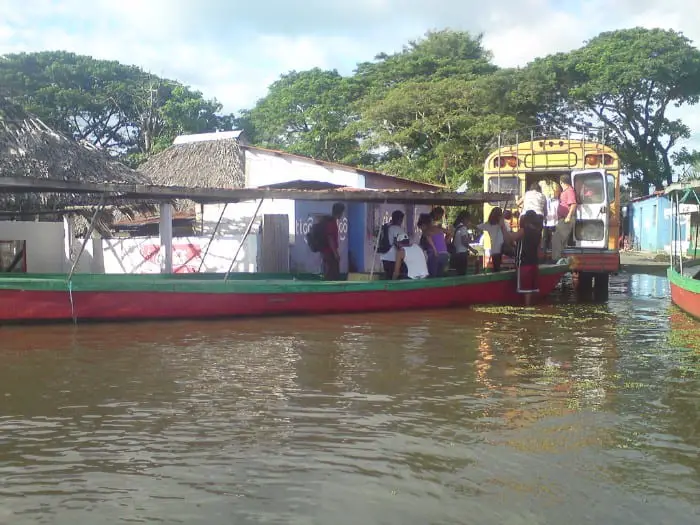 6. Quetzaltenango AKA Xela
Loads of volunteering options here, which makes it a popular stop for longer stays. You should immediately notice that your money goes further in Guatemala. Xela is also a good place for salsa classes and clubs, while the local markets in surrounding villages are worth a visit.
You may be able to find free volunteering projects once you arrive in Xela or via volunteering with worldpackers.
7. Lake Atitlan
Stunning scenery here with a huge lake surrounded by volcanoes and dirt cheap backpacker towns. You could probably spend a week just visiting the different lakeside villages which all have a slightly different vibe. Alternatively you can just relax and take in the beauty of the place. Most visitors only stay for a few days though.
See Destination: Lake Atitlan for more.
8. Antigua
Colonial town surrounded by volcanoes that can be explored on foot. Antigua is one of our top 10 Latin America travel highlights and also a hugely popular and cheap place to take some Spanish lessons which will certainly be handy as you progress further along this backpacking route for Central America. Some travellers hang around for several weeks or months studying in Antigua. It is advisable to come in the dry season between December and April which is also loosely considered to be the best time to visit Central America, although there are some regional variations.
---
Backpacking Honduras – The Best Destinations

Bay Islands snorkelling, CC BY 2.0
9. Copan
More ancient ruins here as you head into Honduras. Copan was a major centre for the Mayans over a 1000 years ago. It is home to some of the finest pre-Columbian art around.
10. San Pedro Sula
City with decent nightlife but a bit dangerous! San Pedro Sula has been described as the most violent city in the world so it's probably not advisable to hang around long but you may need to pass through it anyway to reach the next two coastal destinations.
11. La Ceiba
Reasonably sized city with some nice beaches and the best place to catch the ferry to Utila. If you visit in May, be sure to check out La Ceiba Carnival, the largest festival of its kind in Central America.
12. Utila (Bay Islands)
Scuba diving hot-spot and one of the real highlights of the region. The Bay Islands are perhaps the closest thing you can find to a Caribbean beach paradise on a budget although you may still find them slightly pricier than other destinations on this route. They also feature in our article on 5 budget-friendly Caribbean destinations.
(Long day of travelling between Utila and Leon)
---
Backpacking Nicaragua – Where to Go
13. Leon
Birthplace of the Sandinista revolution in Nicaragua and still a staunchly pro-revolution town. It's home to some cool street art (above) which helps tell its story and is one of the few genuinely interesting urban destinations on this route. Read more about funky Leon!
14. Granada 
A colonial-era town and perhaps the most beautiful and best preserved in the region. It's a real contrast to its traditional rival Leon with lots of churches and relics to an altogether different, distant past. It's also nicely located on the banks of Lake Cocibolca (AKA Lake Nicaragua), the largest lake in Central America.
15. Isla de Ometepe 
Island in middle of the giant lake with two volcanoes. It's an excellent location for mountain biking or hiking and another of the natural highlights on any itinerary for backpacking Central America. Here are six things to do on Ometepe.
16. San Juan del Sur
This is the first stop on the route on the Pacific Coast and that means two things. Giant waves and lots of surfers! If surfing is not your thing, then it's not an amazing place to visit with a fairly average beach and a few cheap, decent bars but nothing remarkable.
Check out the cost of travel in Nicaragua.
---
Costa Rica Backpacking – Into the Rainforest

17. Monteverde
Nearby Volcan Arenal is the third most active volcano in the world and there are also some awesome cloud forests here too, one of the many natural wonders in Costa Rica.
18. Montezuma
Another great destination for nature lovers. Get lost in a world of waterfalls, nature reserves and nude beaches. The town itself has a bohemian feel and it's another of those Central American backpacking destinations where you you may end up happily staying for longer than planned.
19. San Jose
The capital city of Costa Rica is a bit rough but better than the big cities further north. It could be easily skipped but it might be worth hanging around for a day or two with some interesting museums while there are also a few options for day-trips and tours in the surrounding countryside.
20. Puerto Viejo
Surfing, beaches, marijuana. Those are probably the three main draws in Puerto Viejo, a chilled out Caribbean town popular with surfers and backpackers. With the number of foreigners so high, there are certainly more authentic Central American experiences to be had but it's a nice place with Cahuita and Manzanillo National Parks also nearby making for excellent day-trips.
It is worth noting that the cost of travel in Costa Rica, is slightly higher than average for the region and things are noticeably a bit more pricey than in Guatemala, Honduras and Nicaragua.
---
Panama Backpacking – Best Beaches

21. Bocas del Toro
These are more chilled Caribbean islands covered in thick jungle. With largely calm conditions, it's a great spot for some skuba-diving with affordable prices. Read more on the cost of travel in Panama.
22. David
Pleasant town on Pan-American Highway with good hostels. There are plenty of things to do with options for adventure sports while a trip out to the Los Pozos de Caldera hot springs is also popular with travellers.
23. Panama City
A good place to finish your travels in Central America or potentially move onto another region. Unlike most of the other destinations on this Central America itinerary, the capital of Panama is a vibrant modern city. Check out the famous Panama Canal and hit the shops if you've still got money left to spend.
Fly home, or see more of Latin America by crossing the Darien Gap into South America!
---
Central America Backpacking Tips
Where can I backpack in Central America? – Other Options
This itinerary for backpacking Central America takes in the majority of the most popular destinations but it's by no means a complete list of places to go. Mexico (technically North America) has a huge amount more to offer and we've covered some of that in our Mexico backpacking route.
The other two Central American countries not featured in the route are El Salvador and Belize. The former has chiefly been excluded because it does have a violent reputation, certainly in the main cities. This has contributed to putting travellers off from going and in turn that has stunted the development of budget accommodation and facilities to accommodate backpackers (most of the destinations on the route above have a decent choice of hostels and cheap places to eat and drink). El Salvador is though a real surfer's paradise with destinations such as La Libertad, El Sunzal, El Zonte and El Cuco worth checking out if that's your scene.
Belize is considerably safer and is the only country where English rather than Spanish is the official language. That makes travel a bit easier but its location makes it somewhat inconvenient in terms of fitting into this route. It also has the disadvantage of being the most expensive country in the region which is another reason we haven't featured it above.
This route can also easily be combined with our Backpacking Route for South America.
What Visas do you need in Central America?
For most nationalities in the Americas, Oceania and Europe, visas are not required for stays of up to 90 days. Guatemala, El Salvador, Honduras, and Nicaragua have a mutual agreement in place enabling you to travel freely around the 4 countries for 90 days without passport checks. Panama and Costa Rica are separate entities but both also allow most visitors from the Americas, Oceania and Europe to stay for 90 days without a visa. Mexico typically gives people 180 days so there's a high chance you won't need a visa at any point on this trip. 
Central America Travel Advice – Introducing the Chicken Bus!
Border crossings and international travel is generally relatively pain free in Central America. You can normally do direct buses between destinations in different countries but it is much cheaper and more of an adventure to get a local bus (known as a chicken bus and found across the region) to the border and cross on foot. There will always be buses to the nearest town at border posts and the budgets at the top are based on using local transport which is very cheap rather than tourist options.
Travelling from A to B within a country can also sometimes involve taking several different buses as they only tend to cover relatively small distances but each bus will typically have at least one guy working on board to collect fares and ensure you get off at the right point for your next connection. Don't expect to see many schedules and do expect buses to break down every now and then but while it's a bit crazy, the system does seem to work right across the region! There is some good info on travelling across Central America on chicken buses here.
Is it safe to backpack in Central America?
Outside the capitals, the people are generally very friendly and travel is relatively safe. Most of the above route and almost all of the most popular backpacking destinations in Central America are small towns or villages and while you need to be apply common sense and take all the usual precautions, there's no reason why you can't have a safe trip.
However there's no getting away from the fact that the bigger cities do have dangers. Violent crime is sadly commonplace in many of them. While this is mostly gang-related and most common in certain no-go areas, even the historic centres of these cities can feel dangerous. Poverty is fairly widespread which can lead to people doing desperate things and foreigners are obvious targets for theft. While you may need to change buses in cities like Managua and Tegucigalpa, your safest option is to spend as little time there as possible and there really isn't that much to see in the bigger cities anyway.
It's also important to take care of your belongings in hostels by ensuring they are locked up or safely stored at all points. Either book some well-reviewed accommodation in advance or ask to see the room and facilities of the hostel/guesthouse before committing to anything so you can get a feel for the general safety of the place before you commit.
---
 This post was last updated in July 2019
Please use the comments sections for any questions on backpacking Central America. We aim to reply to them all!
---
Central America Backpacking Route