Jamaica is an up and coming backpacking destination and is the perfect place for a short adventure. It is only a small island, roughly ten times smaller than neighbouring Cuba for example, so it's easy to get around and you won't waste days on buses and trains leaving plenty of time for exploring or just relaxing on its many golden beaches. Read on for our suggested two week Jamaica travel itinerary.
---
TIME NEEDED – 2 Weeks
Two weeks should be plenty for this Jamaica backpacking route. If you have the time, you could spend longer on the island and go off the beaten track on the south coast for an extra week.
---
POSSIBLE BUDGET – £460 €540 $600
Jamaica is a more expensive country to travel in than pretty much anywhere in nearby Central America but it's still relatively affordable by global standards. More typical backpacker-style accommodation is slowly starting to crop up in the main destinations but remains relatively expensive with dorm beds in hostels going for around $15/night. Being a small country, you won't spend much on transportation though and food/drink is cheap if you steer clear of the more touristy offerings.
---
TRAVEL INSURANCE FOR BACKPACKERS IN JAMAICA
The cost of travel insurance isn't included in the budget figures above. You can get a quote in less than a minute from Heymondo who provide well reviewed international travel insurance.
---
VISA REQUIREMENTS FOR JAMAICA
There are a large number of nationalities who can get between 30 and 180 days entry to Jamaica without a visa. Citizens of the UK, USA, Australia and Canada can get 6 months visa-free. Most other EU nationals get either 30 or 90 day
---
Backpacking Jamaica – A 2 Week Itinerary
Our Jamaica backpacking itinerary starts in the capital Kingston before heading through the Blue Mountains and then hugging the North Coast and taking in some of the country's main travel highlights. It aims to squeeze in a mix of culture, adventure and relaxation and hopefully has a little bit for every taste.
---
1. Kingston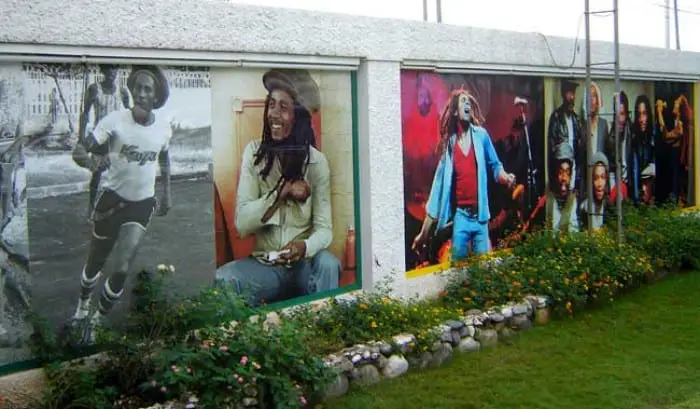 Jamaica only has two airports of any real size so almost all visitors fly into either Kingston or Montego Bay. Kingston is a culturally more interesting place and the natural starting point for understanding this country. Check out the Bob Marley Museum and Trench Town Culture Yard for a glimpse into the life of the nation's favourite son. Reggae music remains deeply entrenched in the nation's soul to this day and Kingston is the best place to party with the locals and get a feel for what it's like to live in 21st Century Jamaica.
There are also a few fun trips you can do in the area surrounding the city. Sports fans will want to check out Sabina Park, which regularly hosts the West Indies cricket team while Caymanas Park is Jamaica's only horse-racing track and very popular with locals. 500 year old Port Royal serves up a taste of the island's colonial past while nearby Lime Cay is the perfect place to snorkel.
2. The Blue Mountains
The Blue Mountains National Park is only 50 km north of Kingston but it can take a couple of hours to reach by road. The higher peaks offer spectacular views across the eastern part of the island and it's the perfect place for hiking with waterfalls, mountain streams and dramatic trails which can be explored on foot or by bike. The area is also famous for its coffee which is rated amongst the world's best.
3. Port Antonio Area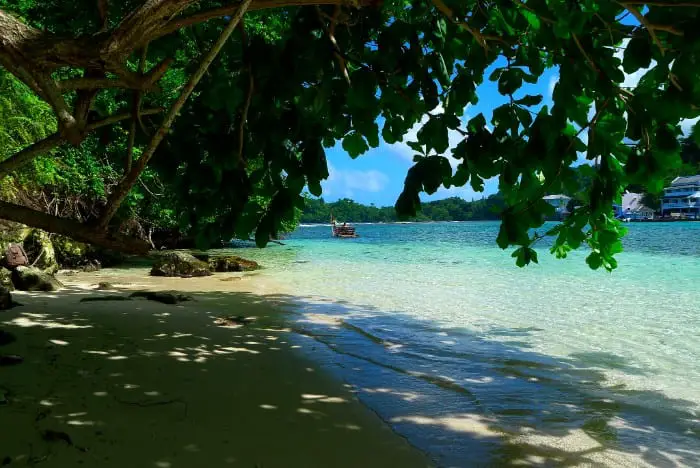 The Port Antonio area is another of the travel hubs for backpackers in Jamaica. The famous blue lagoon is one of the best places to swim on the island while Frenchman's Cove and Winnifred Beach are among the nicest stretches of sand to relax on. Those looking for a bit more action will want to hit the Rio Grande with rafting trips down the relatively tame river easily arranged.
4. Ocho Rios Area
Further along the North Coast you reach the Ocho Rios area, home to some of Jamaica's best holiday resorts and most spectacular sights. The picture perfect Dunn's River Falls remain one of the island's most popular destinations and have the crowds to match. The Cranbrook Flower Forest offers zip-lining adventures through one of the most colourful nature reserves in the Caribbean while you can also swim in the Little River. Meanwhile the famous James Bond Beach, close to the former home of his creator Ian Fleming is just ten miles from Ocho Rios.
5. Negril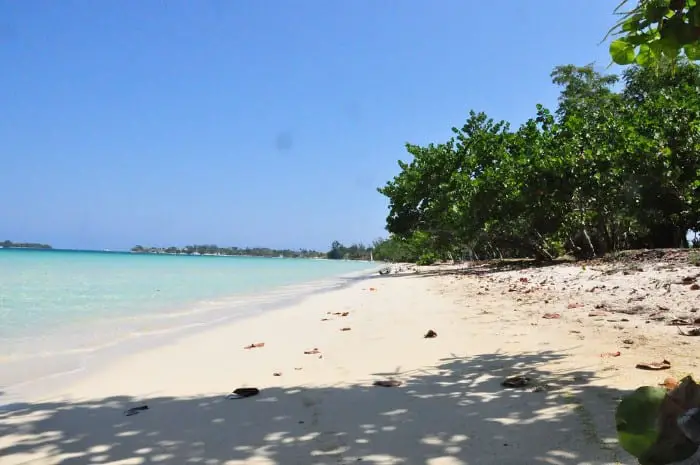 The longest journey of this Jamaica backpacking route awaits to get from Ocho Rios to Negril but it's a scenic coastal trip. Negril is located on the very western tip of the island and is popular for its 11 km long white sandy beach and laid back vibes. It's the perfect place for a relaxing end to your time in Jamaica.
Sangster International Airport in Montego Bay is 80 km away and may be your best bet for a flight out of the country. If you need to get back to Kingston for a return flight then you can travel along the less touristy South Coast potentially stopping off at Treasure Beach and Bluefields Bay if you have time.
---
Check out all our North & Central America backpacking routes!
---
Jamaica Backpacking Tips
Is Jamaica safe?
In terms of more general dangers, there are areas of Kingston that are best avoided particularly at night and you need to be wary of petty theft in the other destinations too. Solo female travellers may find themselves the target of some unwanted attention and reports of street harassment are not that uncommon in some places.
Traffic accidents are also relatively common in Jamaica and the standard of driving isn't great. In rural areas where roads are dark and narrow, that can become a real problem. Be careful when crossing the road.
Vaccinations for Jamaica
Jamaica is a tropical country so you do need to be aware of the risks of zika and dengue and take steps against them. Routine vaccinations such as MMR and Polio are advisable but you may find you are already covered. There is no risk of yellow fever but you may be asked to show proof of vaccination if coming from a risk-country (most of South America falls into this category).
The Law
Contrary to just about every national stereotype, public consumption and possession of marijuana is illegal in Jamaica. That said, smoking 'ganja' is widespread although many Jamaicans do it on their own properties. As a foreigner smoking in the street, you can get in trouble with the police.
Getting Around Jamaica on a Budget
Many Jamaicans get around by route taxis even for trips between different towns. These basically are licensed drivers who transport passengers along specific routes and prices tend to be very reasonable although they may sometimes cram up to 4 people on the backseat. That is still likely to be more comfortable than the public buses. There are also minivans and coaster buses which run along the main routes and the cost of transportation shouldn't take a large chunk out of your budget given the island is small and you only have about 350 km to cover to complete the whole of this Jamaica travel itinerary.
How long should I stay at each destination?
We've not included suggested time-frames for the destinations on this route as it basically depends on your interests and priorities. Those primarily keen on the nature and beaches or a bit wary about the possible dangers of Kingston, may want to whizz through the capital in a day and spend more time in the other destinations.
Those looking for a more active trip will want to prioritise the section from the Blue Mountains to Ocho Rios and could possibly even skip Negril. However if you're looking for a chilled out time, you could potentially fit in the other destinations and their main highlights in the first week and then spend a full week relaxing by the beach in Negril.
Other Destinations
This Jamaica route covers the main travel highlights but there are other places that are worth visiting if you have more than two weeks. On the eastern edge of the island lies St Thomas, an easy day-trip from Kingston with the hot natural springs at Bath the main draw.
As mentioned previously, the South Coast is the best place to get off the beaten track with Bluefields Bay and Treasure Island among the best stops. Inland, there is a small area in the west of the island which is perfect for hiking and exploring. This includes the Cockpit Country trail and the area around Windsor Cave. Not far away you can also pop in on the Appleton Estate and take a tour to learn about and try some high quality Jamaican rum.
You can easily combine this route with some travel in neighbouring countries such as Cuba. Our Central America backpacking route and Mexico itinerary may also provide some inspiration but unfortunately flights to neighbouring countries don't come cheap.
---
 This post was published in April 2019.
---
Jamaica Backpacking Route