Backpacking Route in Central America
Mexico aside the countries in this part of the world are really small but there's loads to see and do. Backpacking around Central America on this route will see you pack in 6 countries, Mayan ruins, fiery active volcanoes, stunning lakes, colonial towns, and chilled out Caribbean beaches while trying to avoid the hellhole capital cities in the region (Panama City is the exception). You may well need to change buses in Managua or Tegioculpa for example but even if you're a city lover you seriously won't want to hang around long. As well as plenty to see, it's a cheap region to learn Spanish, which is handy especially if you are heading onto South America.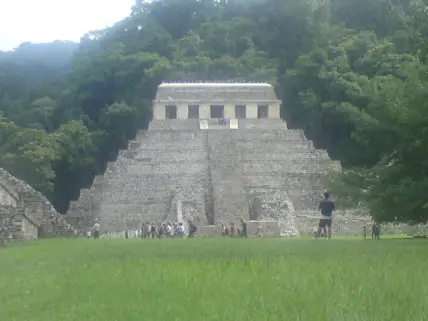 Mayan ruins in Palenque, Mexico

The Route!


Fly into Cancun, MEXICO- Leave Cancun ASAP!! the beach is ok but it's seedy, expensive and doesn't cater for backpackers.
Playa del Carmen- Nice beaches and party till dawn in one the many bars and clubs (girls drink free on some nights).
Tulum- Great beach plus a few small Mayan ruins.
(Night bus to Palenque)
Palenque- Impressive ruins in the jungle (pic above), magic mushrooms.
San Cristobal- Colonial town at altitude hence a pleasant break from the heat, lots of hippy/bohemian types here.

Xela, GUATEMALA- Loads of volunteering options, salsa classes and clubs, local markets in surrounding villages.
Lake Atitlan- Stunning scenery with a huge lake surrounded by volcanoes and dirt cheap backpacker towns. SeeDestination: Lake Atitlan.
Antigua- Colonial town surrounded by volcanoes, hugely popular (and cheap) place to take some Spanish lessons.

Copan, HONDURAS- More ancient ruins.
San Pedro- City with decent nightlife, bit danerous but on the way towards Bay Islands.
La Ceiba- Nice beaches and place to catch the ferry to Utila.
Utila (Bay Islands)- scuba diving hotspot, number one Caribbean backpacking paradise.

(Long day of travelling)

Leon, NICARAGUA- Birthplace of the Sandinista revolution and still a staunchly pro-revolution town, cool street art.
Granada- Colonial town, perhaps the most beautiful in the region, lots of churches.
Isla de Ometepe- Island in middle of the giant lake with two volcanoes, excellent place for mountain biking.
San Juan del Sur- Good place to surf with some mental waves, ok nightlife, average beach.

Monteverde (for Volcan Arenal), COSTA RICA- 3rd most active volcano in the world and awesome cloud forests nearby.
Montezuma- Waterfalls, nature reserves and nude beaches!
San Jose- Capital city, bit rough but better than capitals further north (Costa Rica Backpackers Hostel isn't so great).
Puerto Viejo- Surfing, beaches, marijuana.

Bocas del Toro, PANAMA- Chilled Caribbean islands covered in thick jungle.
David- Pleasant town on Pan-American Highway with good hostels.
Panama City- Vibrant modern city, the Panama Canal and lots of ways to spend any money you have left.

(Fly home, or see more of Latin America by crossing the Darien Gap)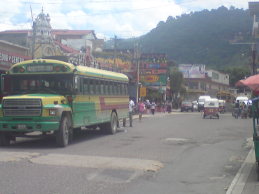 Revolutionary street Art in Leon, Nicaragua & a Central American chicken bus

More Info
Our Central America backpacking itinerary aims to give you an idea of popular travel spots but if the hostel scene is getting a bit repetitive then it's well worth heading off to some of the less touristy parts (although mainstream tourism only really exists in small parts of Mexico and Costa Rica). Outside the capitals, the people are generally very friendly and it's really not that dangerous. You could do this route in 2-3 months but there are many places that you will find hard to leave and adding a few other destinations you could easily do 6 months in Central America. Border crossings are relatively pain free. You can normally do direct buses between destinations in different countries but it is much cheaper and more of an adventure to get a local bus to the border and cross on foot. There will always be buses to the nearest town at border posts.