Central America's popularity amongst travellers has grown during the 21st Century. Backpackers from around the world travel the length of what is a relatively small region while Costa Rica and Panama in particular have gained popularity amongst North American visitors on shorter trips. Below, we'll look at the climate in various destinations and assess the best time to visit Central America.
---
Central America Climate Overview
Central America is entirely situated in the Northern Hemisphere but is located close enough to the equator to ensure it has a mostly tropical climate with relatively small temperature fluctuations throughout the year. Seasons are less clearly defined than in most counties with warm weather throughout the year, but can loosely be split into the wet and dry seasons in most places.
There are of course some regional variations and not everywhere follows the same climatic patterns. The most obvious change comes in the Central American montane forests. Situated at altitude, they cover significant chunks of Guatemala, El Salvador, Honduras and Nicaragua and experience more of a temperate climate with cooler temperatures and in most cases higher levels of rainfall.
---
Best Time to visit Central America – Popular Destinations
Panama City, Panama
| | | |
| --- | --- | --- |
| Months | Average Daytime Temperature (High) | Season |
| May to December | 29 to 31°C | Wet Season |
| January to April | 32°C | Dry Season |
Panama City, which features in our Panama backpacking route, essentially has two seasons with the wet one spanning the final eight months of the year. It is not as extreme as in some places and isn't officially classed as a monsoon season, although you can expect heavy rainfall at times, particularly from September to November. The dry season is a fraction warmer and much sunnier with much of the cloud that hovers over Panama throughout the wet season finally breaking up to allow the sun in.
Best time to visit Panama City: January to March
Roatan (Bay Islands), Honduras
| | | |
| --- | --- | --- |
| Months | Average Daytime Temperature (High) | Season |
| October to December | 29-30°C | Wet |
| March to May | 30-31°C | Dry |
| Other Months | 28-32°C | – |
The picture in Honduras' picturesque Bay islands, some of the most budget friendly destinations in the Caribbean, is slightly different. Daytime temperatures tend to hover around 30°C throughout the year again with a barely noticeable "winter" seeing drops to around 28°C from November to February. However, it is the final three months of the year that brings the most extreme rainfall with occasional hurricanes, although they are not as common as in some parts of the Caribbean. March to May offers the driest weather, although the islands tend to be at their busiest from December through to April when North Americans come in search of respite from the cold temperatures in the US and Canada during that period.
Best time to visit the Bay Islands: March to May
Antigua, Guatemala
| | | |
| --- | --- | --- |
| Months | Average Daytime Temperature (High) | Season |
| May to October | 23-25°C | Wet |
| November to April | 22-25°C | Dry |
The popular town of Antigua experiences a subtropical highland climate which is noticeably cooler than many other destinations in Central America. There are also sharper decreases after sunset with temperatures dipping to around 10-12°C at night during the Northern Hemisphere winter. It doesn't have the kind of regular tropical downpours that bring heavy rain to other parts of Central America, but Antigua still has pretty clearly defined wet and dry seasons with each lasting roughly half of the year. Unsurprisingly the dry period is more popular with visitors with mild temperatures and hardly any rainfall at all between December and March.
Best time to visit Antigua, Guatemala: November to April
Monteverde, Costa Rica
| | | |
| --- | --- | --- |
| Months | Average Daytime Temperature (High) | Season |
| May to November | 26-27°C | Wet |
| December to April | 27-29°C | Dry |
Monteverde is another popular Latin American destination with its distinctive cloud forests a truly special place to visit. Its climate is loosely similar to Antigua, albeit with slightly more rainfall and a wet season stretching a few weeks longer. Temperatures are also a bit higher but still far more bearable than the hot weather experienced at coastal and sea level destinations.
Best time to visit Monteverde Cloud Forest: December to April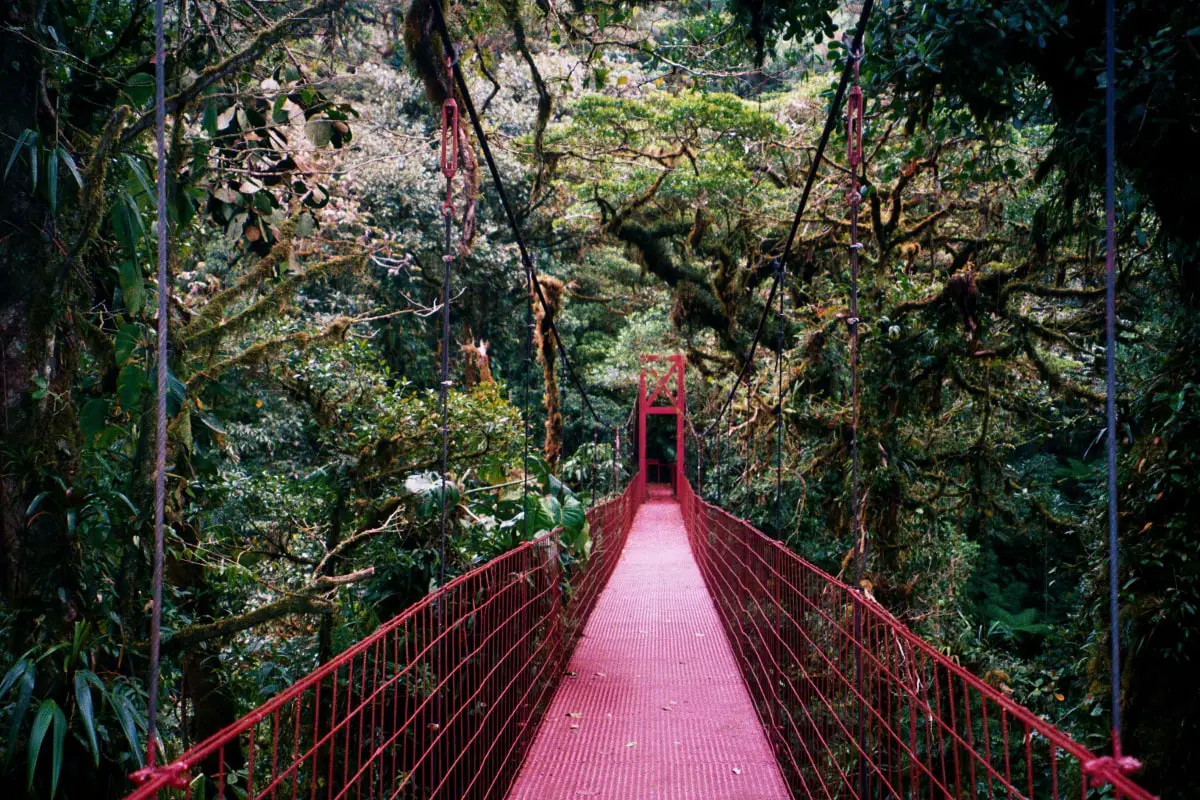 ---
10 of the Best Festivals in Central America
Some of these festivals are not just celebrated in one location but across the region in some shape or form, although we've tried to include the country where the festivities are the best. The list is by no means a complete guide to Central American festivals and there are all kinds of weird and wonderful events throughout the year so be sure to try to attend one or two even if your trip doesn't coincide with any of these.
---
What is the best time of year to travel to Central America?
As well as the climatic considerations and attempts to squeeze in a few events or festivals, you may also want to consider that visiting during the most popular periods, may see travel costs rise as demand for accommodation and other services goes up. Therefore, there is no one-size-fits-all approach to this.
Perhaps it's useful to start by considering the worst time to visit Central America and rule that out. The Central America wet season starts in May in many places and can extend all the way to the end of the year in some regions such as the Panama City area. However in most cases, it has started to ease off by at least December and often by November. 
Therefore for a broad trip across the region taking in multiple countries and destinations, you will want to consider that Central America in October and May, and the months in between, are probably best avoided if possible. December to April, considered the dry season and sometimes even referred to as the summer in Central America, is a good period to travel in most inland and Pacific destinations. More touristic places in Panama and Costa Rica, will see prices rise though, particularly during periods that coincide with holidays in the United States such as Christmas/New Year or Spring Break.
The best season to visit Central America is widely considered to be the dry one, however it is important to note that some Caribbean destinations such as the Bay Islands in Honduras and Puerto Viejo in Costa Rica do not follow the overall regional trend. Not only do those places experience rainfall throughout the year, the wettest period in Puerto Viejo is between November and January while La Ceiba in Honduras is a very wet city and it actually experiences its heaviest rainfall from October to February.
It's not that hard to plan a trip around this though if some of those destinations are high on your priority list. Overall, anyone backpacking around Central America may look at December or January as optimum start dates. If you're planning on spending a week or more in the Bay Islands for example, you could perhaps push that start back slightly and look to conclude your trip on the Caribbean coastline in April or May when Honduras and Belize also have some fun festivals to check out.
---
This piece on the best time to visit Central America was published in June 2022.
---
When to Go to Central America – Best and Worst Times to Visit