Our Mexico backpacking route takes in the best the south of the country has to offer. If you follow it, you'll travel from the tranquil seas of the Caribbean to the giant waves of the Pacific via a host of a ancient Maya cities, jungle ruins and pleasant mountain towns. The route then cuts through Mexico's cultural heartland before ending up in the enormous capital city, one of the largest and liveliest on the planet.
Table of Contents
---
Backpacking Mexico – Route Info
---
TIME NEEDED – 5 weeks
If you're not that fussed with beaches or not that interested in the Maya ruins, you could probably do this route in a month or less by spending less than the suggested amount of time at some of the destinations. Overall though about 5 weeks would be a suitable time-span.
---
POSSIBLE BUDGET – £800-1250 | €900-1400 | US$1100-1700 | 22,000-34,000 Mexican Pesos
Mexico is really good value on the whole and if you're heading here from the States, immediately you will appreciate how much more you can get for your money. However heading north from Central America, it will seem slightly more expensive.
This budget is based on December 2020 exchange rates. For more see our more detailed backpacking budget for Mexico, which includes some example prices for things such as bus travel and accommodation.
---
MEXICO BACKPACKING JOBS & WORK EXCHANGES
You can save money whilst travelling in Mexico by looking for work exchanges or short-term jobs. Sign up to Worldpackers to get access to 264 work exchanges in Mexico (at time of writing). You can get $10 off the annual membership fee by using the Worldpackers discount code "MYFUNKYTRAVELWP".
---
TRAVEL INSURANCE FOR BACKPACKERS IN MEXICO
The cost of travel insurance isn't included in the budget figures above. You can get a quote in less than a minute from Heymondo who provide well reviewed international travel insurance for backpackers.
---
A 5 Week Itinerary for Backpacking in Mexico
---
1. Cancun
If you've had a long flight in then you may wish to book a hotel for a night in Cancun to get some rest. However there are nicer places further South, that are generally much more to the liking of backpackers, also with great nightlife and much more geared to budget travel.
---
2. Playa del Carmen
Playa del Carmen is a really fun place to hang out for a few days. Yes it's touristy but it's nowhere near as trashy or expensive as Cancun and there are many hostels catering to backpackers. The beaches are great and the nightlife is pumping with many bars and clubs offering cheap drinks deals with themed nights and special offers throughout the week. The nearby island of Cozumel is also a nice option if you want some additional beach time.
---
3. Tulum
There are many reasons why travellers head here. Its gorgeous beach, which is among the best on the Riviera Maya, fantastic diving opportunities and visits to well preserved Mayan ruins are among the best things to do in Tulum. Therefore you can get a dose of culture and history too before cooling off in the crystal blue waters of the Caribbean Sea. At night, it's nowhere near as lively as Playa del Carmen and is a much quieter destination overall, with yoga retreats recently cropping up on its cliffs.
---
4. Chichen Itza
One of Mexico's most famous sites. Chichen Itza is a complex of Mayan ruins, with the enormous pyramid known as El Castillo, its centrepiece. There are limited budget accommodation options nearby so it's probably best to just stop here for an afternoon to break up the journey between Tulum and Merida.
---
5. Merida
The state capital of Yucatán, Merida is one of the biggest cities on this route and it also features in our rundown of the cheapest cities to live in Mexico. However it's by no means overwhelming with around 750,000 residents and a laid back atmosphere. It's a fascinating cultural destination, founded by the Spanish in the 16th Century. Merida is a city of plazas, palaces, cathedrals and museums. While it may only take a couple of days to discover the city, there's plenty to see and do around the town with nearby Maya ruins, a wildlife refuge and the famous cenotes.
---
6. Campeche
In some respects, Campeche is not dissimilar to Merida. It's a bit smaller but is another city with Spanish origins and its colonial old town has been declared a UNESCO world heritage site. The nearest maya ruins are at Edzna, a relatively small site around an hour away.
---
7. Palenque
Palenque is a large site that was once home to an ancient Maya city. Its ruins are some of the best preserved in the whole region, largely thanks to the jungle which offers natural shelter. It could take the whole day to explore the site but there's little to do in the nearby modern-day town itself. You can either stay there or find somewhere on the edge of the national park near the ruins.
---
8. San Cristobal de las Casas
Arguably the prettiest town on the route, San Cristobal de las Casas is full of colourful buildings and cobblestone streets. Its highland location offers a pleasant break from the heat and it can get quite chilly at night. Just strolling around the town is enjoyable enough and if you fancy a longer stay there are volunteering opportunities as well as a host of reasonably priced Spanish language schools.
---
9. Zipolite & Mazunte
Zipolite and Mazunte are two beach villages on Mexico's rugged Oaxaca Coast. It takes only about 10 minutes and costs only a few pesos to travel from one to the other in a colectivo so you can choose to base yourself in one and visit the other or spend a couple of days in each.
Zipolite is the livelier of the two although that's only a relative concept. Both places are very small and although there's only a limited amount of things to do, it's about the only place in Mexico where you can still find a cheap bungalow/hut on the beach and fall asleep accompanied by the sounds of Pacific Ocean waves crashing into the shore. Zipolite is also Mexico's only beach where you can go nude, while Mazunte has a growing reputation for impromptu live music. Like many destinations on this route, the ease of getting marijuana is an appeal to some travellers too.
---
10. Puerto Escondido
A bit further up the coast, you reach the much larger Puerto Escondido, which is popular with both domestic and international travellers. It's a big surfing destination with some seriously large waves, which make swimming virtually impossible. There's also a turtle conservation programme and you can assist every day at 5:00 pm when baby turtles are released into the sea.
---
11. Oaxaca
The city of Oaxaca is the capital of the state of the same name but it's a slow ride up from Puerto Escondido, which can take as long as 8 hours by road. It's the state's main cultural centre with a couple of interesting museums and a walkable city-centre.
Nearby Monte Alban is another UNESCO world heritage site and one of the most impressive ruins sites in Latin America. Meanwhile every Thursday and Saturday, trips run to the village of Teotitlán del Valle by the non-profit Fundacion en Via and it's a good opportunity to meet locals and make a positive contribution to fighting poverty in the region, whilst also having an interesting experience.
---
12. Huautla de Jimenez
One of the most curious destinations on this Mexico backpacking route. Huautla de Jimenez is a remote mountain town that was popular with hippies in the 1960's and the extremely strong psilocybe mushrooms that grow here during the wet season still attract some foreigners. Shamanic rituals take place during this period but visitors also come to explore the misty mountain range that surrounds the town and it's a funky little place to hang around for a few days.
---
13. Puebla
Many travellers visit Puebla as a day-trip from the capital but given it's en-route, it's well worth stopping off here for a few nights to catch your breath before heading to Mexico City. Puebla is a city of around 1.5 million people so it's a pretty big place with lots of beautiful buildings and interesting landmarks, not to mention lots of tasty and cheap street-food. It's surrounded by snow-capped mountains and volcanoes so it's also well worth heading out of town and exploring the natural surroundings for a final dose of fresh air before the smog of the capital.
---
14. Mexico City & Around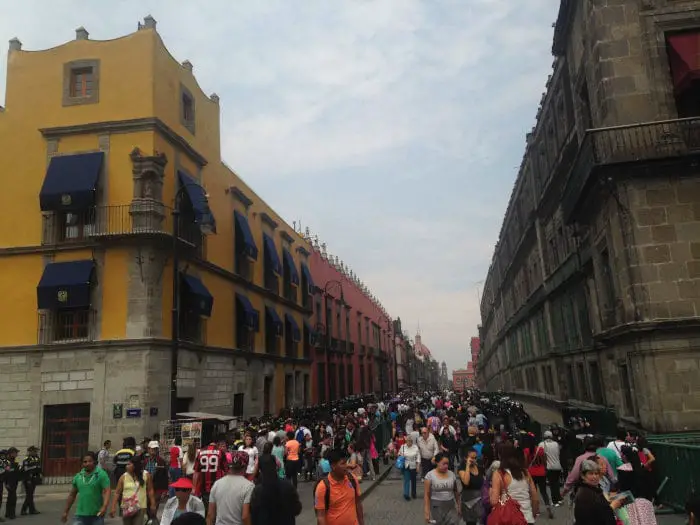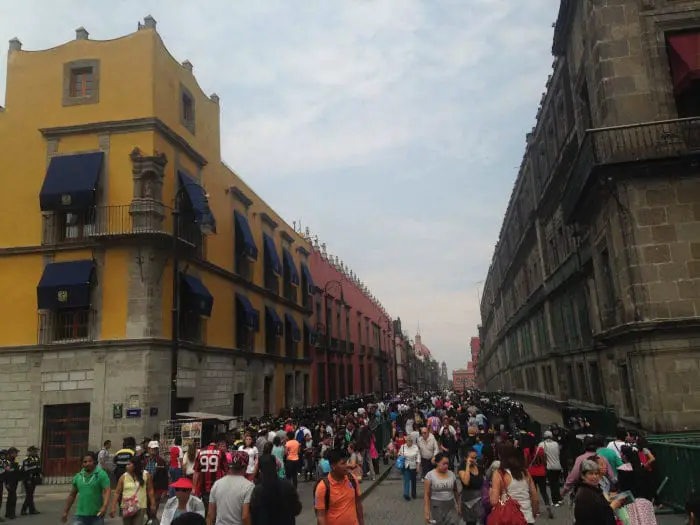 Mexico City is one of the highest capital cities in the world and it is blooming enormous! First-time visitors often find visiting an overwhelming experience and it's not easy to know where to base yourself or where to begin.
Like any large city it has its hassles but the tourist areas are not considered dangerous and there is a heavy police presence in the old city. The giant Zócalo, the city's main plaza and one of the largest squares in the world is a good starting point and there are many interesting museums and cultural sites nearby that document various periods of Mexican history. For a more modern-day experience take in a football match at the giant Estadio Azteca or get to grips with the entertaining world of lucha libre, a Mexican form of professional wrestling (live shows take place on Fridays at 20:30).
There are also a number of day-trips that can be done from Mexico City. A visit to the vast archaeological site at Teotihuacan, northeast of the city is one of the most popular. Nature and adventure sports lovers would be wise to check out Valle de Bravo and/or the Desert of the Lions National Park. Meanwhile new-age Tepoztlan is reportedly a UFO hotspot with a large number of the town's residents having reported seeing one!
The Mexican capital is also one of the best cities for street art and exploring some of its more arty districts is another good plan for anyone with a few hours to kill. Mexico and particularly Mexico City also features in our 2020 rundown of the best countries for digital nomads.
---
Mexico Map & Itinerary Overview
---
Our Mexico travel itinerary is convenient in that it starts in Cancun and ends in Mexico City, which are home to the two busiest airports in the country and the ones with by far the greatest options in terms of international flights. One of the problems with travel in Mexico is that domestic flights can be quite pricey so if you just head off with no real plan, it's quite possible you'll end up somewhere quite isolated. That could leave you having to fork out a considerable amount just to fly somewhere with an international airport or alternatively having to backtrack on a long bus journey.
Mexico is deceptively big and to put that into some perspective, a direct flight from Cancun in the South-east to Tijuana in the North-West on the US border takes around 5 hours. Therefore unless you have months to spare, it's best to base your trip around one or two parts of the country rather than attempting to go everywhere. The Mexico backpacker trail primarily focuses on the South of the country, which is home to most of the more popular travel destinations and is generally considered to be safer than the North.
Mexico Backpacking Route – How long to spend in each place?
| | | |
| --- | --- | --- |
| Order | Destination | Suggested Time |
| 1 | Cancun | 1 Day |
| 2 | Playa del Carmen | 3-4 Days |
| 3 | Tulum | 2-3 Days |
| 4 | Chichen Itza | ½ a Day |
| 5 | Merida | 2-4 Days |
| 6 | Campeche | 1-2 Days |
| 7 | Palenque | 1-2 Days |
| 8 | San Cristobal de las Casas | 2 Days |
| 9 | Zipolite & Mazunte | 3-4 Days |
| 10 | Puerto Escondido | 2-3 Days |
| 11 | Oaxaca | 2-3 Days |
| 12 | Huautla de Jimenez | 1-3 Days |
| 13 | Puebla | 2-3 Days |
| 14 | Mexico City | 3-5 Days |
This route summarises a typical path travellers in the country take and you could easily just do it in reverse. There may be something to be said for ending your trip with some relaxed days on Mexico's Caribbean coastline.
If you followed the above route exactly, a 5 week trip would mean you'd have on average 2 or 3 days in each place. If you're not a beach lover, you can easily spend less time on the coast and more in the more cultural and historical destinations (or vice-versa).
Check out our North America travel blog for some ideas of how to extend your trip in the region.
---
Check out our other routes in the region!
south america | brazil | patagonia | central america | california | panama | jamaica
---
This article was updated in December 2020.
Use the comments section for any questions on our Mexico route. We aim to reply to them all!
---