Backpacking Brazil is challenging due to its sheer size and relative cost in comparison to its near neighbours. Nonetheless it is a hugely rewarding challenge. The country makes up a giant chunk of the South American continent with thousands of miles of stunning coastline, wonderful waterfalls and national parks. Read on for our full Brazil backpacking route.
Table of Contents
---
TIME NEEDED – 2 MONTHS
About two months would be a decent amount of time for our Brazil itinerary. However this is one of the largest countries in the world so you could easily spend far more than that if time is no object.
---
POSSIBLE SHOESTRING BUDGET – £2300 €2700 $3000
This is based on January 2020 prices and exchange rates. That's around 13,000 Reales in local currency. Brazil isn't cheap these days and is considerably more expensive than most countries in South America. This budget is designed for shoestring travellers and does not include the cost of flights to/from Brazil, visas or travel insurance.
Read more on the cost of travel in Brazil or view the backpacking costs in all South American countries.
---
WORK OR VOLUNTEER WHILST TRAVELLING IN BRAZIL
Worldpackers are a Brazilian company which has expanded to offer travellers around the world ways to find a work or volunteer placements to support and enrich their travels. Their website/app allows you to search for placements and exchange your skills for free accommodation and meals. They have more than 1000 opportunities in Brazil at the time of writing. Read our Worldpackers getting started guide to find out more.
---
TRAVEL INSURANCE FOR BACKPACKERS IN BRAZIL
The cost of travel insurance isn't included in the budget figures above. You can get a quote in less than a minute from Heymondo who provide well reviewed international travel insurance for backpackers from all over the world.
---
Backpacking Brazil – A 2 Month Itinerary
The Brazil backpacking destinations below correlate to the map. We suggest visiting them in the order they are published or in reverse. Domestic flights in Brazil are reasonably cheap by South American standards though so it may be possible to make some alterations to this in order to save money or just to skip some destinations you're not interested in.
---
Where can I backpack in Brazil? – Start in the South
São Paulo
São Paulo is South America's biggest city and with three international airports, it is very accessible from wherever you're coming from and a logical starting point for a trip around Brazil. Opinions of the city itself is its fair to say mixed amongst travellers and Brazilians alike. To some it's a large and dangerous crime-ridden city that's difficult to get around and has little of major interest to visitors anyway.
Others see it as a lively and diverse 21st century metropolis. While it may lack the iconic monuments of other cities, there are still loads of things to do in São Paulo. It has great shopping and by South American standards an open-minded attitude towards a range of issues including homosexuality which is still considered taboo in much of the continent. Even if it's for just a day or two, it's worth experiencing and if you don't like it then move on.
In terms of attractions, the football museum is something that is well worth checking out for a glimpse into the nation's main obsession and São Paulo is one of the world's best football cities.
Curitiba
This cosmopolitan city in the south of the country has a great history and is home to a mixed population that descends from various parts of Europe. It boasts a lively arts and music scene and has a famous 'old city' district in the centre which is over 300 years old. If Sao Paulo was too much for you then Curitiba may be much more to your taste as one of the safest and cleanest cities in Brazil.
Ilha do Mel
This island is a nice escape from the cities with pleasant beaches, no roads and some great scenery. There are plenty of other nearby islands you can get to by boat either on trips or by hiring your own vessel. The island is very quiet during the week so this is the best time to come if you want to relax. However there is much more in the way of nightlife and parties at the weekend and during holidays.
Florianopolis
In and around this city you will find some of the country's most stunning beaches. The city has a few decent sights such as the 18th century fort and some colourful markets but for backpackers in Brazil, it's primarily a beach destination. There are some reasonable budget places to sleep, eat and drink and there is even a party bus complete with bar and DJ that takes visitors to the city's major nightspots. During the day from the centre you can catch buses to any of Florianopolis' 42 beaches.
Foz do Iguaçu
It's a long and tiring trip out to Foz do Iguaçu and is probably best done via a night bus with two direct daily services from Florianopolis. (You may prefer to visit Florianopolis first and then backtrack to Curtiba from where there are more regular and shorter bus services, as well as flights to Foz do Iguaçu). The city is of a medium size but mainly serves as a base for exploring the Iguaçu Falls which are truly one of the natural wonders of the world.
The stunning waterfalls, arguably the most impressive on the face of the earth are one of the undoubted highlights of backpacking Brazil and indeed South America. The Falls dissect three countries meaning short trips into Argentina and Paraguay are possible from this point.
If you don't have time for the next section, you can fly direct from Foz do Iguaçu to either Rio or Sao Paulo and continue your journey around Brazil. It's usually cheapest to fly to Sau Paulo with fares starting at around 200 Brazilian Real ($45).
The Pantanal
Bonito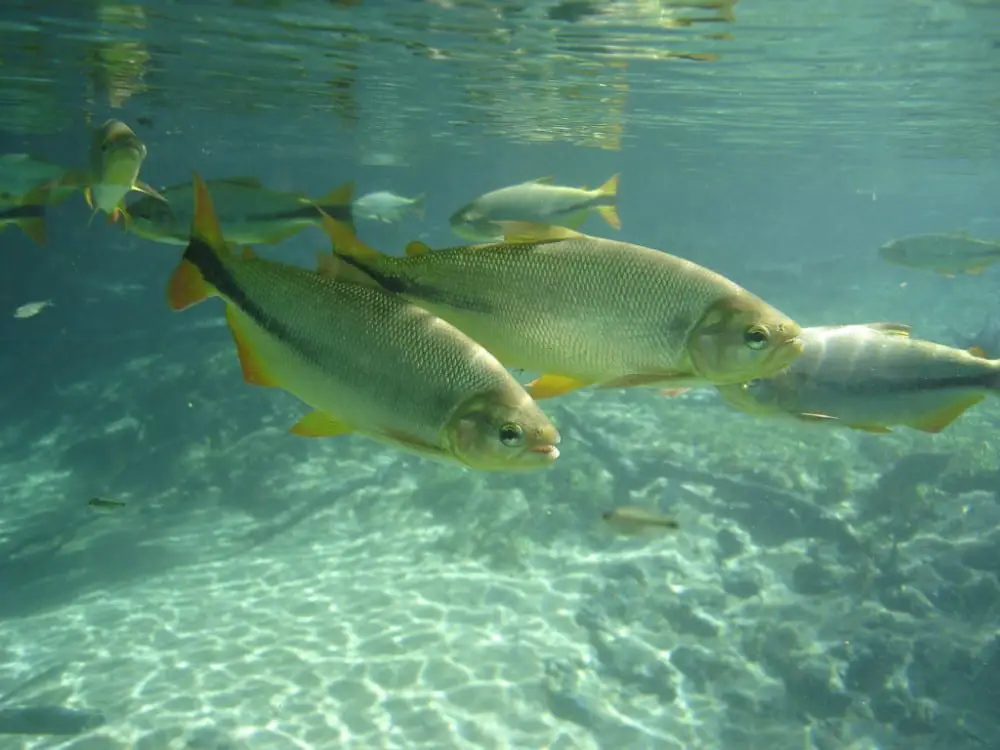 Piraputanga Tango, CC BY-SA 2.0
The Pantanal is the world's largest tropical wetland area and it covers a large portion of Central Brazil. Bonito is a popular eco-tourism hotspot and a good starting point for exploring it. The town is surrounded by waterfalls and rivers which are clean and clear enough to snorkel in and check out the weird and wonderful creatures that inhabit the waters in these parts. It is a long journey from the falls to Bonito, taking around 16 hours including a change of bus in the town of Dourados but nature lovers won't regret it.
Campo Grande
Some people opt to skip Bonito as there are regular direct buses going from Foz do Iguaçu to Campo Grande taking 12-15 hours with several companies running the route which is popular with backpackers. The area around Camp Grande is home to an incredible array of wildlife including caiman, jaguars, anacondas, piranhas and much more. Various types of trips can be arranged in Campo Grande or you can use it as a base and explore the region on your own.
Read more – Travel Photography Tips – How to take great photos with your smartphone
Southeast Brazil
Ribeirão Preto
This is a nice stop to break up the long journey back to the coast. Depending on the time of year, you may be able to find a reasonably cheap flight from Campo Grande to Rio but going by bus is normally cheaper if a little more time-consuming.
Ribeirão Preto is around 14 hours from Campo Grande and is served by direct night buses. It is a lively city but not really on the regular backpacker trail. This however is part of its charm and with some bustling bars and a reputation as the draft beer capital of Brazil, it can be a very enjoyable little stop.
Campos do Jordão
This is another hidden gem that doesn't receive much in the way of foreign travellers. The somewhat dodgy looking teleferico is worth a ride as it transports you in individual seats to the top of Morro do Elefante which at 1700m above sea level has stunning views of the town and its surroundings which you can see more of on horseback. In the town, the architecture and streets are distinctly ancient and it feels somewhat like stepping back in time to a bygone era. The rickety bondinhos (streetcars) offer a unique way to take in more of this quite unusual city.
Paraty
Back on the coast and for the first time in the state of Rio de Janeiro. The coastal town was first settled upon by the Portuguese in 1667 and is one of the oldest in Brazil. It's another place where you feel as though time has somewhat stood still and it is incomparable to the glitzy modern cities of Rio and Sao Paulo which lie a few hundred kilometres on either side of it.
In town, you spend your time wandering around the cobbled streets and admiring the pretty churches. There's plenty of nature around too with hikes, boat trips, kayaking and diving all popular. It's also famous for the Bloco de Lama (Mud Carnival) where crowds go to cover themselves in mud and chant but sadly it only happens once a year on the weekend before Carnival. It's well worth visiting if you're planning on fitting the Rio Carnival into your trip.
Ilha Grande
This island 150 km west of Rio de Janeiro is another of Brazil's best beach destinations. By night, locals and backpackers alike gather in the main square and drink beers in a chilled out atmosphere with local bands playing live music as the backdrop. If you get hungry there are often beachside barbeques.
It is though an island that also holds a dark past with a history that includes slaves, pirates and leper colonies not to mention the ruins of a jail that once housed the most dangerous criminals in Brazil. Reports of ghosts roaming the beaches are not uncommon!
Petropolis
Once the summer retreat of Brazilian emperors thanks to the cooler temperatures and pleasant mountain air, it is now of more interest to day-trippers from Rio. The Museu Imperial and Palacio de Cristal are worthwhile trips that point to the town's significant history. It's also popular with more energetic kind of travellers who come for hiking and rafting trips.
Río de Janeiro
Rio is by some distance Brazil's most iconic destination and it doesn't fail to disappoint. The highlight is undoubtedly the famous Carnaval (in February or March) when the city puts on one of the greatest parties on Earth. It's a giant street festival with exotic samba performances and all night drinking, singing and dancing. If you can't make it then, don't fret as even during the rest of the year this city is easily one of the most exciting on the planet with New Year another great time to visit.
It is a city of great contrasts. From the famous beaches of Ipanema and Copacabana to the violent slums than sit on the slopes of the mountains perched over the beautiful harbours and wealthy districts, this is a city that takes some time to understand.
Rio is also home to some of Brazil's most revered sites including the famous Christ the Redeemer and the Maracana Stadium, which hosted the World Cup Final in 2014. You could easily spend a week here and still find new things to do and places to explore. There various free walking tours in Rio which will help you find your bearings.
Ouro Preto
Literally meaning 'black gold' this is one of the most significant cities in the history of the Americas. In the mid 18th century over 100,000 lived here (double the population of New York City at the time) and it was very much the epicentre of the gold rush. Today numerous funky little museums give you a fascinating insight into life at that time and the city has maintained much of its architectural charm. Several of the famous gold mines can also be visited.
(If you are pushed for time or fed up of buses, you might want to consider flying from Rio to Salvador and missing out Ouro Preto as it is a long way up to Salvador by road).
Northeast Brazil
Salvador
The city and its people are noticeably different from those in the south of the country with Salvador and indeed the whole state of Bahia renowned for being friendly and easy-going. Culturally there is a strong African influence while the city possesses arguably the finest Old Town in the country with an impressive church, some colourful buildings and ancient cobblestone streets. By night it is a great place to party with plenty of cool bars and nightclubs and a varied live music scene that pumps out some of the best beats in Brazil.
The coastal cities of the North East are also known for having the best carnivals in the country. They are all great fun and don't attract anything like the hordes of tourists that head to the Rio Carnaval which bumps prices up for budget travellers. The carnaval in Salvador is fantastic and actually bigger than the one in Rio, claiming to be the biggest of its kind in the world.
Recife
It's around 10 hours by road from Salvador to Recife and there aren't any particularly obvious stops in between but there are long stretches of deserted beaches along the route which could be worth a visit. Just south of town is the coastal city of Maceió which is also worth dropping in on.
Recife is famous for having some of the best urban beaches in the world. Culturally there is a Dutch influence and there are many churches, museums and interesting buildings that reflect the distinct culture of this region. It is also a culinary hotspot with great seafood and sizzling local dishes served up in local restaurants and by plenty of beach vendors. Not a huge backpacking scene though and prices are quite high in the main tourist area.
Olinda
Only 7 km north of Recife is Olinda, which justifies more than just a day-trip from its near neighbour. Since the town was founded almost 500 years ago it is has changed hands several times between the Dutch and the Portuguese and the remnants are very evident in the stunning architecture. Olinda also has a fabulous Carnaval and it is this that the town is best known for. It is basically a 24 hour street party from Friday night to Wednesday morning but with a more local and distinctive small-town feel than the ones further south.
Pipa
Just south of Natal (which is where you will need to head to for your onward journey) is the lively beach village of Pipa. Popular with Brazilian students, it has some great parties at weekends especially. By day hit the gorgeous beaches or nearby dunes. Some of the beaches attract dolphins which come very close to shore enabling you to potentially tick the 'swam with dolphins' box on your bucket list.
Fortaleza
Fortaleza is a large coastal city in the North-East of Brazil. It has vibrant music scene with various festivals throughout the year catering to many different genres including the local forró music. Shopping is also excellent here with the Iracema Beach market popular with visitors. The city has a seedier side but this is easily avoided. It is also a good base for exploring some fabulous nearby beaches.
The city has a fairly large international airport and is a decent spot to end your trip or extend it by flying to Manaus, the only real city in the Amazon region of Brazil. From Fortaleza there are daily flights to Lisbon with other European and North American destinations available. You can also fly to pretty much any major Brazilian city.
Northern Brazil
Manaus (for the Amazon)
Amazon near Manaus, CC BY-SA 2.0
Located right in the middle of the Amazon Jungle on the banks of the Rio Negro which flows to form the Amazon River proper just outside town. The only real way to get in is by plane or by boat. The boat trips are stunning but take around five days from Belem on the Atlantic Coast so following this route, it would take around a week to reach Manaus from Fortaleza if you don't fly, although it does depend a bit on the time of year and water levels in the Amazon.
The city is surprisingly big (population: 2.5 million) considering its isolated location and has a few interesting sights including a pretty opera house that holds free shows. Naturally though the main attraction is exploring the surrounding rainforest and the humongous Amazon River. There are a huge number of tour operators in Manaus and it's best to ask around before booking one. Bear in mind you need to travel at least 100 km from Manaus to see real virgin rainforest and it is possible to stay for a few nights in the rainforest proper. The best time to visit is probably May to August (visiting in the dry season can be seriously hot!). We have a separate post on the best time visit Brazil and South America as a whole.
From Manaus, there are flights to many destinations across South America and also some to Miami and Orlando.
---
All our Latin America travel itineraries
south america | brazil | patagonia| central america | mexico
---
Brazil Backpacking Tips
Visa Requirements for Brazil
90 days visa-free for citizens of almost every country in Europe and the Americas. If you are from the USA, Canada, Japan or Australia you are also now covered by the visa exemption following recent changes.
Getting Around Brazil & Accommodation
For flights, LATAM and Gol seem to be the cheapest options with a pretty extensive network connecting all major cities in Brazil. Sometimes it can be cheaper to fly than catch the bus and obviously it is much quicker between some destinations (Brazil is enormous!). Otherwise just head to the bus station (often a long way from the centre) and there are usually extremely regular buses between most nearby cities.
Hostels in Brazil are on the expensive side in comparison to much of South America. Most of the good ones charge a minimum of US$10/night for a bed in a dorm although cheaper options can sometimes be found. The quality of hostels varies so you can end up paying double that for a really good one.
Booking in advance is essential if you are visiting during popular times such as Carnaval and is advisable in big cities where you don't really want to be wandering the streets with all your belongings, looking for somewhere to stay.
Party Places in Brazil & Carnaval
Rio is the most famous party city but there are loads of destinations along the coast that have some great nightlife. The more holiday-orientated places in the North East such as Fortaleza have plenty of clubs while Ilha Grande has more of a backpacker party vibe.
Carnival in Brazil is in February or March and you can pretty much guarantee that wherever you are, there will be plenty of festivities during that period. It normally begins the Friday before Ash Wednesday and carries on for at least five days, sometimes over a week. The main carnivals are in Rio and Salvador (both mentioned above) but it is celebrated nationwide.
Some travellers plan their backpacking trip in Brazil around Carnaval and it is certainly a great time to visit. It won't be possible to take in all the big ones but it is possible to take in the festivities at more than one. Consider doing two days in Salvador and two in Olinda for example if you visit at this time of year.
Extending your Brazil backpacking trip
In a country the size of Brazil, you will always have to pick and choose locations, even if you spend the best part of a year in the country. We've tried to include the main Brazilian travel highlights but it's not hard to get off the beaten track given its sheer size.
Working in the country is also an option and there is a big drive to improve the standard of English so you may find work in the TEFL industry. Ricardo Moura Idiomas in the city of Juara is one school that is actively looking for native English speakers to come and work for 1-2 months and help out with advanced students and conversation classes. The position includes accommodation, food, Portuguese lessons and a decent income.
Travel-wise, you can of course always leave Brazil and explore other parts of South America. Some destinations in this article feature in our main South America route but the two could be combined into one massive trip if time and money is no real object.
Nature lovers may also want to check out our Patagonia backpacking route which heads to the very South of this continent whilst taking in some of Argentina and Chile's great sights.
---
This article was last updated in January 2020.
Please use the comments section for any questions on our Brazil route. We aim to reply to them all!
---