A trip to see the Northern Lights is on many a travel bucket-list. This post looks at where and when to see the Northern Lights and offers some tips for maximising your chances of the experience living up to your expectations.
There are a couple of factors which make this harder said than done. Firstly you have to travel far north enough and at the right time to be in with a chance of witnessing one of the great natural phenomenons. Even then you need quite a bit of luck in terms of sky conditions for the experience to be as special as it looks on instagram.
Even if you take every possible step to maximise your chances of catching the Aurora, many travellers still end up disappointed. Some have taken many trips to the northernmost parts of our planet without being able to catch a glimpse of the Northern Lights.
So there's the warning!, now here's where to go to try and experience one of the great natural wonders.
---
Where to See the Northern Lights – 5 Great Destinations
---
Tromsø, Norway
The area around Tromsø in Norway is one of the most popular spots for trying to catch the Northern Lights. Despite lying more than 350 km north of the Arctic Circle, Tromsø is a city with plenty of history, culture and it's a surprisingly lively place with plenty of nightlife. This makes it a really good option for anyone looking for a bit more from their trip and there's plenty to do if you happen to be unlucky with the sky conditions.
'Visit Tromsø' claims the city lies in the optimum zone for viewing the Northern Lights and the range of different options including boat rides, dog sleds and drives out into the wilderness of the Norwegian countryside means there should be a trip to suit all tastes.
Abisko, Sweden
Hopping across the border into Sweden and you will find another of the world's best Northern Lights destinations in the shape of Abisko. This place is remote, so it's more of a challenge to get there than Tromsø which has an airport and direct flights across Northern and Central Europe.
You may find it best to fly to Stockholm and take the night train north but if you want to maximise your chances of viewing the Northern Lights, Abisko may be your best bet. The reason for this is that it has a unique micro-climate which sees less rainfall (and therefore less cloud cover) than any other destination within the so-called Aurora Zone.
Reykjavik, Iceland
Another destination that is considerably more accessible is the Icelandic capital Reykjavik. In recent years, it has grown into a popular stopping point for transatlantic travellers making it relatively easy to get here from either Europe or North America.
Even though this is a capital city, it is still a small place and even in the very heart of Reykjavik you can get great views of the Northern Lights on a clear night. Of course, it may be more spectacular if you head out into the surrounding areas and the Aurora is viewable from pretty much everywhere in Iceland, the only country which can make such a claim.
Whitehorse (Yukon), Canada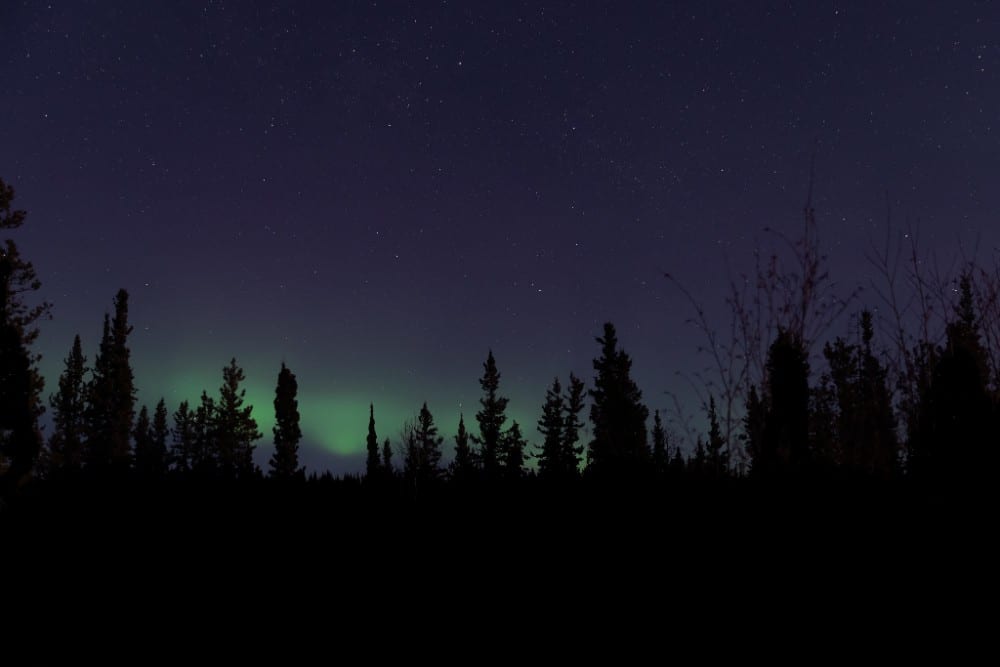 Canada's remote and wild Yukon province is a fantastic option for anyone in North America. It's not the most accessible of places but there are flights to its largest city Whitehorse from Vancouver which is well connected to the rest of the region.
From Whitehorse, there are plenty of Northern Lights tour operators that can take you to the best viewing spots. Alternatively you can do your own thing but be sure to check forecasts from a reliable source to avoid wasting a night staring at a sky that won't perform. While the area can be bitterly cold, you can at least warm up in the fabulous 47°C Takhini Hot Pools.
Even in Southern parts of Canada, such as Prince Edward Island, you can catch nature's great light show although it's best to head north to maximise your chances.
Fairbanks (Alaska), USA
Just across from Yukon, you reach the US border and head into Alaska, another of the world's best Northern Lights destinations. Fairbanks is a good option for basing yourself and there are direct flights from the state capital Anchorage as well as Seattle in Washington State which is probably the best best for most travellers in need of a connection.
You won't find a better place to view the Northern Lights in the USA than the area around Fairbanks and there's a good chance of seeing the spectacle at any time between September and March. Helpfully, there is even a full forecast system which makes it much easier to plan and you may want to consider doing a last minute trip when the forecast is good if you are based in the US.
---
Best Time to See the Northern Lights
---
This is a matter of great debate, even amongst experienced aurora hunters. Essentially the spectacle takes place year-round. However in the summer the skies are simply too light and night-time hours too short for the human eye to catch sight of the spectacle in the Arctic without high-tech equipment.
January, February & early March
This is probably the most popular time for trips to see the Northern Lights. In January the sun reappears above the Horizon in the Arctic and it can lead to some spectacular shows. However you best wrap up warm at this period as days and particularly nights can be bitterly cold.
November and December
If you opt for the end of the year rather than the start, then you may be able to better fit your trip around other festivals and Christmas traditions which are popular at this time of year in Lapland. This is the darkest time of year so in theory you are increasing your odds of catching a glimpse of the Northern Lights however this period does mark the onset of winter when cloudy conditions can bring heavy snowfall and mask the spectacle in the sky.
Spring and Autumn Equinoxes
Some scientific folks claim that there is extra solar activity around these points in the year. Spring Equinox falls on approx 20th/21st March while the Autumn equivalent does likewise on 21st/22nd September. The slightly warmer conditions compared to the middle of the winter also makes it a more pleasant experience although with nightfall setting in later, you may need to stay up late to catch a glimpse of the Aurora.
---
This article was published in February 2020.
---
Where and When to See the Northern Lights