Scandinavia Backpacking Route (Denmark, Sweden & Norway)
This is our Scandinavia backpacking route featuring the best places to go in Denmark, Sweden and Norway and a realistic timescale for getting around. Before we get into that, we'll look at whether it's even possible to visit the region as a shoestring traveller.
Can you travel around Scandinavia on a Budget?
Most budget-minded travellers avoid Scandinavia like the plague for one pretty simply reason. It has a reputation as being extremely expensive. Denmark, Sweden and Norway consistently rank amongst the most costly countries to visit in our table of backpacking costs around the world but like just about anywhere, there are ways to cut down your costs and a few factors to consider which should help you take on a full Scandinavia itinerary without spending a fortune.
For starters, Couchsurfing and camping are great ways to cut down on high accommodation costs and both are popular across the Nordic countries. If you come in summer, camping is well worth considering with favourable laws that allow visitors or locals the right to roam. Even most of the cities featured in this Scandinavia itinerary have plenty of nearby options for pitching a tent and you will save plenty with even hostel dorm beds very pricey in this part of the world. The region is also home to some of the best hiking trails in the world which makes it perfect for hitting the great outdoors.
Our Scandinavia backpacking route is relatively compact, particularly in Denmark so transport costs aren't as horrendous as you might think but you may want to consider either investing in a Scandinavia rail pass or making use of carpooling apps such as BlaBlaCar. Plenty of the main attractions and places to see are free and with so many people in the region speaking ridiculously good English, local money-saving tips and travel advice is easier to find here than in other parts of Europe.
---
TIME NEEDED – 3-5 weeks
3 weeks would be a bit of a rush but it is doable, certainly if you skip one or two destinations of less interest or turn them into single day or afternoon trips. The latter may be advisable if you opt for the railpass option where you only have a limited number of days to travel (e.g. Travel from Stockholm to Dalarna on the same day, stoppping off and exploring Uppsala without staying overnight).
---
POSSIBLE BUDGET – £1800 | €2000 | US$2300
You can take these figures with a bit of a pinch of salt as here more than anywhere, your expenses will really depend on your travel preferences and methods. The figures are loosely based on a shoestring solo traveller staying in hostel dorms and spending €70/day for four weeks using July 2018 exchange rates. Follow some of the ideas above and you should be able to get by on less. Note that all of these countries have their own currencies – Danish krone, Norewegian krone and Swedish krona.
More on the cost of travel in Europe including individual country budgets.
AVOID HIDDEN FEES WITH A REVOLUT CARD
Getting a Revolut Card before you travel is a good way to cut down on exchange and hidden banking fees which can really add up over a longer trip. Using their app you can top up your balance directly from your account and instantly exchange to currencies such as the Danish krone and Swedish krona. You will therefore be able to pay for things by card but in the local currency when you travel.
---
VISA REQUIREMENTS FOR SCANDINAVIA
Denmark and Sweden are EU member states so EU nationals can visit without a visa while people from some other countries can also visit for 3 months or less without a visa. Norway is not in the EU, however it is part of the Schengen Zone so essentially the same rules apply.
Read more on the Visa Policy of the Schengen Area.
---
TRAVEL INSURANCE
It's highly advisable to get travel insurance before any form of overseas travel. SafetyWing is one company that offers affordable and well-reviewed travel insurance for backpacking trips – including COVID-19 coverage.
---
Backpacking Scandinavia – A 1 Month Itinerary
We've designed a manageable backpacking route for Sweden, Norway and Denmark which will enable you to see some of the main travel highlights in each country in the space of just a few weeks. You may want to alter your route slightly according to the time of year, as these are some of the coldest countries in the world and northern regions are bitterly cold in the winter.
---
Where to go in Denmark?
Time Needed – 5 to 7 days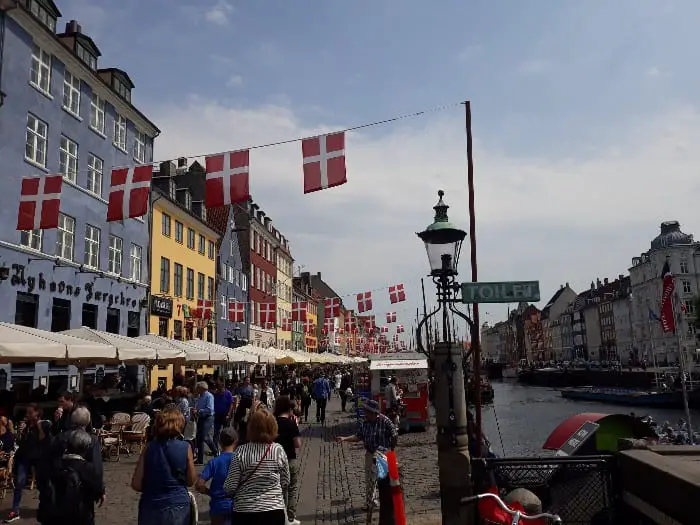 Copnehagen's Nyhavn
Copenhagen
(2 days)
Copenhagen has the biggest airport in Scandinavia serving the Danish capital and also Southern Sweden thanks to its location adjacent to the Øresund Bridge, which offers rail and road connections between Copenhagen and the Swedish city of Malmo. Therefore it's a logical starting point for any trip across the region and there's no reason why you can't hop across on a train to Malmo for an afternoon or evening (remember to bring your passport or identity card as border checks have been beefed up in recent years and Swedish officers board the train to check your ID).
The Danish capital itself is the epitome of Scandinavian cool. Alternative culture thrives in the self-declared Freetown of Christiania, perhaps the most interesting neighbourhood to visit. Copenhagen also has all the eating, drinking and partying options you'd expect of a major Western European capital with some fine waterfront settings, the highlight of which is 17th Century Nyhavn.
Roskilde
(Half Day – consider getting the train from Copenhagen in the morning, visiting Roskilde and then continuing to Odense later in the day)
Roskilde is only 35km West of Copenhagen and is an ancient viking city. Its highlights include a 13th Century cathedral and an interesting Viking Museum which will take you back in time and allow you to start getting to grips with the history of Scandinavia. Roskilde is also the setting for Northern Europe's biggest music festival, held over 8 days each summer.
Odense
(1-2 Days)
It's around 130km from Roskilde to Odense but it takes little over an hour by train. Odense is another popular stop on any Denmark backpacking route and is home to the famous Egeskov Castle, one of the best-preserved Renaissance castles in Europe. The city lies on the centre of the island of Funen and if you have extra time, there are plenty of trips to the surrounding countryside and towns. It's also well known as the birthplace of the author and poet Hans Christian Andersen, with a museum and garden dedicated to him well worth a visit.
Aarhus
(1-2 Days)
Aarhus is Denmark's hip Second City but it still has quite a small town feel compared to the capital. It is home to a large and thriving student population though which ensures you won't be short on nightlife options even during the week and it is known as a lively place with thriving arts and music scenes although there are less obvious 'attractions' here than in other places.
Read more: Central Europe Backpacking Route
---
Getting from Denmark to Sweden
Denmark is small and compact so following this itinerary, you won't have any journeys of greater than a couple of hours until you try to get from Denmark to Sweden. One option is to totally go back on yourself to Copenhagen and cross over into Malmo before heading North. However the more interesting option is to head North from Aarhus to the port of Frederikshavn (3-4 hours by public transport, most likely involving a change in Aalborg, which is worthy of a visit if you want to break up the journey). There are ferries that go from Frederikshavn to Gothenburg taking around 3 hours 30 minutes costing less than €20 for foot passengers if booked online a day or two in advance. Stena Line has 5 or 6 services a day.
---
Where to go in Sweden?
Time Needed – 7 to 10 days
Gothenburg
(1-2 days)
Sweden's second largest city and it's another student town with the largest university in Scandinavia here. It is home to a great selection of museums with one particular highlight being the Natural History Museum which includes a stuffed blue whale. There's also a transport theme with the Volvo Museum, Aeroseum and Maritime Museum alternative options.
Stockholm
(2-3 days)
Stockholm is the largest city in Scandinavia and you'll want to set aside at the very least two full days to explore it. The city has got a little bit for everyone with a charming old town and archipelago setting adding to its appeal. The inner city alone is built on 14 different islands with waterways and a maze of bridges connecting one to the next. With world class museums, galleries, restaurants and bars, you won't struggle for entertainment although even by Scandinavian standards, it is expensive so be prepared.
Possible Extension – Visit Gotland
The Baltic Sea island of Gotland is one of the highlights of travel in Sweden and many locals head there each summer to unwind in its beautiful surroundings. However it takes over 4 hours by ferry to get from Nynäshamn, just South of Stockholm to Visby, a fascinating medieval city which is the obvious base for exploring the island. If you have time it's well worth a visit and would be a great addition to any Sweden backpacking route (we've not included it in our suggested timeframe).
Uppsala
(1-2 Days)
Consider popping into Sigtuna, the oldest surviving town in Sweden on your way from Stockholm to Uppsala, one of the more budget-friendly towns in Sweden. It is another historic city, which has rivalled Stockholm for power through the ages and is still home to a castle, numerous gardens and a cathedral where Swedish royals are buried.
Dalarna
(2-3 Days)
Dalarna has been described as the 'most Swedish part of Sweden' with pleasant, sweeping hills and log cabins providing an idyllic country setting. Falun is the administrative capital of the province and is a decent place to base yourself with a Copper Mine that is a UNESCO World Heritage Site providing the main interest in town. However you may prefer to find a more rural base with plenty of camping options around Dalarna, while if you decide to brave the Scandinavian winter, there are numerous places to ski in the region.
Karlstad
(1 day)
Set on the shores of Europe's largest freshwater lake, Karlstad might not be the highlight of this Sweden backpacking route but it is a really nice place to break up the journey between Dalarna and Norway and you would most likely need to change trains/buses here anyway. Explore the city by boat or relax on one its beaches if the weather allows.
---
Getting from Sweden to Norway
There are regular direct bus services between Karlstad and Oslo taking around 3 hours so you should have no problem getting between these two large Nordic nations.
---
Where to go in Norway?
Time Needed – 10 to 14 days
Geirangerfjord Viewpoint, CC BY-SA 2.0
Oslo
(2 days)
Our Norway backpacking route starts in the nation's capital. While it may lack the architecture of Stockholm for example, Oslo has its fair share of interesting sites. Located on a fjord, highlights include the National Gallery, Viking Ship Museum and Vigeland Sculpture Park, where more than 200 of Norwegian sculptors Gustav Vigeland's works are located.
Bergen
(2-3 days)
The train ride from Oslo to Bergen may take more than 6 hours but it's one of the most spectacular in Europe and is a real experience in itself, particularly in winter when the spectacular Norwegian countryside is covered in snow. If you have more time, it's worth getting off and exploring but if you head straight to Bergen, you'll find an enchanting city waiting. Head up the Floyen mountain for stunning views of the city and surrounding nature. Eat out in the famous Fish Market and marvel at its wooden architecture. There are also some excellent hiking trails in the area immediately surrounding the city.
Western Fjords
(4 days +)
Bergen is also the best place to start a trip to the Fjords, one of the main highlights of travel in Norway and indeed Scandinavia. There are a host of expensive cruises and tour companies that offer trips around the area but with a combination of camping, hitch-hiking, ridesharing or just booking your own public transport, it is possible to explore the fjords on a lower budget. You could whistle through it in a few days or spend upwards of a week exploring and taking hikes here.
These are a few links which should help you explore Norway's fjords on a budget:
DIY Norway – The Fjords by Public Transport
Camping & Hitchhiking in the Fjords
An Idea for a Longer Itinerary around the Fjords region between Bergen and Trondheim
Trondheim
(1-2 Days)
Trondheim is the last stop on our backpacking itinerary for Scandinavia. It is the oldest of Norway's major cities with over 1000 years of history. With roughly one in eight of its residents being a student, there is a young population and it's perhaps the best place in Norway to party and meet new people. If you are ending your trip here, Trondheim Airport has services to larger European cities such as London, Amsterdam, Copenhagen, Stockholm and Prague where you can connect to flights to pretty much anywhere in the world.
Alternatively you can keep going north, potentially all the way into the Arctic Circle and the city of Tromsø which features in our piece on where and when to see the Northern Lights. The Northern Norwegian city and its surroundings fall in the optimum zone for experiencing the Aurora.
---
Check out all our Europe routes!
Extending Your Scandinavia Travel Itinerary
Purely from a point of expenditure, we've tried to condense this route and pack a lot into a relatively short time period. However there are plenty of options for extending your trip in Scandinavia should you have the funds and time to do so. Trondheim, the Northernmost city on the route is only really a Southern city in what is referred to as Middle Norway. Keep going North and you can experience the mysterious Northern Lights, visit the beautiful archipelago of Lofoten and delve into the Arctic circle potentially going all the way to the icy shores of Nordkapp, the Northern tip of mainland Europe. You could then come back down through the Northern and central regions of Sweden with highlights including Jokkmokk, which has a strong Sámi identity and is the perfect spot to learn about the country's indigenous inhabitants. The lakeside town of Östersund makes for a nice stop on your way back down.
If you've got a taste for Northern Europe then our Baltic Backpacking Route is worth checking out too, which features neighbouring Finland as well as St Petersburg and the three main Baltic states. If you got the urge for a warmer climate, there are an abundance of cheap flights to be found from the Scandinavian capitals to the holiday airports of Iberia so it's also quite easy to link this in with our Spain Backpacking Route.
---
This article was published in July 2018.
Use the comments section for any questions on our Scandinavia route. We aim to reply to them all!
---