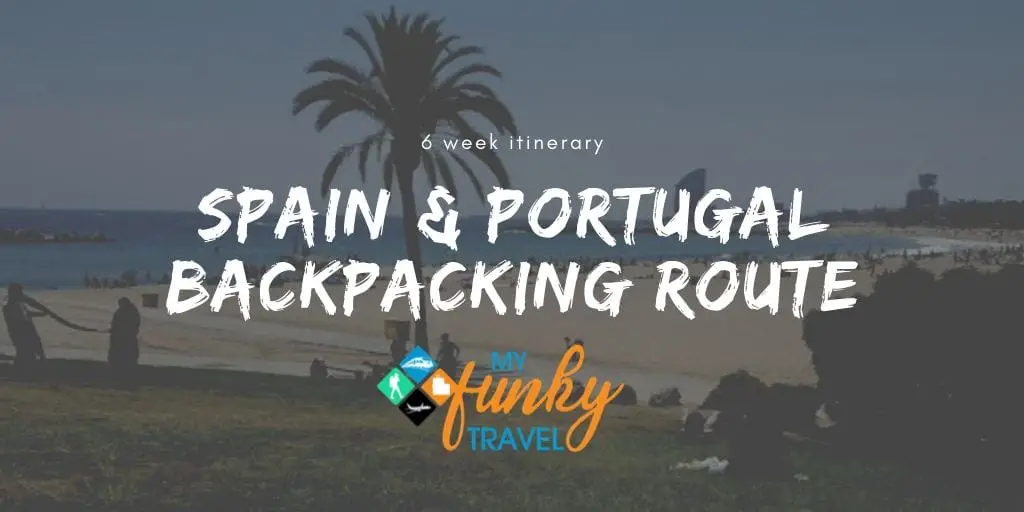 Spain and Portugal backpacking route
The Iberian corner of Europe is one of the most popular travel destinations in the world. It boasts some of Europe's best beaches, most historic cities and tastiest food and drink. They also like a good fiesta so no matter when you visit, your trip is likely to coincide with some form of celebration or festival and our Spain and Portugal backpacking route is a decent starting point for planning a trip.
Starting from Madrid, it will see you head South to the laid back lifestyle of sunny Andalusia before crossing the border and venturing into Portugal and the beautiful beaches of the Algarve. Next we move from the Southern coast all the way up Portugal taking in traditional towns, lively Lisbon and a glorious national park before re-entering Spain and visiting the scenic Northern region of Asturias. From there we move East towards the Pyrenees and pop into the unique Basque Country with its own language and strong cultural traditions. The same could be said of Catalonia and the route takes in buzzing Barcelona before finishing with some more relaxing beach time on the Mediterranean Coast, reaching its finale in Valencia, home of paella and the famous Fallas celebrations.
---
Spain and Portugal backpacking route Overview
---
How long does it take to backpack Spain & Portugal?
We suggest 6 weeks for this route, which is pretty complete but doesn't include any extra trips to the Islands. It works on the basis of an average of 2 days at each destination. Some you'll only need a day while somewhere like Barcelona you'll probably want more time.
How much does it cost to backpack around Spain & Portugal?
Possible shoestring budget for this route: £1650 €1900 $2000
This is based on January 2017 prices and exchange rates. Iberia is the cheapest part of Western Europe. Portugal is very slightly cheaper than Spain but the difference is barely noticeable. Accommodation prices do shoot up during the summer months and around national holidays though so budget for more during those times. You might want to consider joining Worldpackers with our discount code, to locate some work placements that will help your budget go further.
Read more on the cost of travel in Spain and the cost of travel in Portugal.
Avoid Hidden Fees with a Revolut Card
Getting a Revolut Card before you travel is a good way to cut down on exchange and hidden banking fees which can really add up over a longer trip. Using their app you can top up your balance directly from your account and instantly exchange to the Euro. You will therefore be able to pay for things by card but in the local currency when you travel.
Travel Insurance for backpacking Spain & Portugal
Getting travel insurance is advisable for anyone planning a big trip. SafetyWing is one good budget option if you prefer a monthly payment schedule and it includes COVID-19 coverage.
---
 Backpacking Spain & Portugal – A 6 Week Itinerary
---
Where to go in Spain?
HOSTEL TIPS – Dorm beds in hostels can normally be found for around 10-15 Euros per night in Spain. Expect to pay a bit more for somewhere decent in Barcelona and more touristy places as some of the cheap places are total dives (and not particularly safe). Prices can really shoot up during the peak summer months (July & August) in coastal destinations. May, June, September and October are better months if you want both good weather and more options when it comes to affordable accommodation.
Madrid
The largest city in Iberia, Madrid also has comfortably the biggest airport with flights to all four corners of the world so it is a logical starting point. Spend several days here, preferably at the weekend and you will get a taste for the excellent nightlife that starts late (it's 3am before most clubs get going) and if you're home before sunrise it's considered an early night.
Decent daytrips include the historic towns of Segovia and Toledo, both roughly an hour outside the city by train or bus. There's plenty to see and do in the Spanish capital itself though and here are 15 of the best things to do in Madrid!
Granada
The skyline of this Arabic-influenced city is dominated by the majestic Alhambra which is worth coming to Granada to see alone. The steep narrow streets are alive with Hookah bars and Moroccan arts meaning you can almost forget which continent you are in. It also has a fascinating pathway up into the surrounding hills which passes through several lively districts including the peculiar but intriguing Gypsy Caves.
Sierra Nevada
The Sierra Nevada national park is an incredible area with snow-capped peaks and ski resorts just 50 kilometres or so from the heat of Spain's Southern coastline. It's possible to stay overnight in the park or visit it from Granada or one of the other nearby cities.
Read more – How to improve your smartphone travel photography
Cadiz
There are many things to love about Cadiz. Firstly it can claim to be the oldest city in Western Europe with 4,000 years of history to its name. Secondly it boasts one of the world's most beautiful city beaches and the climate to match. Thirdly it holds one of the biggest Carnaval celebrations in the world (usually in February).
Sevilla
Europe's hottest city is scorching during the summer months when temperatures can be uncomfortably high. Doing as some locals do and taking a siesta during the afternoon heat is not a bad idea! It is one of Spain's most historic cities and has some wonderful squares and buildings that retain all of their ancient elegance. Come during April (or early May) for the week-long street party that is the Feria de Sevilla.
---
Getting from Spain to Portugal is a relative doddle with several bus companies connecting Seville to the Algarve from the cities main coach terminal. It is also marginally cheaper than it's larger neighbour. Check out backpacking costs for different European countries to help you come up with a realistic budget.
---
Where to go in Portugal?
HOSTEL TIPS – Hostels are generally cheaper and often better in Portugal than in Spain. Prices can even be as low as 6-7 Euros per night for a basic dorm bed but budget for slightly more. Lisbon especially has fantastic hostels and Portuguese people speak much better English than their Iberian neighbours so any problems you might have are likely to be dealt with much more efficiently here than in Spain.
Ilha Tavira
A quaint introduction to Portugal comes in the form of the stylish town of Tavira. Just a short ferry ride from the town and you reach an extremely sandy island which is the perfect spot to soak up the Algarve sun.
Lagos
Lagos and the surrounding coastline is home to some of Europe's most spectacular beaches thanks to stunning cliff formations which have been battered by the Atlantic for millions of years. The town is touristy but also boasts a backpacker and surfer scene that is more akin to Southeast Asia than Europe and it is an essential stop on any backpacking itinerary for Spain and Portugal. Accommodation is cheap especially if you come outside the peak summer months of July and August and there are plenty of lively bars to hit after dark.
Vila Nova de Milfontes
Laid back Alentejo is a bit more relaxing than the boisterous Algarve region which receives the bulk of Portugal's tourism. This town and its surroundings are home to some mysterious bays and it's another good spot to surf but the waters might be a bit choppy for beginners.
Lisbon
Portugal's rustic capital is falling apart but that's all part of its quirky appeal. Several historic districts perched on separate hills overlooking the slightly swankier centre are all waiting to be explored. Each has their own unique form of nightlife ranging from traditional Fado bars and restaurants in Alfama to the exuberant street parties of Bairro Alto. Serving almost as the gateway to the Atlantic, you will struggle to find many more spectacularly set cities than old Lisboa.
The city is also popular with expats with living in Lisbon rated as one of Europe's most affordable capitals.
Sintra
Can be visited as a day trip from Lisbon but it is worth staying overnight to experience Sintra in the dark. It's an extremely picturesque mix of castles, misty forests and cobblestone streets.
Coimbra
Portugal's most famous university town is buzzing with student life and it's a nice stop half-way between the country's two major cities (Lisbon and Porto). There are also some pretty impressive Roman ruins nearby.
Aveiro
Aveiro is frequently compared to Venice thanks to its canals and skilfully painted boats that glide along them. It's another pretty university town and perhaps at it's best in the summer when it is warm enough to go to the beautiful and clean beaches.
Porto
No Portugal backpacking route is complete without a visit to the nation's stylish Second City. During the week, Porto is a pretty quiet, some might even say dull place but it has enough to captivate any visitors with several pleasant squares and many cafes and bars to relax in. It boasts a picturesque riverside setting and is of course home to Port Wine and there are many tasting tours and port wine houses to learn about the brewing process.
Parque Nacional da Peneda-Geres
You have to wait till you reach the Northern tip of Portugal before you get to the country's only official national park. Complete with pine forests, hilly peaks and delightful rivers that make it the perfect place to spend a few nights under the stars. Best to come in summer unless you don't mind the cold.
Read More – Balkans Backpacking Route
---
Back to Spain!
Asturias
Asturias is one of the least visited yet most beautiful provinces in Spain. Tucked away in the North-West it's not a natural stop for backpackers travelling through Spain. With weather and scenery which is more akin to that of Northern Europe, it will come as a big change to the country you left behind when crossing over into Portugal a few weeks earlier. It's a small coastal region which is a great for hiking and there are numerous small towns and villages hugging the rugged coastline to explore. The likes of Gedres and Llastres are worth a visit although you may find more accommodation in Oviedo or Gijon (the biggest cities in the province).
Bilbao
The largest city in the Basque Country isn't one of the most beautiful cities in the region but it is a passionate place and well-worth a visit to try and understand why people here see themselves as separate from Spain. Its main attraction is the dramatically designed Guggenheim Museum.
San Sebastian
Further along the coast and you reach another Basque city, San Sebastian. It boasts a gorgeous crescent shaped beach and a lively little town. This is also a food lovers paradise with delightful small meat dishes known as 'Pinchos' the local speciality. When planning your backpacking route around Spain, don't miss this!
Pamplona
Home of the legendary Running of the Bulls where locals and a sizeable number of crazy foreigners risk life and limb as they run around the streets of Pamplona trying to steer clear of large angry bulls. Sanfermines (in July) is a week of parties and drunken debauchery, the like of which you may never have experienced. During the other 51 weeks it's a charming traditional town and much more relaxing.
Huesca (for the Pyrenees)
A small picturesque Aragonese town with a tale or two to tell. Not much to do here and not at all touristy, but it's a decent base for anyone looking to explore the Pyrenees which offer all kinds of mountain based activities including numerous ski resorts.
Barcelona
Barcelona from Tibidabo, CC BY-ND 2.0
One of the world's most popular travel destinations and a big reason why Spain is one of the most visited countries in Europe. There is something a bit special about Barcelona and it is the pride and joy of Catalans, of whom a large portion of are in favour of breaking away from Spain altogether. Experience the energy of La Rambla, the architecture of Gaudi, the passion of football at the Nou Camp and party with an international crowd in one of Europe's liveliest cities.
Find Accommodation in Barcelona:
Read more – Barcelona on a Budget
Tarragona, Reus and Salou
Nestled away on the Costa Dorada, these three towns form a mini triangle. Probably best to choose one as your base and explore the other two from there. Tarragona is probably the best option for this and it has some well-preserved Roman structures like the large amphitheater and many pleasant plazas. Salou is the main beach resort in the region and gets very busy during the summer. If you've got the urge for some beach time and are feeling adventorous then head to one of the less crowded beaches on this coastline, of which there are plenty. Reus is famous for being the birthplace of Gaudi but not a great deal else.
Valencia
Spain's third largest city has plenty to keep visitors entertained for a weekend or more. It's best in the summer but is also fantastic during the Fallas festivities which include dramatic firework displays, performances and shows. It is also home of the most famous Spanish dish, paella.
---
Check out all our Europe routes!
Extending your Trip: Visit the Spanish and Portuguese Islands
Our backpacking route is entirely on the Iberian mainland but both Spain and Portugal have some nice islands that are largely dependent on tourism. Almost all of them are served by budget airlines like Ryanair, Easyjet or Vueling so they are quite cheap to get to.
Spanish Islands
The Balearic Islands
Ibiza is Europe's party capital with some ridiculously hedonistic nightlife that attracts Europe's young party-goers each summer for cheap alcohol-fuelled fun and sunshine. Majorca, the largest of the trio attracts an older crowd and more families. It is however big enough to explore and escape the crowds and there are plenty of fun things to see and do. Menorca is small but beautiful and much more relaxing than the other two main islands.
They can be reached by budget airlines from most Spanish cities or via ferry from cities on the Mediterranean Coast and are an easy addition to this backpacking route which ends in Valencia, less than 200km West of Ibiza. If you book in advance the flights are likely to be cheaper and are certainly much quicker.
Read more – Backpacking in the Balearic Islands
The Canary Islands
Popular for year-round sunshine and warm weather, the Canaries are just about the only place in 'Europe' where you can be confident the weather will be good enough to hit the beach in December or January. These volcanic islands are located off the coast of Africa in the Atlantic Ocean and are roughly a two hour flight from mainland Spain. They are pretty chilled out places and the local economies on each of the main islands are pretty much dependent on tourism. This is a good place to rent out a car and explore the dark rocky scenery that is vastly different from everything else on the Iberian Peninsular.
Portuguese Islands
Madeira
Heading north from the Canaries, you reach the lovely Portuguese island of Madeira. It's still 600 miles from the European mainland and about half that from the coast of Morocco so flying in is the only option. There are plenty of flights every day to Funchal from Lisbon and other Portuguese cities. Like its Spanish owned neighbours, Madeira boasts a mild climate all year round but the island is green and lush and has all sorts of fantastic mountain-based activities to get stuck into. Its major city, Funchal is a colourful place with unique culinary habits and different traditions from that of mainland Portugal.
The Azores
There are a large number of daily flights to various airports in The Azores from Lisbon but you are likely to have to pay a bit more to reach them. Sparsely populated and not hit by an influx of tourism, they have a very different atmosphere from the other Iberian owned islands. If you make the effort to get out here, you will not be disappointed. There are many ocean-based things to do with great dolphin and whale watching opportunities, fishing trips and sailing voyages between the islands amongst your options. The islands also boast what is probably Portugal's best beer, Especial.
Isolated in the Atlantic Ocean, they are closer to New York than much of Europe and many Azoreans have settled in the United States. There are flights here from cities such as Boston and Toronto so if you are coming from North America then consider flying here first and then onto mainland Iberia.
---
Budget Accommodation in Iberia
Most travellers in Europe book accommodation in advance of their arrival at that is advisable here particularly during the busy summer months when hostels frequently sell out. Airbnb provides a nice alternative to hostels for those looking for a more local vibe.
---
Visa Requirements in Spain & Portugal
If you're from the EU, you can come and stay for as long as you like visa-free.
If not, it's worth noting that both countries are members of the Schengen area of Europe which has a shared visa policy. Find out if you need a visa to enter it here. If you don't you can stay and move around in Spain, Portugal or any of the member states providing you don't spend more than 90 days in the region within any 180 day period.
---
When to visit
Spain and Portugal are at their most popular with visitors during the summer months but that doesn't mean it's the best time to visit. In fact with extreme heat, packed hotels and hostels and increased prices, from late July through all of August is perhaps a good period to steer clear of. The weather is warm in almost all of Iberia from May till the end of September, sometimes even later. Therefore perhaps late Spring, June or early Autumn are the best times to visit. However you may want to fit in one or two festivals while you are there so it's worth knowing when the main celebrations take place.
---
Traditional Festivals in Spain and Portugal
Tamborrada, San Sebastian, 24 hours in mid-January (lots of drums).
Carnaval, all over Iberia but best in Cadiz or Lisbon if you're in Portugal, February or March.
Las Fallas, Valencia, mid-March.
Semana Santa, celebrated all over Spain but best in Seville or Malaga, (Easter weekend).
Feria de Sevilla, two weeks after Easter.
São João Festival, all over Portugal but best in Porto, June.
San Fermin, Pamplona, early July.
Moorish Nights, Cacela Velha (Algarve), July.
Semana Grande, The Basque Country especially Bilbao, August.
Feast of Nossa Senhora do Monte, Madeira, August.
Tomatina – Giant tomato fight in Bunol (just outside Valencia), end of August.
Romaria de Nossa Senhora dos Remedios, Lamego, August – September.
---
Music Festivals in Spain and Portugal
Spain and Portugal are home to some of the best music festivals in Europe including:
Primavera Sound, Barcelona and Porto (May).
Sonar Festival, Barcelona (June).
Bilbao BBK Live (July).
Benicassim Festival, Benicassim, near Valencia (July).
Optimus Alive, Oeiras (near Lisbon) (July).
---
Getting Around Spain and Portugal
Renfe – Book trains for travel around Spain. The country has some excellent high-speed train-lines all run by the government owned Renfe. You need to book tickets in advance otherwise the fares are very high in comparison to other methods of transport.
Vueling – If you want to skip out part of the route, Vueling offer the most comprehensive selection of routes across Spain. Failing that try Ryanair.
Alsa – Major Spanish coach company that offers routes to various regions. There are lots of bus companies in Spain though so if it doesn't have your route, chances are another company will.
Go Spain– Has some useful information for getting around Spain
Rede expresso – One of the biggest Portuguese coach firms that offer very reasonable fares on most routes.
Eva Bus– Similar deal to Rede.
CP – Portuguese train routes including the local networks in Lisbon and Porto are operated by this lot. The trains here are considerably cheaper than in Spain so they're a viable alternative for anyone on a really tight budget.
TAP – Portuguese national airline with a large number of flights out to the islands from mainland Portugal.
And finally….
Montaditos – For a cheap beer you can't beat 100 Montaditos. Una jarra (roughly a pint) of beer can be bought for a Euro on some days and never more than 1.50 Euros and you can choose from a selection of 100 little burgers. They can be found in almost all Spanish cities and the bigger ones have many. Better tapas is available elsewhere!
---
This Spain and Portugal backpacking route was last updated in July 2018.
Use the comments section below for any questions. We aim to reply to them all!
---