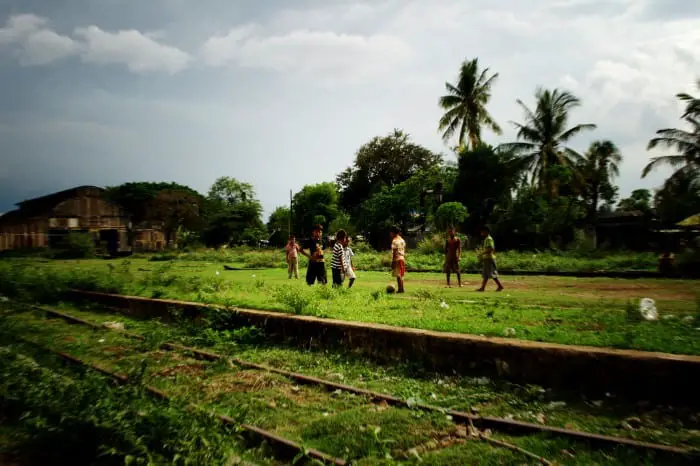 Cambodia Cost of Travel – Suggested Daily Budget
This post details the estimated cost of travel in Cambodia. Read on for suggested shoestring and more comfortable backpacking budgets for the Southeast Asian country. We also have information about what currency to use and sample prices.
---
(Map of Cambodia from wikitravel, can be re-used under CC BY-SA 3.0)
---
Cambodia on a Budget
Cambodia Travel Costs on a Shoestring Budget
US$20/day
Cambodia is no longer merely the destination of foolhardy travellers looking to escape from commercialised Thailand. Like Vietnam, its neighbour to the East, the country is gradually becoming more interested in and better equipped to deal with mainstream tourism and Vietnam and Cambodia tours are becoming more popular which in the longer run could drive prices up. However for now at least, it still remains something of a paradise for the budget-minded traveller.
This after all is the land of the $2 dorm bed and although they are a little harder to find these days, you shouldn't ever need to fork out more than $10 for any form of budget accommodation in Cambodia. Buses between the main towns are also very cheap and although there are a few expensive restaurants cropping up, there are still plenty of real local cheapies. Hit the local markets and you'll find plenty of stalls and small restaurants serving local dishes at bargain prices.
Our shoestring Cambodia backpacking budget of $20 should be very manageable and is similar to our suggested Vietnam travel budget. You may even get by on less some days but do be wary of older articles or guides that suggest $10/day is possible for shoestring travellers as those times have passed. If you are only in Cambodia for a week or less and want to visit Angkor Wat, than the next budget is probably for you!
Backpacking costs in all Southeast Asian countries
More Comfortable Cambodia Backpacking Budget
US$30/day
The one thing that is really expensive in Cambodia is Angkor Wat. It is the country's pride and joy and to visit it, you now need to pay a hefty $37 for just a single day pass. Clearly that will completely blow even our suggested more comfortable backpacking budget but it should even out over the course of a longer trip.
In general adding a bit more to your Cambodia travel budget, will allow you to stay in air-con rooms and perhaps take at least one meal a day in one of the international restaurants which are still good value, just not by Cambodian standards.
---
Cambodia Cost of Travel Insurance
Cambodia is one country where it is very important to have good travel insurance and this can add a bit to your overall budget. We recommend SafetyWing who provide medical travel insurance for digital nomads and backpackers.
---
Cost of Things in Cambodia
Bus from Siem Reap to Phnom Penh (6-7 hours) – $6 ($1/hour of travel is typical in Cambodia)
Meal at an inexpensive restaurant – $2.50
Large local beer – $1
Dorm bed in Siem Reap – from $3/night
Cheap double or twin room with fan – from $4/night
Entrance to Killing Fields or Museums in Phnom Penh – $2
Day pass for Angkor Wat – $37
Compare this to the cost of travel in Laos, which is comparable in many respects.
These sample prices were last checked in 2016 with the exception of the Angkor Wat pass, which almost doubled in 2017. Everything else on this page was updated in early 2019.
---
What is the best currency to take to Cambodia?
Currency – Cambodian Riel & US Dollar
£1 = 5100 Riel | $1.27
€1 = 4600 Riel | $1.11
US$1 = 4000 Riel
(All exchange rates are correct as of January 2019)
The US Dollar is widely used in Cambodia. Travellers normally pay for most things including hostels and meals in Dollars and most tourist/traveller orientated businesses quote prices in dollars rather than riels. It is common to pay in dollars and receive change in riels, which you can use for buying smaller items.
ATM's are plentiful in the main tourist towns now and dispense dollars.
---
street art in Phnom Penh, Cambodia (via antjeverena, CC BY-SA 2.0)
---
This post was last updated in January 2019.
---