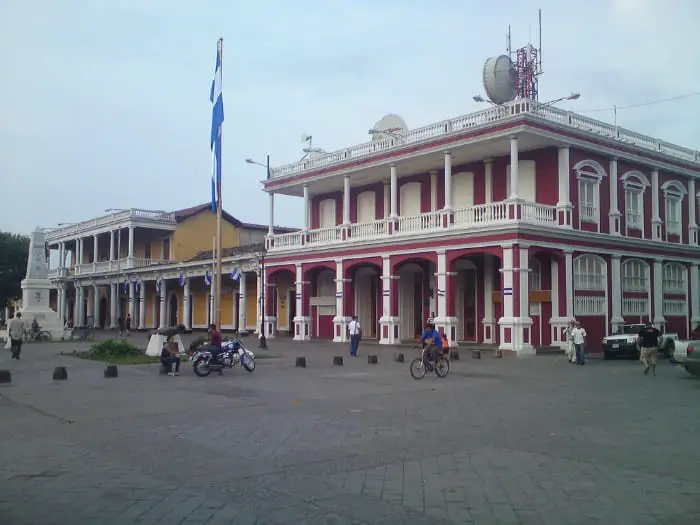 Nicaragua Cost of Travel – Suggested Daily Budget
This post details the estimated cost of travel in Nicaragua. Read on for suggested shoestring and more comfortable backpacking budgets for this Central American country. We also have some information about using dollars and sample prices.
---
(Map of Nicaragua from wikitravel, can be re-used under CC BY-SA 3.0)
---
Cost of Travel in Nicaragua
Nicaragua Travel Costs on a Shoestring Budget
US$20/day | 650 Nicaraguan Cordoba
Nicaragua is one of those countries where hardcore shoestring types will manage to get by on very little. Getting around the country via the regular local chicken buses as opposed to the tourist buses which have schedules but often don't stick to them will save you a lot of cash. Nicaragua is the largest country in Central America but it's possible to see the bulk of it for $20 or less in terms of transport costs, if you take the hop-on, hop-off chicken buses everywhere.
Eating local food in local-geared restaurants is also very cheap and usually less than half the cost of the Western alternatives such as burgers and pizza. If you do that and also stay in dorms and use drinking in the hostel as the starting point for your occasional nights out then it shouldn't be impossible to stick to a budget of $20/day. You will still have to be a bit smart with money and speaking Spanish will be of great help but with attractions normally costing just $1 or so, there's not much potential for extra expenditure beyond the basic necessities.
Read our article on the backpacking costs in Central America for an overview of budgets for the region.
More Comfortable Nicaragua Backpacking Budget
US$30/day | 1000 Nicaraguan Córdoba
Some travellers do report back that sticking to $20/day in Nicaragua is very difficult. However many opt for the transport options advertised in the hostels which are geared towards tourists and are often several times more expensive. If you're not willing to rough it out on the local chicken buses, which can be a bit uncomfortable and rarely offer the most direct route, then you might want to extend your budget slightly towards $30.
Likewise if you're planning on spending some time surfing in the Pacific, or chilling out on the beautiful Corn Islands in the Caribbean Sea, which are more expensive than the rest of the country, you may wish to increase your Nicaragua backpacking budget to $30/day but even that is less than our shoestring budget for Panama.
---
Nicaragua Cost of Travel Insurance
Remember to factor in the cost of travel insurance when calculating a total budget for your trip. For a quick quote on travel insurance for backpacking Nicaragua, check out SafetyWing.
---
Prices in Nicaragua
Chicken bus or local minibus from Leon to Granada (3 hours including change in Managua) – $3 (some overcharging of foreigners common)
0.5 Litre local beer in bar/restaurant  – $1
Meal at an inexpensive restaurant – $4
Dorm bed in Leon – from $5/night
Private double or twin room in Granada – from $14/night
Visit to a typical museum – $1-2
Surfboard rental in San Juan del Sur – around $10 per day
Note, these prices haven't been checked since 2016. Everything else on this page was updated in early 2019.
Compare Nicaragua prices to the cost of travel in Costa Rica.
---
Can you pay with Dollars in Nicaragua?
Currency – Nicaraguan Córdoba
£1 = 42.55 NIO
€1 = 37.03 NIO
US$1 = 32.57 NIO
(All exchange rates are correct as of January 2019)
US Dollars are widely accepted as an alternative currency in Nicaragua. You will often be able to pay for things in Dollars with the change given in Cordobas so before long, you'll have a decent mix of both currencies.
---
---
This post was updated in January 2019.
---