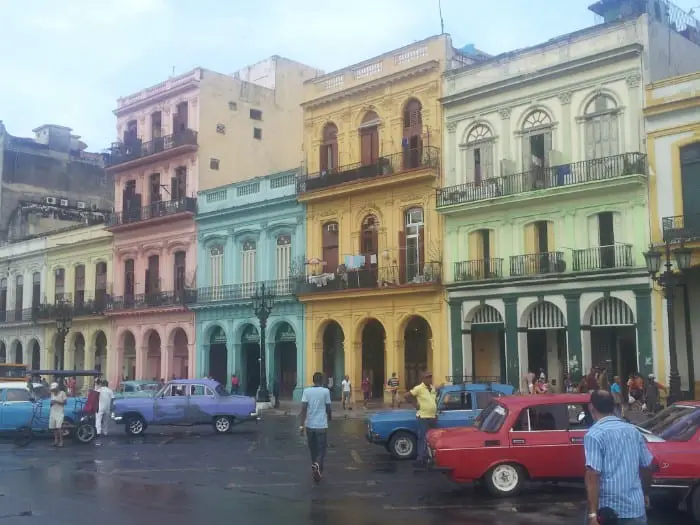 Cuba Cost of Travel – Suggested Daily Budget
On this page you will find our estimated cost of travel in Cuba. The country's economic and political climate makes it a strange place to visit in many regards and its two-currency system only complicates matters (more on this below). Check out our suggested shoestring and more comfortable backpacking budgets for the largest island in the Caribbean.
---
(Map of Cuba from wikitravel, can be re-used under CC BY-SA 3.0)
---
How much money do you need per day in Cuba?
Cuba Travel Costs on a Shoestring Budget
US$35/day | 35 CUC
On average Cubans earn just $25 per month yet our suggested shoestring Cuba backpacker budget is $35/day which can take some time to get your head around. One reason is that locals have an awful amount of basic necessities provided for free via the state, which leaves them with relatively little they need to buy. They are also paid in Cuban Peso rather than the more valuable Cuban convertible peso which is what foreigners use for virtually all transactions, which results in higher prices for visitors. As a result there are almost two separate economies in Cuba and on this page we are assuming you will be using the much pricier tourist-orientated one, which is pegged to the dollar.
Hostel dorm-type accommodation doesn't really exist in Cuba. Therefore renting private rooms in the homes of people who have a special licence to run what is effectively a small guesthouse (casa particular) is the best value you can really find. As a result paying for accommodation will take up a sizeable chunk of that budget. If you're travelling solo that can be a real pain. However couples or groups travelling together may be able to get by on quite a bit less than $35 per day by sharing rooms and splitting costs.
Food and drinks are pretty good value and if you speak decent Spanish you might be able to travel on the local buses as opposed to the tourist ones. You'll make a huge saving on transport if you are able to talk your way onto those services!
More Comfortable Cuba Backpacking Budget
US$45/day | 45 CUC
Cuba's travel industry is still in its relative infancy but it is growing quickly and there are lots of different trips and excursions you can do in almost all the main travel destinations now. While it's not quite North Korea, it's not that easy to have a totally independent travel experience in Cuba so you will find yourself having to pay for more organised trips than in other countries. By upping your budget to $45/day you'll have more freedom to take up these options on a virtually daily basis and it'd be a wise option anyway if you're travelling alone given it's not an easy country to meet other travellers.
Overall travelling in Cuba is certainly more expensive than many countries in the region such as Nicaragua and expenses are roughly similar to the overall cost of travel in Panama. Again couples or friends splitting accommodation costs may want to reduce this figure slightly ($35-40/day may be a better idea of a more comfortable backpacking budget in this case).
---
What are prices like in Cuba?
Transport by Astro Bus (mostly for locals) – $2/hour travelled
Transport by Viazul Bus (mostly for tourists) – $4-5/hour travelled
Meal at an inexpensive restaurant – $5
Meat & rice at a peso place – $1.50
Cuban Libre or Mojito in a bar or restaurant – $2-3
Private twin or double room in a casa particular – from $20/night
Entrance to Museum of the Revolution in Havana – $8
Horseback riding tour in Trinidad (3 hours) – $15
These prices are as of December 2016. All figures are the same in Cuban Convertible Peso.
Compare Cuba prices to the cost of travel in Mexico.
Note, these prices haven't been checked since 2016. Everything else on this page was updated in early 2019.
---
Money
Currency – Cuban Peso (CUP) /Cuban Convertible Peso (CUC)
£1 = 34.61 CUP / 1.31 CUC
€1 = 30.13 CUP / 1.14 CUC
US$1 = 26.50 CUP / 1 CUC
(All exchange rates are correct as of January 2019)
Cuba's two currency system can be quite confusing for newcomers. The Cuban Peso is designed for use by locals while the convertible peso, which is pegged to the US Dollar is aimed at tourists. Most of your transactions in Cuba will be in the latter. However you may be able to get some basic goods and foods in Cuban Pesos (it's completely legal to do so). If you speak good Spanish it helps and by regularly using the local places, your food budget should be low.
Note that when exchanging US Dollars for CUC at a Cuban bank, you will be hit by a 10% conversion fee so Euros, Pounds or Canadian dollars are better currencies to bring.
---
street art in Havana, Cuba
---
This post was updated in January 2019.
---