This post details the estimated cost of travel in Costa Rica. Below you will find a suggested shoestring and more comfortable Costa Rica backpacking budget. We also have some information about typical costs and sample prices for anyone travelling independently in this Central American country.
---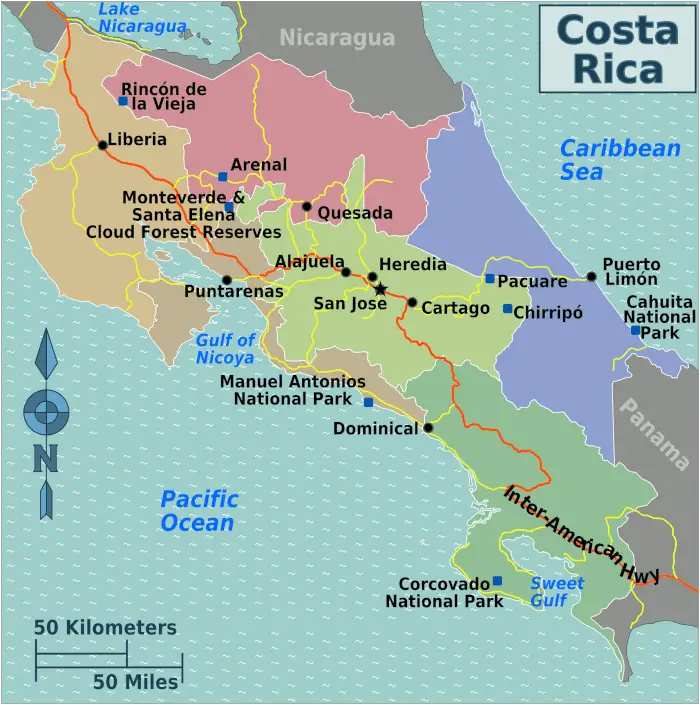 ---
Costa Rica Cost of Travel in 2023
---
Shoestring Backpacker Budget
US$35/day | 20,000 Costa Rican Colón
Costa Rica ranks as one of the more expensive Central American countries. The amount of money you need is comparable to what might be required for a Mexico backpacking budget and perhaps a bit less than the cost of travel in Cuba. However it is certainly more than in nearby Guatemala and Nicaragua.
A realistic Costa Rica backpacking budget for most shoestring travellers is around $35/day. That gives you enough for a dorm bed, some local food and the odd drink in budget restaurants and bars with a bit of money for day-time activities too but not a huge amount.
The country is pretty small and getting from town to town is really good value so you won't spend much on transportation. However Costa Rica is relatively expensive in other ways with activities and accommodation likely to take up a good chunk of your budget. As a solo traveller, you won't be able to afford a private room on this kind of budget as there is quite a leap from the cost of a dorm bed to a private rooms here. Even couples or friends travelling together may struggle to stick to $35/day each if you are staying in private rooms everywhere.
If you're at the other end of the scale and really are looking to save as much money as possible, consider bringing a tent and camping which is quite easy to do in Costa Rica.
More Comfortable Costa Rica Backpacking Budget
US$50/day | 29,000 Costa Rican Colón
Adding an extra $15/day will give you a lot more freedom to do more organised trips in the day or to spend more time in the beautiful national parks which can be expensive to visit. Costa Rica isn't really the kind of place where you can spend days wandering around towns with the natural sights the main attractions here. They can cost a fair bit of money to visit given some of them can only really be explored as part of a tour or with your own guide.
$50/day might be a suitable budget for anyone on a short trip to Costa Rica of a week or two and looking to pack a lot in, whilst still having the backpacker experience. Alternatively you could use this kind of budget as a way of avoiding dorms and finding private rooms in each place.
How much do things cost in Costa Rica?
| | |
| --- | --- |
| | Approximate Price in USD |
| Bus from San Jose to Puerto Viejo (4.5 Hours) | $12 |
| Meal in a local restaurant | $7-10 |
| Local beer in bar/restaurant | $2-3 |
| Dorm bed in a hostel | From $10 |
| Budget private room | From $20 |
| Kayak tour in Tortuguero National Park | $30-40 |
| Travel insurance for backpacking Costa Rica | Varies according to length of trip, your age & some other factors – Get a quick quote from Heymondo in 60 seconds! |
The above prices may seem high if you've been travelling around other Central American countries, particularly El Salvador, Guatemala or Nicaragua (our suggested Nicaragua backpacking budget is $25/day). However there are always ways you can save money and make your funds go further. For example you might be more inclined to cook for yourself more often here to save on food.
Another popular option is to volunteer in Costa Rica which should enable you to spend more time in the country whilst hopefully at least getting free accommodation and meals. Consider joining Worldpackers to get access to a large number of work/volunteer placements (89 opportunities in Costa Rica as of February 2023). This can include anything from social media work at an eco lodge to help caring for rescued dogs and cats. Find out more about travel with Worldpackers here.
---
Money in Costa Rica
Currency – Costa Rican Colón
£1 = 700 CRC
€1 = 620 CRC
US$1 = 575 CRC
The currency is the Costa Rican Colón with the exchange rates above accurate as of February 2023. However US Dollars are also pretty widely accepted in Costa Rica and usually at quite a fair rate so it's useful to have a stash of both.
---
This Costa Rica backpacking budget was updated in February 2023.
---
Costa Rica Backpacking Budget – How much money do you need per day?