Siem Reap is ideal for people travelling on a budget who want to eat well and enjoy both local Khmer food and international cuisine. You can still find cheap and tasty street offerings but the influx of tourists over the past decade means the number of restaurants and bars has grown rapidly. This guest post will guide you through ways to find the best food in Siem Reap.
While most visitors come to see Angkor Wat, the nearby World Heritage site, the city has developed a vibrant restaurant and nightlife scene and boasts a friendly atmosphere, making it perfect for frugal backpackers. Here are some of the best restaurants and cafes.
A guest post by Milda
---
Where to find the Best Food in Siem Reap
---
Local food in Siem Reap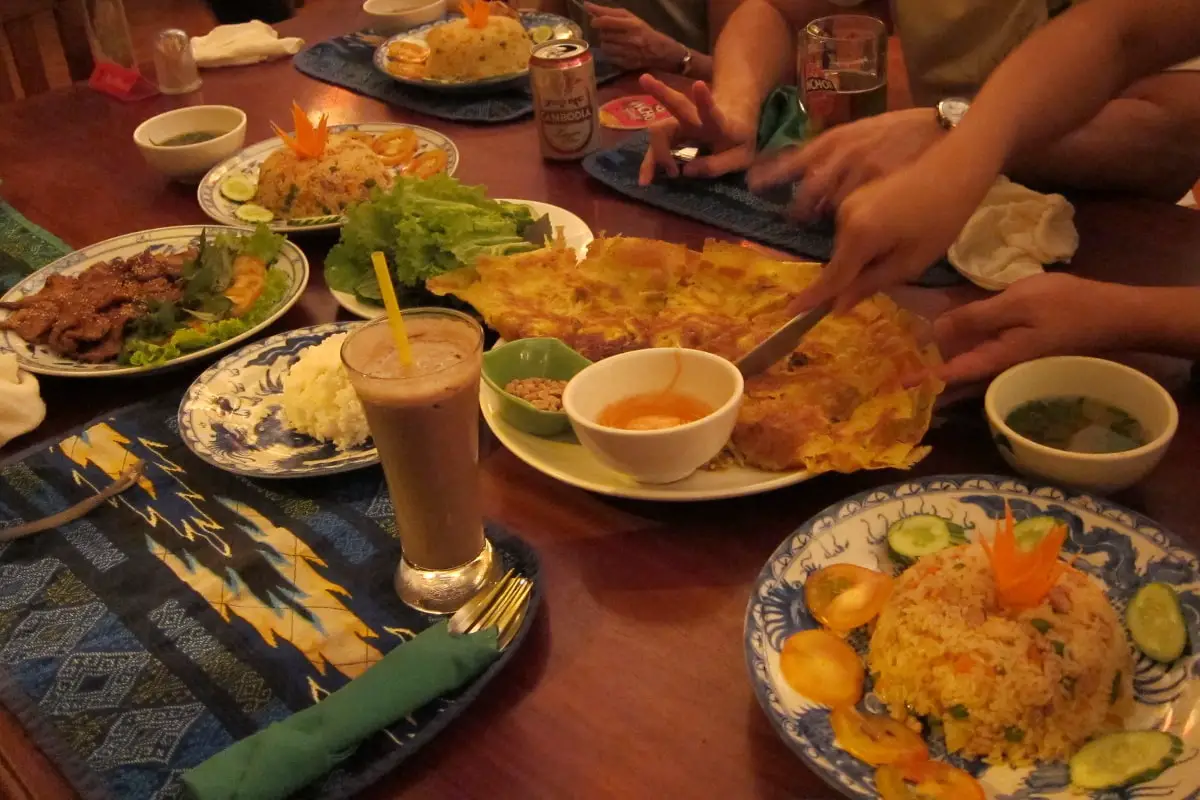 Angkor Palm
A favourite with locals and tourists alike, Angkor Palm is located near Pub Street. Here you can experience traditional Khmer dishes and well known soups. If you want to sample a bit of everything then they serve platters with a variety of dishes such as salad, spring rolls and fish dishes.
This restaurant is especially good for backpackers because they do cooking classes, giving you a chance to learn to cook Khmer style.
Butterflies
This restaurant has been around for a while so you are pretty much guaranteed a quality meal in a beautiful setting. You can dine in their garden which has 1500 Angkorean butterflies resting on 500 plants and trees.
They also play relaxing music so you can enjoy your meal in peace. They have a gift shop where you can buy souvenirs and on Tuesdays at 7:30 you can watch a traditional dance in the garden. If you want to write a blog post about your experience then you can use the free wifi. It's a good place to escape to if you need a break from the crowded city streets.
Mr Grill
Mr Grill serves mouth watering BBQ food and some of the best Khmer food in Siem Reap. Lots of locals come here to enjoy the extensive range of local dishes and relax with their friends. You can cook your food yourself if you like on their barbeque, adding something special to your dining experience.
It does get quite busy here because it is a local favourite but that just adds to the atmosphere. Don't miss this experience on your next trip to Siem Reap.
Soup Dragon
The Soup Dragon is a Khmer and Vietnamese restaurant with very reasonable prices. You can also get a few Western dishes here if you don't fancy a local delicacy. You can do some people watching at the roadside as you enjoy your food and watch the world go by. Here you can get breakfast, lunch and dinner for excellent prices.
---
International Cuisine
Red Piano
Red Piano is a popular restaurant which serves local dishes and Asian favourites, as well as Western food. It's located 50 metres northwest of the Old Market. People love this restaurant because of the quality of the food and the great atmosphere.
It has a distinctly local feel and the staff are very friendly. You can enjoy a few drinks after your meal when the restaurant converts into a bar around 10:00 p.m. Dishes cost between $5 and $10 and they serve breakfast, lunch and dinner.
---
Street Food in Siem Reap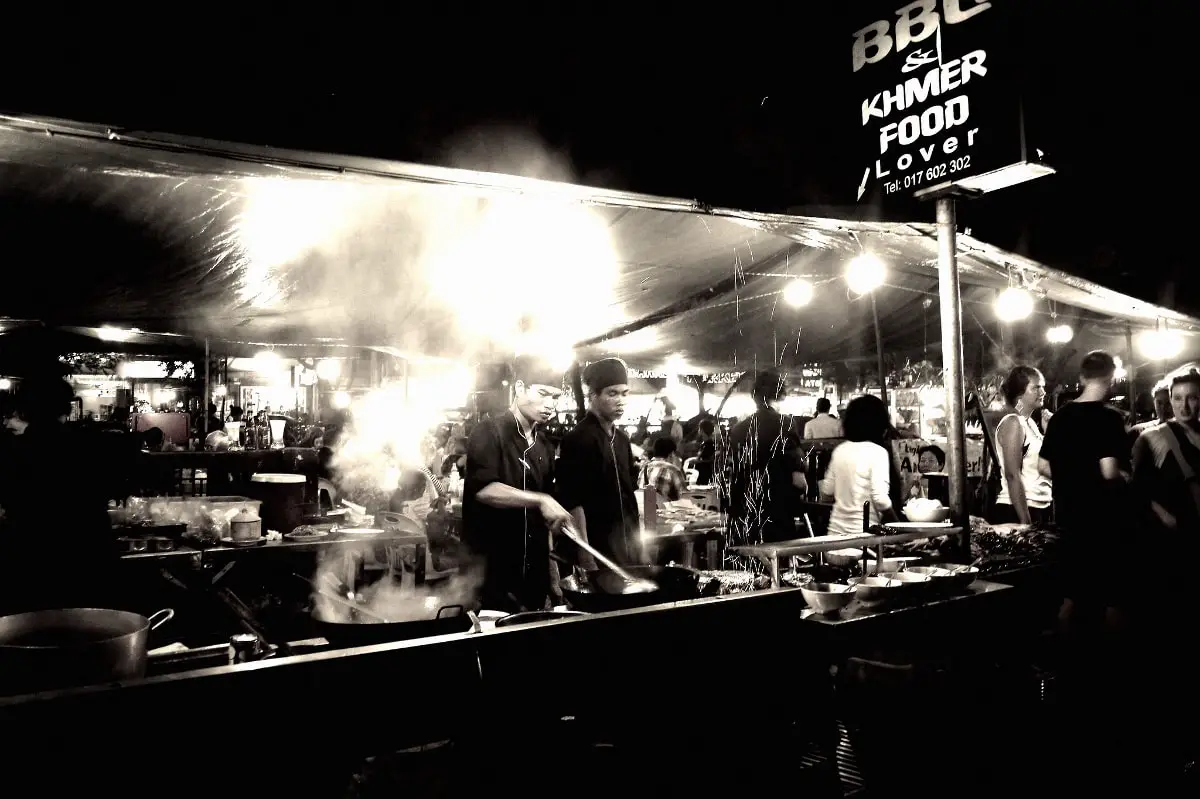 Some people get a bit put off by street food, but they are missing out on the true taste of Cambodia. It is only here that you can really enjoy fresh food and taste the real dishes of Siem Reap. Digging into a street food dish is an experience in itself because you get authentic food and you will often save money, although it's true that Cambodia is a very cheap country to travel in.
Don't be discouraged by the locals asking you to eat at their stall, just wander through the streets and take your time choosing somewhere to grab a bite to eat. Head to the Old Market and the stalls just off Pub street.
As the evening begins, lots of different stalls pop up and the streets start to come alive. You can try a range of local and international dishes such as noodles, salads, pasta, BBQ, soups and fried dishes. Enjoy some fresh market food in a lively atmosphere for low prices.
---
Cafes
There are lots of pleasant cafes in Siem Reap where you can get a fairly cheap meal. If you fancy a light bite or a sweet treat then head to one of the local cafes. Some of them serve more substantial dishes if you want a proper meal.
The best cafes include Blue Pumpkin, The Art Deli, La Boulangerie and Haven. You can snack on homemade bread and ice cream, pastries, sandwiches, salads and quiches. Some of the cafes have wifi so you can surf the internet whilst you enjoy an aromatic coffee.
---
Author Bio
Milda was the Community Manager @ Asia Rooms (website no longer active). Born in Lithuania (love it!), studied in the UK, travelled around Asia and USA, taught in Africa and now residing in Singapore where, equipped with a strong cup of coffee and surrounded by an amazing team, I'm blogging about travels, culture, events and hotels in Asia.
---
 This article on finding the best food in Siem Reap was originally published in March 2013.
A Guide to Eating in Siem Reap