Cambodia is a very popular backpacking destination in Southeast Asia and while visitor numbers are ever increasing, it retains plenty of its old charm. Less chaotic and more relaxed than its large neighbours Vietnam and Thailand, anyone backpacking Cambodia will discover a nation of great contrasts. It is home to magnificent temples, beautiful countryside and paradise islands as well as areas of extreme poverty while the scars of recent horrors are still all too real.
---
Cambodia Itinerary Overview
---
How long does it take to backpack Cambodia?
Cambodia is a relatively small country although getting around it can be very slow going. Therefore it's important to take this into consideration. For the itinerary below, three weeks would be about the optimum amount of time to spend.
Backpacking Cambodia Budget
Possible Shoestring Budget for this Itinerary: £430 €460 $500
These figures are based on March 2020 exchange rates. The cost of travel in Cambodia is quite difficult to give an accurate budget for because it depends so much on your travel habits and how long you spend at Angkor Wat. While it is cheap, party-orientated backpackers can also still end up going wild here and spending way more than this budget even if you're staying in dorms and being generally careful otherwise.
Note that $500 for this trip is a shoestring Cambodia backpacking budget and is based on 3 weeks travel not including the cost of flights in, visas or travel insurance. Increasing it to $600-700 will give you much more leeway for doing extra activities and excursions whilst maybe spending more than a day at Angkor Wat where the entry fee alone will blow your daily budget.
Backpacker Jobs in Cambodia
Use Worldpackers to search for work placements in Cambodia (options include teaching, helping out in an eco-lodge and even working in a cinema in Phnom Penh). As well as the experience, this is a good way to save money and extend your trip by bagging some free accommodation and meals in exchange for a bit of work.
You may also want to view our Worldpackers vs Workaway comparison for the lowdown on two of the best known sites for landing work or placements on the road.
Travel Insurance for backpacking Cambodia
The cost of travel insurance isn't included in the budget figures above. You can get a quote in less than a minute from Heymondo who provide well reviewed travel insurance for backpacking Cambodia and other countries. There's more on why getting travel insurance for backpacking trips is advisable here.
---
Backpacking Cambodia – A 3 Week Itinerary
Our Cambodia backpacking route starts in Siem Reap which is home to one of the two main international airports in the country. It's also the logical starting point for anyone arriving from Thailand. After the magnificent Temples of Angkor Wat just outside Siem Reap, the itinerary loops around taking in the scenic countryside of the north before arriving in the capital Phnom Penh. From there you head to Cambodia's beaches and islands in the south where you can still find some of the last bastions of virtually untouched island paradise in the Gulf of Thailand.
---
Siem Reap & Angkor Wat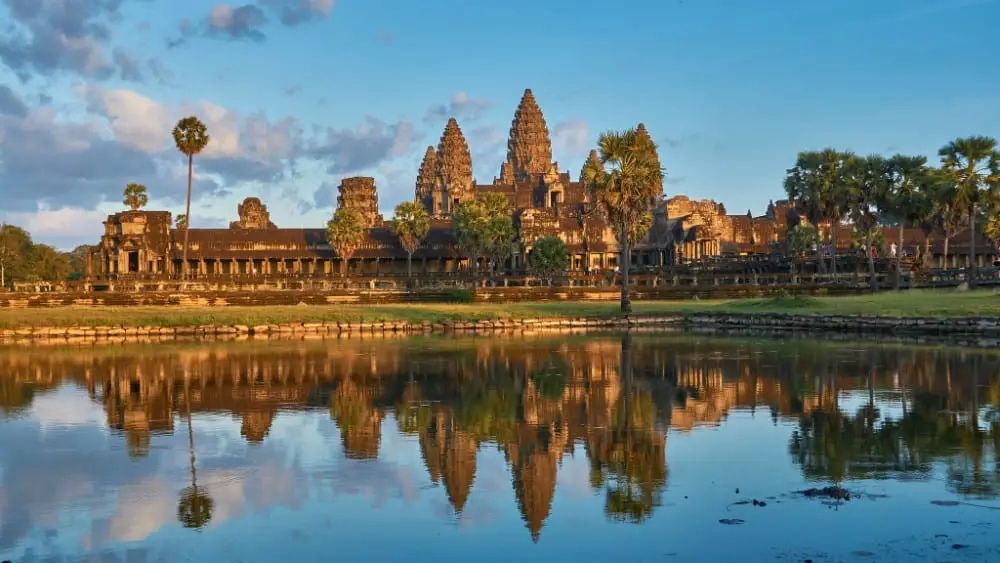 Siem Reap itself is largely a purpose-built town, that has grown from a tiny village to handle the ever growing numbers of travellers and tourists that arrive to visit the Temples of Angkor Wat. Its famous Pub Street is a popular meeting and drinking spot for backpackers and with plentiful budget accommodation and restaurants serving some of the best food in Siem Reap. It's a useful base for getting out to the extraordinary Temples of Angkor Wat.
Nestled in the jungle in the area surrounding Siem Reap, Angkor Wat is the symbol of Cambodia and a glorious reminder that this now impoverished nation was once home to the centre point of a powerful empire that covered most of mainland Southeast Asia. Budget-minded travellers should note that it is also by far the most expensive site in the country with 1-day tickets costing $37 while a 3-day pass is $62 (as of March 2020). This is just the cost of entry and you will need to arrange your own transport on top of that with a range of options from cycling around yourself to tuk-tuks and more organised tours.
The temples of Angkor Wat are spread out over a relatively large area hence why many travellers opt for multiple day passes. Even with your own driver, you won't be able to see them all in a day but you can see the main ones if you opt for the $37 day ticket. Either way this will be the most expensive period of your time in Cambodia.
Phnom Kulen
Just 50 km north of Siem Reap, you'll find the spectacular Phnom Kulen national park (admission $20). It is home to the country's most sacred mountain and is full of hiking trails and spectacular waterfalls.
Koh Ker
A bit further north still and you reach Koh Ker, an ancient Khmer city with close to 100 temples and considerably less crowds than you find at Angkor Wat. They aren't as impressive in terms of their scale but the central Prasat Thom – a huge stepped pyramid is still quite a sight and you can easily have a very enjoyable day here if Angkor Wat has given you the urge for another jungle ruin adventure.
Kratie
It's nearly 400 km by road from Koh Ker to Phnom Penh, which can take up most of a day so stopping off in Kratie to break up the journey a bit is well worth doing. This chilled out town on the Mekong River is a lovely place to unwind for a day and get a quintessentially Southeast Asian experience. It's also one of the best places to try and get a glimpse of the endangered Irrawaddy river dolphins. Head to Kampi Village (15 km north of Kratie) to maximise your chances of seeing them.
Phnom Penh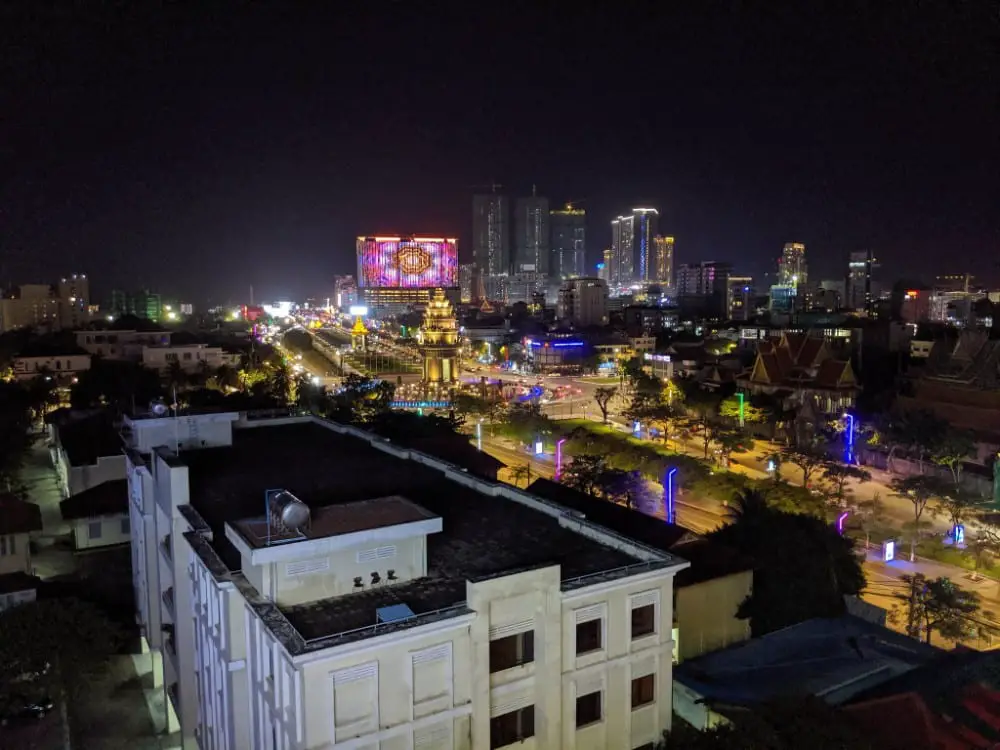 Phnom Penh at night, CC BY 2.0
Phnom Penh is not only the capital of Cambodia but the only place that really even resembles a proper city with its population being six times larger than Siem Reap – the next largest in Cambodia.
It's also the best example of just how extreme the contrasts can be in this country. While not on the scale of Bangkok or even Ho Chi Minh City, Phnom Penh in parts has fancy bars, restaurants and malls that cater for tourists and the small percentage of wealthy Cambodians. Move away from the centre though and there are many ramshackle neighbourhoods where the struggle for survival is a daily battle for many people.
From a traveller's perspective, this is also the best place to try and make sense of the Cambodian Genocide where between 1.5 and 2 million people (roughly a quarter of the country's population at the time) was slaughtered by the Khmer Rouge under the leadership of Pol Pot between 1975 and 79. The Killing Fields are located just out of town and are easily reached by a cheap moto or tuk-tuk ride from the centre. In the city itself, you can also visit the Tuol Sleng Genocide Museum – formerly a prison where thousands were tortured.
Sihanoukville
Sihanoukville is a beach town and it is still a big backpacker hub with a party vibe and plenty of places to drink yourself silly. It has though developed a seedier side in recent years and many travellers prefer to simply use it as a main gateway to the Cambodian islands.
The most accessible are the largely deserted and mostly unspoiled Koh Ta Kiev and tiny Koh Russei (Bamboo Island). Both are within an hour by boat of Sihanoukville and can easily be visited by day-trip although there is some beach bungalow accommodation on both. Remember to take sufficient cash if you do opt for overnight stays as there are no banks or ATMs on either island.
Koh Rong
Further out at roughly 2 and a half hours by boat from Sihanoukville, Koh Rong is one of the main backpacker islands in Cambodia with Sunrise Beach your best bet for budget accommodation. There's plenty to explore away from Sunrise though with dozens of sandy bays and coral reefs to discover.
Koh Rong has slightly more facilities than the other islands in the area and there are ways to get money out from your bank, albeit with large charges as there are no ATMs. Essentially cash is still king and you should bring enough to last you until your return to the mainland if you are heading out to any of the islands for any period of time.
Koh Rong Samloem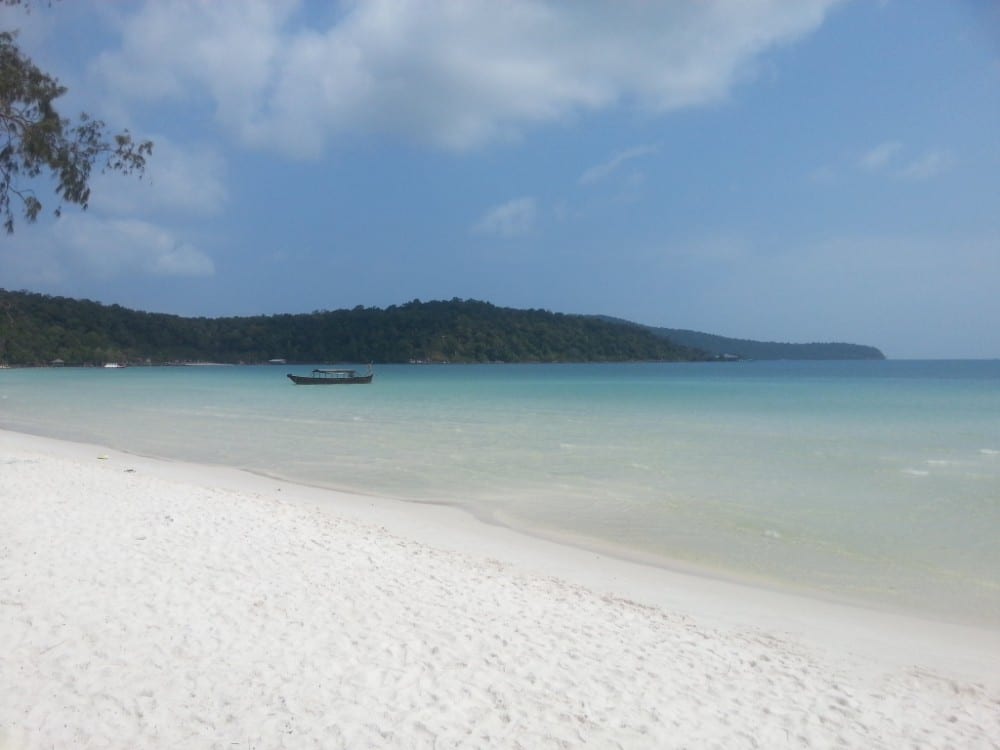 Koh Rong Sanloem, CC BY-SA 2.0
Koh Rong's little brother is the neighbouring Koh Rong Samloem, a small backpacker island paradise with cheap dorms and all-night parties, including Cambodia's best full moon party. It's small enough that you could probably walk around the whole island in a day but so far at least, there have been very few hotels or other developments which gives it that rustic feel and the sensation that you are a long way from anything resembling modern civilisation.
Kampot
Back on the mainland, Kampot is another pleasant riverside town with a surprising amount to see and do relative to its size. Those looking to spend lazy days by the river will certainly enjoy it but if you're looking for something more active, rent a bike and explore the city's temples, markets, statues and bridges and be sure to check in one of the many pepper farms with the production of the spice, a real local speciality.
For those more interested in spending time amongst nature, you can also use Kampot as the gateway to the Bokor National Park which is home to many walking trails and an old French hill station.
Kep
This is a quieter beach town and fishing village, certainly in comparison to Sihanoukville. If the partying scene is not really your thing, you will most likely prefer it to Cambodia's other beach resorts as it's much more peaceful with limited developments and few party options. It does have some excellent restaurants though and Kep is famous for its tasty crab.
Koh Tansay (Rabbit Island)
To get away from it all even more, head to nearby Koh Tansay (20 minutes by boat from Kep), commonly known as Rabbit Island. This is a really small place with very few facilities but there are plenty of beach bungalows and it's a nice place to unwind and have a relaxing end to your Cambodia backpacking trip. From the main beach in Koh Tansay, you can also arrange boat and snorkelling trips to some of the tiny nearby islands.
Anyone going home or moving on will probably need to first head back to Phnom Penh, which is a 3-4 hour bus ride from Kep. The Cambodian capital is well connected with international flights out while there are also many connections to Vietnam.
If you're coming from Vietnam to Cambodia, it makes sense to do this route in reverse and end up in Siem Reap before most likely heading on to Thailand.
---
Check out our other Asia backpacking routes!
---
Cambodia Backpacking Tips
Visa Requirements for Cambodia
Only people from other countries in Southeast Asia can get in without a visa. While it's possible to apply for an e-visa in advance, it's simpler and cheaper to just show up at the border and pay the $30 visa fee (entry on arrival). This will enable you to stay in the country for up to 30 days which should be more than sufficient. If you plan to stay longer for any reason, extensions are possible.
Extending your Trip & Getting off the beaten track
This is a fairly thorough route which covers all the major travel highlights in Cambodia. If you have more time, you could travel south from Siem Reap to the riverside city of Battambang, home to the infamous bamboo railway.
Heading further south, travel is slow going due to the Cardamom and Elephant Mountain ranges but Chi Pat and Koh Kong are also nice stops for anyone wanting to go that way. The latter is also a border crossing with Thailand so it's perfectly feasible to enter Cambodia at Koh Kong and then travel north to Siem Reap and start the above Cambodia itinerary from there.
The northern and eastern parts of Cambodia are the least visited and your best bet if you're really looking to get off the beaten track. The northeastern provincial capital of Banlung is a good base for exploring the impressive waterfalls and national parks in the area.
Most travellers of course don't just visit Cambodia. In the region, our Laos backpacking route offers a similar kind of vibe while Thailand and Vietnam are the other most popular options.
Shortening the Route – 1 & 2 Week Backpacking Itineraries for Cambodia
Three weeks is a really nice period of time to experience the best of Cambodia but if you only have one or two weeks then you can still fit quite a lot in.
Siem Reap – or more specifically Angkor Wat – and Phnom Penh are the two essential stops and you'll want at the very least a couple of days in both. If you only have a week, it's probably not worth hitting the coast so you might just want to try and look for a nice extra stop between Siem Reap and Phnom Penh and leave it at that. Kratie or Battambang might be good options in that case.
If you have two weeks then you have more options. Beach lovers and party seekers may look to do the above route but travel direct from Siem Reap to Phnom Penh, i.e. skipping Phnom Kulen, Koh Ker and Kratie. You might need to skip either Kampot or one of the islands too, in order to fit your itinerary into a fortnight.
If you're not looking to party then consider doing the above route but skipping Sihanoukville, Koh Rong and Koh Rong Samloem.
Is Cambodia safe for backpackers?
Cambodia isn't particularly any more dangerous than any of the other countries in the region and the people are mostly lovely. However it is very poor and even shoestring travellers and backpackers can seem like they are living the life of luxury in comparison to locals which can make travellers a target for theft.
With drink and drugs widely and very cheaply available, the biggest danger to travellers can often be themselves and it is the sort of place where it's very easy to lose track of any kind of normality by getting sucked into the wild party scene.
Taking out proper travel insurance before you set foot in Cambodia is very important as this is a state with widespread police corruption and poor healthcare infrastructure so you want to have some kind of safety net in the event that things do go wrong.
The most dangerous places are probably the border towns, particularly Poipet on the border with Thailand, with a host of unpleasant characters and tricksters creating an unfavourable first impression of the country. It's best to leave as soon as possible or pay a few extra dollars and take a direct international bus to your destination.
Is it cheap?
The short answer is yes, Cambodia is a very cheap country by just about any standard and it's one of the cheapest countries to visit in Southeast Asia, which is a very affordable region anyway. However there are some very significant caveats.
Firstly, unless you are from Southeast Asia, you will have to pay $30 just to enter. Almost everyone goes to Angkor Wat which is another $37 and that's just for the day pass. Some of the national parks also have quite steep entry fees so while food, drinks, transport and accommodation may be cheap, you can still end up forking out quite a bit of money on these things which can easily blow your budget if you're only spending a week or so in the country.
How does Cambodia compare to Thailand?
Cambodia's limited rail network, CC BY 2.0
Cambodia is marginally cheaper than Thailand on the whole and considerably less developed. Phnom Penh is the only city with the sort of energy that compares to cities in Thailand with the pace of life in Cambodia considerably slower. It is more similar to Laos than Thailand and is much more relaxed than neighbouring Vietnam which is home to plenty of chaotic towns and cities with a much larger population crammed into less space.
There are also far more examples of extreme poverty than you find in Thailand too which can be upsetting for some. Cambodia's relationship with pain and suffering is of course still very much dictated by the horrendous genocide that took place here in the 1970's. Generally their approach is to smile, laugh and get on with things, even in very difficult circumstances.
From a travel perspective, there is considerably less tourism in Cambodia compared to Thailand but that is changing fast with large numbers of Chinese visiting the country these days while the expansion of Siem Reap Airport has ensured that Angkor Wat is far busier than it used to be. There are also plenty of large hotels and casinos being built in parts of the country to bring some much needed cash into Cambodia but it's not hard to get away from this with some regions and islands still relatively untouched by foreign developments.
Getting around is slower going than in Thailand with bumpy roads and slow buses the way of things for most travellers. Cambodia has recently restored a couple of railway lines which make for an alternative option while the most scenic way to travel is by boat with several major rivers flowing through the country and connecting many of the major destinations.
---
This Cambodia itinerary was published in March 2020.
Please use the comments section below for queries. We aim to respond to all questions!
---
Cambodia Backpacking Route