Vietnam is one of Southeast Asia's most popular travel destinations and most travellers pass through Ho Chi Minh City (AKA Saigon) at some point. It is the largest city in the country with an estimated 9 million people living there and that number swells to more than 20 million when you consider its full metropolitan area. For travellers, it can be an intimidating place to visit for the first time but the centre is compact enough that you can see and do quite a lot on foot or via a short moto-taxi. Read on for our Ho Chi Minh City backpacker's guide to find out more!
---
Saigon & The Vietnam War
---
Vietnam endured a troubled 20th Century in which it was first ruled by the French, before their final expulsion left the country split in two. A horrific civil war ensued which saw millions die.
The war began in 1955 with US forces becoming heavily involved throughout the 1960's as they attempted to prevent the communists in the North taking control of the entire country. Based in Saigon, the US and South Vietnamese forces fought a long guerrilla war in the region with the Viet Cong (a communist group in the south). After suffering and inflicting heavy casualties, US troops withdrew in 1973. After the eventual fall of Saigon in April 1975, the city changed its name to Ho Chi Minh City in honour of the man who formed the Vietnamese Communist party.
The country was finally united as a socialist state in 1975 and has been ever since, although much-like in neighbouring China, socialist economic principles are not strictly enforced any more. Vietnam today is a fast growing nation of nearly 100 million people enjoying increasing economical and political power in the Southeast Asian region. Nowhere are the vast changes more evident than Ho Chi Minh City (aka Saigon) which is a great place to experience a modern and vibrant Asian city while also delving into the country's traumatic recent past.
Reunification Palace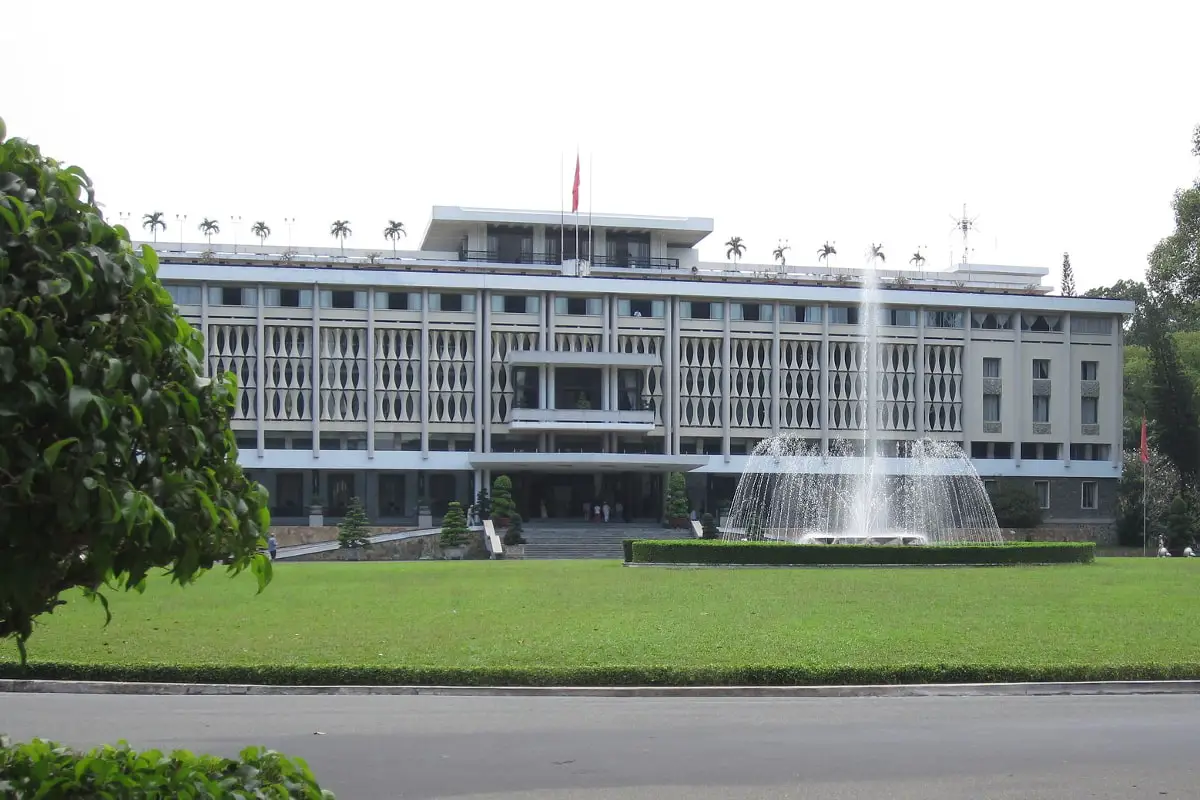 Once known as the Independence Palace, this was where the US and South Vietnamese leaders were based during the War. On 30th April 1975, the Communist forces stormed the palace bringing an end to the 19 year conflict. Quite deliberately, nothing has been changed inside the Palace since 1975 so it remains in something of a time warp. Only the gates outside that were destroyed have been replaced and it is now open to visitors and makes for a fascinating couple of hours.
War Remnants Museum
This museum houses some shocking photos of severely maimed people and those who have been left with or often born with serious disfigurements as a result of weapons and gases used during the war. Outside you will find captured US tanks and airplanes from the era.
Some people do find the museum very upsetting but it does demonstrate the tragedies that took place during the Vietnam War. Unquestionably the US forces committed some atrocities in the region, however it's fair to say that the museum gives a very one-sided account of the events that took place.
Cu Chi Tunnels
If you find yourself backpacking in Ho Chi Minh City or nearby then half or full day tours to the Cu Chi Tunnels are a must-do. They are 40 km out of town but can be organised by any of the agencies in Pham Ngu Lao (detailed below).
The tunnels were dug during the period of French occupation before being expanded during the Vietnam War (known as the American War in Vietnam). They provided the Cu Chi people with a strategic advantage.
---
HCMC today: Moto City
---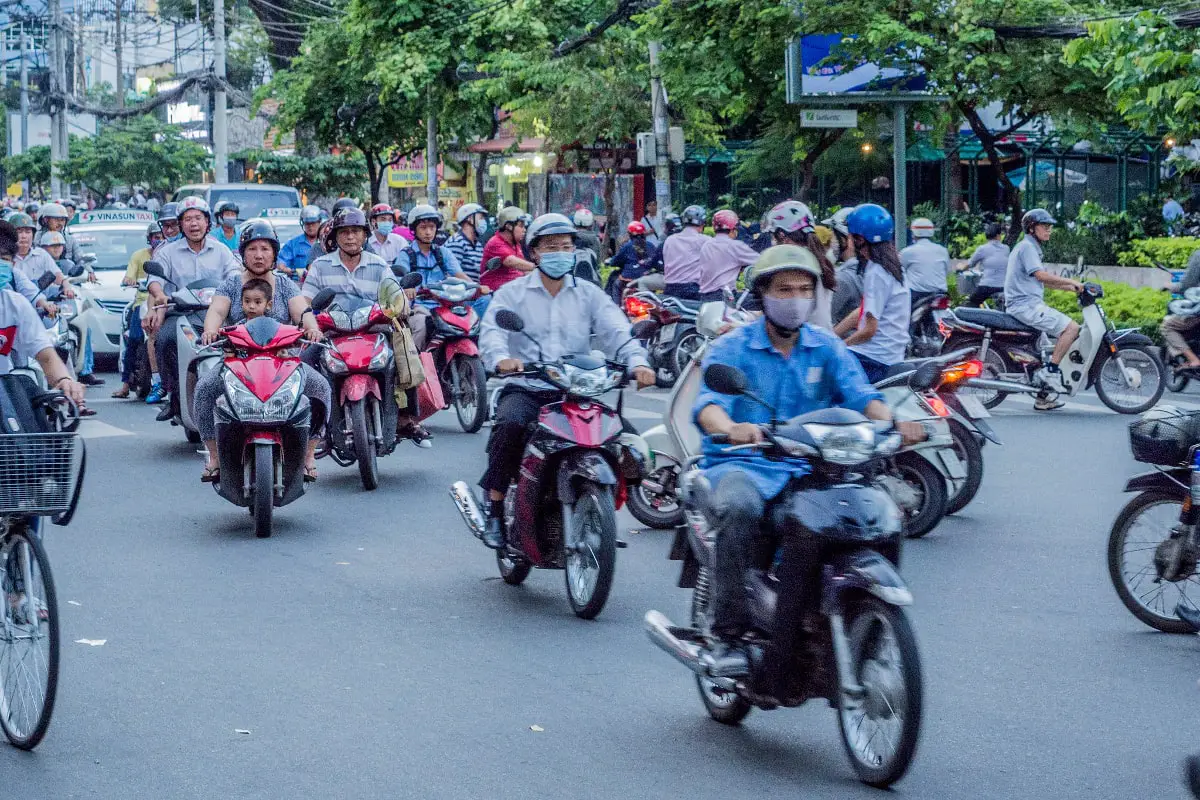 Today Ho Chi Minh City is a large and very busy metropolis. Almost the only way to get around is by motorbike. The traffic is completely bonkers and just trying to cross the road can be a terrifying process as there is almost never a gap in the traffic. Hop on a moto-taxi or if you're especially brave hire out a bike and try to navigate your way away around Vietnam's biggest city.
When backpacking in Vietnam it is impossible to escape the history war but it is an increasingly distant memory for most locals and American visitors are very unlikely to receive any hassle about it. Most Vietnamese are naturally friendly people and with a very young population this country is moving on up and developing at quite a rate.
The city is made up of many numbered districts, each of which has their own feel. District 1, in the centre of the city is known as the French Quarter for example and this is reflected in the architecture. It is well worth hopping on a bike and heading out into some of the suburbs which are generally very safe for a true flavour of what life is like for the residents of this enormous city.
Pham Ngu Lao: Saigon's Backpacker Ghetto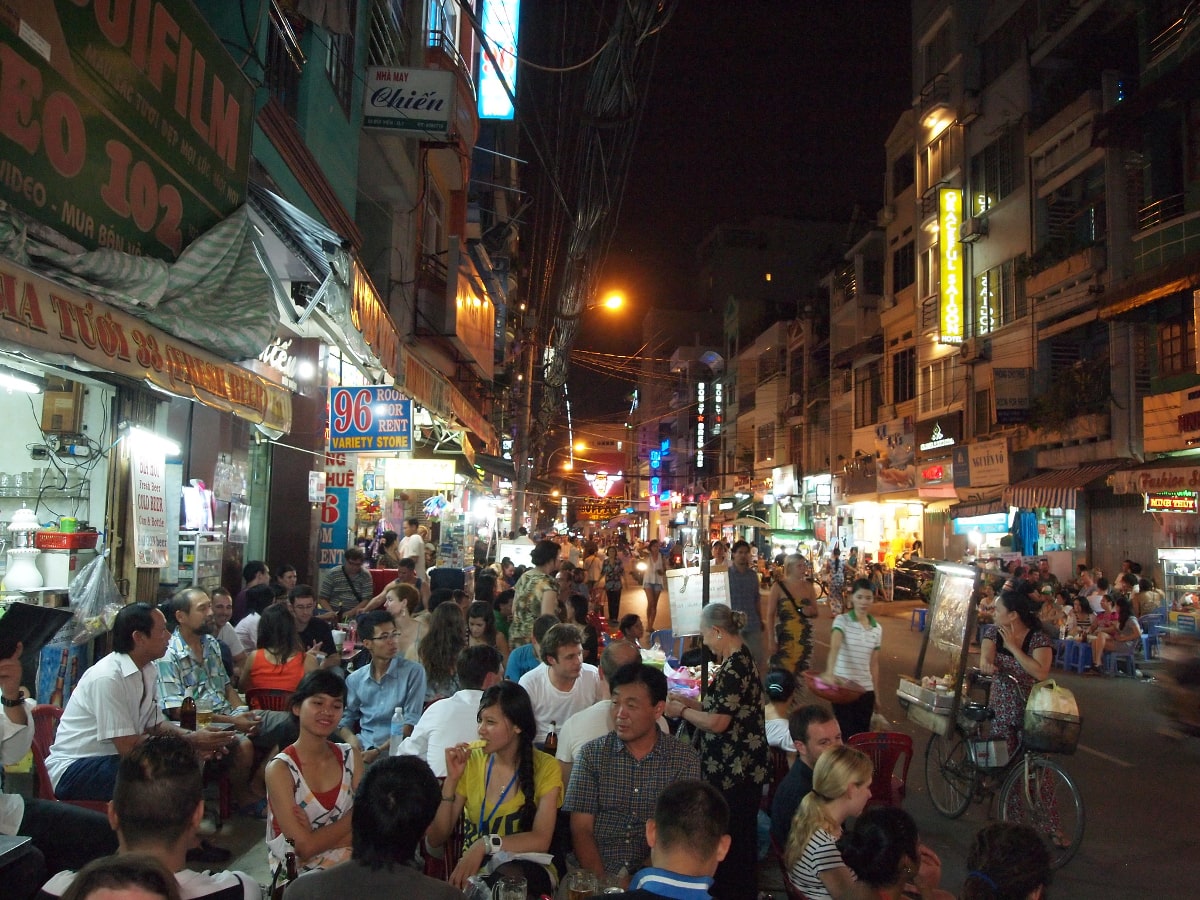 This is very much backpacker central and is where you will find the most hostels in Ho Chi Minh City. It consists of two main roads and many little side streets connecting them. Here you will find an enormous choice of world cuisine with meals costing as little as US$2-3 (See our Vietnam backpacking budget for the latest prices). There are loads of budget accommodation options, launderettes, bars and basically everything else that a backpacker in Vietnam might need. It's the location of Ho Chi Minh City's popular Beer Street, a strip of Bui Vien Street which is very popular with travellers.
You won't be able to walk 10 metres without being shouted at by one of the moto drivers who congregate in the area looking for foreign business. This can be an advantage as you will never have to wait to get a lift to where you're going but can also get quite annoying after a while.
The bars in Pham Ngu Lao are good fun and tend to be cheaper and less seedy than the ones in the rest of Central Saigon which charge very high prices and often attract a strange mix of old Western men and young Vietnamese prostitutes.
---
This Ho Chi Minh City Backpacker's Guide was originally published in July 2011.
---
Ho Chi Minh City Backpacker's Guide