Planning a backpacking trip in any reasonably large region can be quite a headache, particularly when it comes to judging the optimum times to visit the destinations you have in mind. A region like Southeast Asia has some fairly large climatic variations as you move around. Therefore whatever time of year you pick, you'd have to be seriously lucky to avoid bad weather altogether. This article though should help you determine the best time to visit Southeast Asia, although that answer may be different depending on what your priorities are.
Southeast Asia Climate
January & February
The year starts at the very peak of the tourist season in Southeast Asia. Mainland SE Asia and the Philippines are mostly warm and dry but temperatures aren't as scorching as at other times in the year. The January rains fall further south with the East Coast of Malaysia (mainland) and much of Indonesia experiencing heavy rain at this time. That situation generally continues into February although the Malaysian rains have eased by the end of the month.
March & April
Mainland Southeast Asia continues to be mostly dry heading into March but the heat is becoming noticeably more intense. Indonesia's most popular travel regions meanwhile are approaching the end of their rainy seasons. By April, much of Southeast Asia is now as hot as it is all year making travelling and sightseeing a sweaty pursuit. You can though find some respite in more Northern regions. Hanoi for example is a tolerable 28°C and experiences more of a typical Northern Hemisphere climate with clearer winter and summer patterns, not that it ever gets seriously cold.
May & June
The heat remains intense in May in most of the mainland and the Philippines making the start of the monsoon season a somewhat welcome relief in June. Most of the rainfall at this time comes in the form of a short, sharp downpour. By the end of June, Bali is pretty dry and marginally cooler than earlier in the year making it a popular time to visit.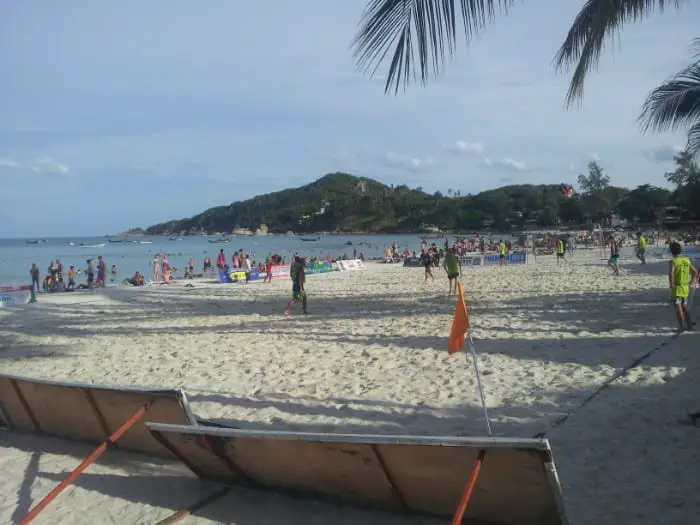 July & August
The rainy season in most of Southeast Asia becomes more intense in July but there are exceptions. Koh Tao and Koh Phangan for example are more likely to escape the worst of the rainfall at this time. By August, afternoon showers are more the norm again although you can still expect the odd total washout when travelling around the region, which can be a slow and miserable experience on the wettest days. Indonesia is a better place to be around August and September.
September & October
Bangkok experiences its wettest month of the year in September and flooding is not uncommon in much of Thailand, Cambodia and Laos at this time while typhoons can sometimes wreak havoc in Vietnam and the Philippines. The situation continues into October but has generally eased considerably by the end of the month.
November & December
By November the rainy season is more or less over in most mainland areas and most of the region is green but dry with temperatures cooling down, particularly at night in the North or in raised areas. The rains though have returned to the East Coast of Peninsular Malaysia (spreading into Southeastern Thailand) and much of Indonesia and remain until into the New Year. December marks the start of what is considered 'peak season' in Southeast Asia with warm, dry conditions awaiting the masses of visitors that come over the Christmas and New Year period.
Worst & Best Time to Visit Southeast Asia – Main Destinations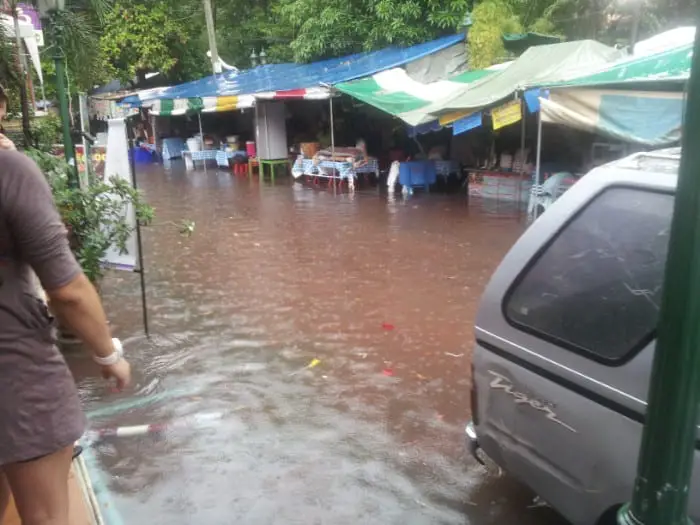 In purely weather terms, there are a few simple rules of thumb to follow in determining when to visit Southeast Asia but the situation isn't the same across the board so you will need to decide upon your priorities.
Best Time to Visit Thailand (South)
Southern Thailand stays hot throughout the year with maximum temperatures ranging from 30 to 35°C on the Andaman side (Krabi, Phuket, Phi Phi) and a fraction cooler 29 to 33°C on the islands in the Gulf of Thailand (Koh Tao, Koh Phangan, Koh Samui). Any day of the year can provide great beach weather but you stand the best chance of avoiding the rains between December and March on the Andaman coast while February to April are the best months in the Gulf of Thailand with fewer than 10 days per month seeing any wet weather.
Worst Time to Visit Thailand (South)
The Andaman coast sees plenty of rain between May and November with September and October the wettest months. The monsoon seasons picks up slightly later in the Gulf of Thailand with November perhaps the worst time to visit Koh Phangan or Koh Samui as the rains are absolutely torrential then but they have eased considerably by the end of the year.
Best Time to Visit mainland Southeast Asia (Northern Thailand, Laos, Cambodia, Vietnam)
For a typical loop of Southeast Asia, loosely speaking November to February would be a decent time to aim for with December and January offering the best conditions with the odd exception. This is because this is generally the driest part of the year and temperatures are still warm but a fraction cooler than they are at other times.
Worst Time to Visit mainland Southeast Asia (Northern Thailand, Laos, Cambodia, Vietnam)
May to September is the period when you will probably experience the most rain on an extended trip across Southeast Asia. However in general, March to May are the hottest months when sightseeing and getting around can be quite uncomfortable everywhere apart from the Northernmost cities such as Hanoi.
Best Time to Visit Bali (& Around)
Bali, the Gilis and the island of Lombok form the core of most backpacking routes in Indonesia. The equatorial proximity ensures it is hot throughout the year so beating the rain is the main goal. August is almost certainly the best month to visit Bali weather-wise with barely any rain but any time between July and September should guarantee sunny, dry conditions with very few exceptions.
Worst Time to Visit Bali (& Around)
From December to mid-March, Bali and neighbouring islands in Indonesia experience their rainy season, which peaks in January.
Southeast Asia's Best Festivals
Songkran by Chindit76, CC BY 2.0
While climatic considerations are clearly important, anyone travelling in Southeast Asia for a couple of months or more will also want to consider what festivals they could take in.
January
Aguman Sanduk – Cross-dressing New year festivities in the Philippines.
Dinagyang – Street parades and parties in the Philippines.
Thaipusam – Hindu festival in Kuala Lumpur, Malaysia.
February
Chinese New Year – Celebrated across the region, particularly in Northern Vietnam.
Tet – Vietnamese New Year. A time to settle old scores and debts.
March
Nyepi – A one day festival of silence in Bali. A surreal experience as literally everything shuts down and everyone shuts up.
March/April
Easter – Big deal in the Philippines with people volunteering to crucify themselves in San Fernando!
April
Songkran – Splishy, splashy fun. This is Thailand's big water fight!
May/June
Boun Bang Fai Rocket Festival – People in Laos make rockets and fire them into the sky with varying degrees of success.
September/October
Phuket Vegetarian Festival – Gruesome methods to rid the body of evil spirits.
October/November
Loy Krathong – Thousands of lanterns illuminate the sky in Chiang Mai, Thailand.
November
Bon Om Tuk – A water festival in Cambodia featuring dragon boat races to celebrate the end of the rainy season.
Once a Month
Full Moon Parties – The world's biggest beach party once a month in Koh Phangan and at Christmas and New Year. Worth considering how to time this into your trip if it's a big priority.
Backpacking Southeast Asia – Best Time to Go
Like anyone else, backpackers will certainly want to consider the weather and what festivals there are when it comes to visiting Southeast Asia. However travelling away from the peak tourist season (December & January in Southern Thailand, August in Bali) should lead to a cheaper trip as accommodation is more plentiful and prices fall. With an increasing influx of Chinese visitors, Southeast Asia's most popular travel destinations are only likely to become ever more crowded in the coming years. As a result, there's certainly a strong argument to be made for backpacking in Southeast Asia away from the very peak periods.
If you can tolerate heat, February to May is a pretty good time to travel around Southeast Asia with mostly dry conditions and some of the best festivals such as the Chinese and Vietnamese New Years as well as Songkran. If it all gets too hot then you can always just head to the islands of Southern Thailand, which have great weather at this time of year but are just past their peak tourist seasons.
For those wanting to avoid the hottest of the weather as well as the crowds then October to November is a decent plan for a backpacking trip around mainland Southeast Asia. You will most likely encounter some torrential downpours and the odd washout still but the rain shouldn't be so intense that it will ruin your trip.
Indonesia is much less touristy on the whole so the crowds are less of a factor there and you can mostly base your decision on the climate. That said, you will get better deals in Bali if you visit away from August when it is at its busiest.
---
This article was published in December 2018.
Comments/thoughts welcome below!
---
Featured Image of Bali, CC BY-ND 2.0
When to Go to Southeast Asia – Best and Worst Times to Visit