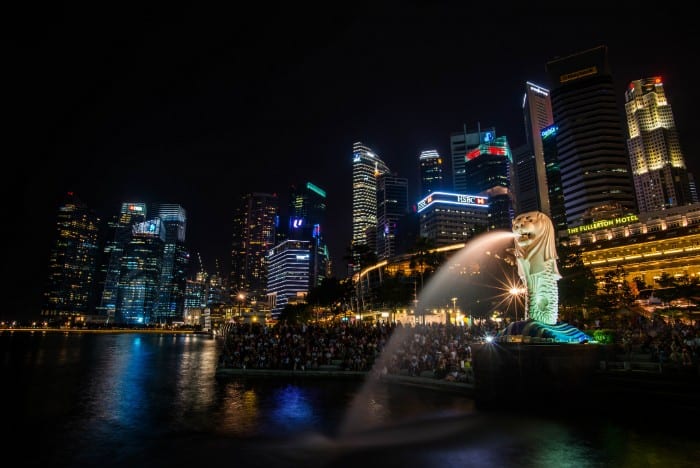 Singapore Cost of Travel – Suggested Daily Budget
This post details the estimated cost of travel in Singapore. It is known as an expensive place but we have outlined two daily travel budgets – one for shoestring travellers and one for those on a slightly more comfortable backpacking budget. Further down there is details on the local currency and sample prices for travellers in the city-state.
---
---
How much does it cost to visit Singapore?
Singapore Travel Costs on a Shoestring Budget
US$40/day | 55 Singapore Dollars
Singapore has a reputation for being a very expensive place and that is true to an extent. That being said it hugely depends on what kind of trip you want to have. Certainly it is far more expensive than the rest of Southeast Asia with most things costing at least double what you find in other countries in the region. Alcohol is very expensive and if you're visiting the city-state as part of a trip in SE Asia on a small budget, you'd be wise to save your partying for other places. Our suggested Singapore backpacking budget of $40/day will disappear in a couple of hours if you decide to go out to one of the many swanky clubs and bars but you can probably afford one night out if you are there for 3 or 4 days on this budget (pre-drink though!).
However Singapore does have one or two advantages for the budget traveller. The main one being that it is basically just a city and you won't spend any money going from town to town like in other countries. Travelling around Singapore is relatively cheap and if you choose a hostel in a good location, you can see a lot of it on foot. Picking a hostel with self-catering facilities will also help cut your costs considerably as eating out two or three times a day will take up a big chunk of this budget.
One of the main attractions to Singapore, which is one of the world's most densely populated countries, is shopping and there is an almost nonsensical amount of mega shopping malls to spend your money in. Our budget of $40/day is by no means unrealistic for your every day needs and a bit of sightseeing but clearly doesn't allow for much shopping so you might want to set another $100 or more aside if you are looking to hit the malls.
Cost of Travel in Southeast Asia
More Comfortable Singapore Backpacking Budget
US$70 | 95 Singapore Dollars
Singapore isn't really designed for shoestring travellers and to really make the most of it and experience the best of its cuisine, nightlife and attractions you might want to set aside something more in the region of $70/day plus. Even the airport is full of tempting ways to spend your money but given you only need a few days to really experience Singapore perhaps it's worth budgeting a bit higher and then saving up in places where it is easier to travel on a shoestring.
Read more: When to go to Southeast Asia
---
Travel Insurance for a Backpacking Trip to Singapore
Note that these budgets do not cover any pre-trip costs such as booking flights to Singapore or indeed the cost of travel insurance. We have a general list of what we consider the best travel insurance for backpackers here.
---
Is Singapore costly?
(all prices are in Singapore Dollars – Exchange Rates below)
One way ticket on local transport – S$1.30-2
Meal in an inexpensive restaurant – S$12
Large beer in a bar/restaurant – S$8
Dorm bed – from S$15/night
Budget private double or twin room – from S$35/night
1 Day pass at Universal Studios – S$74
Note, these prices haven't been checked since 2016. Everything else on this page was updated in early 2019. Singapore is clearly very expensive in comparison to the cost of travel in Indonesia or the cost of travel in Cambodia for example so be sure to save some funds if this is the final destination of your trip.
---
Singapore Money
Currency – Singapore Dollar
£1 = 1.73 SGD
€1 = 1.56 SGD
US$1 = 1.36 SGD
(All exchange rates are correct as of January 2019)
---
MFT Recommends
There are lots of hostels in Singapore but most of the cheap ones are pretty bad. Coziee Lodge is one of the few that consistently gets good reviews and it's not surprising with beds in 4 bed dorms going for as little as S$18 while standards of cleanliness are high and the location is a convenient one for exploring the city.
---
street art in Singapore (via Les Halnes, CC BY 2.0)
---
This page was last updated in January 2019.
---