Sri Lanka is little more than a speck on the map in contrast to its giant neighbour India. Were it a US state, it would only be the 41st biggest. In terms of Europe, it is almost exactly the same size as the Republic of Ireland. However despite being small, Sri Lanka does have some significant regional variations in terms of climate which you need to be aware of before planning a trip. This article should help you decide the best time to visit Sri Lanka.
Sri Lanka Climate
Temperatures remain pretty constant throughout the year with Sri Lanka not far north of the equator. The capital Colombo for example has average highs of 30°C in its coolest month and average highs of 32°C in its warmest month. That situation and those kind of figures are loosely replicated across the country. However you will find slightly lower temperatures at higher altitudes in the central regions. Daylight hours are also constant throughout the year at around 12. However what you do need to plan for is the rain and specifically the two main monsoon seasons.
January & February
The first couple of months of the year are some of the most popular for a trip around Sri Lanka as a whole. January marks the end of the Maha monsoon, which brings heavy rain to the North and East of Sri Lanka. By the end of the month and into February, all regions are mostly bathed in sunshine and beaches are packed with tourists, mostly European. It should though be said that while this is one of the 'dry' parts of year, Sri Lanka is a tropical country. Rain can still fall almost anywhere at any time.
March & April
The high tourist season concludes in March however the weather remains pretty good throughout April. This makes it another good time for a backpacking trip throughout the country with less visitors and generally dry weather. Look out for the New Year celebrations in the middle of the month though when accommodation and transport fills up quickly. Also be wary of the potential for an early start to the Yala monsoon season towards the end of the month.
May & June
May marks the start of the Yala monsoon season which blows in bringing lots of rain for close to four months although it is often at its most severe in May. It mostly affects the South and West Coasts but also some inland areas. This does have the advantage of reducing prices but Sri Lanka is a cheap country to travel in anyway. If you visit Sri Lanka during this time, the North and East Coasts are better bets with much drier weather. Further south, some central areas such as Nuwara Eliya may be okay still in early May but the monsoon season will certainly have hit by June.
July & August
Similar to the previous two months, Northern Sri Lanka and the East Coast remain relatively dry while areas around Galle and Colombo in the South continue to get a lot of rain from the monsoon. However the rainfall does tend to be a bit less heavy in July and August when compared to the onset of the heavy rains in May. It's a popular time for surfing on the East Coast.
September & October
This is considered the shoulder season in Sri Lanka, mostly falling in between the two major monsoons. September is a decent month for a broad trip across the whole country. Coming at this time should see you avoid the heaviest of the rainfall. October is the end of peak East Coast surfing season and tends to be a touch unpredictable weather-wise. It marks the onset of the Maha monsoon, which brings heavy rain to much of the island, normally falling towards the end of the month.
November & December
The Maha monsoon is in full swing by November. Therefore it is a very bad time to plan a trip to the beaches in the North such as Jaffna. However southern destinations such as Galle also receive heavy rain at this time of year so it's not a great time to come to Sri Lanka as a whole. December tends to be drier in the South and the end of the month marks the start of the high tourist season on the South and West Coasts.
Also on MFT – Check out our India backpacking route and extend your travels in Southern Asia.
Worst & Best Time to Visit Sri Lanka – Main Destinations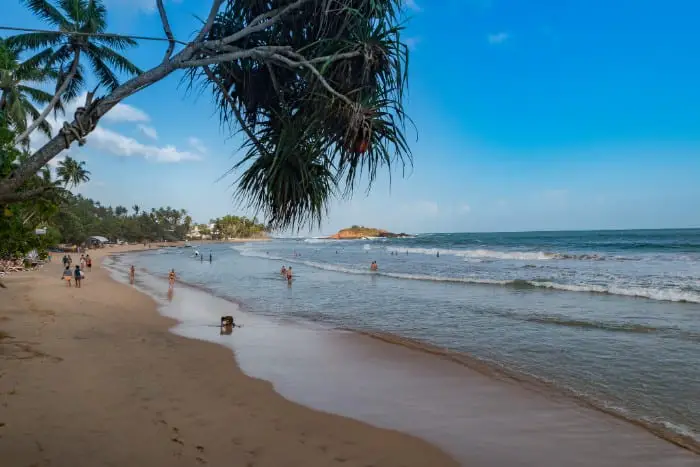 Beach in Southern Sri Lanka, CC BY 2.0
The optimum time to visit Sri Lanka will depend on your priorities and the main purpose of your visit. Here are a few of the main destinations and the best and worst times to go:
Best Time to Visit Kandy & Central Highlands
January to March is generally considered the best time to visit Central Province which includes Kandy and Nuwara Eliya. There is still some rainfall but it's not as torrential as at other times of year. From a cultural perspective, visiting during the festival of Esala Perahera (July/August) is perhaps the best time.
Worst Time to Visit Kandy & Central Highlands
The wettest months in Kandy are October and November. It's probably advisable to avoid the area at this time when trekking in the beautiful Central Highlands region can be treacherous.
Best Time to Visit Southern Sri Lanka
Southern Province includes the historic town of Galle and beach resorts like Weligama and Unawatuna. Again January to March is considered high season when the weather is at its driest. June to August is perhaps the next best period to avoid the worst of the two monsoon seasons but you can still expect wet weather on roughly 50% of the days in those months. Basically if you are planning a beach holiday in Sri Lanka's South, it's best to come between January and March.
Worst Time to Visit Southern Sri Lanka
Both monsoon seasons hit here with the wettest weather coming in late April to May and again during September, October and November. Prices will drop during these periods but it's not a great time to visit.
Best Time to Visit Northern & Eastern Sri Lanka
The North of Sri Lanka and the East coast have more distinct wet/dry seasons. If you're planning to visit somewhere like Jaffna or Trincomalee then anytime from mid-January to September should provide mostly dry conditions. May to September is considered the optimum time to visit.
Worst Time to Visit Northern & Eastern Sri Lanka
October to December is the worst time to visit these parts of Sri Lanka. The Maha monsoon season swings in to bring heavy rains which last until early in the new year.
Sri Lanka's Best Festivals & Celebrations
There are many important festivals and celebrations throughout the year in Sri Lanka. Roughly 70% of the population is Buddhist but there are also sizeable Hindu, Muslim and Christian groups. All major religious holidays from these faiths are celebrated to some extent.
Independence Day (4th February) – Expect sporting events, parades and festivals across the country to mark Sri Lanka's independence, gained in 1948.
Maha Sivarathri (Late February or March) – Important Hindu festival celebrating the marriage of Shiva to Parvati.
New Years Eve & New Years Day (13th & 14th April) – Aurudu as it is known in Sri Lanka. Both days are national holidays and it's worth having these dates in mind because buses and trains become jammed around the holiday as people return home to their towns and villages.
Vesak (May) – Two day festival celebrating the life and times of the Buddha. Look out for the spectacular lantern displays which illuminate the night sky in Colombo and in towns across the country.
Poson (June) – This festival celebrates the arrival of Buddhism in Sri Lanka. There are extensive festivities, particularly at the famous temples in Anuradhapura.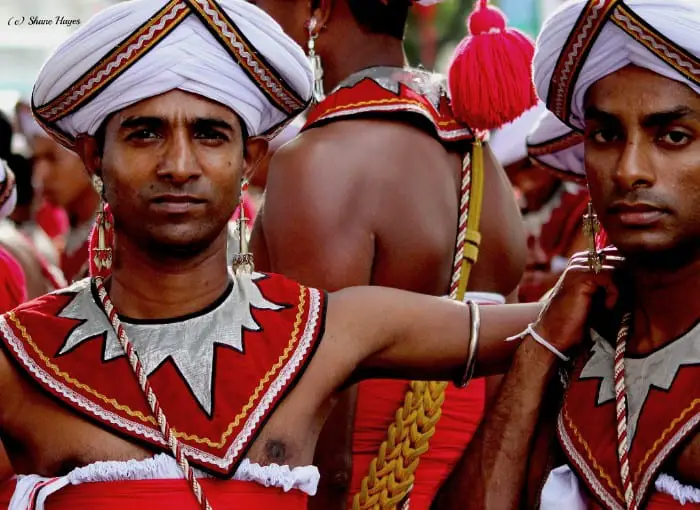 Esala Perahera Rituals, CC BY 2.0
Esala Perahera (July/August) – Light displays, parades and elaborate costumes bring colour to the streets of Kandy. Lasts for roughly a ten day period.
Deepawali (Late October/Early November) – The famous Hindu festival of lights celebrates the triumph of good over evil. Look out for flickering oil lamps everywhere you go.
Adam's Peak (December to Mid-April) – Pilgrims of all religions come to Adam's Peak, a sacred 2,200m mountain in central Sri Lanka during this period. They begin the hike just after midnight, to be in place for sunrise.
Poya (Every Full Moon) – Every Poya day is a holiday in Sri Lanka, however in contrast to the full moon parties in Thailand or Goa, it's typically a dry day here with alcohol supposedly banned (it can be found in some spots). This doesn't always match up to the Western full moon calendar though. Do your research beforehand as transport and accommodation can sell out, particularly if it falls on a Friday or Monday.
Backpacking Sri Lanka – Best Time to Go
If you're looking for a general trip of perhaps a few weeks taking in all the main regions of Sri Lanka, then it's certainly wise to avoid the second of the two monsoon seasons. This brings rain to pretty much the whole island between October and December.
The most popular time to visit is January or February, considered peak season in the Southern coastal resorts. This is a pretty good time to explore the whole island but you may find accommodation costs are slightly higher than normal as demand pushes the prices of beds up (it's still cheap by just about any global standard and Sri Lanka ranks amongst the very cheapest countries in our 2019 Cost of Travel Guide).
If that's not convenient, April or September are also decent months for a larger trip around Sri Lanka offering better odds of getting good weather across the island and cheaper prices on the whole.
Read more things to know before visiting Sri Lanka over on Conversant Traveller.
---
This article was published in March 2019.
Comments/thoughts welcome below!
---
Featured Image of Horton plains in the rainy season, CC BY 2.0
When to Go to Sri Lanka – Best and Worst Times to Visit