Dreaming of travelling or taking a gap year? Backpacking your way around the world? Discover how to live all of your travel and backpacker dreams with Worldpackers. Exchange your skills for accommodation and live like a local while immersing yourself in new cultures and collaborative communities.
A guest post by Janaina Colomba
---
If you are dreaming of travelling, now is a better time than ever. With the advent of so many new amazing programs that make travelling easier and more affordable, taking your first trip or backpacking your way around the world is now more accessible than ever before.
Worldpackers is a collaborative platform that connects you with hosts around the world where you can travel exchanging your skills for accommodation. Whether you want to save on your trip, immerse yourself in a local culture, or learn new skills, you can use Worldpackers during your vacation time, backpacking trip, or even taking a full gap year. The Worldpackers platform provides you with an extensive array of hosts to choose from including hostels, inns, guesthouses, NGOs, communities and ecological projects where you can help out and receive stay, food, and other benefits in exchange.
There are more than one million travellers and hosts from 170 countries that are a part of the Worldpackers community. Many people initially join Worldpackers for a single trip experience, and end up utilising the platform to take an extended trip around the globe or even become full-time travellers.
When I discovered Worldpackers, I had already been travelling extensively. I'd been around Europe on a solo adventure, dabbled in Southeast Asia, backpacked in South and Central America, and visited much of North Africa. When I first heard about the platform, I was visiting temples in Upper Egypt and planning my next big move to Israel.
---
Save $10 on the annual membership fee ($39 instead of $49) with our Worldpackers Discount Code:
Simply use this link OR enter 'MYFUNKYTRAVELWP' when you register to apply it.
---
My Worldpackers Experience
I'd been travelling nonstop for the preceding three months, and was hoping to take some down time in Jerusalem or Tel Aviv to re-ground and re-group. I was well-aware that Israel tended to be more on the expensive side and was crossing my fingers and hoping to find under-the-table work upon arrival in order to make things more affordable… and ultimately, be able to stay and enjoy the country.
And then I stumbled upon Worldpackers! I found a host in Tel Aviv and a week later I was in Sinai, preparing to cross the Egypt-Israel land border and start my Worldpackers work exchange with Abraham Hostels.
I didn't know what to expect. I'd stayed in many hostels, but never worked at one as a volunteer, and wasn't sure what the environment would be like. I certainly never expected to be welcomed like an old friend; it seemed that the entire staff knew my name within a few days, and the volunteer group felt like my family.
Volunteer tasks involved helping with the guest breakfast, working behind the bar, helping out with concerts and parties hosted by the hostel, and occasionally, jumping behind reception to receive guests. Hostel workers and volunteers worked together as a team; everyone supported one another, and shifts were always fun and engaging. At the time I arrived, there were 12 volunteers total; myself — from the USA, and the others, from Mexico, Brazil, Colombia, Chile, France, Denmark, Germany, Russia, Australia, New Zealand, and Japan. "Going on shift" felt like going to hang out with my friends. I could not believe that I was living in the heart of downtown Tel Aviv, exploring Israel, and "working" for fun!
One of the most amazing benefits about my experience working as a volunteer for Abraham Hostels is that I was able to partake in all of the hostel perks and activities — normally intended for guests — for free! Daily shuttle service between Tel Aviv, Jerusalem, and Nazareth? Free! Bike rental? Free! Not to mention so many amazing tours, also… all for free!
In my time volunteering in Tel Aviv, I partook in the hostel's city tour, pub crawl, Israeli cooking workshop, graffiti tour, people and culture tour, city bike tour, and vegan tasting tour… all completely free of charge. On mornings or afternoons I wasn't working, I would simply check if there was a space available for that day's tour, and then join along!
I spent a little over a month with the Abraham family in Tel Aviv, and decided I loved the vibe so much that I wanted to check out the sister hostels in Jerusalem and Nazareth. I ended up volunteering in Jerusalem for two months. I made some of my closest friends while exploring the world's most magical and controversial city, and generally… having the time of my life.
I also enjoyed many more amazing (and all complementary!) tours, including a Holy City tour, culinary market experience, Mount of Olives tour, hummus workshop and dinner, Dead Sea tour, Masada hiking tour, sunrise biking tour, City of David tour, and Shabbat experience. I visited the north of Israel — Nazareth, the Sea of Galilee and the Golan Heights, Haifa, Acre, and the beautiful caves of Rosh Hanikra — all through the help of my amazing Worldpackers hostel-host.
I even went with the hostel tour program to Jordan for a week and visited Petra, the Wadi Rum Desert, and Amman!
My time in Israel would never have been the same without Abraham Hostels and my Worldpackers work exchange experience. I was able to experience so much more of the country than I ever would have been able to with an under-the-table job, and most importantly, I felt I was part of a family and the local community every single day that I was there.
Why you need to travel with Worldpackers now
1. Hone the skills you already have
Whatever your expertise, your knowledge, experience, and competence can only grow. Being in a different country and culture will ask you to look at things in a whole new way; to see things from a different perspective. You will examine your tendencies, patterns, and habitual way of approaching things, and evaluate where you can improve, do things differently, learn, adapt and progress.
2. Learn new skills and trades
No matter how many degrees or qualifications you have, travelling with Worldpackers will not only enhance the skills already yours, but also push you to develop new skills-sets and trades. The opportunity to learn a new skill or train for a new job while being in a different country — and foreign culture — is truly a unique, special and advantageous experience.
Learning in a new and different environment where you are already out of your normal comfort zone takes courage, adaptability, and resilience. It requires you to re-think your definition of open-mindedness and tolerance; to expand your vision and see a bigger and more complete picture.
No matter how much you travel, the opportunity to work and volunteer in a place different from what you have been conditioned is an invaluable experience.
3. Live like a local and immerse yourself in a new culture
Visiting a new country as a tourist and actually living with a community of locals in a new country are two vastly different experiences. Worldpackers provides you the opportunity to live and work with locals in a community setting; to see, feel, and interact with the layers that make up a country's traditions and culture.
As a Worldpackers volunteer, your time in a place goes beyond visiting the major attractions and checking items off your travel bucket list. Ultimately, travel should be about more than sightseeing; it should be an immersive, interactive and truly authentic, holistic experience of a culture.
4. Participate in a collaborative environment
When you travel with Worldpackers, the work-exchange and volunteer experiences you partake in are collaborative. You are part of a team of other workers and volunteers, usually all of whom speak a variety of languages and are from a variety of places. Cooperation, positive attitude, and tolerance are your keys to team efficiency, connection, and success.
Participating in a collaborative environment while out of the comfort of your own country centres on your ability to connect and work with others despite background, beliefs, cultural norms and tendencies, and nationality.
Beyond being an immersive experience, travel should be about connection, and this is a cornerstone of each Worldpackers travel experience.
5. See and experience the world on a budget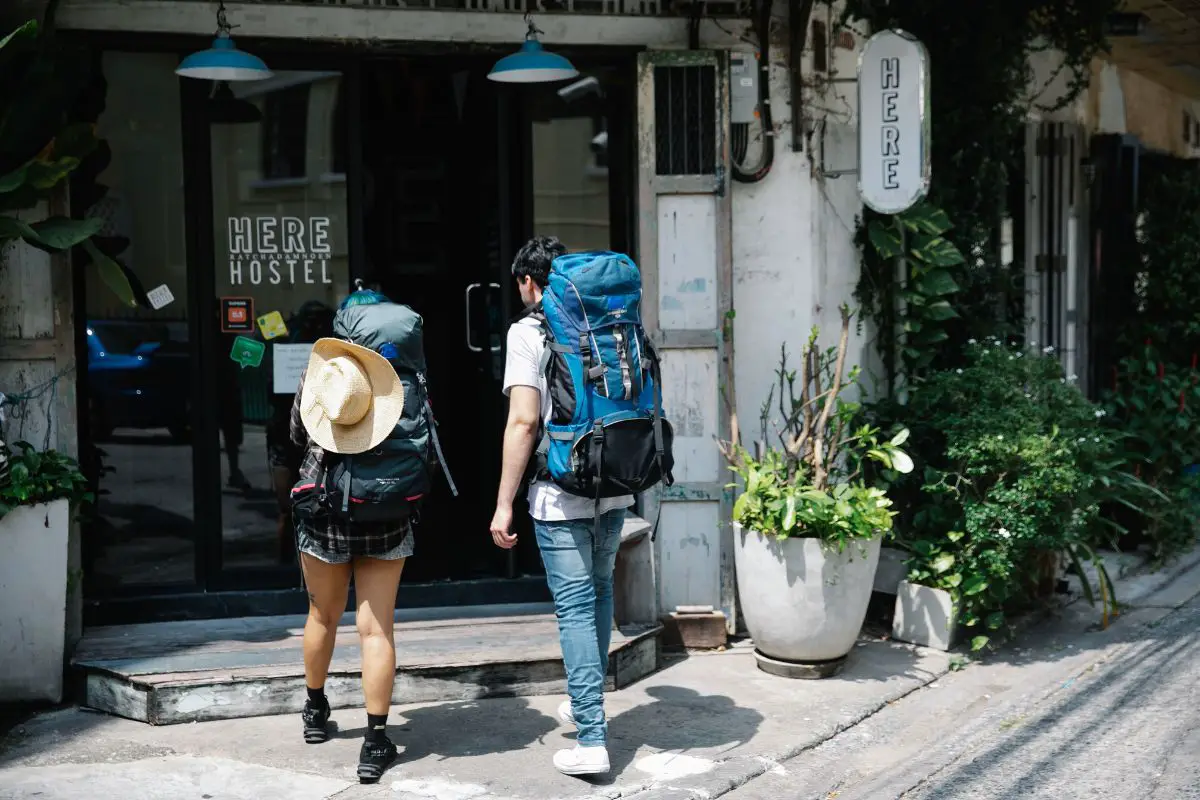 In addition to all of its other benefits, travelling with Worldpackers will save you a ton of money. Whether you are taking a standard work vacation, backpacking trip, or a full gap year, you can use Worldpackers to save on accommodation, and more often than not, food, transportation, and other expenses.
Travelling with Worldpackers on a budget is so easy that many people who initially join the platform for a single-trip experience end up utilising it to take an extended trip around the globe or even travel full-time.
So — are you dreaming of travelling or taking a gap year? Backpacking your way around the world? What are you waiting for?
Worldpackers is here for you and you can find out more about getting started in this Worldpackers beginner's guide.
Travel expands your world, but living, working and participating in the places you visit expands your understanding, your community, and your potential.
---
Author Bio
Janaina Colomba is a writer, traveller, and creative inspired by the beauty and wisdom of people and places. Her personal mission is to bridge cultural gaps and ignite community and understanding. At the time of writing Janaina was based in Cairo, Egypt.
---
This post on travel with Worldpackers was published in March 2019.
---
Why you need to travel with Worldpackers now