Backpacking the Philippines is gaining popularity with budget travellers looking to escape the well trodden 'banana pancake trail' in Southeast Asia. The island nation on the very Eastern edge of Asia is prime for exploring with thousands of miles of coastline and beaches perhaps the biggest draw.
---
TIME NEEDED – 4 WEEKS
This route is designed to fit into 30 days, the amount of time almost all visitors to the Philippines are allowed to stay without a visa.
---
POSSIBLE BUDGET – £700 €800 $900
(roughly 50,000 Philippine pesos as of February 2019)
This shoestring budget does not include the cost of flights to/from the Philippines or any other pre-trip expenses. Read more on the cost of travel in the Philippines for the lowdown on sample prices and typical backpacking budgets for the country. Allowing for a bit more than this is advisable to get the best out of the many scuba-diving opportunities.
---
TRAVEL INSURANCE FOR BACKPACKERS IN THE PHILIPPINES
The cost of travel insurance isn't included in the budget figures above. You can get a quote in less than a minute from Heymondo who provide well reviewed travel insurance for backpacking The Philippines and other countries.
---
PHILIPPINES BACKPACKING JOBS & WORK EXCHANGES
One way to save money and potentially learn a few new skills whilst travelling in The Philippines is to look for work exchanges or short-term jobs. Sign up to Worldpackers to get access to work exchanges in The Philippines. You can get $10 off the annual membership fee by using the Worldpackers discount code "MYFUNKYTRAVELWP".
---
Backpacking The Philippines – A 4 Week Itinerary
With more than 7000 islands, there are all kinds of wonderful Philippines travel packages to consider. Independent travellers though would be wise to have some kind of itinerary in mind and this one month Philippines backpacking route should be a decent starting point. However it is worth noting that unlike other countries in the region, there is not really a 'typical' itinerary that backpackers tend to follow and in many ways that adds to its charm and sense of adventure.
This one focuses on the island of Palawan and its picture perfect beaches and then the Central Visayas – a group of islands known as a Scuba diving paradise but also a great region to get to grips with Filipino culture.
1. Manila
Reaching the country is usually best done by flying into the capital Manila as there are few other international airports and those that do exist have limited connections (starting the route in Cebu and skipping Manila may be an option for anyone coming from some nearby parts of Asia).
Manila is a large chaotic city that is not to everyone's taste. You may wish to immediately connect to an onward flight to the next destination and many backpackers do just that with many daily flights to all the other main cities. If you stay for a night or two, exploring the many different neighbourhoods which highlight the city's diversity and interacting with the friendly locals is more interesting than seeing any particular monuments.
---
Island Hop – Manila to Coron
There are several daily flights from Manila to Busuanga in region of $60-90 with Sky Jet Air. This includes 10 kg free check-in allowance but it's a hefty 360 Philippine Pesos (roughly $7) per kilo after that. There are also ferry departures on Tuesday and Fridays with the cheapest option being a much more affordable 1400 Peso ($27). The crossing takes 12-15 hours though.
---
2. Coron
The small limestone island of Coron is an absolute gem and scuba divers may already find their paradise here. With WWII-era wrecks and shallow coral reefs, the seas are full of surprises. Most of the budget accommodation is in Coron Town, a dusty backpacker hub which confusingly enough is actually on neighbouring Busuanga Island. There are regular boats that make the very short crossing during the day.
---
Island Hop – Coron to Palawan
The fastest sea crossings from Coron to El Nido are 4 hours. Noon departures from Coron cost around $35 at the time of research. There are slower but more inexpensive ferries too. There's some useful information on doing the trip (in reverse) here.
---
3.

El Nido (Palawan)
You are now on Palawan Island in the province of the same name. This is where the first half of this Filipino backpacking route is mostly based. However much of the appeal of El Nido centres around the dozens of little islets off the shore of the mainland. They create a stunning setting not dissimilar to Halong Bay in Vietnam. It's an excellent destination for rock climbing, biking, island hopping and snorkelling. If that's not your thing, there are plenty of beautiful beaches to laze about on.
4. Port Barton (Palawan)
This is a quieter, more relaxed and much cheaper version of El Nido. The reduced prices for essentially the same activities have made it a bit of a hub for backpackers in the Philippines. It's a very chilled out place to hang about for a few days.
5. Sabang (Palawan)
The remarkable Subterranean River is the main draw here. You need a permit to visit it, which can be a pain to get as an independent traveller. As a result most visitors simply join more organised trips. There are also other caves in the area which are worth checking out but essentially you can move on once you've done the underground river.
6. Puerto Princesa (Palawan)
Backpacking the Philippines isn't really about exploring cities but the capital of Palawan is one of the nicer ones and there is still plenty of great nature nearby. Honda Bay is home to some great swimming and island hopping options. The Palawan Wildlife Rescue and Conservation Center AKA Crocodile Farm makes for an interesting trip while for something totally different head to the Iwahig Penal Colony. It is essentially a working prison although it is more of a correctional facility where inmates often live with their families. You are free to mingle and speak to the inmates.
---
Island Hop – Palawan to Cebu
Flying is by far the best option from Puerto Princesa to Cebu with several affordable daily routes costing the equivalent of $25-50. If you're a bit flexible you can probably find something on the cheaper end of that scale. Cebu Pacific and Philippine Airlines both run services.
---
7. Cebu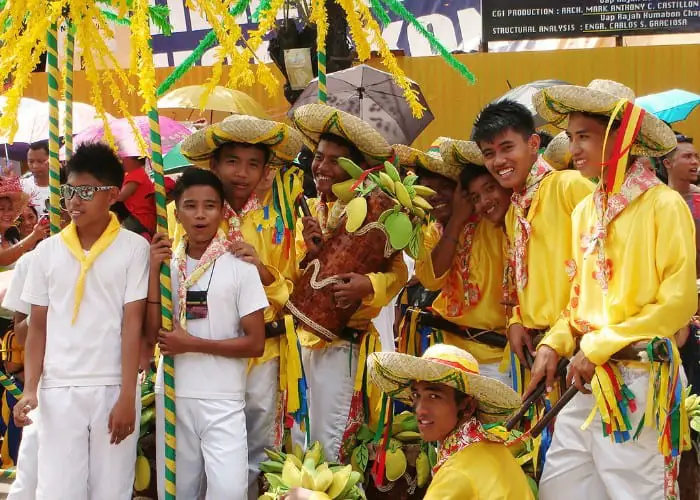 Parade in Cebu City, CC BY 2.0
Cebu lies right at the heart of the Central Visayas and right at the heart of the Philippines. It is the nation's second city and the ideal base for the start of the second leg of this route. The city itself is thriving and has a youthful energy with a popular party scene. Its coastal location though ensures you are not too far from more great beaches although the scenery is not quite as dramatic as in Palawan.
This region is less tourist-driven though and you will get a more authentic feel for the Philippines in the Central Visayas. There is no set route to follow from Cebu with numerous different islands, each with their own charms, almost totally surrounding it. Feel free to follow our suggested route but there is no real right or wrong order to do the next few destinations in.
---
Island Hop – Cebu to Malapascua
If you're big into scuba diving or snorkelling, then take a bus to the port of Maya on the Northern tip of Cebu Island. The 30-45 minute boat crossing to the tiny Malapascua Island, costs just 100 Pesos ($2).
---
8.

Malapascua Island
If you're a bit pushed for time, consider skipping Malapascua as you will need to backtrack through Cebu in order to head to the other islands. This is primarily a diving destination with numerous centres to suit all tastes and budgets. If you don't have the necessary qualifications you can take courses on the island itself (we don't allow for this in our suggested time-span or budget for this route). The waters around Malapascua are home to thresher sharks, manta rays, hammerheads, frogfishes and pygmy seahorses so it is a pretty unique and special experience even for experienced divers.
---
Island Hop – Malapascua to Bohol (via Cebu)
After returning to Cebu, take one of the regular ferries from Cebu to Tubigon, Bohol. The crossing is about two and a half hours. Fares are an affordable 200-230 Pesos (around $4).
---
9. Bohol
Bohol is another natural beauty and a great place for dolphin and whale watching. There is also a good dose of history with 18th century churches and old towns where you can delve into the region's past. The picturesque Chocolate Hills are the main natural attraction while the mysterious Philippine Tarsiers are another of the island's most iconic images, although be sure to visit the primates in the wild rather than in one of the poorly kept makeshift zoos in Loboc.
---
Island Hop – Bohol to Siquijor
There are daily ferries leaving Tagbilaran in Bohol for Larena, Siquijor (10:20 a.m. at the time of research). Ocean Jet run the most ferries in this part of the Philippines.
---
10.

Siquijor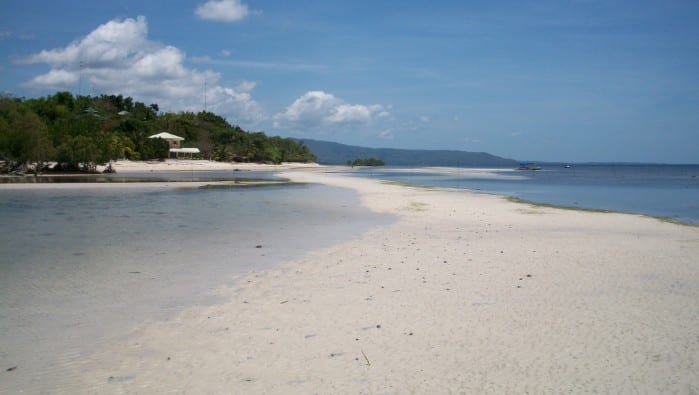 Siquijor – Sandugan Beach, CC BY 2.0
This island of Siquijor is much smaller than Bohol or Cebu. It has a mountainous interior but its shores are lined with fabulous white sandy beaches and marine life. Budget backpacker accommodation can be found on San Juan beach. It's a great place to just chill for a few days or more but if you're looking for something to set the pulses racing, there is a skydiving centre on the island.
---
Island Hop – Siquijor to Dumaguete (Negros Oriental)
There are ferries from the port of Siquijor (as opposed to Larena where the boats from Bohol go to/from) to Dumaguete with 8:30 a.m, 1:40 p.m. and 5:10 p.m. departures at the time of writing.
---
11. Dumaguete
Dumaguete is a university town with a huge student population so it's a good place to meet and get to know young Filipinos. The fact that English is one of the two official languages here, makes interacting with locals a lot easier here than in other parts of Southeast Asia. Tricycles (a bit like tuk-tuks) are the cheapest way to get around the city. However there is more to do in the area surrounding the town with the Casaroro Falls, the tallest in the Visayas, well worth a visit. The Twin Lakes are also popular and the approach offers amazing views of nearby Cebu Island on a clear day.
---
Check out all our Asia backpacking routes!
---
The Philippines Backpacking Tips
Plan a Trip to the Philippines
Backpacking around the Philippines, certainly requires a bit more planning than other countries in the region. As you can see from our route, getting from A to B generally involves a boat. Therefore you need to research departure times, ports and such matters. This information should be easily available at any good hostel but it's useful to do your own research before travelling to the country as the 30 day visa is a bit restrictive. Any mishaps or missed connections can leave you short on time in the latter destinations.
As a budget traveller, the boat and ferry crossings are likely to be your best bet for all but the very longest journeys. However if you have a bit more money, want to explore some of the further away islands or just have a tendency to suffer from sea sickness, then there are lots of domestic flight options too. Be sure to check the baggage regulations carefully though for any airline. You can easily get stung with some large fees if you are travelling with a heavy backpack.
Visa Requirements
Visitors from other ASEAN countries, the UK, EU, Oceania and almost every country in the Americas can get 30 days entry with no visa required. Brazilians and Israelis get 59 days. At the time of writing, Chinese and Indian visitors need to apply for a visa.
Backpacking Philippines Alone – Is it Safe?
The Philippines has a bit of a bad reputation for being dangerous. Trigger-happy president Rodrigo Duterte hasn't exactly helped the situation and his war on drugs is a divisive issue in the country. Those issues shouldn't really impact on travellers though providing you don't go wandering off into dodgy suburbs in the bigger cities. In the destinations featured on this route, you should find it as safe as any other country in the region.
There are parts of the Philippines that are best avoided though, mostly in the Far South where there is a fair deal of terrorist activity. Central and South Mindanao, the Sulu Archipelago and the Zamboanga Peninsula are all considered dangerous as of February 2019. There are also some alerts for Southern Palawan. However Puerto Princesa and anywhere further North (i.e. the destinations on this route) are fine.
Budget Accommodation in The Philippines
The Philippines has some fairly good options when it comes to budget accommodation. That said much of it is more geared towards local travellers rather than international backpackers. Therefore the backpacker party scene you find in towns across mainland Southeast Asia hasn't quite arrived here yet, at least to such an extent. However places like San Juan in Siquijor and Port Barton have become pretty big backpacker hubs.
Extending your Trip – Getting to/from Mainland Southeast Asia
Manila has the best links to the rest of Southeast Asia and if you're looking to combine the Philippines with some travel around the mainland, it's perhaps best to fly from Singapore, Kuala Lumpur, Ho Chi Minh or Bangkok to Manila. The capital has connections to anywhere you need to go in the Philippines. There are also direct flights from Bali and Jakarta to Manila (around $75). Check our our Southeast Asia backpacking route or our island-hopping Indonesian itinerary for some ideas for further travels in the region.
Cebu does have some decent international connections too, particularly with China, Hong Kong, Macau and Taiwan. Air Asia, Scoot and Cebu Pacific also fly direct from Singapore to Cebu (and vice versa) with some very affordable fares of around $50 + baggage for what is close to a four hour journey. This is well worth considering and if it fits with your plans and may enable you to skip Manila altogether.
---
This article was published in February 2019.
Use the comments section below for any questions. We aim to reply to them all!
---
Philippines Backpacking Route