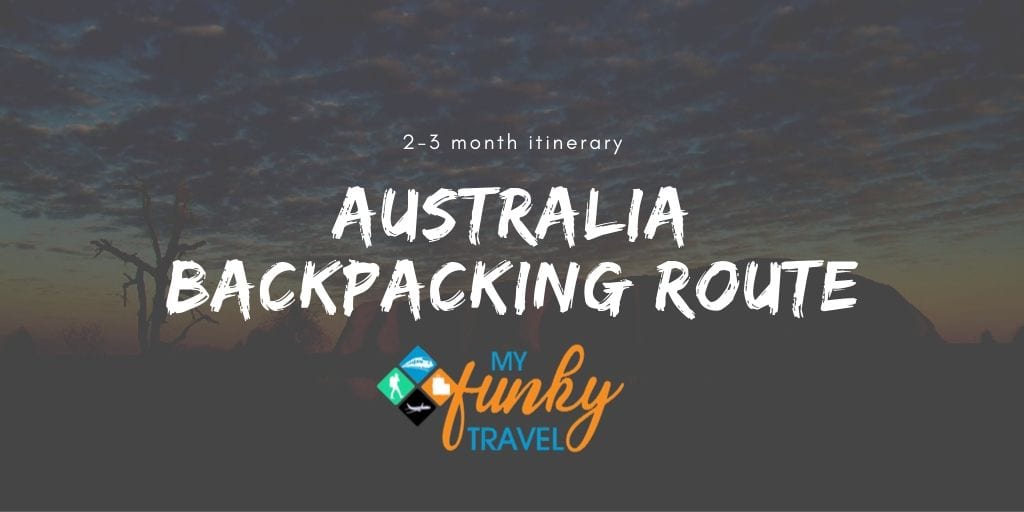 Australia Backpacking Route
Our itinerary for backpacking Australia takes in six states, all the main cities, the best beaches, idyllic islands and loads of nature. It's a relatively safe destination for first time backpackers with high class facilities and English as the main language. There's a fairly well established Oz backpacker trail although more adventurous types won't struggle to get off the beaten track given the size of the place.
---
Australia Itinerary Overview
---
How long does it take to backpack Australia?
We suggest 2-3 months for this route in full. You could cut skip the harder to reach destinations and do it in less. Although many travellers also turn a backpacking trip to Australia into a working holiday and stay for much longer.
How much does it cost to backpack Australia?
Possible Shoestring Budget for this Itinerary: £4600 €5400 $6000
This is based on January 2020 prices and exchange rates and works out at just over 8500 Australian Dollars but doesn't include flights to Australia which can be very expensive. You may also need a visa and travel insurance for your trip (costs not included in this budget). Consider doing some couchsurfing to cut down on costs.
Read more on the cost of travel in Australia.
Cut your Australia Travel Costs
We'd highly recommend getting a Revolut Card before you travel. This will enable you to pay for things in Australian Dollars. Over the course of a lengthy backpacking trip, this will save you a lot of money as you'll dodge most of those irritating hidden fees. You can easily load money directly from your bank via the app and can exchange it in an instant at excellent rates. They also have some great budgeting tools which will help you keep tabs on your expenditure and make sure you are not overspending.
Backpacker Jobs in Australia
Use Worldpackers to search for work placements in Australia. It's a quite good way to at least bag some free accommodation in a country that is very expensive in that regard and there are loads of different types of projects that you can get involved in. We also have a section on work and travel which you may find useful.
Travel Insurance for backpacking Australia
Getting travel insurance is advisable for anyone planning a big trip around Oz. SafetyWing is one good budget option for anyone looking for affordable medical travel insurance.
---
Backpacking Australia – A 3 Month Itinerary
The map above corresponds to the destinations listed below starting in Cairns and travelling South along Australia's Pacific Coast before darting west across the country to end up in Perth. You can of course do the trip in reverse. If you're pushed for times or funds, consider just doing Cairns to Melbourne or vice-versa.
---
Backpacking Australia East Coast – Queensland
Cairns (access to great barrier reef)
It may be a city and quite a decent one at that but Cairns is primarily a base for exploring some of nature's great wonders. This is the best spot to check out the Great Barrier Reef, one of our ten once in a lifetime trips with plenty of skuba-diving options available for you to get close up to the coral. Thrill seekers will enjoy the opportunity to bungee-jump or sky-dive while the Wet Tropics Rainforest is another essential visit.
Townsville & Magnetic Island
Sparsely populated Magnetic Island is reachable from Townsville. It's good for jet skiing, bush walks and boozy nights and is Australia's best destination for full moon parties.
Airlie Beach (gateway to the Whitsundays)
Airlie Beach is a big backpacker hub with a predictably chilled out vibe in the day and raucous nightlife that parties on well into the small hours. The Whitsundays are gorgeous and are made up of 74 stunning islands. Don't be surprised if you end up spending weeks rather than days here!
Agnes Water
This was the site of the original landing spot of Captain Cook in 1770 which was effectively year 0 for Australia as we know it today. It's a nice spot to relax on the beach and read up on a bit of history at the Agnes Water Museum which documents the life of Cook and his voyages.
Hervey Bay (for Fraser Island)
From late July to early November, Hervey Bay is a fantastic place to spot some whales. The other main reason to visit is to access Fraser Island and the southern Great Barrier Reef. Fraser Island is 120 km long and with a mild year-round climate and lots of beautiful scenery including crystal lakes and endless beaches, it's a great place for camping out for a few days. Swimming isn't recommended though due to dangerous tides and lots of hungry sharks.
Noosa (Sunshine coast)
Yet more glorious long sandy beaches and nearby national parks make Noosa another popular stop with backpackers in Australia. Make it to the Glasshouse mountains and you will get a terrific panoramic view of the whole Sunshine Coast.
Brisbane
City lovers rejoice as this is the capital of Australia's sunshine state and a good chance to stock up on anything you need at the 700+ stores in the city's central shopping mall. It's a lively city famed for its live music and large numbers of bars and clubs. With a relaxed riverside location, Australia's third largest and fastest growing city generally leaves a positive impression on visitors.
Gold Coast (Surfers Paradise)
Just South of Brisbane is Gold Coast, a city of around 500,000 people based as the name would suggest on the coast. Surfers Paradise is its touristy hub with an array of high rise structures, late night venues (some very seedy) and lots of drunk people. It's a popular destination with Australian teens celebrating the end of high school. An Australian equivalent of Ibiza, Malia or Cancun. You'll either love it or hate it.
---
New South Wales Backpacking Destinations
Syndey Harbour Bridge to the City, CC BY 2.0
Byron Bay
A relaxing beach setting and another of Australia's primary backpacker hubs. Byron Bay is a popular place to learn to surf while you can also kayak alongside dolphins and do a bit of skydiving.
Nimbin
The next stop on our Australia backpacking route is Nimbin which has gained a reputation as a bit of a hippy town and it's a nice inland spot if you just can't handle any more beaches. It can be visited on its own or on a day-trip from Byron Bay. The nearby Nightcap national park is home to an array of peaks, waterfalls and wildlife.
Sydney
One of the most easily recognisable cities in the world thanks to the iconic Opera House and Sydney Harbour Bridge. Its setting is one of the best of any major city in the world and a boat trip or water-taxi in and around the Darling Harbour area is a must. Add to that a few world-famous beaches and an array of fine restaurants and nightlife and you will realise that you are in one of the world's most liveable cities.
Check out this post on ways to experience culture in Sydney on a budget!
---
Head south in Victoria
Melbourne
With a distinctly different vibe from Sydney, Melbourne is less brash and maintains a European cultural vibe with plenty of quaint remnants of Britain. Melbourne is viewed by some as the sports capital of the world, with sports mad residents and major international events such as the Australian Open Tennis and Formula 1 taking place in the city as well as numerous teams in Australia's sports leagues.
There are enough museums, galleries and theatres to entertain culture vultures while the multicultural population serves a range of different cuisines. Melbourne is full of lively neighbourhoods worth checking out and you will need several days here to take it all in. Trips out of town include a visit to Phillip Island where you can see the nightly penguin parade.
Great Ocean Road
This 150 mile stretch of road that runs west from Melbourne features numerous points that are worth short visits but perhaps not overnight stays. These include traditional fishing villages, surfer beaches, lush rainforests and the bizarre cliff formation of the 12 Apostles.
---
Possible End Point
For those backpacking Australia on a tight budget or heading onto New Zealand, this may be a logical point to end your trip having seen the main cities and more than enough of Australia's golden coastline. However for travellers who want the full Australian experience, the route continues through South Australia into the wilderness of Northern Territory before finishing in the Western Australian city of Perth.
---
Backpacking South Australia
Kangaroo Island
A reasonably large island off the coast of Southern Australia home to an abundance of wildlife including – you guessed it – kangaroos! It's a very scenic place and has a few settlements so pick one and base yourself there for a few days.
Adelaide
Adelaide is the capital of otherwise sparsely populated South Australia. It's the fifth largest city in the country and although it might not have as much going for it as some of the other big ones it makes for a nice stop for a couple of days to break up the journey. This is also a big wine producing area so vineyard visits are popular.
The trip from here to Northern territory is also very long but you can break it up by visiting one of the many mining communities for a perspective on a less glamorous side to Australia which isn't all about sun, sea and surfing.
---
Northern Territory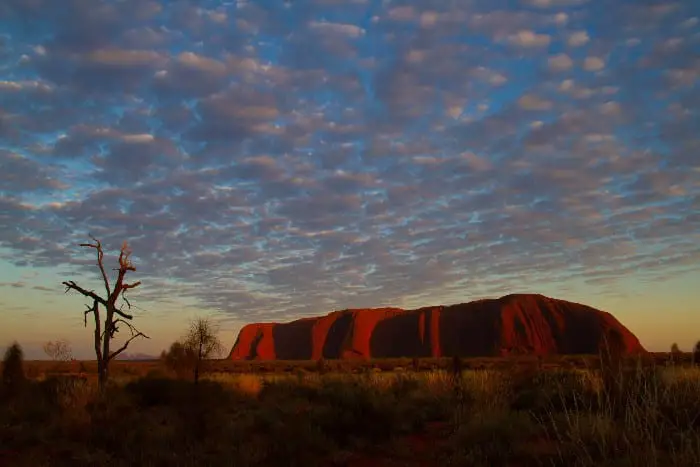 Uluru (Ayers Rock)
Ayers Rock is a giant lump of earth in the middle of the world's largest island. For some it's an amazing sight, but non-rock lovers may end up moaning about the distance and time it takes to get here (although oddly it does now have its own airport). It is found in the Uluru-Kata Tjuta National Park which contains a couple of other sites that are considered sacred by the Aborigines. You will have to stay outside the park though probably at the nearby resort of Yulara where camping is possible. However it is worth noting that as of October 2019, you are no longer able to climb to the top of it.
Alice Springs
There is a sense of achievement for anyone who reaches Alice Springs. Most people have heard the name but given that it is 1200 km from the ocean and 1500 km from the nearest city, few make the long trip here. Alice Springs is a base for exploring the surrounding outback and learning about the extensive indigenous history in these parts.
---
Western Australia
Perth
Unless you have a sadistic love of coach journeys that last days then you will probably need to fly from Alice Springs to Perth. Qantas has daily flights that will set you back between 350 and 500 Australian Dollars and take just under 3 hours.
Perth is a large but relaxed place and incredibly isolated from the rest of the county's urban areas. Days can be spent on the beach, cycling around the city or visiting nearby nature reserves. At night enjoy a drink in one of the many pubs or delve into the indie or drum and bass music scenes.
As the westernmost city in Australia, ending in Perth will probably make your onward journey or trip home a fraction shorter and many major international airlines fly in and out of the city. If you are planning on visiting New Zealand after Australia it would be more sensible to do this trip in reverse and start in Perth before ending in Cairns.
---
---
Backpacking Australia Tips
Visa Requirements for Australia
EU citizens are eligible for the eVisitor program which enables stays of up to 3 months with no cost. Almost all other nationalities will need to apply for a visa via their local Australian embassy. Due to the cost of travel in the country, many travellers opt for a working holiday visa, which gives you more time in the country and the right to work.
Backpacking Australia Alone – Budget Accommodation
Accommodation in Australia is expensive so it will take up a fair chunk of the overall budget for your trip. Solo travellers will almost certainly find hostels the most affordable option although you can still expect to pay somewhere between 20 and 40 AUD for a dorm bed depending on the location ($14-28) and those costs can add up over time.
You may be able to find accommodation just by turning up and asking in the smaller, more backpacker-geared destinations but it's advisable to book in advance in the cities, where the hostels are spread all over and the better ones often sell out during peak periods.
Airbnb is also a pretty good option in OZ, certainly in the cities and if you are travelling with a group of friends, renting a flat may prove cheaper than staying in a hostel at times. Check out our Airbnb review if you have not used it before!
Getting Around Australia
by train
Trains in Australia are quite expensive but they do represent a nice way of seeing the country and there is actually a fairly extensive network which serves almost everywhere on this route. Seat61 has good information on prices and timetables of trains in Australia.
by bus
Although it is such a large country, travelling by bus is by far the most popular way to get around Australia. Excellent 'hop-on hop-off' passes offer a great deal for backpackers and give you the opportunity to travel at your own leisure. Oz Experience provide several different passes, for example the Sydney-Cairns pass enables you to travel in one direction from Sydney to Cairns (or vice versa) and stop as many times as you like along the way.
The Oz Experience passes enable you to travel on Greyhound buses along your chosen route. They are Australia's only national bus service and also offer their own passes which are cheaper than the Oz Experience ones but don't include the extra activities. You can also purchase KM passes where you purchase an amount of kilometres and then can travel in any direction until you run out of kilometres, which might be a better option for those that like to do their own thing and never bother with organised trips.
by plane
Flying is the fastest way to get between any of the big cities and is usually cheaper than the train and sometimes the bus. Budget airline Jetstar have very cheap fares and daily flights on many internal routes. The 1 hour 40 minute flight from Sydney to Melbourne for example can be as low as 40-50 Australian Dollars provided you book at least 2 weeks in advance.
Fares like this make flying a better alternative than the bus in some such situations so think carefully before committing to a bus-pass although do remember to factor in any baggage fees if opting to fly. Qantas are the national airline but are usually more expensive although they do have a more extensive network.
On our Australia travel itinerary it might be best to do a Cairns to Byron Bay bus pass as there are lots of fairly short stops and then take flights from Brisbane to Sydney and Sydney to Melbourne given fares are low and there is little in-between that you really have to visit. The final sections are clearly much quicker by air but much more of an experience overland.
Off the Beaten Track in Australia & Extending your trip.
Check out this great guest post on 5 Unusual Things to see in Oz, most of which you won't find on a regular backpacker's itinerary for Australia.
New Zealand and Fiji are the other most popular travel destinations in the region and you can easily combine the two. Check out our New Zealand backpacking route for an idea of where to go in the former. The main cities in Australia and New Zealand are well connected so it's a pretty easy connection although you may wish to skip Perth or visit it first and maybe do parts of the route in reverse if you are planning to head onto NZ.
The Northern part of Australia, where this route starts is very close to Indonesia and therefore it'd be easy to combine this with our backpacking route for Indonesia. There are loads of flights to Bali from all over Oz so it would link in nicely and would provide a bit of a contrast to your trip.
If you follow this route right through to Perth, you could consider flying on to South Africa or one of the East African countries such as Kenya. This would be a nice option particularly for anyone who is eventually flying home to Europe or North America. Alternatively you could fly back via Southeast Asia or take on our India backpacking route.
---
This Australia itinerary was last updated in January 2020.
Please use the comments section below for queries. We aim to respond to all questions!
---