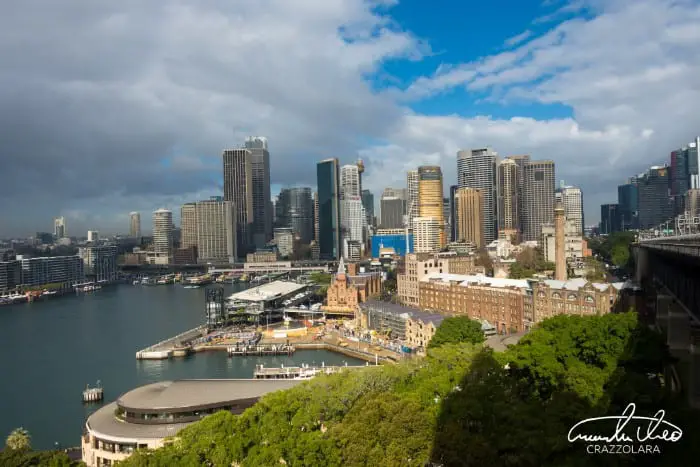 Australia Cost of Travel – Suggested Daily Budget
This page looks at the estimated cost of travel in Australia. Read our suggested shoestring and more comfortable backpacking budgets for one of the world's most popular travel destinations. We also have some sample prices for backpacking in Australia and info on using money there.
---
(Map of Australia from wikitravel, can be re-used under CC BY-SA 3.0)
---
Australia spending money per day
Daily Travel Costs in Australia on a Shoestring Budget
US$65/day | 90 Australian Dollars
Although a very popular destination with young budget travellers, Australia is certainly not a budget travel destination. This is certainly one of the main things to understand before heading down under. It's at least as expensive and perhaps more costly than almost all of Europe and North America and our suggested Australia backpacking budget of 90 Australian Dollars per day certainly reflects that. If you intend to cover large distances, which you will have to do if you want to see a large portion of the country, then transport costs are going to be high while food, drink and accommodation is in line with what you'd expect in a developed country.
However Oz does have a few saving graces as far as the budget traveller is concerned. For one the relative ease of getting a short-term work visa and abundance of seasonal or short-term jobs makes it one of the few places where travellers can easily and legally make some money to support their travels. There are also a lot of places where you can get student/youth discounts and there are plenty of special deals on bus travel designed to help out those exploring the country.
By staying in one place or one part of the country for a longer period of time and perhaps doing a bit of camping or couchsurfing, whilst not going wild on the partying or activities then you can maybe get by on closer to US$50/day but it won't be easy as there is a lot of cool stuff to do that will eat into your budget.
Adrenaline junkies and nature lovers looking for a cheaper alternative might also want to check out our are post on the South Africa cost of travel.
More Comfortable Australia Backpacking Budget
US$90/day | 125 Australian Dollars
125 Australian Dollars is quite a lot of money to be spending every single day but if you want to really take advantage of the extreme sports and adventures that Australia has in store whilst also doing a far bit of socialising then it's not an unrealistic budget particularly if you are doing a lot travelling around. If that's you then consider ride-sharing to get from A to B by either using an app or checking noticeboards in hostels. It can often work out much cheaper than public transport. Renting an RV is another option if you're with a few friends – read our RV travel tips for Australia for more.
Overall, Australia is marginally more expensive when compared to the cost of travel in New Zealand. If you are travelling with friends for an extended period, then getting a campervan may be a smart move.
Alternatively, you may want to consider actually basing yourself for several months or longer in one of the cheapest cities to live in Australia and looking for some work to help fund your travels or activities during your time off.
Accommodation Costs in Sydney:
---
Cut down on Australia Travel Expenses
Signing up to join Worldpackers is a worthwhile plan as it will give you access to a number of work placements. This can include anything from farm based work to helping at hostels with plenty of time off to hit the beach or explore the nearby areas.
You won't get paid any cash but typically you will get free accommodation and food which is a big plus in an expensive country like Australia. Find out more about travel with Worldpackers here.
---
Sample Prices in Australia
Melbourne to Cairns (Hop-on Hop-off bus pass) – 550 Australian Dollars
Flight from Melbourne to Sydney (1 hour 20 mins) – 50 AUD with Jetstar + 35AUD for backpack
Dorm bed in basic hostel in Melbourne/Sydney – 20 AUD/night
Dorm bed at Byron Bay – 30 AUD/night
Cheap private twin/double room in a city  – 50 AUD/night
Meal in a relatively cheap restaurant – 18 AUD
Large local beer in a bar/restaurant – 7 AUD
Surfing lesson – around 60 AUD
Compare prices with the cost of travel in Sri Lanka.
These prices were last checked in 2016. Everything else on this page was updated in February 2019.
---
Money
Currency – Australian Dollars
£1 = 1.85 AUD
€1 = 1.59 AUD
US$1 = 1.39 AUD
(All exchange rates are correct as of February 2019)
---
MFT Recommends
Long-term travel in Australia is very difficult unless you have huge savings so consider getting a working holiday visa and doing some work whilst you are there to help fund your travels.
---
street art in Melbourne, Victoria (via Fernando de Sousa, CC BY-SA 2.0)
---
This post was last updated in February 2019.
---