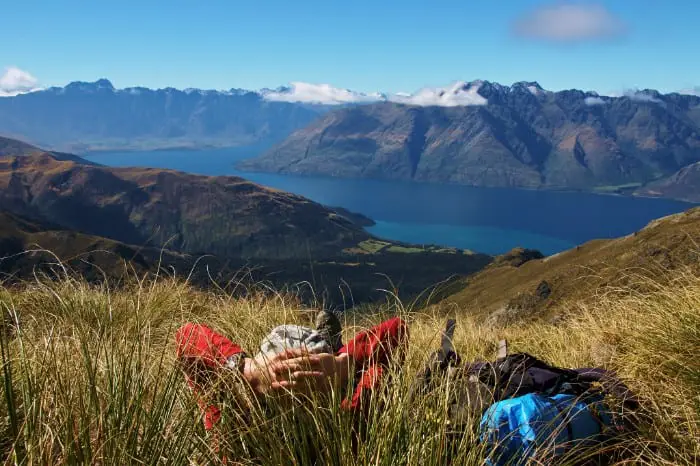 New Zealand Cost of Travel – Suggested Daily Budget
This post outlines the estimated cost of travel in New Zealand. Read our suggested shoestring and more comfortable backpacking budgets for this beautiful but isolated country. We also have some typical prices and info on using money there.
---
(Map of New Zealand from wikitravel, can be re-used under CC BY-SA 3.0)
---
New Zealand Trip Cost
Daily Travel Costs in New Zealand on a Shoestring Budget
US$60/day | 85 New Zealand Dollars
Prices in New Zealand are fairly similar to Australia but we have our New Zealand backpacking budget at slightly less than our Australia backpacking budget. One reason for that is that NZ is considerably smaller with the main destinations more closely bunched together so journeys tend to be a lot shorter and therefore less expensive. On a day to day basis in a typical town there isn't a great deal of difference between the two although there's not quite as much nightlife in New Zealand so again less money tends to be spent on going out in the evening.
Like Australia, there is a lot accommodation and plenty of activities that are geared towards backpackers and budget travellers and you can typically get some good deals. That said New Zealand is still overall an expensive country and you will struggle to get by on much less than 80-90 NZ Dollars per day unless you really aren't doing many daytime activities or specific excursions and just want to take in the scenery and experience life there for a few weeks.
If this sounds out of your price range, consider basing yourself in one of the cheapest cities to live in New Zealand for a period of time, find some short-term work and do trips in your free time.
See where New Zealand ranks on our Cost of Travel Guide.
More Comfortable New Zealand Backpacking Budget
US$90/day | 130 New Zealand Dollars
Many travellers are attracted to the range of adventure sports in New Zealand and almost everywhere you go, there is something new to try and another experience to tick off your bucket list. These things may get the adrenaline racing but they may also burn a whole in your pocket. If you want to do a lot of these activities and only have a few weeks in the country then more like 130+ New Zealand Dollars per day might be a more realistic travel budget.
---
New Zealand Cost of Travel Insurance
Remember to factor in the cost of travel insurance when calculating a budget for your New Zealand trip. For a quick quote on medical travel insurance for backpacking around New Zealand, check out SafetyWing.
---
Sample Prices in New Zealand
Flight from Auckland to Christchurch (1 hour 20 mins) – from 45 NZD (plus 26 NZD for backpack with Jetstar)
Christchurch to Queenstown by bus (8 hours) – 55 NZD
Meal in an inexpensive restaurant – 20 NZD
Large local beer in a restaurant/bar – 8 NZD
Dorm bed in Auckland – from 22 NZD/night
Dorm bed in Queenstown – from 27 NZD/night
Cheap private double or twin room – 60 NZD/night
Bungee jump off Kawarau Bridge – 150 NZD
Compare prices with the cost of travel in Japan.
These prices were last checked in June 2016. Everything else on this page was updated in February 2019.
---
Money
Currency – New Zealand Dollar
£1 = 1.93 NZD
€1 = 1.65 NZD
US$1 = 1.45 NZD
(All exchange rates are correct as of February 2019)
---
MFT Recommends
If you fancy the Kiwi experience  but don't want to travel alone, check out Stray Travel's New Zealand backpacker tours. They also have some special deals on bus passes.
---
street art in Christchurch, New Zealand (via Jocelyn Kinghorn, CC BY-SA 2.0)
---
This post was last updated in February 2019.
---