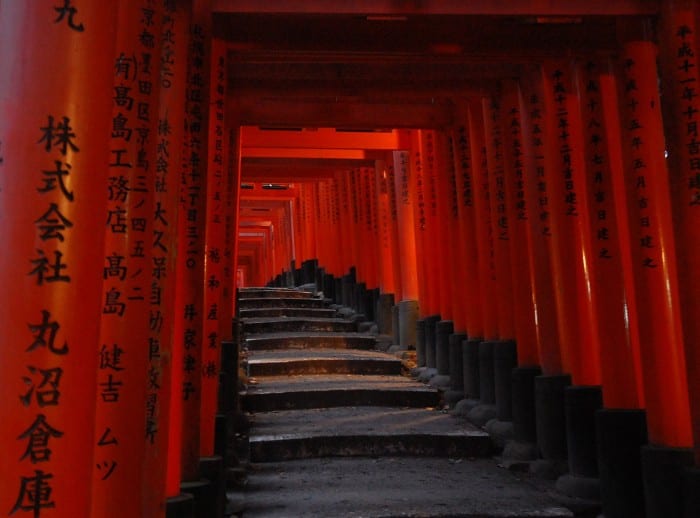 Japan Cost of Travel – Suggested Daily Budget
This article outlines the estimated cost of travel in Japan. Read about our suggested shoestring and more comfortable backpacking budgets to help you plan your trip to the Far East. There are also some sample prices and info on using money while you are there.
---
(Map of Japan from wikitravel, can be re-used under CC BY-SA 3.0)
---
Japan Daily Budget
Japan Travel Costs on a Shoestring Budget
US$65/day | 7,200 Yen
Japan is about as expensive as it gets in Asia and consistently ranks as one of the most expensive places in the world to travel in. Our shoestring Japan backpacking budget of US$65/day certainly reflects that and to put things in perspective it is around double what we have allowed in our piece on the cost of travel in China.
Lets start with some good news. Eating and drinking out is relatively affordable and overall prices are a bit cheaper than what you might find in more expensive parts of Europe or North America. Entrance to the main attractions also tends to be really good value with minimal entry fees.
Budget accommodation is found in most of the main travel destinations and all the bigger cities with capsule style dorms all the rage here and they offer more privacy than you'll find in your average hostel. However the high cost of accommodation is one of the reasons why Japan is an expensive place to visit.
The other more significant one is the cost of transport and the two questions you really need to ask yourself when setting your budget for Japan is how much travelling am I going to do? and how I am going to travel?
If you spend at least a few days in each destination and are taking the slower trains or perhaps even a budget flight between them, you can probably scrape by on $65/day and it should certainly more than cover your costs in days when you are not travelling around. If you opt for the popular rail passes which allow you on some of the fastest trains in the world, then you will find it almost impossible to stick to this budget as they aren't particularly cheap!
More Comfortable Japan Backpacking Budget
US$90/day | 10,000 Japanese Yen
By far the most popular option with travellers is to get a Japan rail pass which allows you onto all the bullet trains and also covers the cost of travel on the metro systems in the cities. It is by far the most hassle-free way to get around the country and in its own way whizzing around on Japan's brilliant high-speed rail network is one of its biggest appeals.
However as you will see from the typical prices below it is not cheap. That said, it still works out better value when compared to buying a few single tickets each week on the bullet trains. If you are in Japan for only 1-2 weeks and opt for the rail pass, there is simply no way you are going to survive on only $65/day. Even the slightly better value 3 week pass still works out at $25/day and given you might spend close to that again on accommodation each night, you are not left with an awful lot left on our previous budget.
Therefore for a typical 3-4 week trip to Japan with a rail pass you might want to think about budgeting more like $90/day. It is a lot of money for sure for a backpacking trip but the speed and efficiency of the rail network means you can easily visit 10 or more destinations in that time and experience all the best things that Japan has to offer.
Read more: Japan has two entries in our list of the world's weirdest ghost towns.
---
Japan Cost of Travel Insurance
These budgets don't cover other expenses like booking flights to Japan or purchasing travel insurance which is always advisable. For a quick quote on travel insurance for backpacking Japan, check out World Nomads.
---
How much do things cost in Japan?
Flight from Tokyo to Osaka (1 hour 30 mins) – from 5000¥ ($47) (plus baggage)
7 Day Rail Pass – 28,000¥ ($260)
14 Day Rail Pass – 45,000¥ ($420)
21 Day Rail Pass – 58,000¥ ($540)
Meal at an inexpensive restaurant – 800¥ ($7.50)
Large local beer in bar or restaurant – 400¥ ($3.75)
Capsule Bed in Dorm – from 1500¥/night ($14) (bit more in Tokyo or cities with only a few hostels)
Budget double or twin room – from 3000¥/night ($28)
Temple Pass in Kyoto (access to all temples including transportation) – 1200¥ ($11)
Compare prices with the cost of travel in USA.
Note, these prices were last checked in December 2016. Everything else on this page was updated in early 2019.
---
Money
Currency – Japanese Yen
£1 = 146 Yen
€1 = 126 Yen
US$1 = 110 Yen
(All exchange rates are correct as of February 2019)
---
MFT Recommends
Booking online you can often get dorm beds for as little as 2000 Yen/night (a bargain by Tokyo standards) at the very swanky Emblem Hostel Nishiarai.
---
street art in Tokyo, Japan (via Guilem Vellut, CC BY 2.0)
---
This page was last updated in February 2019.
---