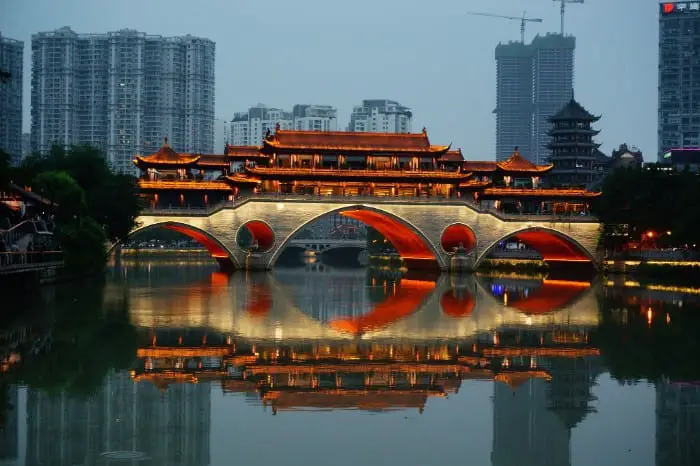 China Cost of Travel – Suggested Daily Budget
This post looks at the estimated cost of travel in China. Check out our suggested shoestring and more comfortable backpacking budgets to help you plan your trip to the world's most populous country. We also have some sample prices and info on using money in China.
---
(Map of China from wikitravel, can be re-used under CC BY-SA 3.0)
---
How much would a trip to China cost?
China Travel Costs on a Shoestring Budget
US$35/day | 235 Chinese Yuan
China may have risen to the status of global super power over the past 15 years thanks to enormous economic growth but the country is still on the whole very good value. In truth, prices haven't risen as much as you might think. There is a great deal of regional variation of course with Shanghai for example considerably more expensive than the predominantly rural West of the country. However even the big cities are still really quite affordable if you steer clear of the bars, shops and restaurants that are clearly geared towards the growing wealthy elites.
A one-way ticket for a short trip on the Beijing subway will set you back under 5 Yuan for example (the equivalent of US$0.75 or less). More local geared restaurants are also great value but menus aren't all that easy to read and English isn't widely spoken even in the big cities. Chinese street stalls and BBQ's offer a good alternative and are found all over the country. It's much easier to know what you are getting with them and you can often stack up on tasty snacks that won't set you back much cash. Going out can also be good value and if you know where to go you can find some real cheap bars and clubs. Sometimes they have 'all you can drink' deals for under $20.
The cost of travelling between destinations can add up though if you are looking to see large areas of the country in a relatively short space of time. In that case $35 might be an unrealistic budget but if you are spending a lot of time in more rural areas you can certainly get by on that sort of amount and do a large amount of travelling around.
More Comfortable China Backpacking Budget
US$45/day | 300 Chinese Yuan
Our shoestring China backpacking budget of $35/day isn't impossible on a day-to-day basis in Beijing. However it might be a bit tougher to stick to in Shanghai where accommodation tends to be a bit more expensive. In general though you should probably allow a bit more if you are sticking to the Eastern route between Shanghai and Beijing with perhaps a couple of other stops. Even that would be dependent on you not taking any internal flights and settling for the slower but cheaper trains rather than the fancy high-speed ones.
 By upping your budget to $45/day you won't need to stress out as much. You might then be able to afford the odd high speed train or flight if you are in the country for more than a couple of weeks. It should also be enough to cover your daily expenses in any city in mainland China or maybe even Hong Kong, which is generally more expensive.
Consider teaching English in China for a longer stay in the country or if you just want some funds to support your travels. We also have a post on the cheapest cities to live in China which may help with that!
---
Factor in Travel Insurance Costs
The budgets above do not cover extra pre-trip costs such as booking flights to/from China or the cost of travel insurance. The latter is basically an unavoidable extra expense. Check out our recommended travel insurance options for backpackers here.
---
China cost of travel – Typical Backpacking Costs
Flight from Shanghai to Kunming (3 hours 25 mins) – 450¥  ($70)
Beijing to Shanghai by High-Speed train in 2nd class (5-6 hours) – 450-555¥ ($70-85)
Cheapest berth on Beijing to Shanghai slow sleeper train (15 hours) – 327¥ ($50)
 Meal at an inexpensive restaurant – 25¥ ($4)
Large local beer in a bar or restaurant – 5¥ ($0.75)
Dorm bed in Beijing – from 35¥/night ($5)
Budget private double or twin room – 75-150¥/night (large amount of variation between cities) ($11-22)
Entrance to the Forbidden City, Beijing – 40-60¥ ($6-9)
Compare this with the cost of travel in Japan and the cost of travel in Nepal.
Note, these prices were last checked in December 2016. Everything else on this page was updated in early 2019.
---
Money
Currency – Chinese Yuan
£1 = 8.84 CNY
€1 = 7.61 CNY
US$1 =  6.70 CNY
(All exchange rates are correct as of February 2019)
---
MFT Recommends
We suggest staying at Beijing Sunrise Youth Hostel Beihai Branch on your visit to the capital. The Forbidden city is within walking distance and it boasts some of the best value beds in town.
---
street art in Shanghai, China (via Marc Garnaut, CC BY-NC 2.0)
---
This page was last updated in February 2019.
---