This post looks at the estimated cost of travel in South Africa. Read on for a suggested shoestring and more comfortable South Africa backpacking budget. We also have some sample prices to give you an idea of how much things cost.
---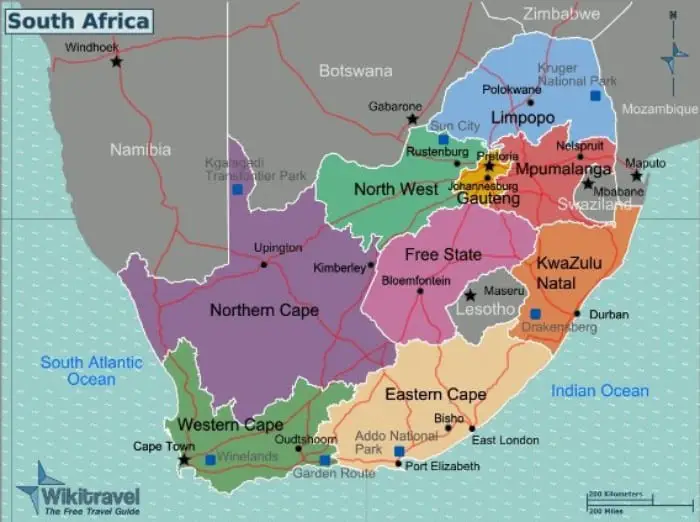 ---
South Africa Cost of Travel in 2023
---
Shoestring Backpacker Budget
US$35/day | 625 South African Rand
Although the cost of getting to South Africa can be significant, getting around the country on a shoestring budget is certainly possible and it's an affordable destination by most global standards. Overall, if you're planning a trip of a couple of weeks or less, there's a good chance you will spend more on the flights in and out than on your actual time in the country.
You also need to consider whether you will need to get a visa. The South Africa visa requirements for British citizens, as well as most EU nationals, are relatively relaxed with travellers only needing one for stays of over 90 days unless they plan to work in the country. Visitors from the USA, Canada, New Zealand and Australia can also get visa-free entry but there are visa costs for some visitors.
For those who have travelled extensively, the cost of travel in South Africa is roughly the equivalent of the more expensive countries in Southeast Asia, a mid-range South American country or one of the cheapest parts of Europe. On around $35/day, you should have plenty left over to have a really fulfilling trip and explore the best of South Africa's nature if you're willing to camp. Hostel accommodation starts at around $10/night and food and drink is typically good value for money.
However if you have a limited time-span for your trip and really want to make the most of your time in South Africa, you may be wise to consider stretching to the more comfortable South Africa backpacking budget detailed below.
More Comfortable South Africa Backpacking Budget
US$55/day | 980 South African Rand
South Africa is a country of extremes and despite huge changes over the past few decades, great inequality still exists. From a traveller's perspective that means if you have the cash, you won't be short on ways to spend it. From epic safari trips to diving adventures and boat tours along South Africa's stunning coastline, there are many tempting options that could easily blow the previous budget and even this one.
Adding an extra $20 to your daily budget though should suddenly open you up to a lot more of that. Those with plenty of time to explore South Africa, may look to save money by hiking and camping some days but there will be days when opportunities come up to do things that simply aren't possible in many other parts of the world, and on those days, you may well spend way above your planned budget.
See where South Africa ranks on our World Budget Travel Table for an idea of its costs relative to other countries. Also remember that you will also need to factor in any pre-trip costs such as that of flights to/from South Africa. The country is home to two of the busiest airports in Africa in the shape of Johannesburg and Cape Town with the latter the more popular travel destination.
How much do things cost in South Africa?
| | |
| --- | --- |
| | Approximate Price (in US Dollars)  |
| Flight from Cape Town to Johannesburg (2 Hours 15 Minutes) | From $50 plus baggage fees |
| Bus from Cape Town to Port Elizabeth (12-14 Hours) | $30 |
| Meal in an affordable local restaurant | $6-10 |
| Local beer in bar/restaurant | $1.50-2.50 |
| Dorm bed in a hostel | From $10/night |
| Budget private room | From $15/night |
| Bungee Jump from Bloukrans Bridge | $80 |
| Travel insurance for backpacking South Africa | Varies according to length of trip, your age & some other factors – Get a quick quote from Heymondo in 60 seconds! |
Prices in South Africa offer pretty good value but it's by no means the most affordable African destination. At the other end of the continent, the Morocco cost of travel is considerably cheaper for example.
---
Money – South African Rand
US$1 = 17.81 Rand
€1 = 19.40 Rand
£1 = 22.09 Rand
These exchange rates are correct as of April 2023. South Africa has seen a surge in contactless payments in recent years and this may be a better option than carrying cash if you have a travel friendly debit or credit card.
---
This South Africa backpacking budget was last updated in April 2023.
---
South Africa Cost of Travel – What is a typical Backpacker Budget?