Morocco Backpacking Route
This is our first backpacking route in Africa and it also acts as a mini backpackers guide for Morocco with info on getting in, getting around and the cost of travel in the country. Scroll down for our 3 week Morocco travel itinerary and tips.
---
TIME NEEDED – 3 weeks
3 weeks is a sufficient amount of time for a backpacking trip in Morocco unless you have any specific aim other than travelling around and visiting the most interesting places. Most of the destinations on this route can be seen in a day or two. Your biggest decision may be choosing how long you want to stay in the Sahara Desert. There are two points on the route where you can get out and spend several nights in it if you so wished.
---
POSSIBLE BUDGET – £500 | €575 | US$650
These figures are based on May 2019 prices and exchange rates. It is not an expensive country to travel in by any means and US$30/day is considered a safe benchmark figure for budget travel in Morocco but it's possible to get by on less if you're savvy. The figures above are based on that but don't include the cost of travel in/out of Morocco. Your costs will also depend on how many organised trips you take with the Sahara trip likely to be your biggest single expense.
---
CUT YOUR MOROCCO TRAVEL COSTS
We'd highly recommend getting a Revolut Card before you travel. This will enable you to pay for things in Moroccan Dirhams. Over the course of a lengthy backpacking trip, this will save you a lot of money as you'll dodge most of those irritating hidden fees. You can easily load money directly from your bank via the app and can exchange it in an instant at excellent rates. They also have some great budgeting tools which will help you keep tabs on your expenditure and make sure you are not overspending.
---
VOLUNTEER WORK & WORK EXCHANGES
It is possible to find projects to get involved with and it's a good option for anyone with more than three weeks to spare. For example, Worldpackers has lots of hostels in Morocco who are looking for volunteers and will offer food and beds in exchange for your time. Use our $10 Worldpackers discount to get going.
---
TRAVEL INSURANCE
Find out more about our recommended travel insurance for backpackers.
---
Backpacking Morocco – An Independent Travel Itinerary
Our Morocco travel route covers all the main destinations in the country. We suggest following it in the order indicated or in reverse.
---
3 Weeks Backpacking Morocco
1. Tangier
(1/2 days)
Tangier is Morocco's main coastal gateway to Europe and the Mediterranean and has an international flavour but if you're someone who likes a culture shock, it still represents a sudden, in-your-face introduction to Morocco and everything it represents. Its steep central streets are bustling with life, teeming with touts and full of decaying yet charming buildings that give it a really authentic feel. In short it is a microcosm of Morocco but in terms of genuine sights the Kasbah and ancient medina are the main things to see and are located right next to each other so can easily be done in one day.
Getting from Tangier to Chefchaouen: Frequent buses serve the route and take around 3 hours to cover the 100 km or so between the two cities with most buses stopping in the city of Tetouan en-route.
2. Chefchaouen
(2/3 days)
Chefchaouen is a beautiful small city in North-Western Morocco just beneath the dramatic backdrop of the Rif Mountains. It is really popular with backpackers and other nomads, some of whom are unquestionably attracted to the town for its proximity to the numerous nearby marijuana plantations. Although there are plenty of touts trying to sell hashish, which can be highly annoying, it is still a very relaxed place and known as the 'Blue Pearl' for the colour of its buildings. It's worth staying a few days here and getting out to explore the Rif Mountains and nearby national park.
Getting from Chefchaouen to Meknes: Buses take about 4 hours to get to Meknes from Chefchaouen.
3. Meknes
(1/2 days)
Meknes is free from the hassles of some of the more popular tourist destinations as most travellers tend to overlook it in favour of nearby Fes. However this imperial city is full of interesting historical sites with plenty of palaces and mosques while at the same time it is also a good example of a flourishing modern Moroccan city. If you're looking to shop in Morocco, the medina in Meknes is perhaps the most reasonably priced of all the cities on this route and it's a great place to land a few bargains.
Getting from Meknes to Fes: Very close and very well connected cities with at least one train leaving per hour. It costs just 22 Dirhams (roughly US$2) for a 2nd class ticket and the journey takes about 30 minutes.
4. Fez
(2/3 days)
Fez is one of the real travel highlights of Morocco. This ancient walled city is a giant maze of souks, shrines, tanneries and tombs and the only certainty when exploring the enormous medina of Fez is that you will get lost! It was the medieval capital of Morocco and is widely regarded as the most well-preserved old city in all of the Arab world today so it is well worth spending a few days here.
Getting from Fes to Merzouga: It takes about 10 hours by overnight bus and is almost certainly the longest journey you'll need to take in Morocco. The Supratours buses do the route in full and can be booked easily once in the country and you shouldn't have any problems getting seats if you book a couple of days in advance. Alternatively you can take a bus from Fez to Rissani with CTM and then take a taxi to Merzouga.
5. Merzouga, Sahara Desert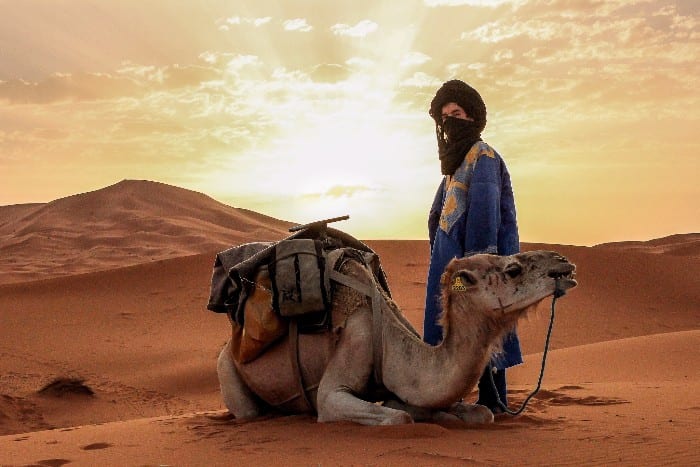 Merzouga Warrior, CC BY-ND 2.0
(2-4 days depending on length of trip in Sahara)
A trip to Merzouga, in the wilderness of the Sahara Desert is a must for anyone backpacking in Morocco. While Sahara trips are easily arranged from Marrakech or any of the main cities, heading all the way to Merzouga yourself is the most rewarding way to do it. The village is much deeper into the desert than a typical short trip from Marrakech will reach and given you are based in the Sahara, you have much more flexibility to do the things you want to do. In the typical multi-day tours you basically have to do everything as a tour group.
Options here include camel treks with the possibility of spending several nights in the desert, off-road 4×4 or motorbike trips around the dunes. You can also simply get out and explore them on foot from Merzouga, which is a very small settlement.
Getting from Merzouga to Tinghir: At the time of research there was one Supratours bus that leaves Merzouga in the direction of Marrakech at 8:00 a.m. each day and takes the tourist route, stopping close to the Todra Gorge. Alternatively you can take a Grand Taxi (shared taxi) to nearby Rissani for around 10 Dirhams and from there you should be able to reach Tinghir by taking a local bus. Best to ask in Merzouga for advice on this leg as most visitors do it as part of a tour group and it's not a route locals would regularly take so options are limited.
6. Tinghir & Todra Gorge
(1/2 days)
Tinghir is a small and fairly unremarkable place in the stunning High Atlas region of Morocco and it is a good base for exploring the nearby spectacular Todra Gorge, which is a popular stop en-route between the Sahara and Marrakech. From Tinghir, you can take a taxi up to the gorge, which has a well marked 2-3 hour hiking trail and is also a good place for rock climbing and you can also take trips to the surrounding oasis, which is wedged between the High Atlas and Little Atlas Mountain ranges.
Getting from Tinghir to Ouarzazate: Direct Buses leave at 5:30 a.m. and 1:00 p.m. and take 3 hours costing 55 Dirhams (about US$5.50). Other departure times may be available.
7. Ouarzazate
(1/2 days)
Situated at 1,135 metres above sea level but just inside the Saharan region of Morocco, Ouarzazate is another popular stop. The town is far bigger and more developed than Merzouga but the surrounding areas are far less impressive and you have to travel a long way out before you really feel like you're in the desert. The town boasts two film studios (guided tours available) where a host of famous movies have been shot. The Atlas Studios are the most famous. For a slice of nature, nearby Oasis Fint makes for a decent hike or half-day trip.
Getting from Ouarzazate to Aït-Benhaddou: Only 30 km between the towns so it doesn't take long but there are no direct buses. Instead take a bus from Ouarzazate Bus Station towards Marrakech and tell the driver you want to go to Aït-Benhaddou. He will drop you off at a crossing (around 9km from Aït-Benhaddou) from where there are plenty of taxis waiting to take you up to the town. The whole journey should only be about 20 Dirhams if you wait for a shared taxi to fill up rather than getting your own.
8. Aït-Benhaddou
(Day Trip)
Ait Benhaddou has one of the best preserved Kasbahs in the country and is frequently visited as part of a day trip from either Marrakech or Ouarzazate. You may wish to stay overnight too as this Mud Brick city on the edge of the High Atlas Mountains is beautiful when lit up at night. Be sure to climb up the hill to the Granary for spectacular views of the town and surroundings. Most of the appeal here is the town itself which has also featured in numerous movies including Lawrence of Arabia and Gladiator (both of which were largely shot at the studios in Ouarzazate) but again you will only really need a day to see it. Budget accommodation is pretty limited in town so you'll need to either fork out for something a bit more expensive or just skip the overnight option.
Getting from Aït-Benhaddou to Marrakech: Either return to the crossing via taxi and try to flag down a local bus to Marrakech (this can be tricky as most signs are in Arabic) or return to Ouarzazate and get a bus from there. At the time of research (May 2019), there were buses leaving Ouarzazate for Marrakech at 8:30, 10:30, 11:15, 12:15, 16:30 and 22:15 each day taking around 4-5 hours.
9. Marrakech
(2-4 days)
Marrakech is the most popular city in Morocco with travellers and European tourists with a number of cheap flights going in and out of it on a daily basis. As such, it is more touristy than a lot of the other cities on this backpacking route for Morocco but it's still a unique and special place.
It's a bit like two completely different cities in one with the ancient medina still a mysterious maze of narrow passageways and colourful stalls and shops. There is an array of souks, squares, museums, mosques and palaces to visit so you'll need a few days in town for sure. Visits to one of the many hammams for traditional massages and spa treatments are popular while accommodation choices include stays in typical Moroccan Riads, which can be a wonderful experience in their own right.
For a complete contrast head to modern Gueliz district which feels more like Europe with excellent restaurants and larger department stores. Another nice option is to take a day trip to Amizmiz, a nearby town in the High Atlas Mountains with a large Berber Souk every Tuesday.
Find Accommodation in Marrakech:
Getting from Marrakech to Essaouira: This is a popular route with visitors to Morocco so buses are quite frequent and take roughly 3 hours usually costing 70 Dirhams (US$7).
10. Essaouira
(2/3 days)
Morocco has tried to develop a few coastal resorts in recent years with varying success but by far the most charming remains Essaouira. As an 18th Century fortified town, it has plenty of interesting history and its unique coastal location gives it a different climate and feel to the other destinations on this Morocco backpacking route. The beach dominates life here although high Atlantic winds mean kitesurfing, windsurfing and other water sports are more popular than swimming and relaxing.
You may need to return to Marrakech to leave Morocco although there is a small airport in Essaouira with irregular but direct flights to London (Stansted), Paris, Bordeaux, Brussels, Marseille and Lyon.
---
---
Morocco Backpacking Tips
Why Visit?
Although Morocco does receive a decent amount of foreign visitors these days, it has never really taken off as a massive backpacking destination which given its proximity to Europe and all that it has to offer, is a bit strange. People instead have tended to opt for short breaks most typically to Marrakech, sometimes fitting in an overnight trip into the Sahara Desert.
However Morocco has all the stunning natural sights and cultural thrills and surprises that anyone could ask for and to make matters better it is only a 2-3 hour flight from most Western and Central European cities. It's cheap to get there and cheap to travel in and although there are a few hassles, it's an incredible country to spend a few weeks travelling around and if you happen to be European, it is right on your doorstep.
Getting to/from Morocco
The most common way to get to/from Morocco from Europe is via budget airlines like Ryanair and Easyjet that have an abundance of cheap flights from right across the continent to cities in Morocco including Fez, Marrakech, Nador, Agadir and Tangier.
If you're coming from further afield then Casablanca Mohammed V International Airport is you're most likely arrival and departure point and it is the biggest airport in the country and one of the busiest in Africa. As the hub of Royal Air Maroc, the country's national carrier, there are flights to cities all over the world. You may though still find it cheaper and more convenient to fly to a major European hub like Madrid, Paris, Amsterdam, Frankfurt or London and then take a budget flight to one of the more popular travel destinations like Fez or Marrakech. Casablanca isn't quite the romantic wonder that you might think of given the film and although it's still an interesting visit, it doesn't make that many travel itineraries for Morocco.
One final option (and highly recommended) is to make your way to Southern Spain and either Algeciras, Tarifa or even Gibraltar and then take a ferry over to Tangier in Morocco, where our backpacking route starts. You could easily combine this with our backpacking route for Spain and Portugal. From Tarifa it is only a 30 minute ferry to Tangier and you get to experience the dramatic instant change between Europe and Africa much better than you would by flying in. Ferry tickets are about 40 Euros one-way with FRS.
Visa Requirements for Morocco
66 nationalities can enter Morocco visa-free for up to 90 days. This includes all EU countries, the UK, USA, Canada, Australia, New Zealand, Japan and South Korea. If you're from elsewhere use our visa check tool to find out whether you will need one.
Budget Accommodation
You may be able to find accommodation just by rocking up but some of the cities are immensely complicated to get around so it is usually easier and safer to book online and get a cab there when you arrive.
Backpacking Morocco Solo – Is it Safe?
Unlike fellow North African countries and popular travel destinations Tunisia and Egypt, it hasn't yet been the victim of any large-scale ISIS-linked terrorist attacks. However the terrorist threat is listed as 'high' by the UK Foreign Office and two Danish backpackers were murdered in the Atlas Mountains in December 2018 in what was described as 'a terrorist incident'.
In terms of tips for solo travellers in Morocco, there are many scams and irritations which are more likely to have an impact on your trip but they can be avoided if you're assertive and sensible. You are likely to be approached by many people, particularly in the main tourist centres trying to offer you unofficial tours, take you to restaurants (probably with the aim of extorting money from you) or sell you some 'flower power'. The regularity of these approaches particularly if you're travelling alone can get irritating and although it may seem rude, you will have to be assertive or just outright ignore such people. Don't let these incidents put you off Morocco or Moroccans as a whole, as they are naturally sociable people and typically very friendly and welcoming to visitors.
Many girls are put off travelling alone or visiting Morocco full stop and we have heard mixed reports from solo female travellers in the country. If you are concerned, consider booking into female dorms where it should be easier to meet fellow travellers in the same situation or do more organised tours than you would in other countries.
Getting Around Morocco
Getting around Morocco is cheap and easy with one of the most extensive train networks in Africa and plenty of regular bus and rail connections, many of which are surprisingly fast. You can book train and some bus tickets online by the ONCF website (in French but translates well into English) or easily on the day at stations.
The main bus companies that travellers tend to use are Supratours (website doesn't seem to work well) and CTM and they also have extensive connections across Morocco.
More Local geared buses also run many of the connections on this route but info is hard to find and almost always in Arabic so it's difficult for foreigners to use unless you speak the language. In and around cities, shared taxis are the cheapest way to get around although you may be the victim of minor overcharging as a foreigner.
---
This article was last updated in May 2019.
Use the comments below for questions on backpacking around Morocco! We aim to respond to them all.
---