Australia remains a popular independent travel destination with no shortage of hostels, bus passes and even work options for backpackers. However there is no getting away from the fact that it is an expensive country to travel around and your money will go a lot further in other parts of the world. One good option for anyone travelling around Australia with friends is to rent an RV which offers greater flexibility in terms of where you can go and will also slash your accommodation costs. Read on for five RV travel tips for Australia.
---
RV Travel Tips for Australia
---
1. Choose the right Camper van for your Needs & your Trip
Travelling via camper van is becoming increasingly popular again in many countries but much likes homes or cars, not all camper vans are equal. In fact there are some very significant differences which you need to consider when renting a camper van and choosing the right one for you will have a huge impact on the success of your trip.
If you're travelling in the Australian summer then air conditioning will make the whole experience much more tolerable. You might be able to get away without it in cooler periods but finding one with good ventilation is still important, particularly if you plan on cooking in your RV. Some camper vans come with fridges, burner gas stoves and microwaves while others may have less features but include a portable gas cooker enabling you to cook your food outside.
Another big consideration is whether or not to get a more expensive camper van with a toilet and shower or whether you think you can survive without.
2. Create a Packing Checklist
Following on from the previous point, the facilities you have in your RV will have a big impact on what you need to pack. Once you've settled on a vehicle, you can create a packing checklist and it's something you may want to do not just before the whole trip but before each individual leg of the journey.
Australia is an enormous country, 29 times bigger than the UK for example but with less than half as many people. The result is that road-trips (particularly away from the coasts) can involve you travelling for miles and miles without encountering any form of civilisation so you can't just assume that you will stumble across a store to stock up on supplies or anything you've forgotten to pack.
3. Make a rough Plan of your Itinerary
When booking your trip, you will need to decide on both pick-up and drop-off dates as well as destinations. Unless you are doing a big loop, it makes sense to choose different destinations. If you're planning primarily on exploring the east coast then starting in Melbourne and ending in Brisbane or Cairns would be a sensible plan of action (or vice-versa).
You don't need to plan your Australia backpacking route down to every last detail but it's certainly worth coming up with a rough plan of your itinerary in order to decide what is a suitable time period to cover the distance between your pick-up and drop-off points. You want to allow enough time so you don't find yourself with large ground still to make up towards the end of your trip.
4. Get off the Beaten Track
Even though having a rough itinerary is a smart idea, the main advantage of travelling by RV in Australia is that it gives you much greater freedom and flexibility to get off the beaten track than those who opt to travel around the country by bus.
Australia does have a fairly well-trodden path that backpackers tend to follow consisting of the likes of Sydney, Melbourne, Cairns, the Gold Coast and the Whitsunday Islands. However there is an enormous coastline to explore with plenty of more rustic beaches that are only easily accessed if you've got your own vehicle. Be sure to take advantage of the flexibility you have and be sure to ask locals for their travel tips and secret gems as you go rather than relying on the typical guidebooks.
5. Still spend the odd Night in a Hostel/Hotel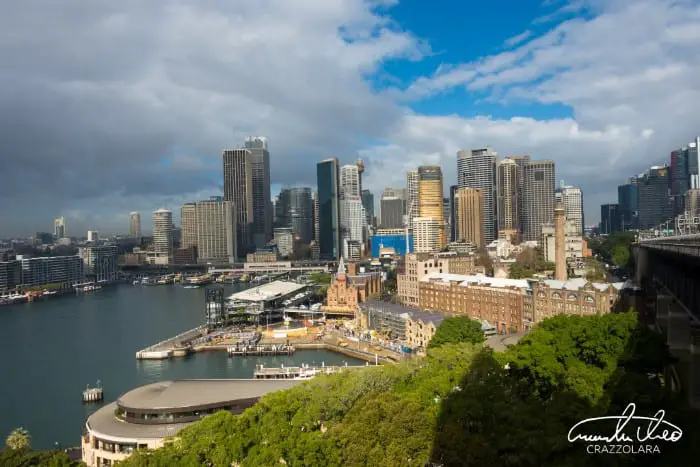 Unless you opt for a really luxurious RV with shower facilities and large beds, the reality of travelling in this fashion is that it will be uncomfortable at times and it's not the most hygienic way to travel. Spending a night every now and then in a hotel or hostel with a proper bed and a hot shower can make a world of difference.
Your best option for doing this may be in the bigger cities which aren't that well suited to driving or indeed parking up and sleeping in camper vans. Remember that Australians drive on the left which can make driving a large vehicle even more challenging in busy city streets, especially if you're used to a small car in a country where they drive on the right.
---
This post on RV travel tips for Australia was published in August 2019.
Head to our Oceania travel blog for more trip ideas for the region.
---
5 RV Travel Tips for Australia