While it's always useful to have a fair amount of cash saved up before you set out travelling, finding work on the road is often vital for any backpacker looking to travel for a long period. There are lots of weird and wonderful ways to make some dosh as you roam the earth. Few are particularly well paying, but it's not hard to find jobs that at the very least offer you free accommodation and food, not to mention the chance to really experience day-to-day life in a foreign land. Meanwhile it's also much easier to make money online than it used to be.
Here are 10 of the best ways to make some money while travelling to new places:
---
How to Work and Travel – 10 Options!
---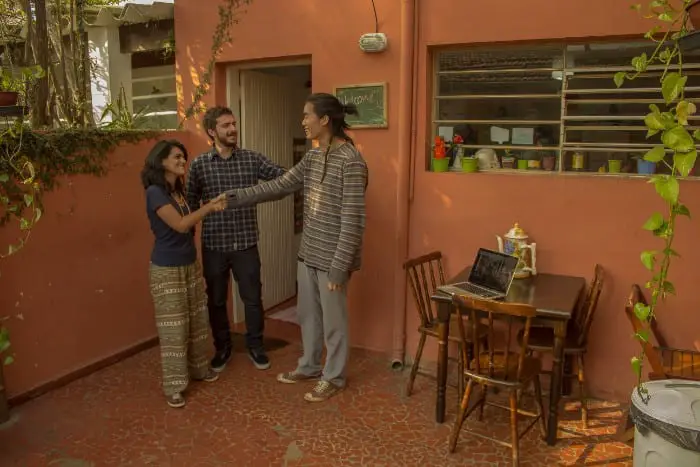 There are loads of volunteer and work exchange opportunities in 2023 in every continent to be found on Worldpackers. You will normally be provided with food and accommodation in exchange for your efforts. This type of work varies from farming to bar and hostel work and includes many of the things featured further down this post.
While you may not earn cash, you will be able to travel for much longer if you're regularly getting free accommodation. This is a very good option for long-term backpackers, particularly in the more expensive parts of the world where you can end up paying $20 a night or more just for a dorm bed.
If this appeals, you can use our Worldpackers discount code (follow the link or enter – 'MYFUNKYTRAVELWP' for $10 off) to join the program for just $39. Anyone travelling for a few months or more who is serious about finding projects to join will easily make this back in terms of accommodation and other savings once you get out there and start exploring the world. We also have a Worldpackers guide designed for anyone getting started on the platform.
2. Work on Organic Farms with WWOOF
WWOOF is a worldwide movement which puts organic farms in touch with volunteers. It is a reputable and long-standing organisation that has been helping travellers find work for many years now. It's a good option for anyone looking to space out their travelling around various short-term working stints in different locations.
It's another of the best ways to volunteer abroad for free and as is the case with Worldpackers, in return for your help you will generally get accommodation and food, as well as the chance to learn about organic farming. Many farms have several travellers working at any one time so you should get the chance to meet some like-minded people too and hopefully it will be an enjoyable experience.
3. Teach English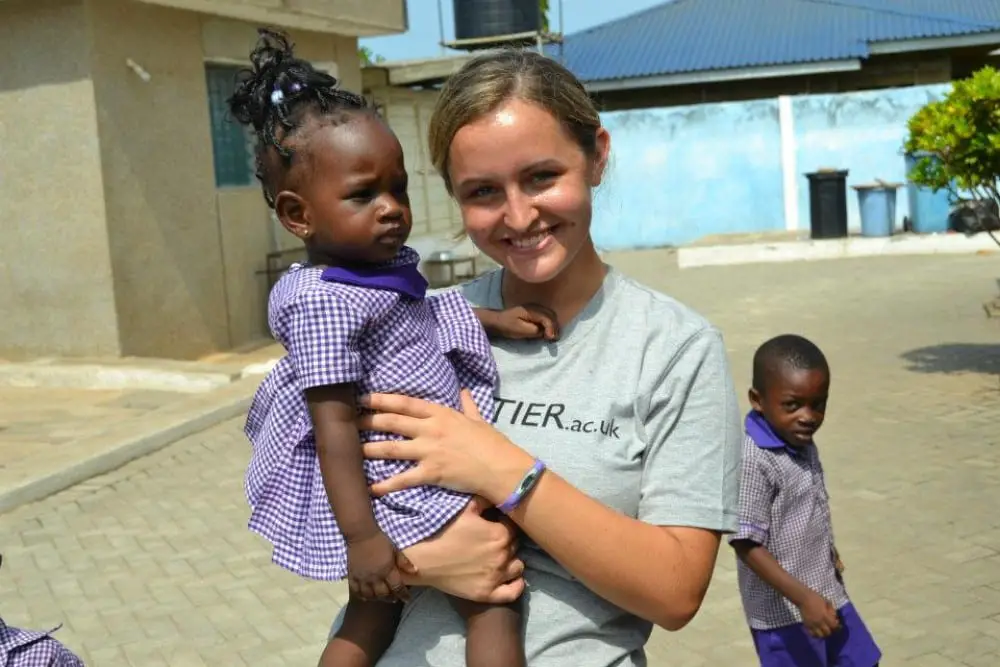 An English teacher in Ghana, CC BY 2.0
If you are a native English speaker you are already 90% of the way to becoming an English teacher. In some countries you can easily get work teaching English without any formal qualifications or experience and it's a popular option with people backpacking around Southeast Asia and a few other parts of the world.
Teaching English in places like Korea, Japan or in most European countries is a bit more formal and you may be required to have official qualifications, however if you're serious about it then you can get qualified as an English teacher in just a month. You can make really good money teaching in a few countries, particularly in the Middle East which is a decent option for anyone who'd rather save up some cash before heading off travelling. See TEFL.com for a bit of inspiration as to the sort of jobs that are out there.
If you're not a native English speaker, don't despair as if you're capable of reading this article without clicking translate, chances are you still have a good enough level to teach English in many countries. There are also teaching jobs for other languages out there but they may be harder to find while increasingly it is becoming possible to teach English online full time.
Check out our guide to teaching English abroad for a more detailed overview of this topic.
4. Find Work in a Backpacker Hostel
Many hostels employ passing travellers to help out with general hostel duties. If you've stayed in a few hostels you'll almost certainly know what sort of stuff this entails. It's always worth asking if there's any work going and occasionally you will get paid although more often you'll be rewarded with a bed, meals and possibly the odd free drink at the bar. It's an easy way to meet lots of travellers and is generally quite good fun with long-term commitments not required.
On a similar note, you might also find some bar work in the more party-orientated travel destinations. Some bars may require a minimum commitment or for you to work through the tourist season but often you can just come to a flexible 'cash in hand' agreement which helps avoid the need for a work visa.
5. Travel the World and get paid for your Writing & Photography
This has the potential to bring in anything from virtually zero to enough cash to cover your entire travel expenses. It takes time to build up but in this day and age with a little bit of effort and know-how, virtually anyone can set up a blog. Don't expect instant results but if your content is unique and interesting, you have a chance to turn it into something that will at least generate a bit of revenue to support your travels.
Internet cafes and wifi connections are easy to find even in the more remote parts of the world so it's fairly easy to keep your blog up-to-date on the road. Alternatively you can simply travel to more 'off the beaten track' places that aren't the subject of such widespread coverage online and see if more established sites are willing to feature your stories.
In terms of photography, it's perhaps more challenging still to turn your travel snaps into cash but if you've got a real flair for it (and a great camera!), then there's no reason why you can't give it a go.
At MFT, we are happy give amateur travel writers/photographers a platform for their work and a way to promote their blogs but sadly for you, we don't pay. This is unfortunately common but if you're interested then feel free to contact us.
6. Start a Youtube Travel Vlog
If you fancy yourself as a bit of a natural in front of a camera and have interesting stuff to talk about, which is generally pretty easy when you're travelling in distant lands, then why not start vlogging. There are plenty of successful travel youtubers who you can take some inspiration from and once you've learned the technical basics, there's no reason why you can't take steps towards following in their footsteps.
What many don't realise is just how lucrative running even a relatively small youtube channel can be. Exact figures on how much travel bloggers (with adverts) make may vary but $2 per 1000 views seems to be a very rough ballpark figure although there are clearly many variables.
7. Travel and earn Money by using your existing Skills!
This is often overlooked by many travellers but there's no reason why you can't use your existing skills and talents to make a bit of money abroad. You can make use of social media or websites such as gumtree or craigslist (or whatever is popular in the country you are in) to offer up your services.
Examples of this could include anything from hairdressing and teaching to cooking, massage and yoga. If you've got a bit of expertise, it's quite easy to offer up your services online and quickly find a few clients although in truth this doesn't really suit the kind of travellers who are constantly moving from place to place.
8. Work online as a Freelancer
Increasingly, finding work online as you travel is becoming a more appealing option, particularly if you are skilled in something that is more suited to remote working. Writers, web designers, graphic designers are among those that have good potential to find online work. Freelancers can use a site like fiverr to offer their services.
However again if you are a bit creative, there's no reason why you can't find work in less obvious fields. Teaching or tutoring via skype is another option for example.
9. Fruit Picking
Fruit picking is another common job people take to earn a bit of cash while backpacking. Anywhere that fruit is grown, there are people that get paid to spend all day picking it. Work is obviously only during harvest but there should always be somewhere in the world that'll have fruit picking jobs going.
It is pretty hard work but can sometimes pay quite well and there is quite a lot of demand for temporary workers in many countries. Australia is one country where opportunities tend to be plentiful. Backpacker Job Board has regularly updated listings of fruit picking jobs in Oz.
10. Au Pair Work
Finally, au pair work is another good option for anyone who loves kids and is looking to find some work abroad. This may not always be conducive to travel unless you can negotiate an arrangement where you have at least a couple of consecutive days free but it's a good way to experience living abroad at least.
Without stating the obvious, being young and female does tend to make it easier to find work as an au pair but every family is different and some may be more open to hiring male or older au pairs. Check out websites such as Au Pair World and Go Au Pair for job opportunities.
---
This article on how to work and travel was last updated in September 2019
---
Featured Image of Farm Work, CC BY 2.0
10 Ways to Work and Travel