Getting bored of the 'same, same' feel when it comes to hotels and hostels? Then this article is most definitely for you with 10 weird and wonderful places to stay listed from around the world. It features capsules, pods and wigwams and just about everything in-between.
---
10 Weird & Wonderful Places to stay!
---
This motel is located along the famous Route 66 and has been welcoming travellers for over 50 years. It is now even listed on the National Register of Historic Places. The motel features a host of retro wigwams with each one containing a full bathroom, shower, cable TV, heating and air conditioning.
All the rooms in this hotel have a medieval feel and are a lot more interesting than a boring chain hotel. Most of the furniture is made of wood and there's a rustic, middle-ages feel to the place. Rooms are lit by candle-light and there is even a medieval banquet and entertainment laid on for guests.
You've heard of ice hotels, but this hotel is built entirely out of salt! Even the chairs, tables and beds are made of sodium chloride. The is one of the most unique hotels and resorts on the planet with suites and rooms complete with en-suite bathrooms, heating and electricity. There is also a bar and a recreation room where billiards, chess and other games are at the guests' disposal. It has won several awards for being one of the most unusual hotels in the world.
Most people think of sewage pipes as being dirty and unhygienic, but one person decided to turn several of them into a hotel. Each drainpipe contains a double bed and storage space. Bathrooms, a cafeteria and a bar are located nearby so you have everything at your disposal. What's more, you only have to pay as much as you think your stay is worth.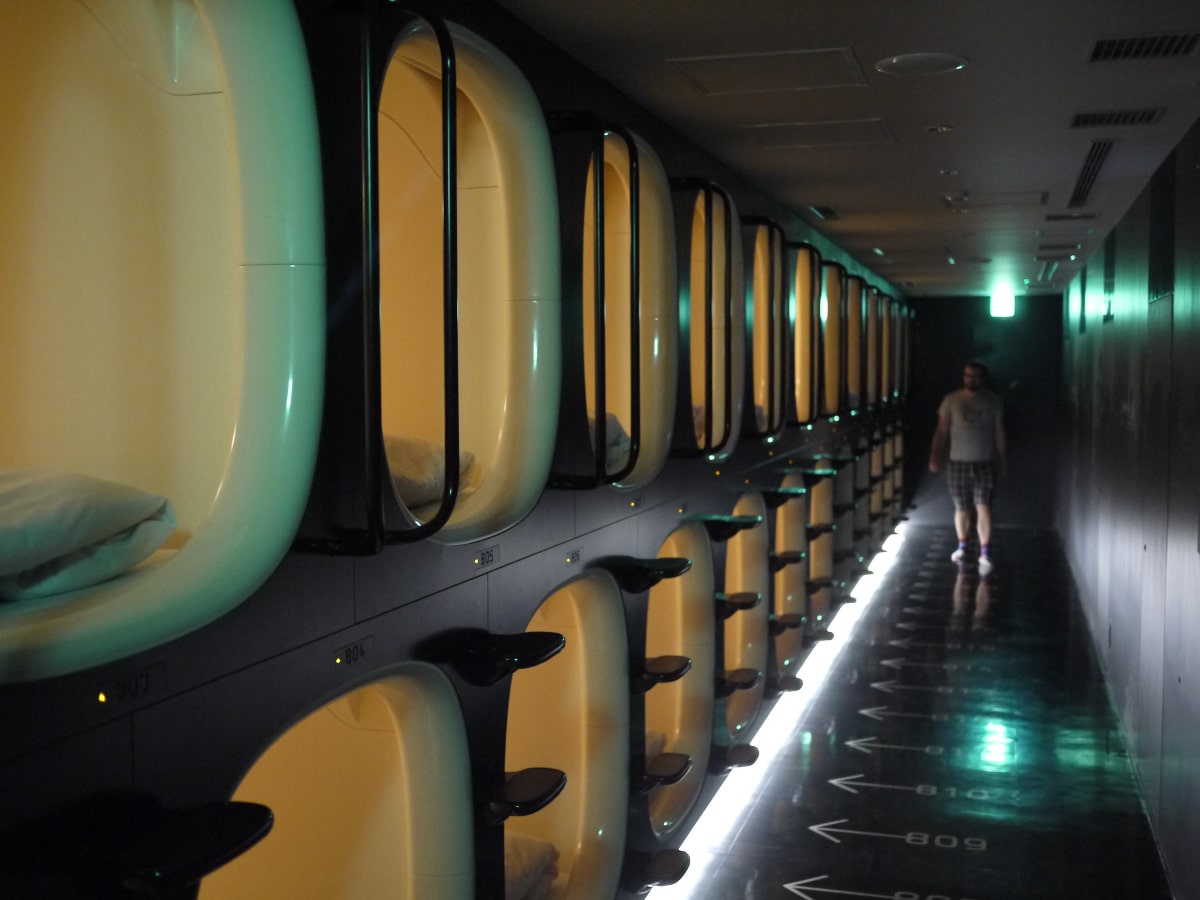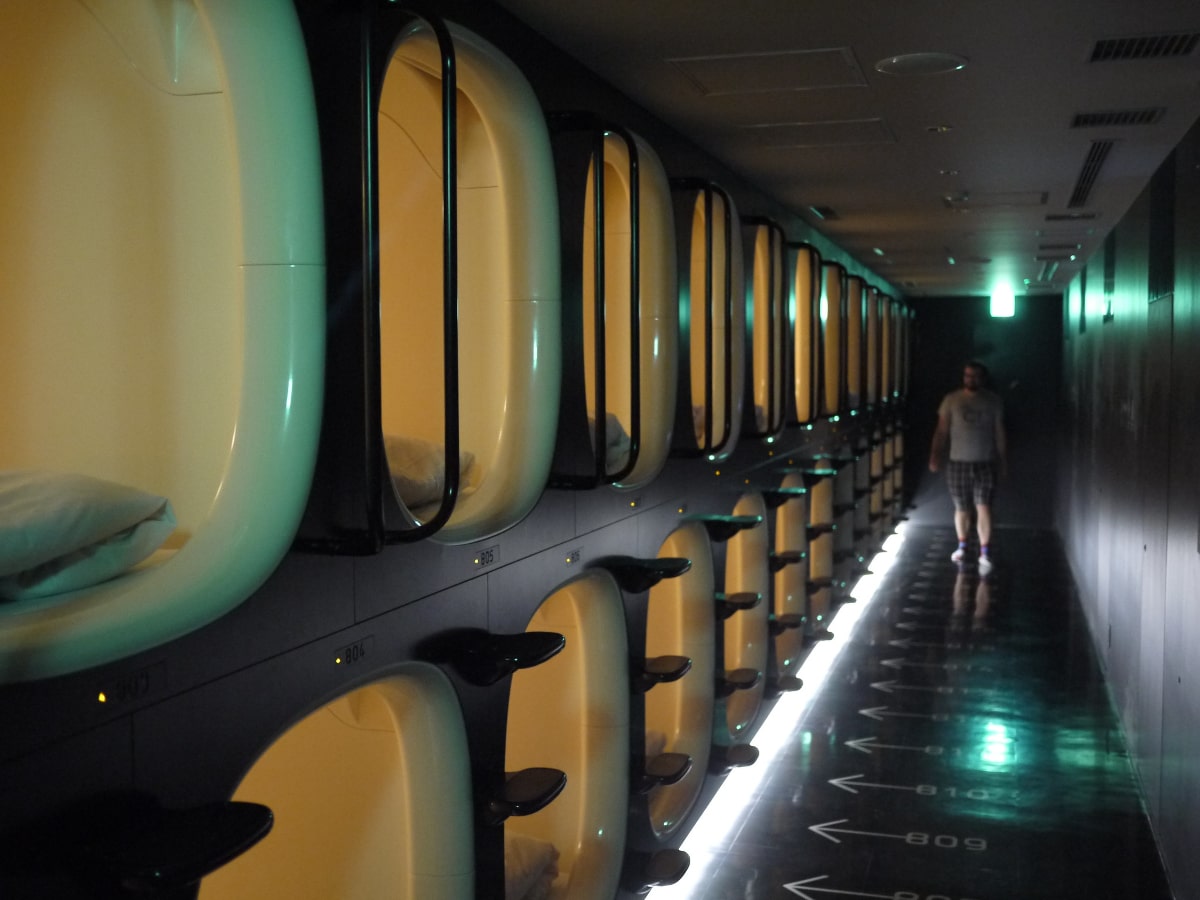 Imagine having your daily schedule already planned out for you. This happens at 9hours! You have 1 hour to shower, 7 hours to sleep and 1 hour to get yourself ready before leaving – the alarm will make sure of this! Each visitor sleeps in a futuristic pod with computerised lighting to aid sleeping. The famous Kyoto 9hours has since closed but as of May 2022, you can still find their unique accommodation concept in Tokyo, Osaka, Aichi, Fukuoka and Miyagi.
Have you ever thought about staying in an old fashioned gypsy-style caravan? There are several caravans to hire and each one has its own personality. Each one is filled with beautiful carved furniture, trinkets and elaborate lamps and mirrors. There's also a carpenter's workshop on the grounds where the caravans are built.
Can Sleep – Lake Skanderborg, Denmark
The Skanderborg Music Festival is held in Denmark every August. Festival goers get to experience some of the biggest names in pop and rock with Justin Bieber among the 2022 headliners whilst enjoying a few beers alongside the concert. When the visitors are slightly tipsy and want to retire to bed, they can do so in an actual beer can! The cans are set out in six-pack communities and each can is 12.5ft high and contains a circular double bed. The furniture is all from IKEA and the walls are decorated in bubbly wallpaper.
If you've tried all the other places and still aren't satisfied with the novelty level then there's always the sand hotel in Dorset, England. The hotel was created by sculptor Mark Anderson and actually has no roof so you have to hope that the weather stays nice. Everything is made of sand…even the bed and the 'pillows', but it's so cheap that you can't really complain if you're finding sand in weird places for days afterwards.
2022 Update – We can't find any info about whether this place is still up and running – Please comment if you have any info!
If you've ever wanted to be at one with nature and live for a couple of nights in a forest then this is the hotel for you. There's no electricity or running water and you have to go and chop your own wood. Imagine a few nights away from mobiles and other gadgets and just relaxing in the wilderness in front of a roaring fire. There are also tours in the winter that visitors can go on.
To discover more of the great outdoors in Sweden, check out our itinerary for backpacking Scandinavia.
These orange capsules used to be known as oil rig survival pods in the 70's, but were converted into hotel suites with several options; from basic to one based on the escape pod used in the James Bond film The Spy Who Loved Me. This capsule even contains a disco ball, TV and the ingredients to make yourself a Martini. Up to three people can sleep in one of the pods.
2022 – Again, we have struggled to find any current info on this one!
---
This article on weird and wonderful places to stay was originally a guest post written by Will Thoms in November 2012. It was last updated in May 2022.
Note – We were able to verify that 8 of the 10 are still operational in some form following the pandemic, however couldn't find much info on the Sandcastle Hotel or Capsule Hotel. Let us know if you are able to confirm whether either are still operational and accepting guests!
---
10 Weird and Wonderful places to stay