Baltic Backpacking Route (Estonia, Latvia, Lithuania, Finland & Russia)
Okay, so this part of the world isn't exactly a massive travel hotbed but our Baltic backpacking route might just surprise you. There is no well-trodden backpacker trail here. Every traveller you meet will tend to have their own unique reason for being in the Baltic area while the locals are friendly and appreciative of anyone who has chosen to visit their little corner of the planet. As well as visiting the three Baltic States (Estonia, Lithuania and Latvia), our route sees you dive into Finland for a quick taste of Scandinavia and also takes in a little bit of Mother Russia. On the whole this is an underrated and very budget friendly part of Europe.
---
TIME NEEDED – 3 WEEKS
You can see most places in a day or two and it's quite a small area so 3 weeks should be enough.
---
POSSIBLE BUDGET – £700 €800 $900
These figures are based on May 2019 exchange rates and include daily travel costs in the region only. They DO NOT include any visa costs or flights to/from the region. Getting into Russia can be expensive not to mention complicated  (more on Russian visas at the bottom of this page) and you may wish to focus on the Baltic states if your funds are limited and possibly also skip Finland which is considerably more expensive. For more see our backpacking costs in different European countries.
---
CUT YOUR BALTIC TRAVEL COSTS
We'd highly recommend getting a Revolut Card before you travel. This will enable you to hold a balance and pay for things in local currencies such as the Euro and Russian Ruble. Over the course of a lengthy backpacking trip, this will save you a lot of money as you'll dodge most of those irritating hidden fees. You can easily load money directly from your bank via the app and can exchange it in an instant at excellent rates. They also have some great budgeting tools which will help you keep tabs on your expenditure and make sure you are not overspending.
---
TRAVEL INSURANCE
It is advisable to get insured for all trips abroad. Read more here about options for finding the best travel insurance for backpackers.
---
Backpacking The Baltics – A 3 Week Itinerary
---
Visit Russia's Baltic Pearl
Saint Petersburg
Cathedral of our Saviour by bbmexplorer, CC BY-ND 2.0
Russia's second city is one that has gone through many transformations and several name changes over the centuries but has always retained an almost magical feel. The Hermitage Museum (Winter Palace) is the main attraction here but there's so much culture in the form of world class opera, ballet and contemporary art that you can easily spend many days in this city and discover plenty of new things. Backpacking in Russia isn't too popular (largely due to its size) but some of the hostels in St Petersburg are fantastic with well-run trips, city tours and bar crawls to get involved in.
Getting to Helsinki is possible via a pretty quick 4-5 hour train or overnight ferry across the Baltic.
Dive into Finland
Helsinki
It's probably fair to say that Helsinki isn't one of Europe's beautiful capital cities and the expense of pretty much everything here will also put you off from staying long. However it does have its charms with highlights including ice skating in the city's squares during the long dark winter and joining the metal-loving Finns in moshing to heavy rock music in the bars and clubs.
Get Medieval in Estonia
Tallinn
The medieval city of Tallinn perches on a hill overlooking the icy Baltic Sea. It's only a very short hop on a ferry from Helsinki but after decades as part of the Soviet Union, the differences are still very evident. Its Old Town is beautiful and the grand castle still dominates the skyline but it is also a city moving forward and its lively and cheap nightlife attracts visitors from all over Europe.
For more on the Estonian capital see Life after the Iron Curtain in Tallinn.
Tartu
A small but charming riverside city in Southern Estonia. It's a thriving student centre full of young intellectuals who get together in one of the many traditional underground cellar bars when night falls. Tartu featured on our countdown of new backpacking hotspots a few years back.
Latvia Backpacking Route
Sigulda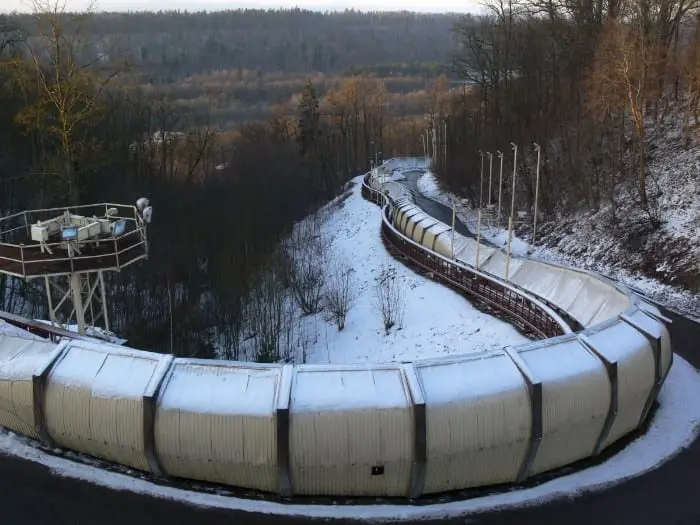 Sigulda bobsleigh, CC BY-SA 2.0
Located in a deep valley this is definitely a place for the adventure traveller. Castles, caves and eerie ruins are there to be explored. Meanwhile other exhilarating activities include breaking the laws of gravity in the state-of-the art flight simulator. There is also the opportunity to rapidly slide down the town's bobsled track (if you come in summer it the track is converted for 'wheel-bobs').
Riga
With an impressive old town and some crazy nightlife, the Latvian capital draws parallels with Tallinn. However it is much bigger than its Baltic neighbour and in parts is a bit 'rough around the edges'. There are plenty of hostels and some backpacker geared bars but there is plenty to see and do with the city famous for its impressive Art Nouveau architecture.
Liepaja
This seaside town boasts some of the best beaches in the Baltic and is a must-visit if you come during summer when it hosts some top music festivals. The Northern part of the city (Karosta) used to be a secret Soviet military town and makes for a fascinating visit. You can even stay overnight in Karosta Prison where you will be treated just like the military prisoners who were held here until as recently as 1997!
Lithuania Itinerary
Klaipeda & Curonian Spit
Klaipeda has a history which stretches back to the 13th Century. This coastal town is easily one of Lithuania's most culturally significant. From the town's harbour you can visit the Curonian Spit, a World Heritage site that separates Lithuania from the Russian oblast of Kaliningrad. It is basically a narrow but very long (100 km) sandy strip of land. It is home to some enormous dunes reaching a height of 60 metres.
Kaunas
The ancient city of Kaunas is certainly one of the jewels in Lithuania's crown. Over the centuries, it has survived numerous occupations by various foreign powers but is now flourishing as part of independent Lithuania and in some respects is more significant than the capital city, Vilnius. The Old Town boasts some fascinating Gothic and Renaissance architecture while the newer parts are a hub of Lithuanian art and culture. Take a ride on the rickety Funicular for the best views of the city.
Vilnius
Vilnius from the sky, CC BY 2.0
Finally Vilnius which is home to a fascinating mix of people with many Poles, Belarusians and Russians calling this city home. The once thriving Jewish districts that played a significant role in the development of Vilnius are still there but Jews only represent a small portion of the population today. Cemeteries and Sculpture Parks are amongst the curious attractions here whilst the food is perhaps the best in the region with a healthy mix of tasty yet affordable cuisines on offer.
---
Baltic Backpacking Tips
Visa Requirements for Russia & the Baltic States
All the countries are in the EU with the exception of Russia, which has strict entry rules and most visitors do need a visa. Russian visas should be arranged well in advance and can be very expensive so for many travellers it will be simpler to skip St Petersburg. Contact your Russian embassy for more info and read up on the visa policy of Russia. Citizens of some countries including all of South America, South Africa and most former Soviet countries can enter Russia without a visa for a period of 30-90 days.
Visiting Kaliningrad
Kaliningrad is a curious little region in between Lithuania and Poland. It is part of Russia despite being totally separate from the rest of the country although it belonged to Germany until the end of the Second World War. Its coastal capital (also called Kaliningrad) is home to half a million people and is one of the biggest cities in the Baltic region. It was previously part of this route (between Klaipeda & Kaunas) as Russia allowed visitors to enter for 72 hours under a visa-waiver program but this was scrapped in 2017. You will now need an ordinary Russian visa to visit Kaliningrad and a multi-entry visa if you want to travel from St Petersburg to Kaliningrad by land.
Travel Between Baltic States
To do this route you have various options for getting around. The only major hassles really revolve around moving in and out of Russia, although this is primarily to do with getting a visa before you set out.
Ask in your hostels for their suggested transport. Your average cost for moving between two towns on the route should be roughly 10-12 Euros. The St Petersburg-Helsinki and Helsinki-Tallinn legs will probably be the most expensive.
Once in Estonia, coaches are probably the best way to go as travelling by train is still pretty slow in the Baltic States. Eurolines are a reliable cheap bet when you want to move between countries and seen as the whole region is pretty small, you won't be spending much time travelling anyway.
Budget Accommodation
Advanced booking is the norm in Europe and is advisable along this route. In the smaller cities you might be able to find somewhere on foot but it's still probably wise to book in advance at weekends. Sites like Hostelworld and Booking.com should have the most options.
When to Visit
Winters are bitterly cold and you'll certainly need to wrap up very warm as you work your way around the frozen Baltic Sea. Advantages are some wonderful Christmas markets and the snow which blanket covers this region from December to February. Both certainly add to the region's overall charm. There is also the outside chance of witnessing the beautiful Northern Lights but you may need to head even further north.
Come in summer and the contrast is huge. Days are long and the sun doesn't set till 11:00 p.m. in places like Helsinki and rises again a few hours later. The coastal resorts suddenly come alive and are packed with thousands of locals in party mood when the weather is good (it isn't always even in summer).
If you pick up a taste for Eastern Europe, you could also consider combining this with our backpacking route for the Balkans.
---
This article was last updated in May 2019.
Please use the comments section for any queries about our Baltic backpacking route. We aim to respond to all questions!
---