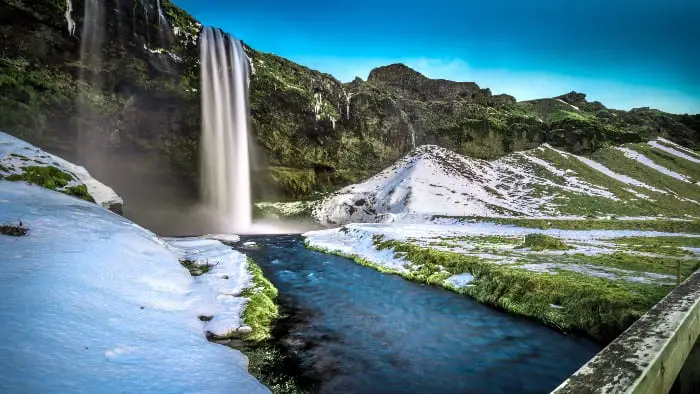 Iceland Cost of Travel – Suggested Daily Budget
This post looks at the cost of travel in Iceland. Read on for suggested shoestring and more comfortable backpacking budgets for this mysterious European island. We also have information about the local currency and sample prices.
---
(Map of Iceland from wikitravel, can be re-used under CC BY-SA 3.0)
---
How much money for a trip to Iceland?
Iceland Travel Costs on a Shoestring Budget
US$70/day | 8500 Icelandic Krona
Iceland is a country high up on many a bucket list but its isolated location makes it somewhat difficult to fit into any other trip. The good news for shoestring travellers is that Iceland is slightly cheaper now than a couple of years ago.  However it is still very expensive and overall prices have risen in the years since the country's three main banks all went bust during the economic crisis which briefly made Iceland somewhat more affordable.
For starters there is the cost of getting to Iceland which can be quite high given it's closer to Greenland than continental Europe and that isn't even factored into our high suggested Iceland backpacking budget of US$70/day. A good chunk of that goes on accommodation which is very expensive and the cost of eating and drinking out is at least in line with any expensive country on mainland Europe. Then there is the cost and hassle of using the limited public transport. Given the population of Iceland is little over 300,000, the services are far from regular and quite costly so many travellers prefer to rent out a car to explore the island, which has many advantages in that you can stop off at any of the abundant natural wonders that catch your eye.
The only real good news for budget travellers in Iceland is that almost all the main places to see are free to visit. If you are travelling as a group, you might be able to get by on less than $70/day by renting out a car and preparing your own food. Camping and perhaps hitch-hiking are also good options in the warmer months and doing a fair bit of that could see you slip well below $70/day.
Travel costs in all European countries
More Comfortable Iceland Backpacking Budget
US$95/day | 11500 Icelandic Krona
To see the best of Iceland, you really want to be renting your own car for a few days, which certainly if you are a solo traveller is going to be expensive. Many of the best places to visit are some way off the main highway and not linked by public transport. On a budget of $95/day even a solo traveller, should be able to afford to do that for a few days at least to explore the more remote parts of the island and then perhaps spend a bit more time based in Reykjavík without a car and doing trips to the nearby places of interest that are more accessible. It's also relatively easy to link a trip to Iceland in with our Scandinavia Backpacking Route, although again Sweden, Denmark and Norway are not cheap!
Compare these figures with our Spain backpacking budget or the cost of travel in Greece and you will get an idea of just how much more expensive Iceland is compared to even an averagely priced European country.
Find Accommodation in Reykjavik:
---
Iceland Cost of Travel Insurance
You will also need to allow for the cost of travel insurance plus a few other pre-trip expenses like maybe purchasing a backpack and sorting out flights to the country. SafetyWing is one company that offers affordable and well-reviewed travel insurance cover for backpacking trips.
---
Transport, Accommodation, Food and Drink Prices in Iceland
Car Rental with full protection – from 8500kr/day (€60) + petrol
Large beer in Reykjavík bar or restaurant – 1000kr  (€7)
Meal at an inexpensive restaurant – 2000kr (€14)
Camping in a designated campground (there are many) – 1500kr/night (€11)
Dorm bed – from 3500kr/night (€25)
Budget private double or twin room – 10500kr/night (€75)
Entrance to Þingvellir National Park – Free!
Compare these figures with the cost of travel in Portugal.
These prices were last checked in 2017. Everything else on this page was updated in February 2019.
---
Iceland Currency
Currency – Icelandic Krona
£1 = 155 Krona
€1 = 137 Krona
US$1 = 120 Krona
(All exchange rates are correct as of February 2019)
Some shops that cater to tourists do accept Euros and maybe US Dollars but it's unlikely to be at a very good rate so get yourself some krona!
---
MFT Recommends
Possibly the cheapest dorm beds in Iceland at a fraction under €20/night are found at the Grábrók Hotel and Holiday Homes near to the crater of the same name. A good option if you'd rather stay in natural surroundings than in the capital.
---
street art in Reykjavik, Iceland (via Rob Young, CC BY 2.0)
---
This page was last updated in February 2019.
---