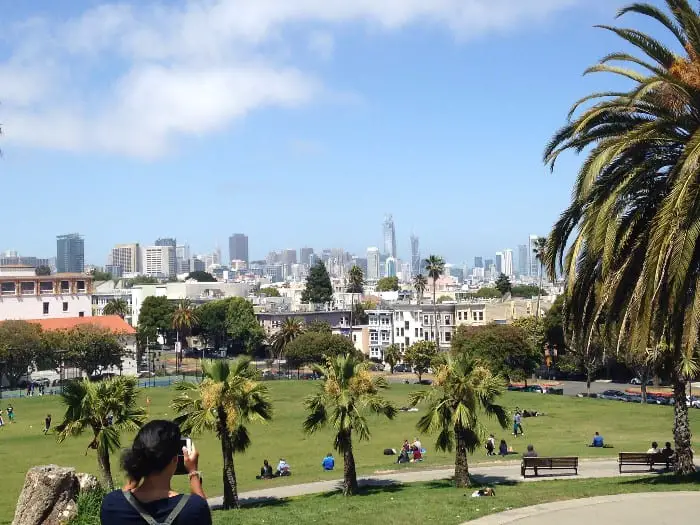 USA Cost of Travel – Suggested Daily Budget
This post outlines the estimated cost of travel in the USA. Read on to see our suggested shoestring and more comfortable backpacking budgets for the so-called land of the free. We also have some sample prices for typical travel expenses in the United States.
---
(Map of USA from wikitravel, can be re-used under CC BY-SA 3.0)
---
USA Travel Budget
Daily Travel Costs in the USA on a Shoestring Budget
US$70/day
Much of the advice we gave in our Canada backpacking budget applies here too. Like Canada it is a very large country but with considerably more places of interest so your expenses really depend on how ambitious you want to be. Focusing on just one area of the country for example California or the North-East then our USA backpacking budget of $70/day is realistic enough and you might be able to get by on less if you travel slowly. However if you want to visit several different parts of the country in say a month or less then you might want to check out the budget below and perhaps still add a bit more.
On an every day level, USA is perhaps slightly cheaper than most of Western Europe or countries like Japan and Australia. Food is pretty good value when you consider the enormous portions and one meal can leave you pretty full for the day while alcohol is also quite cheap compared to parts of Europe.
However aside from the cost of covering large distances, which isn't that great by bus, what makes USA a bit more expensive for the shoestring traveller is the real lack of real budget accommodation. Whereas in other parts of the world you will find plenty of hostels with dorms in even the smallest towns, that isn't really the case in the US. The biggest cities do of course have them but not that many and given the lack of competition they are not that cheap and therefore accommodation costs tend to take up quite a big chunk of your budget.
More Comfortable USA Backpacking Budget
US$90/day
You can easily end up spending $30 or more a night on accommodation in the United States, perhaps more than half our previous budget so it doesn't leave you a lot left over for anything else. Therefore adding another $20 on is probably a good idea if your trip is a short one of say a few weeks and you want to see as much as you can. This will give you a bit of room to take a few domestic flights that will allow you to see more of the country.
It is also worth noting that travelling with a few friends will generally cut your costs somewhat. If you are a group of 4 or 5 then renting a car might prove more cost effective and will certainly give you more flexibility and that should be easy to fit into this budget, especially if you spend a few nights on the road and manage to save on accommodation that way.
If you're the kind of person who wants to see all the main tourist attractions in the cities you visit, you can also end up spending a lot in just one day visiting sights in New York for example.
Read more: Glacier National Park backpacking guide
---
USA Cost of Travel Insurance
In addition to the budgets above. allow also for the purchase of travel insurance for your trip plus any other additional expenses like booking flights to the country or buying anything you will need for your trip. We recently updated our suggested options for travel insurance for backpackers.
You can also get a quick online quote from SafetyWing, who are experienced in providing extensive cover for backpacking trips. It's vital you have decent cover given the expense of healthcare in the US goes well beyond what your average budget traveller can afford.
---
Sample Prices in USA
Flight from New York to Miami (3 hours) – $80 (when booked in advance) + baggage
Bus from San Francisco to LA (8 hours) – around $35
Meal in an inexpensive restaurant – $12-15
Large local beer in a bar or restaurant – $4
Dorm Bed in Chicago – from $22/night
Dorm Bed in New York – from $35/night
Private Double or Twin room in New York – from $70/night
Private Double or Twin room in New Orleans – from $45/night
Compare prices to somewhere much cheaper by looking at the cost of travel in Sri Lanka.
These prices were last checked in June 2016. Everything else on this page was updated in February 2019.
---
Money
Currency – US Dollars
£1 = $1.32
€1 = $1.14
(All exchange rates are correct as of February 2019).
---
MFT Recommends
Accommodation in the United States can be a real budget killer for anyone looking to travel on the cheap. Consider signing up to Worldpackers and finding work placements where you can sleep for free in exchange for a bit of help. In the USA, one night's free accommodation alone can cover the cost of the annual membership!
---
street art in New York, USA (via Rodrigo Bernal, CC BY-NC-ND 2.0)
---
This post was last updated in February 2019.
---