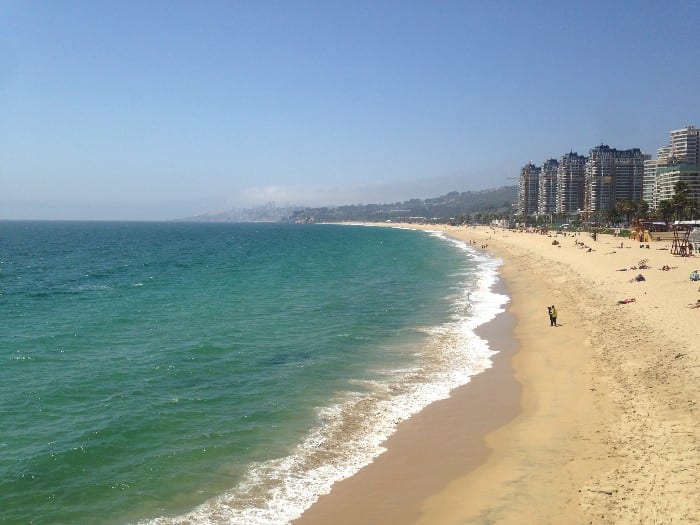 Chile Cost of Travel – Suggested Daily Budget
This post discusses the estimated cost of travel in Chile. Keep reading for suggested shoestring and more comfortable backpacking budgets for this Pacific-hugging nation. We also have information about the local currency and sample prices.
---
(Map of Chile from wikitravel, can be re-used under CC BY-SA 3.0)
---
How much should I budget for Chile?
Chile Travel Costs on a Shoestring Budget
US$45/day | 30,000 Chilean Peso
Chile is a complicated country to budget for, mostly because of its peculiar long snake-like Shape. From Arica in the far North to Punta Arenas in the far South, it's almost 5,000 km by the quickest overland route, over 50 hours on the road by car and plenty more via bus. Clearly covering such a vast distance can cost a significant amount of money but an emergence of budget airlines in recent years makes things a lot simpler and cheaper to get around. That said, although you can find some bargain fares, baggage fees can still mount up for backpackers taking a few flights in the country.
$45 is our suggest daily Chile backpacking budget but if you want to cover basically the length of the country in a few weeks, you'll need to budget for a bit more. If you're staying in one or two parts of the country or have a longer period time to travel then this is more realistic and by camping or using hostels with self-catering facilities, you may be able to get by on less. Unquestionably though it is still overall one of the more expensive countries in South America and prices are certainly higher than the cost of travel in Peru, its neighbour to the North.
Backpacking costs in all South American countries.
More Comfortable Chile Backpacking Budget
US$65/day | 45,000 Chilean Peso
Another major issue with budgeting for travel in Chile is the regional and seasonal variations in prices. The cost of travel in the remote South is considerably higher than in the rest of the country, particularly during the peak summer months. It's one of the most beautiful regions of South America but the location and harsh climate means travel infrastructure is fairly limited and prices are high as a result. There are also some fairly hefty fees to enter the stunning national parks in that region too. Therefore costs can add up and if you're planning to spend the bulk of your trip in the far South of Chile and aren't willing to camp then $65 or 45,000 Peso is perhaps a more realistic daily budget.
---
Work & Travel in Chile
Chile is one of the most expensive countries in Latin America and you can save quite a bit by finding some volunteer placements and exchanging your skills for free food or beds. Worldpackers is a useful platform to use which will open plenty of doors if you're serious about finding these opportunities. We can offer our readers a $10 Worldpackers discount to get started.
---
Chile Cost of Travel – What are prices like?
Flight from Santiago to Antofagasta (2 hours) – from $50
Meal at an inexpensive restaurant – $7
0.5 Litre local beer in bar or restaurant – $2
Dorm bed in Santiago – from $6/night
Twin or Double private room in Villarrica – from $35/night
Entry to Torres del Paine National Park – 18,000 COP peak season (currently $27.50), 5,000 COP low season ($7.50)
Compare prices with those in our Brazil backpacking budget.
Note, these prices were last checked in 2016 (Flying is considerably cheaper now thanks to a rise in the number of budget flights). Everything else on this page was updated in early 2019.
---
Chile Currency
Currency – Chilean Peso
£1 = 870 CLP
€1 = 770 CLP
US$1 = 675 CLP
(All exchange rates are correct as of January 2019).
---
MFT Recommends
La Casa Roja is a cool hostel to stay at in the heart of the Chilean capital Santiago with a spacious garden and pool area.
---
street art in Valparaiso, Chile (via BORIS G, CC BY-NC-SA 2.0)
---
This page was last updated in January 2019.
---