South America is a vast continent with roughly 10,000 km separating the icy shores of the far south of Argentina and Chile from the Caribbean coastline of Colombia and Venezuela. Therefore anyone planning a big trip there will have a hard time figuring out the best time to visit South America with large differences in climatic conditions to be found.
Even Ecuador, one of the smallest South American nations has coastal, mountain and jungle regions, all with significant differences in weather conditions so you really need to think hard about what kind of trip you want to have before deciding when to visit.
This page should help you out by breaking down how the weather changes throughout the year in many of the most popular South American travel destinations. We also list some of the best festivals in the region which might be worth considering if you're hoping to fit at least one of the big fiestas into your trip.
South America Climate
January & February
The start of the year brings the peak months of the South American summer with January and February the equivalent of July and August in the Northern Hemisphere. There are warm temperatures in most southern regions and longer nights the further south you go. Major cities such as Buenos Aires, Rio de Janeiro, Lima and Santiago sizzle in close to 30°C heat most days and the popular beaches of Uruguay and Brazil are at their busiest.
However Andean regions and places nearer to the equator don't experience anything like the same kind of seasonal variations with January and February not so different from June or July in terms of temperatures. It's worth remembering that although it is 'South' America, seven of its countries have sections that lie north of the equator with the vast majority of Colombia and Venezuela lying in the Northern Hemisphere. The average temperature in the beautiful coastal Colombian city of Cartagena for example (on the northern tip of the continent) is between 30.5 and 32°C throughout the year with January being very marginally the coolest month.
In the Andean and equatorial regions, you want to pay more attention to when the rainy season is rather than how hot it is. January and February tends to be quite wet in parts of the Andes with La Paz and Cusco experiencing their wettest months. Even the Atacama Desert, one of the driest places on Earth can experience some minor rainfall at this time of year but any rain is certainly welcome with this being the hottest period of the year across Chile.
Read more – Find out all about the South America cost of travel featuring suggested daily and monthly budgets for all the different countries.
March & April
In southern regions, March represents late summer and remains hot (in all regions but the very far south). It's still warm enough to head to the beach in all of Uruguay and Brazil for example. Autumn only really starts to set in during April in parts of South America that are far south enough to have a more typical 'four seasons' climate.
The more northern Andean regions tend to experience something of a rainy season at this point. April is the wettest month of the year in Quito and much of the Ecuadorian Andes while it's also the wettest part of the first rainy season in most of Colombia. Large swathes of the Amazon are also very wet during this period with heavy rain falling between January and May across most of the Brazilian Amazon, peaking in April.
Head to the Andes in Southern Peru or Bolivia and you should find the rains easing up though, certainly be the end of April.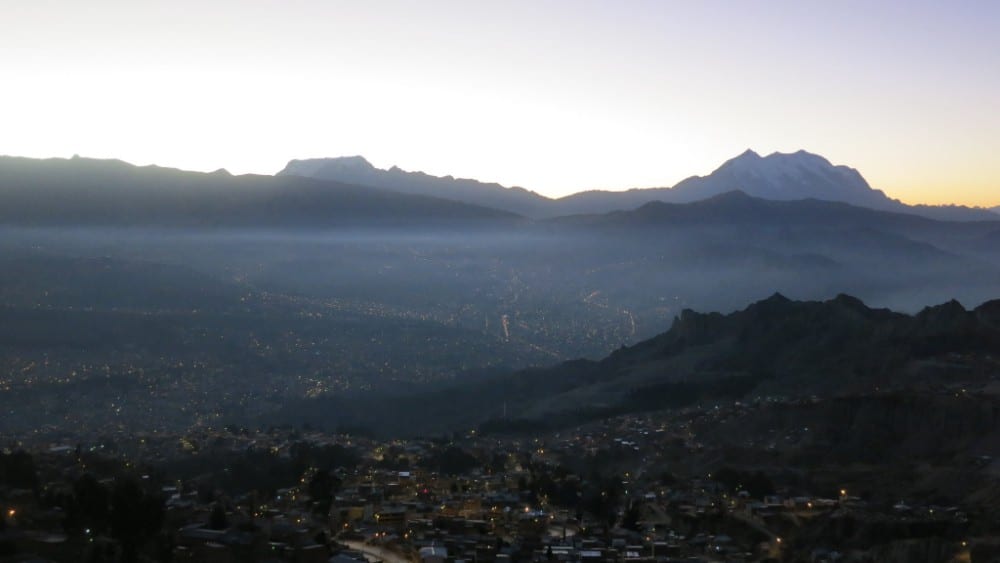 The Bolivian capital La Paz at 3.6 km above sea level, CC BY-SA 2.0
May & June
The nights are really starting to draw in across Patagonia and other southern parts of the continent by this time of year. It's getting cold too with Ushuaia experiencing its coldest month in June with temperatures dipping below freezing most nights.
That is also the case in many towns and cities that lie at altitude during this time of year. La Paz, the world's highest capital city, experiences average lows of −4°C in June but the mercury does quickly rise during the day to around 14°C, loosely mirroring daytime temperatures at other times of the year.
June is the start of the winter in Buenos Aires, which ranks among the best cities to live in South America, and central areas of Chile including Santiago and Valparaiso. Daytime temperatures tend to hover around 15°C with relatively sharp drops at night, particularly at altitude.
The rains have eased off along most of the typical 'gringo trail' through the Andes from Bolivia to Colombia, although this is the start of the wettest time of the year in much of Venezuela.
July & August
Rio de Janeiro and surrounding areas are at their coolest between June and September but with daytime averages of around 25°C, it's still perfectly nice and this is also the driest period of the year in this part of Brazil. Head south towards Florianopolis, Porto Alegre and certainly into Uruguay and the coastal resorts do experience a more obvious 'winter' season which can make it too cool to spend much time on the beach throughout the middle period of the year.
The more commonly visited parts of South America are mostly relatively dry during this period with the rains at their most intense in Venezuela and the Guineas. It's a pretty good time to travel through the northern parts of the Andes with cities such as Quito, La Paz and Cusco all experiencing hardly any rainfall. There's a bit more in Colombia but July and August fall in between the two main wet periods in Bogota and Medellin for example.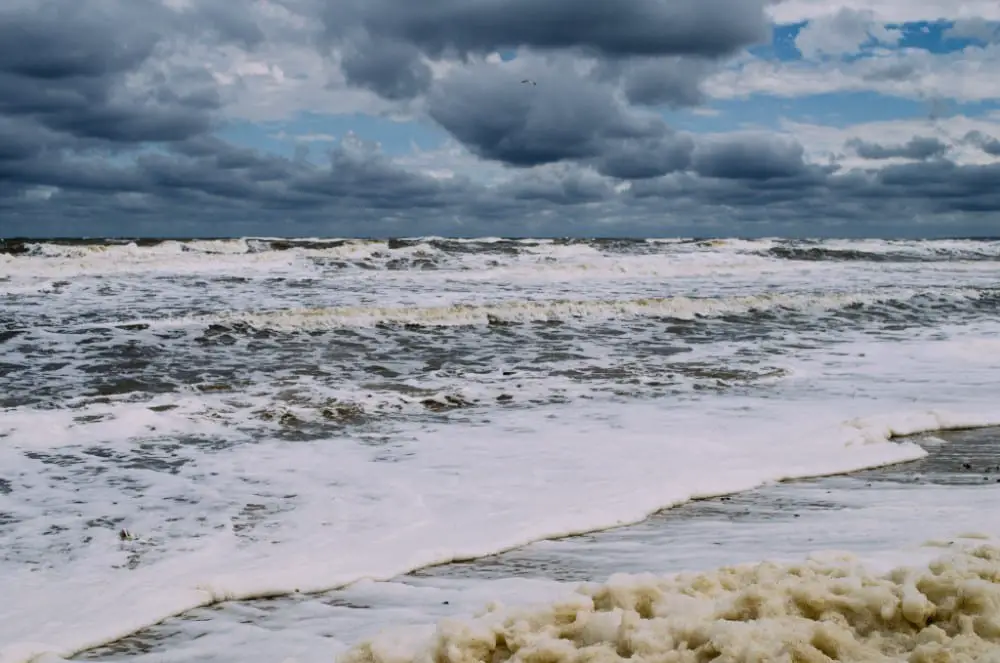 Uruguayan beach in winter, CC BY-ND 2.0
September & October
September is the start of Spring in southern parts of South America. The temperature is starting to rise again in Lima, Buenos Aires, Santiago and Montevideo with all of those cities starting to see daily highs of above 20°C by the end of October. The same goes for southern parts of Brazil with the long beach season about to kick in again.
Further north, it's getting wet again in much of Colombia. October is the month with the most rainfall in the capital Bogota while it can also rain a lot in Ecuador at the time of year. This period marks the end of the so-called 'Andean Summer' in Peru and Bolivia though with destinations such as Huaraz, Lake Titicaca and La Paz remaining relatively dry throughout September and much of October.
November & December
The final two months of the year mark the end of spring and, pushing into summer with long nights and generally sunny days across Argentina and Chile. High temperatures are pretty much guaranteed across South America in December with the exception of the southernmost parts of Argentina and Chile as well as anywhere located at real altitude.
The rains are starting to ease off in Colombia by the end of December but this month does mark the start of the rainy season in Andean parts of Peru and Bolivia with an average of 137 mm of rain falling in Cuzco for example during December.
Rio de Janeiro also experiences one of its wettest months with an average of 11 rainy days. That trend isn't necessarily replicated across Brazil though with December among the driest months in Salvador (roughly 1,500 km north of Rio) and Porto Alegre (roughly 1,500 km south).
That variation is probably a good point to end on and we should say that the information you have just read is only a broad overview. South America is home to everything from the driest of deserts to wet rainforest, savanna and grassland regions, many of which have their own distinct climatic trends. It would take a long time to outline all of these variations so we've tried to focus on some of the more typical destinations for independent travellers in South America.
Worst & Best time to Visit South America – Major Destinations
With so many climatic variations and a large amount of ground to cover, anyone on a big trip around South America will find it impossible to visit every destination at the optimum period. Instead of trying to do that, you may be wise to just pick one or two places that you really want to visit and you anticipate will be highlights of your trip and plan around that. Here are some of the biggest draws for travellers in South America and the best and worst times to visit them.
Best Time to do the Inca Trail
The Inca Trail to Machu Picchu is an essential part of many a South American itinerary and the highlight of the whole trip for some travellers. Late May to late August is generally viewed as the best time to do the trip as these are the driest months of the year with dry weather virtually guaranteed in June and July when there is hardly any rainfall.
This is also the busiest time of the year though (arrange your trip in advance) and Machu Picchu is just that little bit less special when you are competing for space with thousands of other camera-wielding tourists trying to find the perfect spot for a selfie. If you want to avoid the peak season, coming in April or early May is the best option with green landscapes but only a little bit of rain lingering at the end of the wet season.
Worst Time to do the Inca Trail
December to March brings heavy rainfall to Cusco and the surrounding hills. This makes it pretty much the worst time to do the Inca Trail with the slopes slippery and a high risk that you will encounter torrential rain and potentially poor visibility at Machu Picchu. If you are not limited by any real time restraints and are in Peru at this time of year, you could potentially set up base in Cusco and wait for the weather forecast to clear but it's a bit risky as you could end up waiting a week or more for a dry day so it's probably inadvisable to visit at this time of year.
Best Time to visit Patagonia
The Patagonian regions of Argentina and Chile are at their busiest and most expensive during the South American summer but this is certainly the best time to go from a weather perspective. November to March is generally viewed as the window of opportunity when it is warm enough to properly enjoy the stunning natural wonders that Patagonia has to offer. You can expect daily highs of between 12 and 15°C in and around the cities Ushuaia and Punta Arenas in the extreme south with warmer weather the further north you go.
If you want to visit Antarctica, you will have no choice but to come in this period as the sea freezes over outside of the summer months, making it all but impossible to get there.
Worst Time to visit Patagonia
Wintry weather brings freezing temperatures to large parts of Patagonia from June to August. Roads can become blocked off, attractions close and camping outdoors becomes very challenging indeed. On the positive, the scenery is at its most spectacular with snowfall adding to the already dramatic landscapes of peaks, lakes and glaciers but not many travellers brave the long trip south during these months.
Best Time to visit Brazil
Brazil is enormous so there are some pretty extreme variations. Peak season on most of its coast is really from December until the end of the Carnival (February or March). This is when the weather is at its hottest but you can expect to pay more for accommodation at this time, particularly during Carnival week in Rio or Salvador.
Budget minded travellers may prefer to hit the coast just before or just after this peak period with temperatures still generally around 25°C even in the southern parts of Brazil during the months of March, April, October or November.
May or June is generally seen as the best time to visit the Amazon as it falls between the rainy season and the hottest months of the year which can also be quite unpleasant. However it is easier to get around on foot rather than canoe during the dry season (September to November) when water levels are much reduced, making this the best time for hiking in the Amazon.
Worst Time to visit Brazil
June to September is the Brazilian 'winter' although it only really feels anything like winter in the far south of the country and some inland locations at altitude. In truth, there isn't really an outright bad time to visit Brazil and if sightseeing and visiting the Amazon are bigger priorities than hitting the coast, then this isn't a terrible time to come. If the Brazilian beach-life is a big draw, you may want to avoid June to September though or at least avoid areas south of Rio de Janeiro.
South America's Best Festivals
South America is home to all kinds of weird and wonderful festivals. Some travellers opt to just take the weather as it comes and plan around them. It's certainly a great way to experience the region at its most vibrant and passionate.
January
Feria de Cali – The new year starts with a bang in Cali with this festival which celebrates the region's culture with a marathon of salsa music and dancing.
February
Festival de la Candelaria – A festival to honour the Patron Saint of Copacabana which is celebrated on both the Peruvian and Bolivian sides of Lake Titicaca. It's best experienced in the otherwise sleepy town of Puno which transforms into a huge city-wide fiesta.
February/March
Carnaval – The Rio carnival is world famous and a wonderful spectacle but it is very expensive to visit the city and take in the best of the festivities. The Salvador carnival is a great alternative and you may be able to squeeze in a visit to both within the same trip.
March
Lollapalooza – This is one of South America's best international music festivals, taking place in Santiago de Chile each March with top acts, visual arts and great food and drink in the city's Parque O'Higgins.
June
Inti Raymi – On June 24th each year, experience the Inca Festival of the Sun with ancient rituals, processions and street parties in Cusco, Peru.
August
Tango Festival – Buenos Aires is the birthplace of Tango and the best dancers in the world flock to the city at this time of year, although there's plenty of opportunities for amateurs to get involved too.
Festival Bananada – This week long festival in Goiana, Brazil is centred around independent music but also features art, cuisine and culture and has plenty of added extras including a skateboarding championship and a collection of Brazil's best tattoo artists.
Flower Fair – Medellin is awash with colour for 10 days each August as huge flower displays take over while there are also folk concerts and parades.
September
Rock in Rio – Another of the best music festivals on the continent with past headliners featuring some of the very biggest names from a broad spectrum of different genres, although as the name would suggest, rock is the main focus.
Mistura – This is one for the foodies and is basically a celebration of Peruvian cuisine with plenty of opportunities to tuck into the country's specialities including ceviche, cuy and sanguche de chicharron.
October
Señor de los Milagros – Latin America's largest Catholic procession takes place in Lima.
November
Day of the Dead – The Catholic All Saints and All Souls Days meet Halloween with all kinds of rituals to honour the dead. This is celebrated continent-wide but is perhaps most interesting in Bolivia where relatives sometimes dig up the skulls of relatives and decorate them.
December
New Year's Eve – Rio is again a fantastic destination for New Year's Eve with fireworks across the majestic bay, hot weather and up to two million people cramming onto Copacabana for an amazing beach party that lasts till dawn.
This is just a small selection in truth and there are loads more local and national festivals in South America that we could have mentioned. Therefore even if you can't time your trip to fit in some of these, you should still be able to find fiestas that do work around your time schedule. Just remember to book accommodation and preferably transport in advance around any major festivals.
Backpacking South America – Best Time to Go
If your trip is only going to last anything from a couple of weeks to a couple of months, then you can probably pick and choose your time to go based on the climate at that time of year, perhaps factoring in a major festival if that's a priority.
For anyone on a bigger backpacking trip around South America, deciding when to go and in what order can be a tricky balancing act and you won't be able to time it perfectly so the weather is great everywhere you go.
If you have roughly 6 months for example then starting out at some point in August in Colombia might be the optimum time to go about it before taking in Ecuador, Peru and Bolivia throughout September, October and into November. That should see you just miss the start of the wet season in the Northern Andean region.
It would enable you to arrive in the south of the continent in late spring or early summer which would allow you to enjoy the start of the Patagonian summer and the long nights that brings if you decide to head to the extreme south. You'd then be able to end your trip by visiting the likes of Buenos Aires, Uruguay and Southern Brazil at the hottest time of year before potentially ending your South American backpacking adventure in style at the Rio Carnival in February.
Torres del Paine National Park in Patagonia, CC BY 2.0
That might be the optimum way to plan if you are loosely following the typical South American 'gringo trail' but don't panic if this timescale doesn't work for you. The advantage of travelling at other times of year is that you should be able to take advantage of better deals on accommodation and transport leading to a cheaper trip.
It's also worth remembering that Brazil, which takes up a huge portion of the continent, is essentially a year-round destination with only the very far south experiencing anything that even resembles a winter. Colombia, Venezuela, Ecuador and most of Peru also have pretty stable temperatures throughout the year due to their proximity to the equator so if you don't mind a bit of rain, it's not a massive problem if you travel to South America at other times of year.
---
This article was published in November 2019.
Comments/thoughts welcome below!
---
Featured Image of Copacabana, CC BY-ND 2.0
When to Go to South America – Best and Worst Times to Visit