On this page you will find our estimated Mexico cost of travel. Read on for suggested shoestring and more comfortable backpacking budgets in this colourful and deceptively large country. We also have info on the local currency and typical prices.
---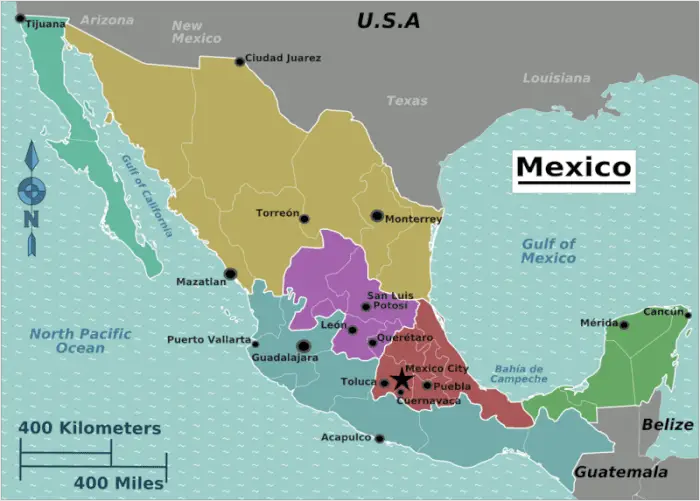 ---
Mexico Cost of Travel in 2023
---
Shoestring Backpacker Budget
US$35/day | 650 Mexican Pesos
Mexico, one of the most visited countries in North America, is a large and by global standards, a relatively cheap place to travel in although there are a few notable exceptions. These are mostly the tourist resorts such as Cancun, where prices for almost everything are significantly higher than you'll find in the rest of the country.
If you avoid them, then anyone backpacking Mexico on a low budget, should expect to spend roughly 650 Mexican Pesos per day. This shoestring budget covers all your daily travel expenses including the cost of accommodation (hostel dorm bed), transport and meals. You'll need to be a bit selective and be savvy when choosing your daytime activities and evening entertainment to stick to this budget.
It is a country with lots of excellent local dishes and drinks so eating and drinking out is one of the highlights of a visit to Mexico and is generally very good value as even the fussiest of eaters shouldn't struggle to find something that grabs their fancy. Travelling around is reasonably priced if you can put up with long hours on buses but if you do want to visit the North as well as the South then you might want to allow for a bit more than this as it's a lot of miles you will need to cover. Flying between destinations is at least getting cheaper in Mexico with a few budget airlines now running domestic routes.
Accommodation is pretty cheap if you're willing to stick to hostel dorms with beds available for around $10 in most places and even less in some areas. Check the backpacking costs in Central America to see how Mexico compares to its Southern neighbours if you're continuing your travels in the region.
More Comfortable Mexico Backpacking Budget
US$50/day | 940 Mexican Pesos
Adding $15 to your daily Mexico budget will give you a lot more freedom to take extra trips or try a few more different activities out. You can afford to do a bit of partying even on our shoestring Mexico backpacking budget but the party culture is quite big here so this may be a smarter budget for anyone looking to go out most nights. Drinks aren't particularly expensive if you avoid the swankier places and in the more traveller-orientated towns, girls can often get free entry and free drinks in many nightspots.
If you want to see most of the country as opposed to sticking in one region for a longer period of time then US$50 might also be a better budget. That's also true if you are restricted more by time than money and want to see and do as much as possible relatively quickly.
Check out our backpacking route for Mexico, for a suggested five week itinerary. You can easily pick chunks of it if you have less time.
How much do things cost in Mexico?
| | |
| --- | --- |
| | Approximate Price in USD |
| Flight from Mexico City to Cancun (2 Hours) | $25-35 + Baggage Fees |
| Bus from Playa del Carmen to Chetumal (5 Hours) | $10-15 |
| Meal in a local restaurant | $5-12 |
| Local beer in bar/restaurant | $1-3 |
| Dorm bed in a hostel | $10-12 |
| Budget private room | $15-30 |
| Entrance to Chichén Itzá | $30 (Discounts available for Mexican citizens/residents) |
| Travel insurance for backpacking Mexico | Varies according to length of trip, your age & some other factors – Get a quick quote from Heymondo in 60 seconds! |
Compare these Mexico costs with our USA backpacking budget and Nicaragua backpacking budget for an idea of how prices differ in the region. Overall, it's safe to say that Mexico is considerably cheaper than the USA or Canada to the north. However if you're coming north from Central America, you may notice a slight rise in costs.
One way to cut travel costs in Mexico is to do a work exchange. Worldpackers is a platform which allows travellers to search for placements which can act as a great way to cut your travel costs with free food and a place to sleep normally included. At the time of writing, there are 274 opportunities for these kinds of exchanges in Mexico. These vary from hostel work to teaching roles in some amazing locations. Be sure to use our Worldpackers promo if you opt to register!
Money – Mexican Peso
£1 = 23 Pesos
€1 = 20 Pesos
US$1 = 19 Pesos
These exchange rates are correct as of January 2023. Some businesses in tourist destinations like Cancun may still accept US Dollars despite a law aimed at banishing the Dollar from the Mexican economy. However it is still advantageous to pay for things in Mexican Pesos and in most parts of the country, Dollars are not accepted.
---
These estimates for the cost of travel in Mexico were last updated in January 2023.
---
Mexico Cost of Travel – What is a typical Backpacker Budget?